PART 1 OF 2
EXISTENTIALISM
by Wikipedia
NOTICE: THIS WORK MAY BE PROTECTED BY COPYRIGHT
YOU ARE REQUIRED TO READ

THE COPYRIGHT NOTICE AT THIS LINK

BEFORE YOU READ THE FOLLOWING WORK, THAT IS AVAILABLE SOLELY FOR PRIVATE STUDY, SCHOLARSHIP OR RESEARCH PURSUANT TO 17 U.S.C. SECTION 107 AND 108. IN

THE EVENT THAT THE LIBRARY DETERMINES THAT UNLAWFUL COPYING OF THIS WORK HAS OCCURRED, THE LIBRARY HAS THE RIGHT TO BLOCK THE I.P. ADDRESS AT WHICH THE UNLAWFUL COPYING APPEARED TO HAVE OCCURRED. THANK YOU FOR RESPECTING THE RIGHTS OF COPYRIGHT OWNERS.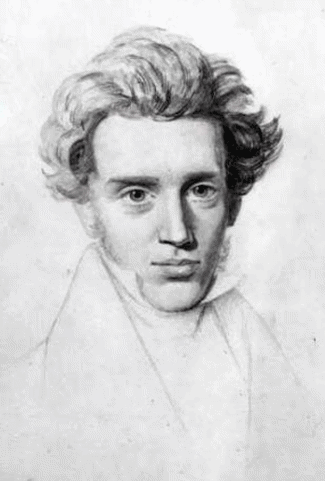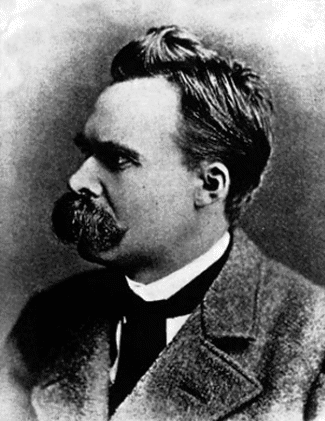 The philosophers Søren Kierkegaard and Friedrich Nietzsche foreshadowed existentialism.
Existentialism is a term applied to the work of a number of 19th- and 20th-century philosophers who, despite profound doctrinal differences,[1][2] generally held that the focus of philosophical thought should be to deal with the conditions of existence of the individual person and his or her emotions, actions, responsibilities, and thoughts.[3][4] The early 19th century philosopher
Søren Kierkegaard, posthumously regarded as the father of existentialism
,[5][6] maintained that the individual solely has the responsibilities of giving one's own life meaning and living that life passionately and sincerely,[7][8] in spite of many existential obstacles and distractions including despair, angst, absurdity, alienation, and boredom.[9]
Subsequent existential philosophers retain the emphasis on the individual, but differ, in varying degrees, on how one achieves and what constitutes a fulfilling life, what obstacles must be overcome, and what external and internal factors are involved, including the potential consequences of the existence[10][11] or non-existence of God.[12][13] Many existentialists have also regarded traditional systematic or academic philosophy, in both style and content, as too abstract and remote from concrete human experience.[14][15] Existentialism became fashionable in the post-World War years as a way to reassert the importance of human individuality and freedom.[16]
History
Existentialism is foreshadowed most notably by 19th-century philosophers Søren Kierkegaard and
Friedrich Nietzsche
, though it had forerunners in earlier centuries. In the 20th century, the German philosopher
Martin Heidegger
(starting from Husserl's phenomenology) influenced other existentialist philosophers such as
Sartre
, Simone de Beauvoir and (absurdist)
Albert Camus
.
Fyodor Dostoyevsky
and Franz Kafka also described existential themes in their literary works. Although there are some common tendencies amongst "existentialist" thinkers, there are major differences and disagreements among them (most notably the divide between atheist existentialists like Sartre and theistic existentialists like Tillich); not all of them accept the validity of the term as applied to their own work.[17]
Origins
The term "existentialism" seems to have been coined by the French philosopher Gabriel Marcel in the mid-1940s[18][19][20] and adopted by Jean-Paul Sartre who, on October 29, 1945, discussed his own existentialist position in a lecture to the Club Maintenant in Paris. The lecture was published as L'existentialisme est un humanisme, a short book which did much to popularize existentialist thought.[21]
The label has been applied retrospectively to other philosophers for whom existence and, in particular, human existence were key philosophical topics. Martin Heidegger had made human existence (Dasein) the focus of his work since the 1920s, and Karl Jaspers had called his philosophy "Existenzphilosophie" in the 1930s.[22][23] Both Heidegger and Jaspers had been influenced by the Danish philosopher Søren Kierkegaard. For Kierkegaard the crisis of human existence had been a major theme.[24][25][26] He came to be regarded as the first existentialist,[27] and has been called the "father of existentialism".[28] In fact he was the first to explicitly make existential questions a primary focus in his philosophy.[29] In retrospect, other writers have also implicitly discussed existentialist themes throughout the history of philosophy and literature. Due to the exposure of existentialist themes over the decades, when society was officially introduced to existentialism, the term became quite popular almost immediately.
Examples include:
1. Buddha's teachings,[30]
2.
Saint Augustine in his Confessions
,[31]
3. Mulla Sadra's transcendent theosophy,[32]
4. William Shakespeare's Hamlet.[33]
19th century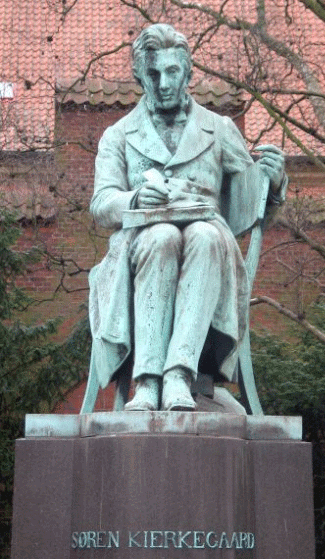 The Søren Kierkegaard Statue in Copenhagen.
As early as 1835 in a letter to his friend Peter Wilhelm Lund, the Danish philosopher Søren Kierkegaard wrote one of his first existentially sensitive passages. In it, he describes a truth that is applicable for him:
What I really lack is to be clear in my mind what I am to do, not what I am to know, except in so far as a certain knowledge must precede every action. The thing is to understand myself, to see what God really wishes me to do: the thing is to find a truth which is true for me, to find the idea for which I can live and die. ... I certainly do not deny that I still recognize an imperative of knowledge and that through it one can work upon men, but it must be taken up into my life, and that is what I now recognize as the most important thing.

—Søren Kierkegaard, Letter to Peter Wilhelm Lund dated August 31, 1835, emphasis added[34]
The early thoughts of Kierkegaard would be formalized in his prolific philosophical and theological writings, many of which would later form the modern foundation of 20th century existentialism.[29][35]
Kierkegaard and Nietzsche
Søren Kierkegaard and
Friedrich Nietzsche
were two of the first philosophers considered fundamental to the existentialist movement, though neither used the term "existentialism" and it is unclear whether they would have supported the existentialism of the 20th century. They focused on subjective human experience rather than the objective truths of mathematics and science, which they believed were too detached or observational to truly get at the human experience. Like Pascal, they were interested in people's quiet struggle with the apparent meaninglessness of life and the use of diversion to escape from boredom. Unlike Pascal, Kierkegaard and Nietzsche also considered the role of making free choices, particularly regarding fundamental values and beliefs, and how such choices change the nature and identity of the chooser.[36][37] Kierkegaard's knight of faith and Nietzsche's Übermensch are exemplars who define the nature of their own existence. These idealized individuals invent their own values and create the very terms under which they excel. Kierkegaard and Nietzsche were also precursors to other intellectual movements, including postmodernism, nihilism, and various strands of psychology.
Knight of faith

The knight of faith is an individual who has placed complete faith in himself and in God. The 19th century Danish philosopher Søren Kierkegaard vicariously discusses the knight of faith in several of his pseudonymic works, with the most in-depth and detailed critique exposited in Fear and Trembling.

Johannes de Silentio, Kierkegaard's pseudonymous author of Fear and Trembling, argues that the knight of faith is the paradox, is the individual, absolutely nothing but the individual, without connections or pretensions. The knight of faith is the individual who is able to gracefully embrace life:

Most people live dejectedly in worldly sorrow and joy; they are the ones who sit along the wall and do not join in the dance. The knights of infinity are dancers and possess elevation. They make the movements upward, and fall down again; and this too is no mean pastime, nor ungraceful to behold. But whenever they fall down they are not able at once to assume the posture, they vacillate an instant, and this vacillation shows that after all they are strangers in the world. This is more or less strikingly evident in proportion to the art they possess, but even the most artistic knights cannot altogether conceal this vacillation. One need not look at them when they are up in the air, but only the instant they touch or have touched the ground–then one recognizes them. But to be able to fall down in such a way that the same second it looks as if one were standing and walking, to transform the leap of life into a walk, absolutely to express the sublime in the pedestrian–that only the knight of faith can do–and this is the one and only prodigy.
– Johannes de Silentio, Fear and Trembling, 1843

The Three Stages

Kierkegaard recognized three levels of individual existence: The Aesthetic, The Ethical, and The Religious. In Fear and Trembling, Silentio refers to individuals in each stage as "slaves," "knight of infinite resignation," and "knight of faith," respectively. Each of these levels of existence envelops those below it: an ethical person is still capable of aesthetic enjoyment, for example. It is also important to note that the difference between these ways of living are inward, not external, and thus there are no external signs one can point at to determine at what level a person is living.

Knight of Faith and the Knight of Infinite Resignation

Kierkegaard's Silentio contrasts the knight of faith with the other two, knight of infinite resignation (infinity) and the aesthetic "slaves." Kierkegaard uses the story of a princess and a man who is madly in love with her, but circumstances are that the man will never be able to realize this love in this world ever. A person who is in the aesthetic stage would abandon this love, crying out for example, "Such a love is foolishness. The rich brewer's widow is a match fully as good and respectable." A person who is in the ethical stage would not give up on this love, but would be resigned to the fact that they will never be together in this world. The knight of infinity may or may not believe that they may be together in another life or in spirit, but what's important is that the knight of infinity gives up on their being together in this world; in this life.

The knight of faith feels what the knight of infinity feels, but with exception that the knight of faith believes that in this world; in this life, they will be together. The knight of faith would say "I believe nevertheless that I shall get her, in virtue, that is, of the absurd, in virtue of the fact that with God all things are possible." This double movement is paradoxical because on the one hand it is humanly impossible that they would be together, but on the other hand the knight of faith is willing to believe that they will be together through divine possibility.

Abraham and Isaac

Johannes de Silentio believes that Abraham is one such knight of faith. In the Book of Genesis, God told Abraham to sacrifice his son Isaac. Abraham dearly loved his son, but although bemoaning this fate, Abraham obeyed this command faithfully. Just as he was about to commit the act, an angel stopped Abraham and rewarded him with his son and his steadfast faith. In the same paradoxical act of committing murder, which would humanly kill off his son, Abraham believed, through virtue of the absurd, he would still have his son alive and well.

Who are (or Are there) knights of faith?

Silentio personally believes that only two people were ever knights of faith: The Virgin Mary, and Abraham. It is also possible that Silentio regards Jesus as a knight of faith. Silentio grants that there may be knights of faith out there that we do not know about, or that there never have been knights of faith. This is because knights of faith exist alone in isolation.

***

Ubermensch

The Übermensch (German; English: Overman, Superman) is a concept in the Philosophy of Friedrich Nietzsche. Nietzsche posited the Übermensch as a goal for humanity to set for itself in his 1883 book Thus Spoke Zarathustra (German: Also Sprach Zarathustra).

The book's protagonist, Zarathustra, contends that "man is something which ought to be overcome:"

All beings so far have created something beyond themselves; and do you want to be the ebb of this great flood and even go back to the beasts rather than overcome man? What is the ape to man? A laughingstock or a painful embarrassment. And man shall be just that for the overman: a laughingstock or a painful embarrassment…

There is no consensus regarding the precise meaning of the Übermensch, or even the overall importance of the concept in Nietzsche's thought.

Übermensch in English

The first translation of Thus Spoke Zarathustra into English, was by Alexander Tille, published in 1896. Tille translated Übermensch as Beyond-Man. In his translation published in 1909, Thomas Common rendered Übermensch as "Superman"; Common was anticipated in this by George Bernard Shaw, who did the same in his 1903 stage play Man and Superman. Walter Kaufmann lambasted this translation in the 1950s for failing to capture the nuance of the German über and for promoting an eventual puerile identification with the comic-book character Superman. His preference was to translate Übermensch as "overman." Scholars continue to employ both terms, some simply opting to reproduce the German word.

The German prefix über can have connotations of superiority, transcendence, excessiveness, or intensity, depending on the words to which it is appended.[1] Mensch refers to a member of the human species, rather than to a man specifically. The adjective übermenschlich means superhuman, in the sense of beyond human strength or out of proportion to humanity.

This-worldliness

Nietzsche introduces the concept of the Übermensch in contrast to the other-worldliness of Christianity: Zarathustra proclaims the Übermensch to be the meaning of the earth and admonishes his audience to ignore those who promise other-worldly hopes in order to draw them away from the earth.[2][3] The turn away from the earth is prompted, he says, by a dissatisfaction with life, a dissatisfaction that causes one to create another world in which those who made one unhappy in this life are tormented. The Übermensch is not driven into other worlds away from this one.

The Christian escape from this world also required the invention of an eternal soul which would be separate from the body and survive the body's death. Part of other-worldliness, then, was the denigration and mortification of the body, or asceticism. Zarathustra further links the Übermensch to the body and to interpreting the soul as simply an aspect of the body.

As the drama of Thus Spoke Zarathustra progresses, the turn to metaphysics in philosophy and Platonism in general come to light as manifestations of other-worldliness, as well. Truth and nature are inventions by means of which men escape from this world. The Übermensch is also free from these failings.

The death of God and the creation of new values

Zarathustra ties the Übermensch to the death of God. While this God was the ultimate expression of other-worldly values and the instincts that gave birth to those values, belief in that God nevertheless did give life meaning for a time. God is dead means that the idea of God can no longer provide values. With the sole source of values no longer capable of providing those values, there is a real danger of nihilism.

Zarathustra presents the Übermensch as the creator of new values. In this way, it appears as a solution to the problem of the death of God and nihilism. Because the Übermensch acts to create new values within the moral vacuum of nihilism, there is nothing that this creative act would not justify. Alternatively, in the absence of this creation, there are no grounds upon which to criticize or justify any action, including the particular values created and the means by which they are promulgated.

In order to avoid a relapse into Platonic Idealism or asceticism, the creation of these new values cannot be motivated by the same instincts that gave birth to those tables of values. Instead, they must be motivated by a love of this world and of life. Whereas Nietzsche diagnosed the Christian value system as a reaction against life and hence destructive in a sense, the new values which the Übermensch will be responsible for will be life-affirming and creative.

Übermensch as a goal

Zarathustra first announces the Übermensch as a goal humanity can set for itself. All human life would be given meaning by how it advanced a new generation of human beings. The aspiration of a woman would be to give birth to an Übermensch, for example; her relationships with men would be judged by this standard.[4]

Zarathustra contrasts the Übermensch with the last man of egalitarian modernity, an alternative goal which humanity might set for itself. The last man appears only in Thus Spoke Zarathustra, and is presented as a condition that would render the creation of the Übermensch impossible.

Some commentators associate the Übermensch with a program of eugenics.[5] This is most pronounced when considered in the aspect of a goal that humanity sets for itself. The reduction of all psychology to physiology implies, to some, that human beings can be bred for cultural traits. This interpretation of Nietzsche's doctrine focuses more on the future of humanity than on a single cataclysmic individual. There is no consensus regarding how this aspect of the Übermensch relates to the creation of new values, and many would deny vehemently that Nietzsche would countenance a eugenics program at all.

Re-embodiment of amoral aristocratic values

For Rüdiger Safranski, the Übermensch represents a higher biological type reached through artificial selection and at the same time is also an ideal for anyone who is creative and strong enough to master the whole spectrum of human potential, good and "evil", to become an "artist-tyrant". In Ecce Homo, Nietzsche vehemently denied any idealistic, democratic or humanitarian interpretation of the Übermensch: "The word Übermensch [designates] a type of supreme achievement, as opposed to 'modern' men, 'good' men, Christians, and other nihilists ... When I whispered into the ears of some people that they were better off looking for a Cesare Borgia than a Parsifal, they did not believe their ears."[6] Safranski argues that the combination of ruthless warrior pride and artistic brilliance that defined the Italian Renaissance embodied the sense of the Übermensch for Nietzsche. According to Safranski, Nietzsche intended the ultra-aristocratic figure of the Übermensch to serve as a Machiavellian bogeyman of the modern Western middle class and its pseudo-Christian egalitarian value system.[7]

Relation to the eternal recurrence

The Übermensch shares a place of prominence in Thus Spoke Zarathustra with another of Nietzsche's key concepts: the eternal recurrence of the same. Over the course of the drama, the latter waxes as the former wanes. Several interpretations for this fact have been offered.

Laurence Lampert suggests that the eternal recurrence replaces the Übermensch as the object of serious aspiration.[8] This is in part due to the fact that even the Übermensch can appear like an other-worldly hope. The Übermensch lies in the future — no historical figures have ever been Übermenschen — and so still represents a sort of eschatological redemption in some future time.

Stanley Rosen, on the other hand, suggests that the doctrine of eternal return is an esoteric ruse meant to save the concept of the Übermensch from the charge of Idealism.[9] Rather than positing an as-yet unexperienced perfection, Nietzsche would be the prophet of something that has occurred an infinite number of times in the past.

Others maintain that willing the eternal recurrence of the same is a necessary step if the Übermensch is to create new values, untainted by the spirit of gravity or asceticism. Values involve a rank-ordering of things, and so are inseparable from approval and disapproval; yet it was dissatisfaction that prompted men to seek refuge in other-worldliness and embrace other-worldly values. Therefore, it could seem that the Übermensch, in being devoted to any values at all, would necessarily fail to create values that did not share some bit of asceticism. Willing the eternal recurrence is presented as accepting the existence of the low while still recognizing it as the low, and thus as overcoming the spirit of gravity or asceticism.

Still others suggest that one must have the strength of the Übermensch in order to will the eternal recurrence of the same; that is, only the Übermensch will have the strength to fully accept all of his past life, including his failures and misdeeds, and to truly will their eternal return. This action nearly kills Zarathustra, for example, and most human beings cannot avoid other-worldliness because they really are sick, not because of any choice they made.
Dostoyevsky and Kafka
Two of the first literary writers who were important to existentialism were the Czech author Franz Kafka and the Russian author Fyodor Dostoevsky.[38] Dostoevsky's Notes from Underground details the story of a man who is unable to fit into society and unhappy with the identities he creates for himself. Many of Dostoevsky's novels, such as Crime and Punishment, covered issues pertinent to existential philosophy while offering story lines divergent from secular existentialism: for example, in Crime and Punishment one sees the protagonist, Raskolnikov, experience an existential crisis and then move toward a Christian Orthodox worldview similar to which Dostoevsky had himself come to advocate.
Kafka created often surreal and alienated characters who struggle with hopelessness and absurdity, notably in his most famous novella, The Metamorphosis, or in his master novel, The Trial. In his philosophical essay The Myth of Sisyphus, the French existentialist/absurdist Albert Camus describes Kafka's oeuvre as "absurd in principle",[39] although he also finds present the same "tremendous cry of hope" as is to be found in religious existentialists such as Kierkegaard and Shestov, and which Camus himself rejects.[40]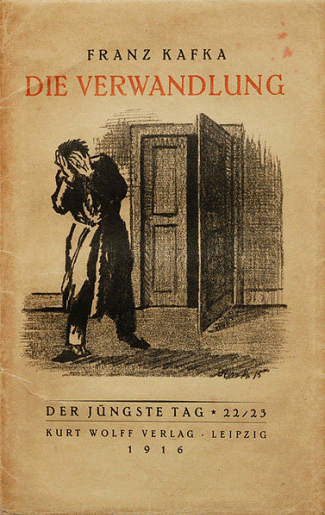 The cover of Kafka's absurdist 1915 novella Die Verwandlung (The Metamorphosis), about a man who is inexplicably transformed into an insect
Early 20th century
In the first decades of the 20th century, a number of philosophers and writers had explored existentialists ideas, the only difference was in the name. The Spanish philosopher Miguel de Unamuno y Jugo, in his 1913 book The Tragic Sense of Life in Men and Nations, emphasized the life of "flesh and bone" as opposed to that of abstract rationalism. Unamuno rejected systematic philosophy in favor of the individual's quest for faith. He retained a sense of the tragic, even absurd nature of the quest, symbolized by his enduring interest in Cervantes' fictional character Don Quixote. A novelist, poet and dramatist as well as philosophy professor at the University of Salamanca, Unamuno's short story about a priest's crisis of faith, "Saint Manuel the Good, Martyr" has been collected in anthologies of existentialist fiction. Another Spanish thinker, Ortega y Gasset, writing in 1914, held that the human existence must always be defined as the individual person combined with the concrete circumstances of his life: "Yo soy yo y mi circunstancia" ("I am myself and my circumstances"). Sartre likewise believed that human existence is not an abstract matter, but is always situated ("en situación").
Although Martin Buber wrote his major philosophical works in German, and studied and taught at the Universities of Berlin and Frankfurt, he stands apart from the mainstream of German philosophy. Born into a Jewish family in Vienna in 1878, he was also a scholar of Jewish culture and involved at various times in Zionism and Hasidism. In 1938, he moved permanently to Jerusalem. His best-known philosophical work was the short book I and Thou, published in 1922. For Buber, the fundamental fact of human existence, too readily overlooked by scientific rationalism and abstract philosophical thought, is "man with man", a dialogue which takes place in the so-called "sphere of between" ("das Zwischenmenschliche").[41]
Two Ukrainian/Russian thinkers, Lev Shestov and Nikolai Berdyaev became well-known as existentialist thinkers during their post-Revolutionary exiles in Paris. Shestov, born into a Ukrainian-Jewish family in Kiev, had launched an attack on rationalism and systematization in philosophy as early as 1905 in his book of aphorisms All Things Are Possible.
Berdyaev, also from Kiev but with a background in the Eastern Orthodox Church, drew a radical distinction between the world of spirit and the everyday world of objects. Human freedom, for Berdyaev, is rooted in the realm of spirit, a realm independent of scientific notions of causation. To the extent the individual human being lives in the objective world, he is estranged from authentic spiritual freedom. "Man" is not to be interpreted naturalistically, but as a being created in God's image, an originator of free, creative acts.[42] He published a major work on these themes, The Destiny of Man, in 1931.
Gabriel Marcel, long before coining the term "existentialism", introduced important existentialist themes to a French audience in his early essay "Existence and Objectivity" (1925) and in his Metaphysical Journal (1927).[43] A dramatist as well as a philosopher, Marcel found his philosophical starting point in a condition of metaphysical alienation; the human individual searching for harmony in a transient life. Harmony, for Marcel, was to be sought through "secondary reflection", a "dialogical" rather than "dialectical" approach to the world, characterized by "wonder and astonishment" and open to the "presence" of other people and of God rather than merely to "information" about them. For Marcel, such presence implied more than simply being there (as one thing might be in the presence of another thing); it connoted "extravagant" availability, and the willingness to put oneself at the disposal of the other.[44]
Marcel contrasted "secondary reflection" with abstract, scientific-technical "primary reflection" which he associated with the activity of the abstract Cartesian ego. For Marcel, philosophy was a concrete activity undertaken by a sensing, feeling human being incarnate — embodied — in a concrete world.[45][46] Although Jean-Paul Sartre adopted the term "existentialism" for his own philosophy in the 1940s, Marcel's thought has been described as "almost diametrically opposed" to that of Sartre.[47] Unlike Sartre, Marcel was a Christian, and became a Catholic convert in 1929.
In Germany, the psychologist and philosopher Karl Jaspers — who later described existentialism as a "phantom" created by the public,[48] — called his own thought, heavily influenced by Kierkegaard and Nietzsche — Existenzphilosophie. For Jaspers, "Existenz-philosophy is the way of thought by means of which man seeks to become himself...This way of thought does not cognize objects, but elucidates and makes actual the being of the thinker."[49]
Jaspers, a professor at the University of Heidelberg, was acquainted with Martin Heidegger, who held a professorship at Marburg before acceding to Husserl's chair at Freiburg in 1928. They held many philosophical discussions, but later became estranged over Heidegger's support of National Socialism. They shared an admiration for Kierkegaard,[50] and in the 1930s Heidegger lectured extensively on Nietzsche. Nevertheless, the extent to which Heidegger should be considered an existentialist is debatable. In Being and Time he presented a method of rooting philosophical explanations in human existence (Dasein) to be analysed in terms of existential categories (existentiale); and this has led many commentators to treat him as an important figure in the existentialist movement.
After the Second World War
Following the Second World War, existentialism became a well-known and significant philosophical and cultural movement, mainly through the public prominence of two French writers, Jean-Paul Sartre and Albert Camus, who wrote best-selling novels, plays and widely-read journalism as well as theoretical texts. These years also saw the growing reputation outside Germany of Heidegger's book Being and Time.
Sartre had dealt with existentialist themes in his 1938 novel Nausea and the short stories in his 1939 collection The Wall, and had published a major philosophical statement, Being and Nothingness in 1943, but it was in the two years following the liberation of Paris from the German occupying forces that he and his close associates — Camus, Simone de Beauvoir, Maurice Merleau-Ponty, and others — became internationally famous as the leading figures of a movement known as existentialism.[51] In a very short space of time, Camus and Sartre in particular, became the leading public intellectuals of post-war France, achieving by the end of 1945 "a fame that reached across all audiences."[52] Camus was an editor of the most popular leftist (former French Resistance) newspaper Combat; Sartre launched his journal of leftist thought, Les Temps Modernes, and two weeks later gave the widely reported lecture on existentialism and humanism to a packed meeting of the Club Maintenant. Beauvoir wrote that "not a week passed without the newspapers discussing us";[53] existentialism became "the first media craze of the postwar era."[54]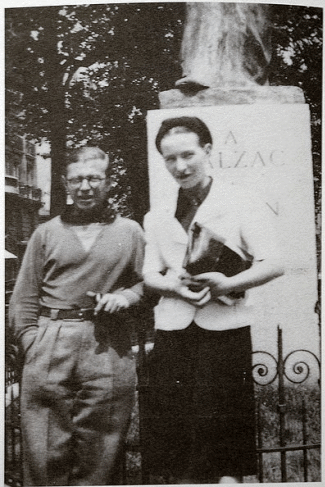 French philosophers Jean-Paul Sartre and Simone de Beauvoir
By the end of 1947, Camus' earlier fiction and plays had been reprinted, his new play Caligula had been performed and his novel The Plague published; the first two novels of Sartre's The Roads to Freedom trilogy had appeared, as had Beauvoir's novel The Blood of Others. Works by Camus and Sartre were already appearing in foreign editions. The Paris-based existentialists had become famous.[55]
Sartre had travelled to Germany in 1930 to study the phenomenology of Edmund Husserl and Martin Heidegger,[56] and he included critical comments on their work in his major treatise Being and Nothingness. Heidegger's thought had also become known in French philosophical circles through its use by Alexandre Kojève in explicating Hegel in a series of lectures given in Paris in the 1930s.[57] The lectures were highly influential; members of the audience included not only Sartre and Merleau-Ponty, but Raymond Queneau, Georges Bataille, Louis Althusser, André Breton and Jacques Lacan.[58] A selection from Heidegger's Being and Time was published in French in 1938, and his essays began to appear in French philosophy journals.
Heidegger read Sartre's work and was initially impressed, commenting: "Here for the first time I encountered an independent thinker who, from the foundations up, has experienced the area out of which I think, Your work shows such an immediate comprehension of my philosophy as I have never before encountered."[59] Later, however, in response to a question posed by his French follower Jean Beaufret,[60] Heidegger distanced himself from Sartre's position and existentialism in general in his Letter on Humanism.[61] Heidegger's reputation continued to grow in France during the 1950s and 1960s. In the 1960s, Sartre attempted to reconcile existentialism and Marxism in his work Critique of Dialectical Reason. A major theme throughout his writings was freedom and responsibility.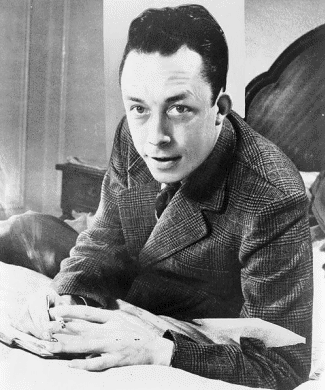 French-Algerian philosopher, novelist, and playwright Albert Camus
Albert Camus was a friend of Sartre, until their falling-out, and wrote several works with existential themes including The Rebel, The Stranger, The Myth of Sisyphus, and Summer in Algiers. Camus, like many others, rejected the existentialist label, and considered his works to be concerned with people facing the absurd. In The Myth of Sisyphus, Camus uses the analogy of the Greek myth to demonstrate the futility of existence. In the myth, Sisyphus is condemned for eternity to roll a rock up a hill, but when he reaches the summit, the rock will roll to the bottom again. Camus believes that this existence is pointless but that Sisyphus ultimately finds meaning and purpose in his task, simply by continually applying himself to it. The first half of the book contains an extended rebuttal of what Camus took to be existential philosophy in the works of Kierkegaard, Shestov, Heidegger and Jaspers.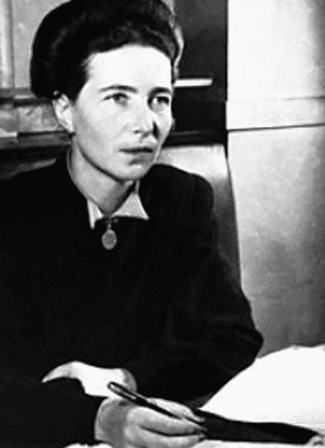 French philosopher and novelist Simone de Beauvoir
Simone de Beauvoir, an important existentialist who spent much of her life as Sartre's partner, wrote about feminist and existential ethics in her works, including The Second Sex and The Ethics of Ambiguity. Although often overlooked due to her relationship with Sartre, de Beauvoir integrated existentialism with other forms of thinking such as feminism, unheard of at the time, resulting in alienation from fellow writers such as Camus. Frantz Fanon, a Martiniquan-born critic of colonialism, has been considered an important existentialist.[62]
Paul Tillich, an important existential theologian following Søren Kierkegaard and Karl Barth, applied existential concepts to Christian theology, and helped introduce existential theology to the general public. His seminal work The Courage to Be follows Kierkegaard's analysis of anxiety and life's absurdity, but puts forward the thesis that modern man must, via God, achieve selfhood in spite of life's absurdity.
Rudolf Bultmann used Kierkegaard's and Heidegger's philosophy of existence to demythologize Christianity by interpreting Christian mythical concepts into existential concepts.
Maurice Merleau-Ponty, an existential phenomenologist, was for a time a companion of Sartre. His understanding of Husserl's phenomenology was far greater than that of Merleau-Ponty's fellow existentialists. It has been said that his work, Humanism and Terror, greatly influenced Sartre. However, in later years they were to disagree irreparably, dividing many existentialists such as de Beauvoir, who sided with Sartre.
Colin Wilson, an English writer, published his study The Outsider in 1956, initially to critical acclaim. In this book and others (e.g. Introduction to the New Existentialism), he attempted to reinvigorate what he perceived as a pessimistic philosophy and bring it to a wider audience. He was not, however, academically trained, and his work was attacked by professional philosophers for lack of rigor and critical standards.[63]
Concepts

Focus on concrete existence
Existentialist thinkers focus on the question of concrete human existence and the conditions of this existence rather than hypothesizing a human essence, stressing that the human essence is determined through life choices. However, even though the concrete individual existence must have priority in existentialism, certain conditions are commonly held to be "endemic" to human existence.
What these conditions are is better understood in light of the meaning of the word "existence," which comes from the Latin "existere," meaning "to stand out." Man exists in a state of distance from the world that he nonetheless remains in the midst of. This distance is what enables man to project meaning into the disinterested world of in-itselfs. This projected meaning remains fragile, constantly facing breakdown for any reason — from a tragedy to a particularly insightful moment. In such a breakdown, we are put face to face with the naked meaninglessness of the world, and the results can be devastating.
It is in relation to the concept of the devastating awareness of meaninglessness that Albert Camus claimed that "there is only one truly serious philosophical problem, and that is suicide" in his The Myth of Sisyphus. Although "prescriptions" against the possibly deleterious consequences of these kinds of encounters vary, from Kierkegaard's religious "stage" to Camus' insistence on persevering in spite of absurdity, the concern with helping people avoid living their lives in ways that put them in the perpetual danger of having everything meaningful break down is common to most existentialist philosophers. The possibility of having everything meaningful breakdown poses a threat of quietism, which is inherently against the existentialist philosophy. [64]
Existence precedes essence
A central proposition of existentialism is that existence precedes essence, which means that the actual life of the individual is what constitutes what could be called his or her "essence" instead of there being a predetermined essence that defines what it is to be a human. Thus, the human being -- through his consciousness -- creates his own values and determines a meaning to his life.[65]. Although it was Sartre who explicitly coined the phrase, similar notions can be found in the thought of many existentialist philosophers, from Kierkegaard to Heidegger.
It is often claimed in this context that a person defines himself, which is often perceived as stating that we can "wish" to be something — anything, a bird, for instance — and then be it. According to most existentialist philosophers, however, this would be an inauthentic existence. What is meant by the statement is that a person is (1) defined only insofar as he or she acts and (2) that he or she is responsible for his or her actions. For example, someone who acts cruelly towards other people is, by that act, defined as a cruel person. Furthermore, by this action of cruelty such persons are themselves responsible for their new identity (a cruel person). This is as opposed to their genes, or 'human nature', bearing the blame.
As Sartre puts it in his Existentialism is a Humanism: "man first of all exists, encounters himself, surges up in the world – and defines himself afterwards." Of course, the more positive, therapeutic aspect of this is also implied: A person can choose to act in a different way, and to be a good person instead of a cruel person. Here it is also clear that since man can choose to be either cruel or good, he is, in fact, neither of these things essentially. [66]
Angst
Angst, sometimes called dread, anxiety or even anguish is a term that is common to many existentialist thinkers. It is generally held to be the experience of humans' freedom and responsibility. The archetypal example is the experience one has when standing on a cliff where one not only fears falling off it, but also dreads the possibility of throwing oneself off. In this experience that "nothing is holding me back", one senses the lack of anything that predetermines one to either throw oneself off or to stand still, and one experiences one's own freedom.
It can also be seen in relation to the previous point how angst is before nothing, and this is what sets it apart from fear which has an object. While in the case of fear, one can take definitive measures to remove the object of fear, in the case of angst, no such "constructive" measures are possible. The use of the word "nothing" in this context relates both to the inherent insecurity about the consequences of one's actions, and to the fact that, in experiencing one's freedom as angst, one also realizes that one will be fully responsible for these consequences; there is no thing in a person (their genes, for instance) that acts in their stead, and that they can "blame" if something goes wrong.
Not every choice is perceived as having dreadful possible consequences (and, it can be claimed, human lives would be unbearable if every choice facilitated dread), but that doesn't change the fact that freedom remains a condition of every action. One of the most extensive treatments of the existentialist notion of Angst is found in Søren Kierkegaard's monumental work Begrebet Angest.