Pussy Riot's Masha Alyokhina on Putin, Trump and Brexit: 'It's useless to be afraid'. Set to headline Australia's Dark Mofo in Hobart, the activist speaks about imprisonment, fear and discovering her son is 'violating the regime' of school
by Clarissa Sebag-Montefiore
Tue 9 May 2017 20.16 EDT Last modified on Thu 22 Feb 2018 06.04 EST
NOTICE: THIS WORK MAY BE PROTECTED BY COPYRIGHT
YOU ARE REQUIRED TO READ

THE COPYRIGHT NOTICE AT THIS LINK

BEFORE YOU READ THE FOLLOWING WORK, THAT IS AVAILABLE SOLELY FOR PRIVATE STUDY, SCHOLARSHIP OR RESEARCH PURSUANT TO 17 U.S.C. SECTION 107 AND 108. IN THE EVENT THAT THE LIBRARY DETERMINES THAT UNLAWFUL COPYING OF THIS WORK HAS OCCURRED, THE LIBRARY HAS THE RIGHT TO BLOCK THE I.P. ADDRESS AT WHICH THE UNLAWFUL COPYING APPEARED TO HAVE OCCURRED. THANK YOU FOR RESPECTING THE RIGHTS OF COPYRIGHT OWNERS.
KING: Prince Bandar, do you know the bin Laden family?

PRINCE BANDAR: I do very well.

KING: What are they like?

PRINCE BANDAR: They're really lovely human beings. He is the only one. I never -- I don't know him well. I met him only once. The rest of them are well-educated, successful businessmen, involved in a lot of charities. It is -- it is tragic. I feel pain for them, because he's caused them a lot of pain.

KING: What was the circumstance under which you met him?

PRINCE BANDAR: This is ironic. In the mid-'80s, if you remember, we and the United -- Saudi Arabia and the United States were supporting the Mujahideen to liberate Afghanistan from the Soviets. He came to thank me for my efforts to bring the Americans, our friends, to help us against the atheists, he said the communists.

Isn't it ironic?

KING: How ironic. In other words, he came to thank you for helping bring America to help him.

PRINCE BANDAR: Right.

KING: And now he may be responsible for bombing Americans.

PRINCE BANDAR: Absolutely.

KING: What did you make of him he when you met him?

PRINCE BANDAR: I was not impressed, to be honest with you.

KING: Not impressed?

PRINCE BANDAR: No, he was -- I thought he was simple and very quiet guy. But I don't think he has the capacity to do what he has done now. I think there are people around him who are the brains...

KING: Oh, really?

PRINCE BANDAR: Absolutely.

KING: He's just sort of the leader type?

PRINCE BANDAR: I think he's the charismatic leader, being used for that.

-- America's New War: Responding to Terrorism, by Larry King Live
Pussy Riot's Masha Alyokhina, who was imprisoned in Russia for two years for protests against Putin, is coming to Dark Mofo in Tasmania. Photograph: Alexander Sofeev
"Are you able to keep calling her later today or late tonight?" Maria Alyokhina's representative asks me, panicked. "Or could you try any other day? In fact," he adds woefully,
"any scheduled interview with Masha is a risky idea."
I receive the harried message just before I am due to speak to Alyokhina, the balaclava-wearing, punk-spouting Pussy Riot activist. It's well past mid-morning. But Masha, as she is known, is asleep.
When I finally get through it's after midnight in Moscow. Alyokhina is all apologies. "I just have no idea how I didn't hear these hundreds of alarms."
I first met Alyokhina in London last summer for the premiere of her production Burning Doors. It's hard not to like her. In person, she's warm and candid, with a wry, wicked sense of humour and elfin looks. Yet talking to her again, it strikes me now, as it did then, that
she is strung with steel
. This is a woman who doesn't change herself for anything or anyone. That includes sleeping habits.
As one of the most famous faces of the Russian activist movement, at least she has an excuse. Since Alyokhina was released from jail in a flurry of media attention in 2013, life has been busy.
The punk-feminist singer now travels the world performing anti-Putin songs, acting in anti-Putin plays, and giving anti-Putin talks
-– a job all the more pressing since Trump, stained with implications of Russian interference in the US election, came to power.
Now Alyokhina is travelling to Australia with Pussy Riot's Alexandra Lukyanova, also known as Sasha Bogino, to appear at Hobart's Dark Mofo festival in June for a Q&A with Alexander Cheparukhin, and a DJ set. She's also releasing her debut book, Riot Days, in September: an account of her arrest and abuse at the hands of the Russian state.
Trump and Putin have much in common, but it is more important to remember what we have in common

-- Masha Alyokhina
"It's Pussy Riot's story, my story, Russia's story," she tells me. "It's a story of choice. I wrote it because I think that
I believe there are no heroes
, and every person has a story to tell and I wanted to show that anyone can be Pussy Riot."
Alyokhina, 28, is an advocate of standing up and being heard -– even at the cost of individual freedom. In her case, punishments in her near two-year stint in jail included brutal and humiliating gynaecological examinations (inmates called it "to be let through the chair") and five months in solitary confinement.
"[In jail] how they keep the power? People work for 20 hours per day, the food is rotten, there is a thousand prisoners. How they stop the protesting?" she asks in accented English. "Very simple. They say if you will strike our regime, we will put you in solitary confinement. They call it prison inside prison. What they don't realise is that it doesn't matter what is around you. Where you keep your freedom is inside you."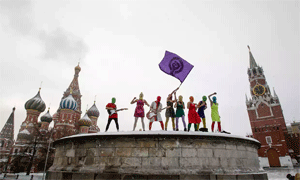 'Anyone can be Pussy Riot': Pussy Riot stage a protest at Red Square in Russia. Photograph: Alexander Sofeev
Still, imprisonment took its toll -– not least for Alyokhina's son Filip, who was just five when she was arrested. (Alyokhina is close to Filip's father, but won't define their relationship, saying "we are not about marriage"). Originally she was barred from seeing Filip altogether. When he was allowed to visit, after four or five months, it was in a supervised room, with mother and child separated by a thick sheet of glass. The only way to talk was via telephone. "That was one of the hardest and painful moments I think during the whole sentence," she says.
It isn't only in Russia, though, where activists need to be counted.
Trump and Brexit, she insists, are "a wake-up call.
The main thing about my fight is to overcome the indifference of people."
Recent movements across the world strike Alyokhina as dangerous. "It's a very short way from democracy, where you have elections and a chance to choose –- [for] example like Russia, where you lose this opportunity very fast. It takes just several years to take everything away – destroying is always faster than building."
"Trump -– it is not just a political leader, but a symptom," she adds. "I am sure that Trump and Putin have much in common, but it is more important to remember what we have in common –- in the community of those who disagree with them."
So does Alyokhina feel fear? For herself and her family in a country where anti-Kremlin journalists, members of the political opposition, and dissidents are routinely imprisoned or killed?
"No, I'm not afraid," she insists. "I think it's useless to be afraid, actually … I believe that when you do things, when you decide an action, any fear goes away because action is stronger than fear."
Back in Moscow there are more mundane problems to worry about. Alyokhina has to go and visit the school administration because
her son, who turns 10 this month, has "built some kind of a gang. I receive call from school and they say he is violating the regime".
She laughs. Then sounds perplexed. "It's really funny to hear these words but the reality [is] I don't know what to do."
At the very least, she reasons, she can lead by example. Growing up,
Alyokhina, whose parents were mathematicians (her father was an academic), remembers asking what they did to fight repression in 1970s Russia. "They didn't have an answer,"
she says. "I know that my son will be 20 or 25 someday and he will ask me, as well, what I was doing. And I want to have an answer."