Nikolai Martynov
by Wikipedia
Accessed: 8/14/18
NOTICE: THIS WORK MAY BE PROTECTED BY COPYRIGHT
YOU ARE REQUIRED TO READ

THE COPYRIGHT NOTICE AT THIS LINK

BEFORE YOU READ THE FOLLOWING WORK, THAT IS AVAILABLE SOLELY FOR PRIVATE STUDY, SCHOLARSHIP OR RESEARCH PURSUANT TO 17 U.S.C. SECTION 107 AND 108. IN THE EVENT THAT THE LIBRARY DETERMINES THAT UNLAWFUL COPYING OF THIS WORK HAS OCCURRED, THE LIBRARY HAS THE RIGHT TO BLOCK THE I.P. ADDRESS AT WHICH THE UNLAWFUL COPYING APPEARED TO HAVE OCCURRED. THANK YOU FOR RESPECTING THE RIGHTS OF COPYRIGHT OWNERS.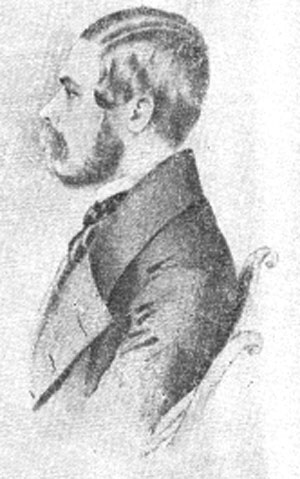 Nikolai Martynov, watercolor by Thomas Wright
Nikolai Solomonovich Martynov (Russian: Николай Соломонович Мартынов) (1815–1875) was the Russian army officer who fatally shot the poet Mikhail Lermontov in a cliff-edge duel on July 27, 1841,[1] despite Lermontov's supposedly having made it known that he was going to shoot into the air.
References
Wikisource Ralston, William Ralston Shedden (1911). "Lermontov, Mikhail Yurevich". In Chisholm, Hugh. Encyclopædia Britannica. 16 (11th ed.). Cambridge University Press. pp. 484–485.
External links
S. K. Kravchenko (1981). "МАРТЫ́НОВ Николай Соломонович (1815–75)" [Nikolai Solomonovich Martynov (1815–75)]. Lermontov Encyclopedia. Great Soviet Encyclopedia. Retrieved March 20, 2018. (in Russian)
L. M. Arinstein, V. A. Manuilov (1981). "ДУЭЛИ Лермонтова" [Duels of Lermontov]. Lermontov Encyclopedia. Great Soviet Encyclopedia. Retrieved March 21, 2011. (in Russian)
Brief Biography of Lermontov at faculty.virginia.edu with mention of the duel (in English)
*************************************************
Mikhail Yurievich Lermontov (1814-41)
by University of Virginia
Accessed: 8/14/18
Mikhail Lermontov was descended on his father's side from a Scottish soldier named Learmont who had entered the Russian service in the 17th century. His mother was a member of the Stolypin family. She died when he was three, and he was raised by his maternal grandmother. Lermontov became interested in Byron at an early age, and the poetry he wrote in his youth reflects this interest: "No, I am not Byron, I am another / As yet unknown chosen one, / A wanderer, persecuted by the world as he was, / But only with a Russian soul...."

In 1830 Lermontov entered Moscow University and spent two years there. He became a Cavalry Cadet in 1832, and received a commission in the Hussar Life Guards, where he avidly pursued the image of the carefree, hedonistic, daring Guards officer. Due to his modest income and appearance, however, he made less of an impression in high society than he wished, and he would acutely recall the slights to his pride in later years. When Alexander Pushkin was killed in a duel in 1837, Lermontov wrote a biting and bitter poem blaming the court aristocracy for letting Pushkin be killed. The poem circulated in manuscript form, and it caused a sensation. Lermontov was court martialled and transferred to a regiment of the line in the Caucasus. He was soon pardoned however, and he was restored to the Guards. Now he returned to Petersburg, a kind of triumphal hero with the reputation of a persecuted poet. He could contrast this sudden fame and adulation with the disregard he had received from the same social set just a few years earlier.
His short novel, A Hero of Our Time, was written during the years 1838-39, and the imprint of Lermontov's personal experience is evident in the text. The novel appeared in print in 1840.
Lermontov's troubles with the authorities were not over, however. In 1840 he managed to insult the Tsar's daughter at a masquerade ball, and he fought a duel with the son of the French ambassador. For this, he was again sent to the Caucasus, where he distinguished himself in military action.
Then, in 1841, while taking a rest in the spa town of Pyatigorsk, he became involved in a dispute with an old schoolmate named Martynov over the affections of a woman. Martynov had adopted native dress in an attempt to impress the woman, and Lermontov teased him mercilessly. Martynov challenged Lermontov to a duel, and on July 15, the young writer was shot to death on a hillside outside the town.