Part 1 of 2
Nikolay Nekrasov
by Wikipedia
Accessed: 8/14/18
NOTICE: THIS WORK MAY BE PROTECTED BY COPYRIGHT
YOU ARE REQUIRED TO READ

THE COPYRIGHT NOTICE AT THIS LINK

BEFORE YOU READ THE FOLLOWING WORK, THAT IS AVAILABLE SOLELY FOR PRIVATE STUDY, SCHOLARSHIP OR RESEARCH PURSUANT TO 17 U.S.C. SECTION 107 AND 108. IN THE EVENT THAT THE LIBRARY DETERMINES THAT UNLAWFUL COPYING OF THIS WORK HAS OCCURRED, THE LIBRARY HAS THE RIGHT TO BLOCK THE I.P. ADDRESS AT WHICH THE UNLAWFUL COPYING APPEARED TO HAVE OCCURRED. THANK YOU FOR RESPECTING THE RIGHTS OF COPYRIGHT OWNERS.
Not to be confused with Nikolai Vissarionovich Nekrasov.
And you, stubborn heirs
Of fathers renowned for meanness,
Who with servile heel trod underfoot the shards Of families by Fortune frowned upon!
You, greedy crowd standing near the throne,
Of Freedom, Genius and Glory the hangman!
You hide behind the protection of law,
Before you, the court and truth—all is silent!
But there is also divine judgment, you cronies of corruption!
There is a terrible judge: he waits;
He is not swayed by tinkling gold,
And knows your thoughts and affairs beforehand.
Then in vain will you resort to slander:
It will not help you again,
And with all your black blood you shall not wash away
The righteous blood of the poet!-- The Promise of Mikhail Lermontov, by Denise M. Henderson
Necro may refer to:

• necro-, the Greek prefix meaning death
• Necromancy, a type of magic
• Necrophilia, the sexual attraction to corpses
• Necropolis, a large ancient cemetery

-- Necro, by Wikipedia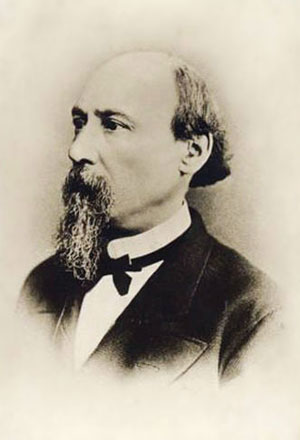 Nikolay Nekrasov
Nekrasov in 1870
Born Nikolay Alexeyevich Nekrasov
10 December [O.S. 28 November] 1821
Nemyriv, Russian Empire
Died 8 January 1878 [O.S. 28 December 1877] (aged 56)
Saint Petersburg, Russian Empire
Occupation Poet, publisher
Language Russian
Nationality Russian
Spouse Fyokla Viktorova
Signature
Nikolay Alexeyevich Nekrasov (Russian: Никола́й Алексе́евич Некра́сов, IPA: [nʲɪkɐˈlaj ɐlʲɪkˈsʲejɪvʲɪtɕ nʲɪˈkrasəf] (About this sound listen), 10 December [O.S. 28 November] 1821 – 8 January 1878 [O.S. 28 December 1877]) was a Russian poet, writer, critic and publisher, whose
deeply compassionate poems about peasant Russia made him the hero of

liberal

and radical circles of Russian intelligentsia, as represented by Vissarion Belinsky, Nikolay Chernyshevsky and Fyodor Dostoyevsky
.
On who must be reckoned
The greatest of sinners:
"The publican," one says,
And one, "The Pomyéshchick,"
Another, "The peasant."
This last was a carter,
A man of good standing
And sound reputation,
No ignorant babbler.
He'd seen many things
In his life, his own province
Had traversed entirely.
He should have been heard.

The peasants, however,

Were all so indignant

They would not allow him

To speak. As for Klímka,

His wrath is unbounded,

"You fool!" he is shouting.

"But let me explain."

"I see you are all fools,"

A voice remarks roughly:

The voice of a trader

Who squeezes the peasants

For laputs or berries

Or any spare trifles.

But chiefly he's noted

For seizing occasions

When taxes are gathered,

And peasants' possessions

Are bartered at auction.

"You start a discussion

And miss the chief point.

Why, who's the worst sinner?

Consider a moment."

"Well, who then? You tell us."

"The robber, of course."

"You've not been a serf, man,"

Says Klímka in answer;

"The burden was heavy,

But not on your shoulders.

Your pockets are full,

So the robber alarms you;

The robber with this case

Has nothing to do."

"The case of the robber

Defending the robber,"

The other retorts.

"Now, pray!" bellows Klímka,

And leaping upon him,

He punches his jaw.

The trader repays him

With buffets as hearty,

"Take leave of your carcase!"

He roars.

"Here's a tussle!"

The peasants are clearing

A space for the battle;

They do not prevent it

Nor do they applaud it.

The blows fall like hail.

"I'll kill you, I'll kill you!

Write home to your parents!"

"I'll kill you, I'll kill you!

Heh, send for the pope!"

The trader, bent double

By Klímka, who, clutching

His hair, drags his head down,

Repeating, "He's bowing!"

Cries, "Stop, that's enough!"

When Klímka has freed him

He sits on a log,

And says, wiping his face

With a broadly-checked muffler,

"No wonder he conquered:

He ploughs not, he reaps not,

Does nothing but doctor

The pigs and the horses;

Of course he gets strong!"

The peasants are laughing,

And Klímka says, mocking,

"Here, try a bit more!"

"Come on, then! I'm ready,"

The trader says stoutly,

And rolling his sleeves up,

He spits on his palms.

"The hour has now sounded
For me, though a sinner,
To speak and unite you,"

Ióna pronounces.

The whole of the evening

That diffident pilgrim

Has sat without speaking,

And crossed himself, sighing.

The trader's delighted,

And Klímka replies not.

The rest, without speaking,

Sit down on the ground.

***

My brothers, how grievous
The sins of the nobles!"
"And yet not as great
As the sin of the peasant,"
The carter cannot here
Refrain from remarking. -- Who Can Be Happy and Free in Russia?, by Nicholas Nekrasov
He is credited with introducing into Russian poetry ternary meters and the technique of dramatic monologue (On the Road, 1845).[1] As the editor of several literary journals, notably Sovremennik, Nekrasov was also singularly successful and influential.[2]
Biography

Early years
Nikolay Alexeyevich Nekrasov was born in Nemyriv (now in Vinnytsia Oblast, Ukraine), Podolia Governorate. His father Alexey Sergeyevich Nekrasov (1788-1862) was a descendant from Russian landed gentry, and an officer in the Imperial Russian Army.[3] There is some uncertainty as to his mother's origins. According to Brokhaus & Efron (and this corresponds with Nekrasov's 1887 autobiographical notes), Alexandra Zakrzewska was a Polish noblewoman, daughter of a wealthy landlord who belonged to szlachta. The church metrics tell a different story, and modern Russian scholars have her name as Yelena Andreyevna. "Up until recently the poet's biographers had it that his mother belonged to the Polish family. In fact she was a daughter of an Ukrainian state official Alexander Semyonovich Zakrevsky, the owner of Yuzvino, a small village in the Podolia Governorate," Korney Chukovsky asserted in 1967.[4] Pyotr Yakubovich argued that the metrics might have been tempered with so as to conceal the fact that the girl had been indeed taken from Poland without her parents' consent (Nekrasov in his autobiography states as much).[5][note 1] D.S.Mirsky came up with another way of explaining this discrepancy by suggesting that Nekrasov "created the cult of his mother, imparted her with improbable qualities and started worshipping her after her death."[6]
In January 1823 Alexey Nekrasov, ranked army major, retired and moved the family to his estate in Greshnevo, Yaroslavl province, near the Volga River, where young Nikolai spent his childhood years with his five siblings, brothers Andrey (b. 1820), Konstantin (b. 1824) and Fyodor (b. 1827), sisters Elizaveta (b. 1821) and Anna (b. 1823).[2][3] This
early retirement from the army, as well as his job as a provincial inspector, caused Aleksey Sergeyevich much frustration resulting in drunken rages against both his peasants and his wife. Such experiences traumatized Nikolai and later determined the subject matter of his major poems that portrayed the plight of the Russian peasants and women. Nekrasov's mother loved literature and imparted this passion to her son; it was her love and support that helped the young poet to survive the traumatic experiences of his childhood which were aggravated by images of social injustice, similar to Fyodor Dostoyevsky's childhood recollections
.[5][7][8] "His was a wounded heart, and this wound that never healed served as a source for his passionate, suffering verse for the rest of his life," the latter wrote.[3]
Education and literary debut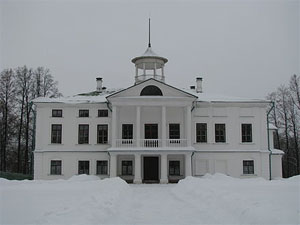 Every summer Nekrasov would go hunting to his brother's estate of Karabikha near Yaroslavl (now a memorial museum).
In September 1832 Nekrasov joined the Yaroslavl Gymnasium but quit it prematurely. The reasons for this might have been the alleged trouble with tutors whom he wrote satires on (no archive documents confirm this)[9] as well as Alexey Sergeyevich's insistence that his son should join the military academy. The biographer Vladimir Zhdanov also mentions the father's unwillingness to pay for his children's education; he certainly was engaged at some point in a long-drawn correspondence with the gymnasium authorities on this matter. Finally, in July 1837 he took two of his elder sons back home, citing health problems as a reason, and Nikolai had to spend a year in Greshnevo, doing nothing besides accompanying his father in his expeditions. The quality of education in the gymnasium was poor, but it was there that Nekrasov's interest in poetry grew:
he admired Byron and Pushkin, notably the latter's "Ode to Freedom".[2]
According to some sources he has been then 'sent' to Saint Petersburg by his father, but Nekrasov in his autobiography maintained that it was his own decision to go, and that his brother Andrey assisted him in trying to persuade their father to procure all the recommendations required.[4] "By the age of fifteen the whole notebook [of verses] has taken shape, which was the reason why I was itching to flee to the capital," he remembered.[7]
Outraged by his son's refusal to join the Cadet Corps, the father stopped supporting him financially. The three-year period of his "Petersburg tribulations" followed when the young man had to live in extreme conditions and once even found himself in a homeless shelter.
[2] Things turned for the better when he started to give private lessons and contribute to the Literary Supplement to Russky Invalid, all the while compiling ABC-books and versified fairytales for children and vaudevilles, under the pseudonym Perepelsky.[5] In October 1838 Nekrasov debuted as a published poet: his "Thought" (Дума) appeared in Syn Otechestva.[10]
In 1839 he took exams at the Saint Petersburg University's Eastern languages faculty, failed and joined the philosophy faculty as a part-time student where he studied, irregularly, until July 1841.[8] Years later detractors accused Nekrasov of mercantilism ("A million was his demon," wrote Dostoyevsky).
But, "for eight years (1838-1846) this man lived on the verge of starvation... should he have backstepped, made peace with his father, he'd found himself again in total comfort," Yakubovish noted. "He might have easily become brilliant general, outstanding scientist, rich merchant, should he have put his heart to it," argued Nikolai Mikhaylovsky, praising Nekrasov's stubbornness in pursuing his own way.[5]
In February 1840 Nekrasov published his first collection of poetry Dreams and Sounds, using initials "N. N." following the advise of his patron Vasily Zhukovsky who suggested the author might feel ashamed of his childish exercises in several years' time.[10] The book, reviewed favourably by Pyotr Pletnyov and Ksenofont Polevoy, was dismissed by Alexey Galakhov and Vissarion Belinsky. Several months later Nekrasov retrieved and destroyed the unsold bulk of his first collection; some copies that survived have become a rarity since.[8] Dreams and Sounds was indeed a patchy collection, but not such a disaster as it was purported to be and featured, albeit in embryonic state, all the major motifs of the later Nekrasov's poetry.[2][5]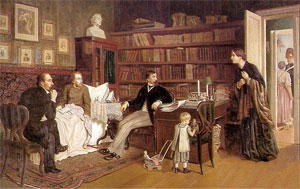 Nekrasov and Panayev visiting sick Belinsky. By A.Naumov
Nekrasov's first literary mentor Fyodor Koni who edited theatre magazines (Repertoire of Russian Theatre, then Pantheon, owned by Nikolai Polevoy), helped him debut as literary critic. Soon he became a prolific author and started to produce satires ("The Talker", "The States Official") and vaudevilles ("The Actor", "The Petersburg Money-lender"), for this publication and Literaturnaya Gazeta. Nekrasov's fondness for theater prevailed through the years, and his best poems (Russian Women, The Railway, The Contemporaries, Who Is Happy in Russia?) all had a distinct element of drama to them.[3]
In October 1841 Nekrasov started contributing to Andrey Krayevsky's Otechestvennye Zapiski (which he did until 1846), writing anonymously.[10] The barrage of prose he published in the early 1840s was, admittedly, worthless, but several of his plays (notably, No Hiding a Needle in a Sack) were produced at the Alexandrinsky Theatre to some commercial success.
[3] In 1842 (a year after his mother's death) Nekrasov returned to Greshnevo and made peace with his father who was now quite proud of his son's achievements.[5]
In 1843 Nekrasov met Vissarion Belinsky and entered his circle of friends which included Ivan Turgenev, Ivan Panayev and Pavel Annenkov. Belinsky, obsessed with the ideas of the French Socialists, found a great sympathizer in Nekrasov for whom horrors of serfdom in his father's estate were still a fresh memory.[3] "On the Road" (1845) and "Motherland" (1846), two of Nekrasov's early realistic poems, delighted Belinsky.[11]
The poet claimed later that those early conversations with Belinsky changed his life and commemorated the critic in several poems ("In the Memory of Belinsky", 1853; "V.G.Belinsky", 1855; "Scenes from The Bear Hunt", 1867). Before his death in 1848, Belinsky granted Nekrasov rights to publish various articles and other material originally planned for an almanac, to be called the "Leviathan".[3]
In the mid-1840s Nekrasov compiled, edited and published two influential almanacs, The Physiology of Saint Petersburg (1845)[note 2] and Saint Petersburg Collection (1846), the latter featuring Fyodor Dostoyevsky's first novel, Poor Folk. Gathering the works of several up and coming authors (Ivan Turgenev, Dmitry Grigorovich, Vladimir Dal, Ivan Panayev, Alexander Hertzen, Fyodor Dostoyevsky among them), both books were instrumental in promoting the new wave of realism in Russian literature. Several Nekrasov's poems found their way into the First of April compilation of humour he published in April 1846. Among the curiosities featured there was the novel The Danger of Enjoying Vain Dreams, co-authored by Nekrasov, Grigorovich and Dostoyevsky.[10]
Among the work of fiction written by Nekrasov in those years was his unfinished autobiographical novel The Life and Adventures of Tikhon Trostnikov (1843-1848); some of its motifs would be found later in his poetry ("The Unhappy Ones", 1856; On the Street, 1850, "The Cabman", 1855). Part of it, the "St. Petersburg Corners", featured in the Physiology of St. Petersburg, was treated later as an independent novelette, an exponent of the "natural school" genre.[3][12]
Sovremennik and Otechestvennye Zapiski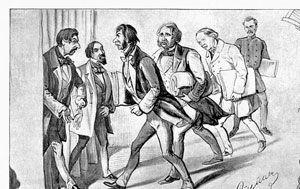 In November 1846 Panayev and Nekrasov acquired[note 3] a popular magazine Sovremennik which had been founded by Alexander Pushkin but lost momentum under Pyotr Pletnyov
.
hold em up

it's a street arrest

and we're dealin with identity theft

you need a publication

i don't see why i got to

you need a press release

as to assimilate

journo-fascist profiteers

pornotastic pioneers

bonbonbastic puppeteers

get away from me

how can you write what we read

that ain't my reality

you disabuse humanity

humility

and fealty

-- Identity Theft, by Nellie McKay
Much of the staff of the old Otechestvennye Zapiski, including Belinsky, abandoned Andrey Krayevsky's magazine, and joined Sovremennik to work with Nekrasov, Panayev and Alexander Nikitenko, a nominal editor-in-chief. In the course of just several months Nekrasov managed to draw to the invigorated magazine the best literary forces of Russia. Among the works published in it in the course of the next several years were Ivan Turgenev's A Sportsman's Sketches, Dmitry Grigorovich's Anton Goremyka, Ivan Goncharov's A Common Story, Alexander Hertzen's Magpie the Thief and Doctor Krupov. One of the young authors discovered by Nekrasov was Leo Tolstoy who debuted in Sovremennik with his trilogy Childhood, Boyhood and Youth.[3]

Nekrasov managed to save the magazine during the 'Seven years of darkness' period (1848-1855) when it was balancing on the verge of closure and he himself was under the secret police' surveillance.[10] In order to fill up the gaps caused by censorial interference he started to produce lengthy picturesque novels (Three Countries of the World, 1848-1849, The Dead Lake, 1851), co-authored by Avdotya Panayeva, his common-law wife.[3][13] His way of befriending censors by inviting them to his weekly literary dinners proved to be another useful ploy.

Gambling (a habit shared by male ancestors on his father's side; his grandfather lost most of the family estate through it) was put to the service too, and as a member of the English Club Nekrasov made a lot of useful acquaintances.[3]
In 1854 Nekrasov invited Nikolai Chernyshevsky to join Sovremennik, in 1858 Nikolai Dobrolyubov became one of its major contributors. This led to the inevitable radicalisation of the magazine and the rift with its

liberal

flank. In 1859 Dobrolyubov's negative review outraged Turgenev and led to his departure from Sovremennik.[10] But the influx of young radical authors continued: Nikolai Uspensky, Fyodor Reshetnikov, Nikolai Pomyalovsky, Vasily Sleptsov, Pyotr Yakubovich, Pavel Yakushkin, Gleb Uspensky soon entered the Russian literary scene.
[3] In 1858 Nekrasov and Dobrolyubov founded Svistok (Whistle), a satirical supplement to Sovremennik. The first two issues (in 1859) were compiled by Dobrolyubov, from the third (October 1858) onwards Nekrasov became this publication's editor and regular contributor.[14]
In June 1862, after the series of arsons in Petersburg for which radical students were blamed, Sovremennik was closed, and a month later Chernyshevsky was arrested. In December Nekrasov managed to get Sovremennik re-opened, and in 1863 published What Is to Be Done? by the incarcerated author.[3]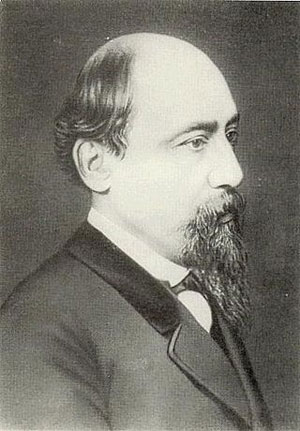 Nekrasov in the 1860s.
In 1855 Nekrasov started working upon his first poetry collection and on October 15, 1856, The Poems by N. Nekrasov came out to great public and critical acclaim.[3] "The rapture is universal. Hardly Pushkin's first poems, or Revizor, or Dead Souls could be said to have enjoyed such success as your book," wrote Chernyshevsky on November 5 to Nekrasov who was abroad at the time, receiving medical treatment.[15] "Nekrasov's poems… brandish like fire," wrote Turgenev.[16] "Nekrasov is an idol of our times, a worshipped poet, he is now bigger than Pushkin," wrote memoirist Elena Stakensneider.[3][10]
Upon his return in August 1857, Nekrasov moved into the new flat in the Krayevsky's house on Liteiny Lane in Saint Petersburg where he resided since then for the rest of his life.[10]
The 1861 Manifest left Nekrasov unimpressed. "Is that freedom? More like a fake, a jibe at peasants," he said, reportedly, to Chernyshevsky on March the 5th, the day of the Manifest's publication. His first poetic responses to the reform were
"Freedom" ("I know, instead of the old nets they'd invented some new ones...")
[17]
S

AVYÉLI

"A mane grey and bushy

Which covered his shoulders,

A huge grizzled beard

Which had not seen the scissors

For twenty odd years,

Made Savyéli resemble

A shaggy old bear,

Especially when he

Came out of the forest,

So broad and bent double.

The grandfather's shoulders

Were bowed very low,

And at first I was frightened

Whenever he entered

The tiny low cottage:

I thought that were he

To stand straight of a sudden

He'd knock a great hole

With his head in the ceiling.

But Grandfather could not

Stand straight, and they told me

That he was a hundred.

He lived all alone

In his own little cottage,

And never permitted

The others to enter;

He couldn't abide them.

Of course they were angry

And often abused him.

His own son would shout at him,

'Branded one! Convict!'

But this did not anger

Savyéli, he only

Would go to his cottage

Without making answer,

And, crossing himself,

Begin reading the scriptures;

Then suddenly cry

In a voice loud and joyful,

'Though branded—no slave!'...

"Savyéli would gather

The berries and mushrooms

From spring till late autumn,

And snare the wild rabbits;

Throughout the long winter

He lay on the oven

And talked to himself.

He had favourite sayings:

He used to lie thinking

For whole hours together,

And once in an hour

You would hear him exclaiming:

"'Destroyed … and subjected!'

Or, 'Ai, you toy heroes!

You're fit but for battles

With old men and women!'

"'Be patient … and perish,

Impatient … and perish!'

"'Eh, you Russian peasant,

You giant, you strong man,

The whole of your lifetime

You're flogged, yet you dare not

Take refuge in death,

For Hell's torments await you!'...

[H]e told me the story.

"'The peasants in old days

Were serfs as they now are,

But our race had, somehow,

Not seen its Pomyéshchick;

No manager knew we,

No pert German agent.

And barschin we gave not,

And taxes we paid not

Except when it pleased us,—

Perhaps once in three years

Our taxes we'd pay.'...

"'The times were so blessed,—

And folk had a saying

That our little village

Was sought by the devil

For more than three years,

But he never could find it.

Great forests a thousand

Years old lay about us;

And treacherous marshes

And bogs spread around us;

No horseman and few men

On foot ever reached us....

They were good times!

In these days the Barin

Lives under your window;

The roadways go spreading

Around, like white napkins—

The devil destroy them!

We only were troubled

By bears, and the bears too

Were easily managed.

Why, I was a worse foe

By far than old Mishka,

When armed with a dagger

And bear-spear. I wandered

In wild, secret woodpaths,

And shouted, ''My forest!''...

"'At last our Pomyéshchick

Invented a new game:

He sent us an order,

''Appear!'' We appeared not.

Instead, we lay low

In our dens, hardly breathing.

A terrible drought

Had descended that summer,

The bogs were all dry;

So he sent a policeman,

Who managed to reach us,

To gather our taxes,

In honey and fish;

A second time came he,

We gave him some bear-skins;

And when for the third time

He came, we gave nothing,—

We said we had nothing.

We put on our laputs,

We put our old caps on,

Our oldest old coats,

And we went to Korójin

(For there was our master now,

Stationed with soldiers).

''Your taxes!'' ''We have none,

We cannot pay taxes,

The corn has not grown,

And the fish have escaped us.''

''Your taxes!'' ''We have none.''

He waited no longer;

''Hey! Give them the first round!''

He said, and they flogged us.

"'Our pockets were not

Very easily opened;

Shaláshnikov, though, was

A master at flogging.

Our tongues became parched,

And our brains were set whirling,

And still he continued.

He flogged not with birch-rods,

With whips or with sticks,

But with knouts made for giants.

At last we could stand it

No longer; we shouted,

''Enough! Let us breathe!''

We unwound our foot-rags

And took out our money,...

And so by the ikons

We swore all together

That next time we rather

Would die of the beating

Than feebly give way.

It seems the Pomyéshchick

Had taken a fancy

At once to our roubles,

Because after that

Every year we were summoned

To go to Korójin,

We went, and were flogged.

"'Shaláshnikov flogged like

A prince, but be certain

The treasures he thrashed from

The doughty Korójins

Were not of much weight.

The weak yielded soon,

But the strong stood like iron

For the commune. I also

Bore up, and I thought:

''Though never so stoutly

You flog us, you dog's son,

You won't drag the whole soul

From out of the peasant;

Some trace will be left.'...

He sent us a German.[48]

Through vast, savage forests,

Through sly sucking bogs

And on foot came the German,

As bare as a finger.

"'As melting as butter

At first was the German:

''Just give what you can, then,''

He'd say to the peasants.

"'''We've nothing to give!''...

''Well, if you can't pay

You should work, little peasants.''

"'''What work should we do?''

"'''You should dig some deep ditches

To drain off the bog-lands.''

We dug some deep ditches.

"'''And now trim the forest.''

"'''Well, well, trim the forest….''

We hacked and we hewed

As the German directed,

And when we look round

There's a road through the forest!...

And now he's established

A village ispravnik,

They live like two brothers.

His courtyard at all times

Is teeming with strangers,

And woe to the peasants—

The fallen Korójins!

He sucked us all dry

To the very last farthing;

And flog!—like the soul

Of Shaláshnikov flogged he!...

"'But how could you bear it?'

"'Ah, how could we bear it?

Because we were giants—

Because by their patience

The people of Russia

Are great, little Grandchild.

You think, then, Matróna,

That we Russian peasants

No warriors are?

Why, truly the peasant

Does not live in armour,

Does not die in warfare,

But nevertheless

He's a warrior, child.

His hands are bound tight,

And his feet hung with fetters;

His back—mighty forests

Have broken across it;

His breast—I will tell you,

The Prophet Elijah

In chariot fiery

Is thundering within it;

And these things the peasant

Can suffer in patience.

He bends—but he breaks not;

He reels—but he falls not

***

And Vlass, the old Elder,

Has placed his great palm

On the head of his godson.

"Is serfdom revived?

Will they drive you to barschin

Or pilfer your hayfields?"

Says Grísha in jest.

"The hay-fields? You're joking!"

"Well, what has gone wrong, then?

And why were you singing

'The Hungry One,' brothers?

To summon the famine?"

"Yes, what's all the pother?"

Here Klímka bursts out

Like a cannon exploding.

The others are scratching

Their necks, and reflecting:

"It's true! What's amiss?"

"Come, drink, little 'Earthworms,'

Come, drink and be merry!

All's well—as we'd have it,

Aye, just as we wished it.

Come, hold up your noddles!

-- Who Can Be Happy and Free in Russia?, by Nicholas Nekrasov
... and Korobeiniki (1861). The latter was originally published in the Red Books series started by Nekrasov specifically for the peasant readership. These books were distributed by 'ophens', vagrant traders, not unlike the korobeinikis Tikhonych and Ivan, the two heroes of the poem.[3] After the second issue the series were banned by censors.[10]
In 1861 Nekrasov started campaigning for the release of his arrested colleague, Mikhail Mikhaylov, but failed: the latter was deported to Siberia. More successful was his plea for the release of Afanasy Shchapov: the decree ordering the Petersburg historian's demotion to a monastery was retrieved by Alexander II.[10] After his father's death Nekrasov in May 1862 bought the Karabikha estate and since then has visited it on the yearly basis.[3]
In April 1866, after Dmitry Karakozov's attempt on the life of the Tsar, Nekrasov, so as to save Sovremennik from closure,[10] wrote the "Ode to Osip Komissarov" (the man who saved the monarch's life by pushing Karakozov aside) to read it publicly in the English Club. His another poetic address greeted Muravyov the Hangman, a man responsible for the brutal suppression of the 1863 Polish Uprising, who was now in charge of the Karakozov case. Both gestures proved to be futile and in May 1866 Sovremennik was closed for good.[10]
In the end of 1866 Nekrasov purchased Otechestvennye Zapiski to become this publication's editor with Grigory Yeliseyev as his deputy (soon joined by Mikhail Saltykov-Shchedrin) and previous owner Krayevsky as an administrator.[10] Among the authors attracted to the new OZ were Alexander Ostrovsky and Gleb Uspensky. Dmitry Pisarev, put in charge of the literary criticism section, was later succeeded by Alexander Skabichevsky and Nikolai Mikhaylovsky.[3]
In 1869 OZ started publishing what turned out to be Nekrasov's most famous poem,
Who Is Happy in Russia?
(1863–1876). In 1873 a group of narodniks in Geneva printed the misleadingly titled, unauthorized Collection of New Poems and Songs by Nekrasov, featuring all the protest poems banned in Russia, a clear sign of what an inspiration now the poet has become for the revolutionary underground.[10]