Part 1 of 2
The Templar's Reich Milieu: The Slaves Shall Serve
by Peter-Robert Koenig
parareligion.ch
Accessed: 1/10/18
NOTICE: THIS WORK MAY BE PROTECTED BY COPYRIGHT
YOU ARE REQUIRED TO READ

THE COPYRIGHT NOTICE AT THIS LINK

BEFORE YOU READ THE FOLLOWING WORK, THAT IS AVAILABLE SOLELY FOR PRIVATE STUDY, SCHOLARSHIP OR RESEARCH PURSUANT TO 17 U.S.C. SECTION 107 AND 108. IN THE EVENT THAT THE LIBRARY DETERMINES THAT UNLAWFUL COPYING OF THIS WORK HAS OCCURRED, THE LIBRARY HAS THE RIGHT TO BLOCK THE I.P. ADDRESS AT WHICH THE UNLAWFUL COPYING APPEARED TO HAVE OCCURRED. THANK YOU FOR RESPECTING THE RIGHTS OF COPYRIGHT OWNERS.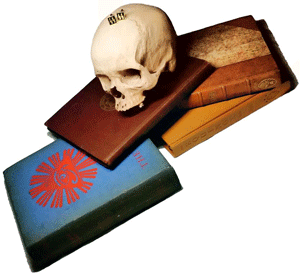 Aleister Crowley could be regarded as a political opportunist chumming up with anyone anywhere, and running the business of his religion (Thelema) for his private amusement. However, the more he failed with his political ambitions and his utopian endeavours, the more he flaunted himself as the founder of a religion.
Crowley attracted fanatics from all walks of life. He was a prig (not only in respect of his political views), who had assembled a religion for self styled outsiders. One would be hard put to regard this religion as either philantropical or democratic. Thelema always aspires to turn into a state religion, nevermind of which state, i.e. its founder tried to ingratiate himself with his religion to anything state-like, no matter how totalitarian or radical it was. For him, the main issue was the presence of an anti-christian element. The amazing thing about those efforts is that Thelema and the Ordo Templi Orientis (O.T.O.) did not want to substitute christianity but return it to its original condition. Thus Crowley wrote in 1944, entirely along Theodor Reuss' lines that it was the task of the O.T.O "to restore Christianity to its real status as a solar-phallic religion".
Nevertheless one should not disregard the manifold clientele attracted by this topic. Neither should one make light of Crowley's anti-semitism and other embarrassing traits in order to render him palatable for academia and the mainstream.
Regarding the Mass of the Phoenix, Liber Nu, Liber Had, Liber Astarte, Liber Thisharb, Liber VII, X, LVX, XC, CCXXXI: the O.T.O.'s "Journal of Thelemic Studies", 1;2, 2008,
http://thelemicstudies.com/JoTS1
–2.pdf, page 40: "The reason these aspects of Thelema are omitted indicates the actual problem with presenting Thelema as a religion and attempting to get Thelema sanctioned by the government or approved by the public: Thelema is ultimately in contrast to and transgressive of normative society. Thelema rejects the morals and values of normative society and acts to transgress and violate these norms. From the inclusion of intoxicants in ritual, to the positive view of sexuality, which frequently is seen as promoting promiscuity, to the pro–authoritarian and Nietzschian aspects of Thelema, normative society has much to reject in Thelema and conversely, Thelema encourages its adherents to reject most aspects of normative society."
This writer does not assert that Crowley, Thelema or the O.T.O are fascist or Nazi: Crowley also had connections to communist characters. His totalitarian streak could blend with the "right" or the "left," and both "right" and "left" if pursued to extremes verge into shades of the totalitarian. In this sense one can call him a fascist but one could equally call him a communist, and he was neither in the final analysis. However, it is obvious that some misanthropic elements can be found in the biography of Crowley, in the concept of Thelema and in the instructions for members of the O.T.O. and its environment. We will thus concentrate on the most evident examples and protagonists. And who else can be found in this milieu: the occult racists. And the rôle models.
A must for the interested reader is Marco Pasi "Aleister Crowley und die Versuchung der Politik" (Graz 2006). Original: "Aleister Crowley e la tentazione della politica" (Mailand 1999). This online article deliberatedly leaves out topics discussed in Pasis' work and is more an additional collection of documents than an in-depth discussion of the topic.
Read also Richard B. Spence: "Secret Agent 666" (WA 2008)
The political inclination of the Orders and their members
Occult organisations are frequently faced with the reproach of cherishing Right Wing extremist ideas; not least because of Aleister Crowley's distinction between "ordinary" humans who are compared to dogs — and who serve — and a superior class of human gods, who rule the dogs [Liber AL].
Crowley's 1937 idea of the commercial utilization of the Swastika on porcelain cups and his suggestion to discuss Thelema "as the base for the Nazi new order" [diary entry dated 5th May 1936] indicate the assumption of a totalitarian conviction by Crowley.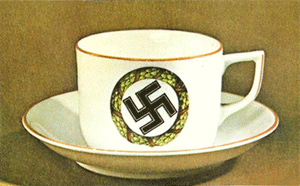 Rolf Steinberg: "Nazi-Kitsch", Darmstadt 1975
On the other hand, after the National Socialist seizure of power, more than two dozen Lodge-like organisations, including occult groups, were forbidden. The 1937 circulated decree of the SS Reichsführer was the political conclusion of Nazi propaganda against freemasons and similar organizations. The Gestapo was given the order to dissolve all forbidden groups which they had not already targeted.
List of the forbidden organizations according the ministeral decree dated 07 December 1936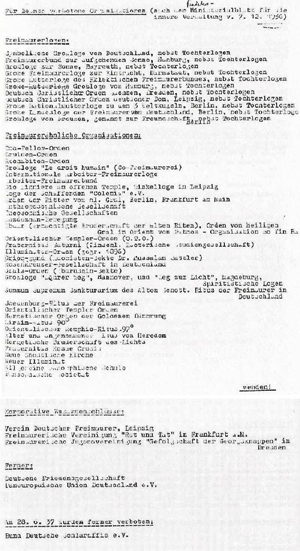 Transcript by Eugen Grosche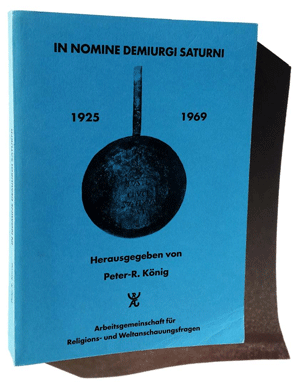 Facsimile in "In Nomine Demiurgi Saturni", Munich 1998, 55ff.
Freimaurerlogen
o Symbolische Grossloge von Deutschland, nebst Tochterlogen
o Freimaurerbund zur Aufgehenden Sonne, Hamburg, nebst Tochterlogen
o Grossloge zur Sonne, Bayreuth, nebst Tochterlogen
o Grosse Freimaurerloge zur Eintracht, Darmstadt, nebst Tochterlogen
o Grosse Mutterloge des Eklektischen Freimaurerbundes, nebst Tochterlogen
o Grossloge von Hamburg, nebst Tochterlogen
o Deutsch Christlicher Orden Sachsen, Dresden, nebst Tochterlogen
o Deutsch Christlicher Orden deutscher Dom, Leipzig, nebst Tochterlogen
o Grosse Nationalmutterloge zu den 3 Weltkugeln, Berlin, nebst Tochterlogen
o Grossloge von Preussen, genannt zur Freundschaft, Berlin, nebst Tochterlogen
Freimaurerähnliche Organisationen
o Odd-Fellow-Orden
o Druiden-Orden
o Rechabiten-Orden [?]
o Grossloge "Le Droit Humain" (Co-Freimaurerei)
o Internationale Arbeiter-Freimaurerloge
o Arbeiter-Freimaurerbund
o Die Finniere am Offenen Tempel, Winkelloge in Leipzig
o Loge der Schaffenden "Colonis" e.V.
o Orden der Ritter vom Heiligen Gral, Berlin, Frankfurt am Main
o Anthroposophische Gesellschaft
o Mazdaznan-Bewegung
o Ebdar (Ermächtigte Bruderschaft der alten Riten), Orden vom Heiligen Gral im Orient von Patmos — Organisation Bo Yin Ra
o Orientalischer Templer-Orden (O.T.O.)
o Fraternitas Saturni (einschliesslich Esoterische Studiengesellschaft)
o Illuminaten-Orden (gegründet 1896)
o Orion-Bund (Adonistische Sekte Dr. Musallam Sättler)
o Rosenkreuzer-Gesellschaft in Deutschland
o Grals-Orden (*norusnin-Sekte) [Illegible. See scan below]
o Grossloge "Wahrer Weg", Hannover, und "Weg zum Licht", Magdeburg, Spiritistische Logen
o Summum Supremum Sanktuarium des Alten Schottischen Ritus der Freimaurerei in Deutschland
o Swedenborg-Ritus der Freimaurerei
o Orientalischer Templer Orden
o Hermetischer Orden der Goldenen Dämmerung
o Misraim-Ritus 90°
o Orientalischer Memphis-Ritus 97°
o Alter und angenommener Ritus von Heredom
o Hermetische Bruderschaft des Lichtes
o Fraternitas Rosae Crucis
o Neue Gnostische Kirche
o Neuer Illuminat
o Allgemeine Pansophische Schule
o Pansophische Societät
Korporative Zusammenschlüsse
o Verein Deutscher Freimaurer, Leipzig
o Freimaurerische Vereinigung "Rat und Tat" in Frankfurt a.M.
o Freimaurerische Jugendvereinigung "Gefolgschaft der Georgsknappen" in Dresden
Also
o Deutsche Friedensgesellschaft
o Paneuropäische Union Deutschland e.V.
On 28.6.37 added to this list
o Bund Deutsche Schlaraffia e.V.
Soon, the Atlantic Adepts (Master Therion) joined in.
The SS decree was probably the closing curtain in the German Masonic drama. Prior to this, the Lodges had been asked to dissolve themselves. Those who bucked were finally forbidden in 1937.
Eugen Grosche, founder of the Fraternitas Saturni, fled from the Nazis to Switzerland and Karl Germer, Crowley's best friend, landed in a concentration camp.
Karl Johannes Germer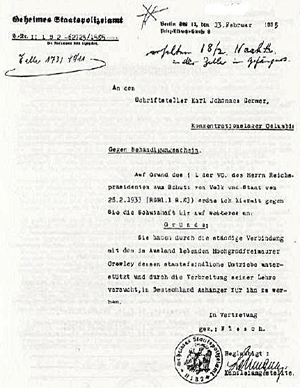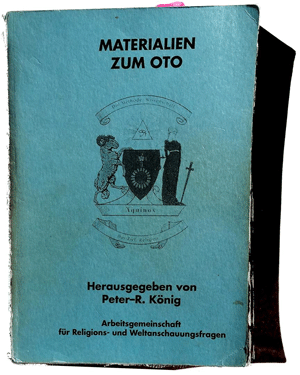 Facsimile in "Materialien zum O.T.O.", Munich 1994, 45
Should we interpret these events as an exoneration of occult Orders from the charge of fascism? Certainly, Karl Germer's stay in a concentration camp is gladly used as a figleaf in order to meet reproaches of fascist tendencies in the O.T.O.
13. Februar 1935: "Sie haben durch die ständige Verbindung mit dem im Ausland lebenden Hochgradfreimaurer Crowley dessen staatsfeindlichen Umtriebe unterstützt und durch die Verbreitung seiner Lehre versucht, in Deutschland Anhänger für ihn zu werben."

"You have supported the subversive activities of freemason Crowley, now living abroad, by consistently keeping in contact; and by spreading his teachings you have tried to recruit disciples for him in Germany."
Germer believed that his arrest was to be seen in connection with articles in "Judenkenner" ["The Connoissseur of Jews"]. [see below].
However, the FBI documents on Germer report that he allegedly twaddled about the Master Race.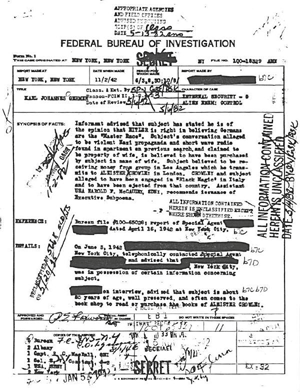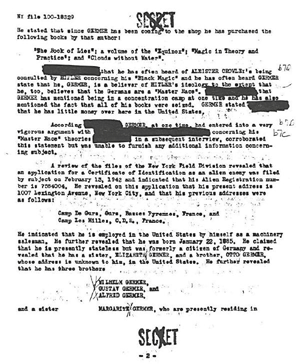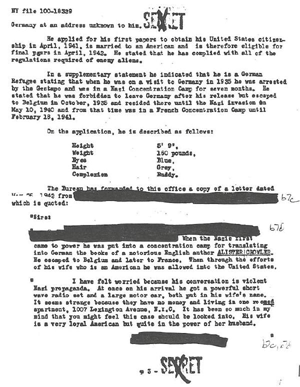 FBI documents on Karl Germer — Master Race
FEDERAL BUREAU OF INVESTIGATION
SECRET
NEW YORK, NEW YORK
11/2/42
KARL JOHANNES GERMER
INTERNAL SECURITY - G
ALIEN [ILLEGIBLE]: CONTROL

SYNOPSIS OF FACTS: Informant advised that subject has stated he is of the opinion that HITLER is right in believing Germans are the "Master Race." Subject's conversation alleged to be violent Nazi propaganda and short wave radio found in apartment in previous search, and claimed to be property of wife, is believed to have been purchased by subject in name of wife. Subject believed to be receiving money from group in Los Angeles which he transmits to ALEISTER CROWLEY in London. CROWLEY and subject alleged to have been engaged in "Black Magic" in Italy and to have been ejected from that country. Assistant USA HAROLD F. McCA[ILLEGIBLE], SDYN, recommends issuance of Executive Subpoena.

Bureau file #100-65028; report of Special Agent [DELETE] dated April 16, 1942 at New York City.

On June 3, 1942 [DELETE] New York City, telephonically contacted Special Agent [DELETE], New York City, was in possession of certain information concerning subject.

[DELETE] on interview, advised that subject is about 65 years of age, well preserved, and often comes to the book shop to read or purchase the books of ALEISTER CROWLEY.

NY FILE 100-18329

He stated that since GERMER has been coming to the shop he has purchased the following books by that author:

"The Book of Lies"; a volume of the "Equinox"; "Magic in Theory and Practice"; and "Clouds Without Water".

[DELETE that he has often heard of ALEISTER CROWLEY's being consulted by HITLER concerning his "Black Magic" and he has often heard GERMER state that he, GERMER, is a believer of HITLER's ideology to the extent that he, too, believes that the Germans are a "Master Race." [DELETE] that GERMER has mentioned being in a concentration camp at one time and he has also mentioned the fact that all of his books were seized. GERMER stated [DELETE] that he has little money over here in the United States.

According [DELETE] GERMER, at one time, had entered into a very vigorous argument with [DELETE] concerning his "Master Race" theories [DELETE] in a subsequent interview, corroborated this statement but was unable to furnish any additional information concerning subject.

A review of the files of the New York Field Division revealed that an application for a Certificate of Identification as an alien enemy was filed by subject on February 13, 1942 and indicated that his Alien Registration number is 7584004. He revealed on this application that his present address is 1007 Lexington Avenue, New York City, and that his previous addresses were as follows:

Camp De Gurs, Gurs, Basses Pyrennes, France, and Camp Les Milles, C.D.E., France

He indicated that he is employed in the United States by himself as a machinery salesman. He further revealed that he was born on January 22, 1885. He claimed that he is presently stateless but was formerly a citizen of Germany and revealed that he has a sister, ELIZABETH GERMER, and a brother, OTTO GERMER, whose address is unknown to him, in the United States. He further revealed that he has three brothers

WILHELM GERMER
GUSTAV GERMER, and
ALFRED GERMER,

and a sister MARGARITE GERMER, who are presenting residing in Germany at an address unknown to him.

He applied for his first papers to obtain his United States citizenship in April, 1941, is married to an American and is therefore eligible for final papers in April, 1942. He stated that he has complied with all of the regulations required of enemy aliens.

In a supplementary statement he indicated that he is a German Refugee stating that when he was on a visit to Germany in 1935 he was arrested by the Gestapo and was in a Nazi Concentration Camp for seven months. He stated that he was forbidden to leave Germany after his release but escaped to Belgium in October, 1935 and resided there until the Nazi invasion on May 10, 1940 and from that time was in a French Concentration Camp until February 18, 1941.

On the application, he is described as follows:

Height: 5'9"
Weight: 150 pounds
Eyes: Blue
Hair: Grey
Complexion: Ruddy

The Bureau has forwarded to this office a copy of a letter dated [ILLEGIBLE] 1942 from [DELETE] which is quoted:

"Sirs:

[DELETE]. When the Nazis first came to power he was put into a concentration camp for translating into German the books of a notorious English author ALEISTER CROWLEY. He escaped to Belgium and later to France. Then through the efforts of his wife who is an American he was allowed into the United States.

I have felt worried because his conversation is violent Nazi propaganda. At once on his arrival he got a powerful short wave radio set and a large motor car, both put in his wife's name. It seems strange because they have no money and living in one roomed apartment, 1007 Lexington Avenue, N.Y.C. It has been so much in my mind that you might feel this case should be looked into. His wife is a very loyal American but quite in the power of her husband.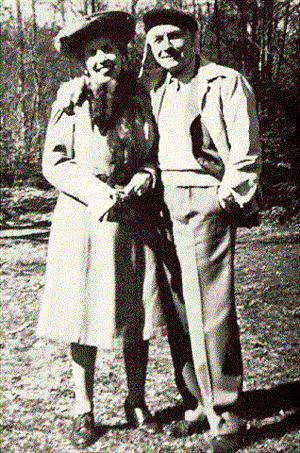 Karl Germer
The fact that someone landed in a concentration camp does not necessarily free the person from a fascist world view. Many Ariosophs and rough anti-Semites were forbidden by the Nazis, such as Lanz of Liebenfels for example who affected Adolf Hitler with his writings. The Nazis considered the occult Orders too quixotic, too un-German. In 1933 Mathilde Ludendorff, a fervent defender of voelkisch Weltanschauung saw the O.T.O. as a breeding nest for "Irresein durch Occultlehren" (the odd German expression vaguely translates as "Psychoticness through Occult Teachings" in the sense of becoming psychotic doing occult practises. Which is b.t.w contrary to my own believe. See "Satan — Jünger, Jäger und Justiz").
Thelema
However, before we attach the labels "totalitarian" or "fascist" to Crowleyites we should outline the main features of the Thelemic worldview.
Many Thelemites consider themselves to be divine agents, acting from a "True Will" — while non-Thelemites are mere 'objects' — as indicated in Crowley's dictum, "the slaves shall serve." The "slaves who shall serve" are each and everyone who lives (according to the Thelemic worldview) in dependency: dependants/subordinates, addicts, weaklings — in other words: the enslaved ones. Similarly, Grosche spoke of "things, objects, material".
In occult terms the Thelemite is a dichotomist, seeing himself as a superior being or a 'chosen one', while everyone else is as nothing. This sort of Thelemite (certainly, there are exceptions to the rule) lives in a world ruled by good and evil; of course, as a superior being these Thelemites might reach a level that is above that (the "crossing of the Abyss") — but nevertheless the world below the abyss is only black and white. Thelemites are trapped in such relationships; all are victims and culprits, masters and slaves, gods and sub-humans. And this is mirrored in their language when they describe their critics, ex-members, the (Christian) churches, the government, the administration or whomever they target.
This is contradictory to the self-portrayal of Thelema retailed to the public from which new members must be drawn.
Not only is the religious-philosophical ideology Thelema totalitarian, but also the emotional attitude, the value conceptions, the opinions about being chosen, the rôle identifications, the projected unfair fate of the Thelemites and the assumption of the justified predominance over non-Thelemites derived from all of these considerations. Viewed politically, this is expressed in all political orientations resulting from an anti-democratic perspective.
Aleister Crowley
Together with Crowley, Theodor Reuss, the founder of the O.T.O., published pro-German propaganda during the First World War. That fact is documented sufficiently.
In order to see the context of these politically-interested so-called Salon-Satanists, I recommend: Wilfried Kugel: "Der Unverbesserliche" [The Irresponsible One]. A remarkable biography on Hanns Heinz Ewers. According to Kugel, Ewers contacted the O.T.O. already in 1906. Kugel's book lightens up the background on many interesting details, e.g. regarding George Sylvester Viereck.
Crowley was so inspired by Ewers that he hoped for a translation of his Gnostic Mass into German by Ewers. Like Crowley, Ewers published pro-German propaganda in the magazine "The International"; Reuss subsequently translated a text of Crowley in his O.T.O. — Magazine. And in 1917, the Gnostic Mass.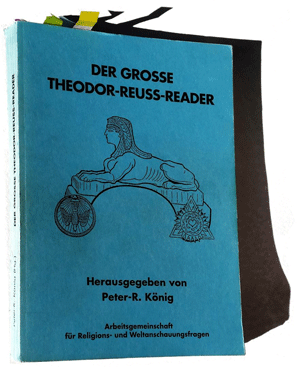 Facsimile in "Der Grosse Theodor Reuss Reader", Munich 1997, 210ff.
It's the same publisher that later distributed hate-pamphlets against the O.T.O. by Jean Paar.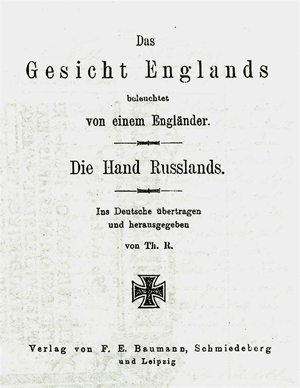 Das Gesicht Englands
Hanns Heinz Ewers
Ewers' occult novel "Vampir" is a treatise of blood lust, cutting open of chests and drinking blood. Such motifs are welcome themes for occultists. In addition, Ewers wrote film scripts for some of the most well-known films of Expressionism of the 20's, e.g. "Der Student von Prag" [A Student of Prague]. Ewers penned the novels "Alraune", "Das Grauen", "Die Besessenen" [The Possessed Ones], "Horst Wessel" (written on behalf of Hitler), "Nachtmahr", "Mein Begräbnis", "Vampir", "Zauberlehrling" and a plethora of illegible trash novels, works which fit well within the tradition of Crowley's fiction and which anticipate Eugen Grosche's slippery occult novel "Exorial".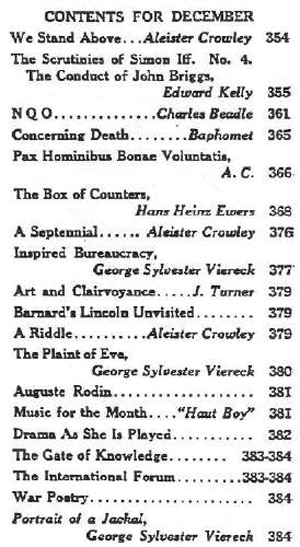 Table of Contents of "The International", December 1917

The personal and political development of Ewers is interesting: In 1931 he joined the NSDAP, was black-balled by the Nazis in 1934 and subsequently supported and pursued Jewish friends. Shortly before his death in 1943 he made it possible for his half-Jewish wife to escape to Czechoslovakia.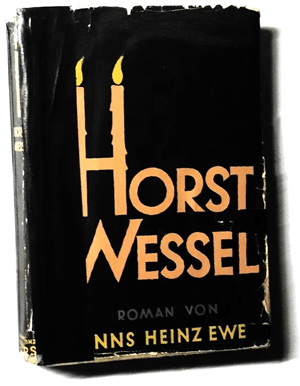 Hanns Heinz Ewers Horst Wessel Ein deutsches Schicksal Cotta'sche Buchhandlung Stuttgart und Berlin 1932
The Third Reich
Aleister Crowley tried, during the Second World War to ingratiate himself with the British Secret Service as an expert in astrology and occultism, and to offer his help in cross-examining Rudolf Hess. A copy of his letter exists to this day. Crowley personally knew Ian Fleming of the "Naval Intelligence" (the writer of the James Bond novels). Fleming was however neither in the MI5 nor in the MI6, those responsible for the capture of Hess. The head of MI5 was Sir David Petrie, the head of MI6, Stewart Menzies.
Since Crowley knew Fleming personally, he tried through Fleming rather than by Petrie to meet Hess.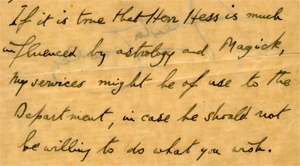 Rudolf Hess arrived in Scotland on May 10th, 1941, reported in the popular press by May 13th. Aleister Crowley to Ian Fleming, May 14 [1941?]
Hess was arrested in Ham Common. After being questioned for three weeks by the authorities in the Tower of London, Hess was transferred and spent the remainder of the war in Wales and Gloucestershire. Ham Common is between Richmond and Kingston, in the southwest of London and southwest from Richmond Park. Here Crowley allegedly met Rudolf Hess. The source of the allegation is a contemporary guard; any other confirming sources so far are unknown.
On the background of the Hess-Crowley connection see also Marco Pasi and Richard B. Spence: "Secret Agent 666" (WA 2008)
Crowley marked page after page of Hermann Rauschning's "Hitler Speaks" [this book of 1939 was an Allied propaganda fraud but it fooled a lot of people, apparently Crowley included] with his own comments, "proving" to himself that Hitler had copied "Mein Kampf" from Crowley's own "Book of the Law," Liber AL.

He almost certainly got the [Swastika] from us. I personally had suggested it to Ludendorff in '25 or '26 [...]
Erich Friedrich Wilhelm Ludendorff (1865-1937) briefly supported Adolf Hitler and the Nazi Party. At the time when Crowley allegedly contacted him, Ludendorff was representative of the NSFB (a coalition of the German Völkisch Freedom Party and members of the Nazi Party). Ludendorff concluded that the world's problems were the result of Christians, Jews, and Freemasons.
In his diaries, Crowley noted his dreams of Hitler. On February 4, 1938 he dreamed "about Hitler & cigars & Magick & my horse Sultan. I was running Germany for him", because "Fascism must always fail because it creates the discontent which it is designed to suppress." On 2.6.1939 Crowley dreamed again that "I had several long talks with Hitler. A very tall man. Forgot subject, but he was pleased & impressed: ordered all my books translated & made official in Germany". Diary entry of October 17, 1939: "Hitler reported dead from a surfeit of raspberries". On January 24, 1940 Crowley dreamed of Hitler and "Phallic geometric pictures, Satanic parodies of diagrams" etc. On July 29, 1943 Crowley went to the cinema: "Saw show of cartoons lampooning Mein Kampf, with appropriate quotations. Taken in these selected doses, what a masterpiece! And how patent & profound a debt he owes AL!" After the war Crowley had other thoughts: "Himmler, the Schweinhund [sic] & worse who put Karl Germer in Concentration Camps — chiefly because he was my friend! — killed himself after capture." (May 23, 1945).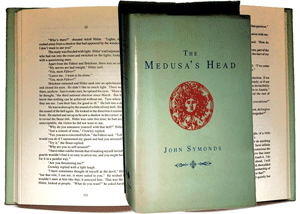 "The Medusa's Head", John Symonds' novel about an alleged meeting between Hitler and Crowley, Thame, England, 1991. 350 numbered copies only.
Democracy
In 1922, Crowley hoped that Israel had to be subjected completely to the Law of Thelema, because he, Crowley the Anti-Christ, nevertheless was the Messiah for which the Jews waited. How does this daydream fit into Crowley's alleged fascist Weltanschauung?
Crowley appears to have been a political opportunist, a hypocrite whose chief principle was self-interest. His main political statement can be picked out from his diary entry of May 29, 1923: "I'm certainly not an anarchist, for the family is the smallest and vilest unit of government: nor a Socialist, for the State is the largest and so the least human unit. I suppose then, that — with Ethyl as without — I want a Patriarchal-Feudal system run by initiated Kings."
In his publications one reads: "This is the central doctrine of Thelema in this matter. What are we to understand by it? That this imbecile and nauseating cult of weakness — democracy some call it — is utterly false and vile." [ Magick Without Tears, Chapter 46]
"The principle of popular election is a fatal folly; its results are visible in every so-called democracy. The elected man is always the mediocrity; he is the safe man, the sound man, the man who displeases the majority less than any other; and therefore never the genius, the man of progress and illumination." [O.T.O. An Intimation with Reference to the Constitution of the Order]
"Confessions of Aleister Crowley" chapter 87: "But so far as I understand it at all, it seems as if my work were to construct a model of a new civilization to replace that which we see before our eyes reeling towards catastrophe.... I will only say that my main idea had been to found a community on the principles of The Book of the Law, to form an archetype of a new society. The main ethical principle is that each human being has his own definite object in life. He has every right to fulfil this purpose, and none to do anything else. It is the business of thecommunity to help each of its members to achieve this aim; in consequence all rules should be made, and all questions of policy decided, by the application of this principle to the circumstances... [...] I have attained to understanding, I have made my magical model of society, and I await the moment when those who have chosen me to carry out their colossal conception summon me to stand forth before the world and execute their purpose. At this point, then, I leave my memoirs. My individual life is ended forever. It was always a mere means of bringing The Book of the Law to mankind."
"The ultimate aim is to have quite populous Abbeys, with every type of talent represented, so that there will be a body of capable and intelligent people to rule the herd, and save the useful elements in our past civilization from being swamped by it." [Crowley to Frieda Harris, 1941, quoted in Samuel Weiser Catalogue August 2007.]
Anti-Semitism and Religious Intolerance
Crowley's diaries are full of anti-Semitic and intolerant outbursts. It is pointless to list all of them here: there are too many. By way of example, we will quote a few: "stupid Jewish tart", "cheap frivolous Jew — very low class", "very Jewish & vampirish", "Send us a Hitler!"
His diaries display these outbursts: "He now cheats me just a little on each payment, like a Jew clipping coin."
"I told him he was like an old Jew clipping coin. Foul swine!" "The great psychological Mystery is how any one can believe in Xianity who has ever seen a Jew." "Bill & I bust up the whole cafe, over a Jew who would wear his hat. I disliked the shape." "Yorke rang up: must get #500 from Jews (Bar the Jews!)." "Simon – –a very lousy Jew." "Astrological note. People with Aries rising – –very aggressive – –get stolid & fat as Taurus comes up. Ex: Lady Owen. Also, generally, Jews." "Played very good chess v. Lommer & the spectacled Jew" "Saw delightful Jewess Ass enough to ask Aldo Philipson to lunch. An imbecile renegade Jew—'Catholic.' Really bestial. I stood him for 3 1/2 hours!!! and then he wanted to measure the carpets! Where was 'faith' then?" "trouble with Refujews." "All quiet, bar old Martha fining(?) the Refujewess." "Talk with wide –awake Jewesses & Karen." "Spasms after lunch: I called for help. Jews, hearing, rang up police to complain!!!" "Baddish night, with overhead Jews raising hell all the time" "a symbol to bring victory (Pentagram spoilt by Jew –Bolshie assn. in minds of idiots)" "my idea to seek it in Jews shops. Gamage, in particular. (Gamage a Jew?" "Note that the Refusal to count money is the complete upset of the base of old –Aeon ideas of Equity. It is the Nay saying to the spirit of the Jew, which has rotted the soul of mankind. No more let the heroic man, who has risked his life daily & lost a limb or two, starve on the doorsteps of the coward he had protected!" "Got off with Persian Jewess(?) whom I marked down some days ago. Message: 51. Kan. Found good room at Zetland House & took it. Later (of course) the hag sent round to cancel it! Jewess, very sly, came room –hunting" "Diana Parker (a Rumanian Jewess) in tub(?) with grandchild of hag" "here is a very stupid Jewish tart" "Alice to tea. Ham likes her, has never seen a more obvious jewess" "Ham brought Liversidge who appears a cheap frivolous Jew – very low class Nail up Jew hogs." "Miserable letter from Frieda. By arrogance, and domineering, and bullying her supposed inferiors, she does not compensate for her cringing fear of the foul Jew she married" "'Laides in Retirement' at regal, pretentious vulgar house, reminding one of those ghastly 'province' joints in Berlin. The German jew in heaven!" "Lady Waldie –Griffith. Me half dead. All talk anti –Jewish." "Christ Child rang up, got Pam & me to Hatchett's & ne Berens (Late Behrens – how deep a disguise!) Bloody row about jews –B felt the pressure. Pam here – Louis dropped in – so I got neither properly! Went to join the Christ Child at Hatchett's. he had a horrible Jew racketeer with him" "Royal Colonel (a German Jewish wench!) salutes Guards" "'To hell with Huns & Jews!' you sing?/ Come, come now, think it over!/ All honour to our noble King,/ And General Eisenhower!" "Long letter from JWP 5 FH in form. TB came for her; very Jewish & vampirish. Has been lying to me: I wonder if her stole Eq III 2." "The swine 'Michael Juste' won't pay oh God! Send us a Hitler! The foul Jew in the hotel has almost destroyed it in 3 days" "David Curwen 136 Mary'B Rd low Jew pal of Mike." "Sat o Brains Trust with two quite intelligent jews, and a garrulous female who gibbered."
This raises the question of the context of the quotations. And what about the interpretation of these quotations? How many contexts of a quotation are needed in order to "understand" the quotation?
Crowley's books are full of anti-Semitic stereotypes. In the context of Thelema, however, only those are decisive which exist in connection with the interpretation of his Liber AL. Crowley forbade explicitly discussing Liber AL:
"Those who discuss the contents of this Book are to be shunned by all, as centres of pestilence. All questions of the Law are to be decided only by appeal to my writings, each for himself."
Therefore all Thelemites are forced to fall back on Crowley's own interpretations. Crowley's new commentary on Liber AL describes the "heathen" (that is, the non-Thelemites) in these terms: "Christians and other troglodytes — but most especially the parasites of man, the Jews" [III;11]. In another place, Crowley interprets the bloody, war-mongering language of his Liber AL, Bible of the Thelemites, to be applied literally: "especially Jews and Protestant Christians" are like "vernim" which should be exterminated [III;18].
In the "secret" instruction to the VIII° of the O.T.O., Crowley perpetuates another well-known anti-Semitic stereotype: He describes Jews who slaughter the children of non-Jews for their Passover Meals, in order to consume or use the blood for talismanic or sacramental purposes. His language betrays no hint of irony, but conveys serious instruction: "Consider this". From Crowley's standpoint, however, someone who is annoyed by these accusations (and other, similar libels, which are contained in the VIII° instruction) and considers them as "monstrous and extravagant," merely exhibits a "defect." In other words, the fault can never be the prophet Crowley's, but must always lie in the reader's own intuition and apprehension. Crowley's modern followers share this opinion.
These accusations and interpretations are not the statements of a low-calibre Thelemite but proceed from the inventor, the founder of Thelema, the "prophet of the new Aeon." Crowley in his diary entry 22nd October 1920: "I am the Beast [...] I am Thelema" and on 27th May 1917: "I myself AIWAZ have been considering all the time how to act as to Crowley's body and mind." On 14th June 1917: "I am getting quite to the point of habitual recognition of myself as AIWAZ."
There are some countries, in which racist statements are illegal and would result in jail time for those who would publish them anew.
There are modern followers of Crowley who do not share his idisyncratic antisemitic views. That there are more than a few members of the 'Caliphate' or of other O.T.O.-versions who are of Jewish origin.
In Wiliam Breeze's censored version of the 'Caliphate' the passages displaying the above mentioned anti-semitic leanings are missing. "The Law is for All: The Authorized Popular Commentary on Liber AL vel Legis sub figura CCXX The Book of the Law" Edited by Louis Wilkinson and Hymenaeus Beta. New Falcon Publications, Arizona 1996. But the O.T.O. seems to be contaminated. You can fish a turd out of a water tank, but anyone who knows the turd was there won't drink from it.
Said 'Caliphate', the globally most widespread O.T.O. distributes self-portraits of their founder "suitable for worship". [The Magical Link #2, Fairfax 1998, 10]
Can a uniform political direction be noticed in the O.T.O?
Of course, O.T.O. -members are more or less politically orientated. The O.T.O per se gives itself unpolitically, although its statutes look differently.
"Members of the Order are to regard those without its pale as possessing no rights of any kind, since they have not accepted the Law, and are therefore, as it were, troglodytes, survivals of a past civilisation, and to be treated accordingly. Kindness should be shown towards them, as towards any other animal, and every effort should be made to bring them into Freedom." (Liber CI, 28).
Current O.T.O.-politics states in 1999 that "OTO does not now encourage its members to treat those outside the Order as inferiors who possess no rights."
http://lib.oto-usa.org/sabazius/essays/memo0101.html
But I heard that this is only the "official version" while behind the curtain there are members sticking close to Crowley's rule.
In an approach of excessive self over-estimation Crowley saw his religion as state-controlling:
"It is intended that the lay power of the state is brought into the law [of Thelema]" (Liber CI, 40).
The O.T.O. and Thelema alike seem to be anti-social and anti-democratic.
Similarly Guido Wolther already argued in connection with his sexmagick in the Fraternitas Saturni, in an odd wording: "The Penis of a non-member never insert into your vagina. Penis and seed of a layman go through the mouth [...] Do not have consideration for the laymen — throw him away like an old glove — if he has nothing more to give away "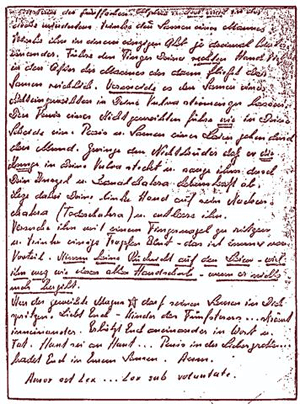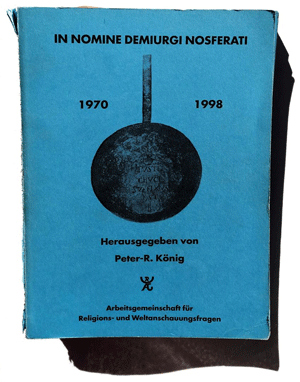 Facsimile in "In Nomine Demiurgi Nosferati", München 1999, page 111
The same Guido Wolther, formerly Grandmaster of the Fraternitas Saturni in 1966: "My wife is by the way Jewess and of French origin and in her youth suffered terrible experiences — just imagine, what a shock it was for her, when one of the brothers of the lodge 'confessed' having killed as a SS-man many immates of a woman camp? As a high degree she was commited to listen to — and eventually to be silent and forget and then forgive. Oh God! I could not do that!"
Facsimile in "In Nomine Demiurgi Nosferati", Munich 1999, page 175

In the writings of the O.T.O one always meets problematic paragraphs. One encounters here socially no longer acceptable Sex utopias, like Reuss' desire already quoted to have so-called doctor-priests teach even the youngest children the conception that the sex organs are something holy and the sex act is the bridge, which connects men with God. Reuss' O.T.O. — Children should learn the secrets of the sex act from doctor-priests, until they are married.
Read The Programme of Construction and the Guiding Principles of the Gnostic Neo-Christians O.T.O. published in 1920.
Crowley added in his "New Comment to Liber AL" (quasi the word of the prophet): »Moreover, the Beast 666 [= Crowley] adviseth that all children shall be accustomed from infancy to witness every type of sexual act, as also the process of birth«.
How is an adelescent child to know that problematic paragraphs in the holy work of the holy father are not to be taken literally? Especially in view of surely hardly understandable passages in Crowley's Charter of Human Rights: »Man has the right to kill those who would thwart these rights«, »The slaves shall serve.« Don't forget that Crowley forbade explicitly discussing Liber AL.
The 'Caliphate' departs not far from Reuss and Crowley in its defaults for child education. In the order magazin "Magickal Link"I; 12, Berkeley December 1981, it was officially published that children and parents are on an equal footing, so that the children's true will is not suppressed. That contradicts other high degree members, when they mean, children could not not be initiated because they lack the experience of growing up, that is missing their entire childhood.
However, only the 'Caliphate' clasps itself at Crowley's word. Neither the Typhonian O.T.O., nor the Swiss O.T.O celebrate sexual masses. The Swiss O.T.O dissociated itself even from sexmagick and Crowley.
Martha Küntzel and Friedrich / Frederic Lekve
Martha Küntzel, who lived in Leipzig, translated three volumes of Crowley's writings and Liber AL in the 1920s. Küntzel saw in Adolf Hitler her magical son. Earlier, she had proclaimed Crowley the World Messiah. However, Küntzel's fanatical devotion to Hitler was too much for Crowley. Eventually, she found a Thelemic follower in Friedrich / FredericLekve, who later became Mayor of Hildesheim, Germany. Lekve wanted to use the swastika as the "Sign of German Thelema."
Friedrich (Frederic) Lekve to Crowley, 28. April 1935. Facsimile in "Materialien zum O.T.O.", Munich 1994, 102ff.

"You suggest to use your coloured design of the Hakenkreuz as decoration for flags, porcelain, toys etc. and to make an arrangement with some firm which manufactures such articles to buy the rights. I am very sorry that I must inform you, that this way cannot be executed for the reason of the German law, which does not allow to use the Hakenkreuz being a sign of national highness in any form for decoration purposes.

But perhaps this design can become one day the sign of the German Thelema."
Lekve was responsible for the survival of Thelema in the German-speaking countries after WWII. He considered himself to be Crowley's personal representative.
Crowley seems to have rehabilitated Martha Küntzel. The preface to his Tarot book from 1944 was allegedly written by Martha Küntzel. However, this attribution is false: Crowley wrote it himself.
Details to Martha Küntzel in Marco Pasi "Aleister Crowley und die Versuchung der Politik", Graz 2006.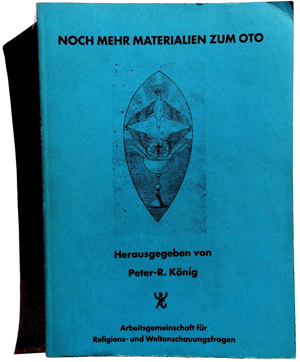 Correspondence of Küntzel with some O.T.O.-protagonists in "Noch mehr Materialien zum O.T.O.", Munich 2000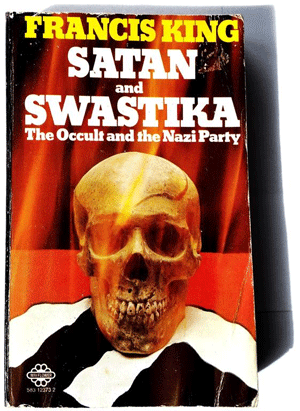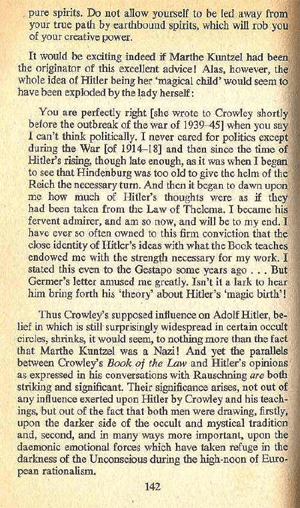 An excerpt from Francis King: "Satan and Swastika. The Occult and the Nazi Party", Herts 1976, 142.
"It would be exciting indeed if Martha Kuntzel had been the originator of this excellent advice! Alas, however, the whole idea of Hitler being her 'magical child' would seem to have been exploded by the lady herself:

... pure spirits. Do not allow yourself to be led away from your true path by earthbound spirits, which will rob you of your creative power.

It would be exciting indeed if Marthe Kuntzel had been the originator of this excellent advice! Alas, however, the whole idea of Hitler being her "magical child" would seem to have been exploded by the lady herself:

You are perfectly right [she wrote to Crowley shortly before the outbreak of the war of 1939-45] when you say I can't think politically. I never cared for politics except during the War [of 1914-18] and then since the time of Hitler's rising, though late enough, as it was when I began to see that Hindenburg was too old to give the help of the Reich the necessary turn. And then it began to dawn upon me how much of Hitler's thoughts were as if they had been taken from the Law of Thelema. I became his fervent admirer, and am so now, and will be to my end. I have ever so often owned to his firm conviction that the close identity of Hitler's ideas with what the Book teaches endowed me with the strength necessary for years ago . . . But Germer's letter amused me greatly. Isn't it a lark to hear him bring forth his 'theory' about Hitler's 'magic birth'!

Thus Crowley's supposed influence on Adolf Hitler, belief in which is still surprisingly widespread in certain occult circles, shrinks, it would seem, to nothing more than the fact that Martha Kuntzel was a Nazi!" And yet the parallels between Crowley's Book of the Law and Hitler's opinions as expressed in his conversations with Rauschning are both striking and significant. Their significance arises, not out of any influence exerted upon Hitler by Crowley and his teachings, but out of the fact that both men were drawing, firstly, upon the darker side of the occult and mystical tradition and, second and in many ways more important, upon the daemonic emotional forces which have taken refuge in the darkness of the Unconscious during the high-noon of European rationalism.
2003 Martha Künzel's translation of Crowley's "Liber Aleph" was published in Germany by the "Caliphate". Previously Marcus Jungkurth's earlier translation of 1986 (published by Michael D. Eschner) was in circuit.
Arnoldo Krumm-Heller
Another friend of Reuss and Crowley was the adventurer Arnoldo- Krumm Heller, whose life this writer covered at length in an earlier work, "Ein Leben für die Rose" ("A Life for the Rose"). He was a convinced Hitler fanatic and anti-American. Krumm-Heller's articles on these topics are now available on-line. [link below]
Krumm-Heller published his fascist blatherings in his own order's magazines, proof of how he mixed his politics with religion.


Details: Dance the Adolf Hitler
In the midst of Berlin, allegedly the Nazi flag fluttered from the gable of the building which also was advertised as a temple for the Argenteum Astrum.
A photograph of his house; published by Krumm-Heller himself in his magazine "Rosa-Cruz", 27. November 1932, Berlin-Heiligensee 1932, 56. El Sumo Supremo Santuario de la Fraternitad Rosa-Cruz y de la Santa Iglesia Gnóstica de Berlin-Heiligensee.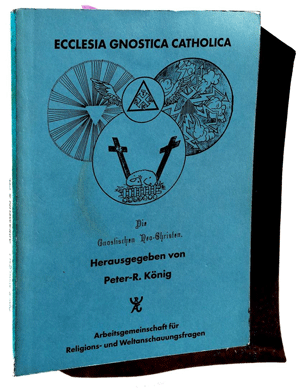 Complete text in "Ecclesia Gnostica Catholica"
In 1937, Krumm-Heller sent one of his sons to the NAPOLA or National Political School, which trained the future leaders of the Reich. He admired Mussolini and Kemal Atatürk and worked together with Ernst Issberner-Haldane on esoteric ideas of Plasmogeny and the origin of life. Issberner-Haldane published in the same publishing house like Eugen Grosche: Verlag der Freude, in Wolfenbüttel. [About the connection between Krumm-Heller, Aleister Crowley, Karl Germer... soon on this website]
Nevertheless, Krumm-Heller'a library was confiscated in 1942 by the Nazis. Here he was in good company of other occultists: Heinrich Tränker who considered himself as head of many organizations, also of the O.T.O. after Reuss' death in 1923, and Julius Meyer of the Illuminaten-Orden of Theodor Reuss and Leopold Engel suffered the same fate.
Issberner-Haldane, member of Lanz von Liebenfels' Ordo Novi Templi (O.N.T.), was published after the Second World War in the same esoteric magazine which featured Hermann Joseph Metzger, chief of the Swiss O.T.O.: the Arve.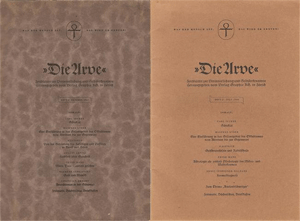 Zürich 1948. Here Issberner-Haldane.
Peter Mano is Hermann Joseph Metzger. Other writers of the 'Arve': Manfred Kyber, Hans Sterneder, G.W. Surya, Herbert Fritsche (who considered himself to be the successor to Arnoldo Krumm-Heller's Gnostic Church), Theodor Czepl (successor of Liebenfels and active in Walter Englert's Order of Illuminati in Frankfurt/Germany in the 1960s) ...