Planting Seeds of Fear into the American Mind
By Michael Payne
December 13, 2015
NOTICE: THIS WORK MAY BE PROTECTED BY COPYRIGHT
YOU ARE REQUIRED TO READ

THE COPYRIGHT NOTICE AT THIS LINK

BEFORE YOU READ THE FOLLOWING WORK, THAT IS AVAILABLE SOLELY FOR PRIVATE STUDY, SCHOLARSHIP OR RESEARCH PURSUANT TO 17 U.S.C. SECTION 107 AND 108. IN THE EVENT THAT THE LIBRARY DETERMINES THAT UNLAWFUL COPYING OF THIS WORK HAS OCCURRED, THE LIBRARY HAS THE RIGHT TO BLOCK THE I.P. ADDRESS AT WHICH THE UNLAWFUL COPYING APPEARED TO HAVE OCCURRED. THANK YOU FOR RESPECTING THE RIGHTS OF COPYRIGHT OWNERS.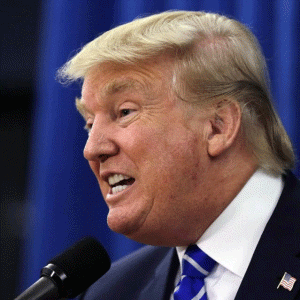 "Trump has taken fear mongering to a new, higher level as he targets Americans who are angry and frustrated about what is happening in this country and how it is adversely affecting their lives."
America is entering into a most dangerous time in its history as this society and its people react to and try to cope with the specter of fear that is rapidly spreading across this nation.
For many years, Americans have listened to the incessant beat of the drums of war. Now we hear the drums of fear sounding across this country as those who advance its agenda plant the seeds of apprehension and anxiety into the American psyche.
Donald Trump, candidate for president, has assumed the role of Chief Architect of this agenda of fear. He has become the messenger of fear, hatred and dissension. He uses that message to appeal to the increasing number of Americans who have been mentally conditioned by this government's War on Terror to live in fear of a potential foreign terrorist threat.
Decades ago the people of America heard President Franklin Delano Roosevelt declare, "The only thing we have to fear is…fear itself — nameless, unreasoning, unjustified terror which paralyzes needed efforts to convert retreat into advance.
Then, after 9/11, G.W. Bush instilled fear into their hearts when he said, "Be afraid, be very afraid." And now we have President Obama constantly talking about ISIS and the direct threat it poses to America. Why isn't our president, instead, echoing the words of FDR whose message inspired Americans to refuse to cave in to fear?
Trump has taken fear mongering to a new, higher level as he targets Americans who are angry and frustrated about what is happening in this country and how it is adversely affecting their lives. He knows they are very troubled and have great concerns about the future. He knows how to tap in that condition and reap the benefits.
He is using ISIS as his bogeyman and connecting its treacherous agenda and ideology to Muslims in general and, specifically, to those who live in America. He is painting all Muslims with the same brush and far too many Americans are buying into his twisted, demented message.
Trump reminds me of the late Senator Joseph McCarthy who used his position in the U.S. Senate to spread fear throughout America as he accused numerous Americans of being communists and/or their sympathizers; his fabricated warnings made Americans think that there was a communist, a soviet spy or a sympathizer hiding behind every bush. Trump is taking part of his strategy directly from McCarthy's playbook.
If this fear monger has his way we could very well see an America that is torn by hatred and dissension, with various elements and factions within it generating distrust and even hatred of others who they see as a distinct threat. We don't need a class war involving various segments of this population; Muslims, Caucasians, Hispanics, Asians, African-Americans and others. We already have far too many divisions in this country.
Talk about stirring the pot coupled with the art of mind conditioning. Each time we have another mass shooting the national media swiftly goes to work and covers it non-stop. And, in this particular horrific incident in San Bernardino, there is another dimension that they add to the reporting; one that I don't believe we have seen to this degree.
Watch TV, listen to the radio, read the newspaper and you will find three words constantly used in describing what took place in this tragic event; they are "Muslim", "Terrorist" and "Radicalized." Combine the three, spread the message and you have the recipe for injecting more fear into the American mind. How many in America will accept that inflammatory rhetoric we have no way of knowing.
It appears that this media is connecting this latest mass shooting with all those who are of the Muslim faith. The majority of it is failing to point out that the incidence of violent crimes committed by Muslims in the U.S., who represent about 2% of our population, is minuscule. This failure in objective reporting will have the added detrimental effect that Muslims, as a body, will be seen as a primary threat to our society; which would be a gross distortion of reality.
No, we don't need a class war; not in a country that has 270 million firearms and a highly faulted process by which almost anyone can easily buy a 9MM Glock handgun or an AR15 assault rifle. The potential of that kind of internal conflict occurring is greatly increased by the fact that all 50 states now have open carry gun laws and, at least, half have "Stand Your Ground", or "Shoot First" laws, on the books.
It's a fact that each time this country experiences another mass shooting, the sales of firearms and the resultant profits of the gun industry skyrocket. And then the leaders of the NRA and their mass of supporters, including many in the U.S. Congress, are ecstatic; they are satisfied that they have fulfilled their objectives of protecting the rights of the gun industry.
What the American people must do is to totally reject the twisted message of these fear mongers who are trying to turn America into a totalitarian state with all Americans living in a state of fear; they must not be allowed to take control.
In the America of today, we are facing mounting, unaddressed problems and we have a dysfunctional, gridlocked government that has no capacity or intention of dealing with them. We need new leaders who can harness the anger and frustration of the people in a positive, constructive way to shake the foundations of Washington and bring badly needed reforms to this government.
This country and society are rapidly approaching a critical crossroads; if we the people listen to and succumb to this message of fear and hatred and choose to take the wrong road into the future, this misguided direction could well become irreversible. The people of America must not let that happen.