Netanyahu Praises Former German Leader Helmut Kohl Following News of Death: In a statement, Netanyahu praised Kohl's "commitment to Israel's security" during his tenure as chancellor, and expressed appreciation for his "empathy" towards the Jewish state.
Jerusalem Post
by Tamara Zieve, Reuters
June 16, 2017 21:55
NOTICE: THIS WORK MAY BE PROTECTED BY COPYRIGHT
YOU ARE REQUIRED TO READ

THE COPYRIGHT NOTICE AT THIS LINK

BEFORE YOU READ THE FOLLOWING WORK, THAT IS AVAILABLE SOLELY FOR PRIVATE STUDY, SCHOLARSHIP OR RESEARCH PURSUANT TO 17 U.S.C. SECTION 107 AND 108. IN THE EVENT THAT THE LIBRARY DETERMINES THAT UNLAWFUL COPYING OF THIS WORK HAS OCCURRED, THE LIBRARY HAS THE RIGHT TO BLOCK THE I.P. ADDRESS AT WHICH THE UNLAWFUL COPYING APPEARED TO HAVE OCCURRED. THANK YOU FOR RESPECTING THE RIGHTS OF COPYRIGHT OWNERS.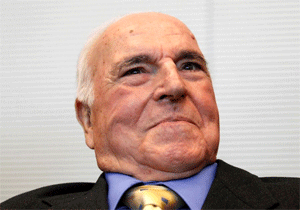 Former German chancellor Helmut Kohl . (photo credit: REUTERS)
Prime Minister Benjamin Netanyahu sent condolences to the German people and the family of former chancellor Helmut Kohl after learning of the leader's death on Friday.
Kohl, the architect of Germany's 1990 reunification and mentor to Angela Merkel, died at age 87, his Christian Democratic Union party said on Friday.
The mass-selling newspaper Bild reported that Kohl died on Friday morning in his home in Ludwigshafen, in western Germany, with his second wife, Maike Kohl-Richter, at his side.
In a statement, Netanyahu praised Kohl's "commitment to Israel's security" during his tenure as chancellor, and expressed appreciation for his "empathy" for the Jewish state.
"His sympathy for Israel and Zionism is reflected in my many meetings with him," Netanyahu continued, "and his position was always firmly in favor of Israel, which has been steadily present in Europe and in other international forums."
Germany's longest-serving post-war chancellor, from 1982 to 1998, Kohl was a driving force behind the introduction of the euro currency, convincing skeptical Germans to give up the Deutsche mark, a cherished symbol of the "economic miracle" of the 1950s and 1960s.
An imposing figure who formed a close relationship with Socialist French President François Mitterrand in pushing for closer European integration, Kohl, a conservative, had been frail and used a wheelchair since suffering a bad fall in 2008.
By committing to anchor Germany within Europe under a common currency, he overcame resistance to reunification from Mitterrand, Soviet leader Mikhail Gorbachev and Margaret Thatcher, the British prime minister who feared the return of a powerful, united Germany.
Merkel, Germany's incumbent chancellor who grew up in Communist East Germany before being appointed by Kohl to her first ministerial post, said he "changed my own life path decisively" by reuniting Germany.
"When a new spirit began to stir in Eastern Europe in the 1980s, when, starting in Poland freedom was seized, when brave people in Leipzig, East Berlin and elsewhere in East Germany began a peaceful revolution, then Helmut Kohl was the right man at the right time," said Merkel, who was wearing black.
"He stood fast to the dream and aim of a united Germany even as others hesitated," she said in a televised statement from Rome.
Gerhard Schroeder, Kohl's successor as chancellor, called him a "great patriot and European...
The unification of our country and our continent will be linked to his name for all time."
Charlotte Knobloch, president of the Jewish Community of Munich and Upper Bavaria, also expressed deep sorrow and sadness over Kohl's death.
She mentioned two historical developments which said would "forever remain connected to his name:" German unity and the strengthening of European unification.
"Both would not have been achievable without his extraordinary ability to establish good relations with people like Mikhail Gorbachev," she said in a statement.
Knobloch commended Kohl's "tireless commitment to reconciliation and the good, trustworthy and friendly coexistence of the Jewish and non-Jewish people in Germany."

"The humanitarian pact between then-chancellor Helmut Kohl and then-president of the Central Council of Jews in Germany Heinz Galinski was of paramount importance, as was the admission of Jewish immigrants from the former Soviet Union, where at the end of the 1980s a new wave of antisemitism emerged... and more than 200,000 Jewish immigrants came to the Federal Republic of Germany," Knobloch continued.

She said this significantly contributed to the strengthening of Germany's Jewish communities and that it "would not have been conceivable" without Kohl's "courageous work."

"Kohl was always a reliable, valuable and groundbreaking partner and a friend of the Jewish community," she concluded.
Tributes quickly flowed in from around the world.
"The maker of a united Germany and Franco-German friendship: with Helmut Kohl, we lose a great European," tweeted French President Emmanuel Macron, with an iconic picture of Kohl and Mitterrand holding hands at a memorial to the World War I Battle of Verdun.
British Prime Minister Theresa May paid tribute to "a giant of European history" and "the father of modern Germany."
US President Donald Trump said Kohl was a friend and ally of the United States. "The world has benefited from his vision and efforts," Trump said in a statement.
Former president George H.W. Bush said he and his wife Barbara "mourn the loss of a true friend of freedom, and the man I consider one of the greatest leaders in post-war Europe."
"Working closely with my very good friend to help achieve a peaceful end to the Cold War and
the unification of Germany within NATO
will remain one of the great joys of my life," he said in a statement.
"Helmut was a rock."
The American Jewish Committee recalled the opening of its permanent office in Berlin in 1998, an event celebrated by Kohl.

"Chancellor Kohl will be remembered for many things, including his pivotal role in the rebirth of Jewish life in Germany," said AJC Executive Director David Harris, who met with Kohl a number of times in Bonn, then Germany's capital.

AJC also noted that it worked with Kohl to secure his approval for compensation payments to East European Holocaust victims after the fall of the Berlin Wall in 1989.

"He was also a cherished friend of the Jewish people and Israel, and frequently spoke about his desire to restore a Jewish presence in his country after the devastation wrought by the Nazi Final Solution," Harris stated.
The Kremlin said President Vladimir Putin had sent condolences to Germany's president and to Merkel and cited him as saying Kohl "will be remembered in Russia as a resolute supporter of friendly relations between our countries."
In Brussels, European flags were lowered to half-staff in tribute.
European Commission President Jean-Claude Juncker, who served as Luxembourg's prime minister while Kohl was in office, tweeted: "Helmut's death hurts me deeply. My mentor, my friend, the very essence of Europe, he will be greatly, greatly missed."
Kohl, along with former European Commission chief Jacques Delors and Jean Monnet, founding father of the European project, are the only three people the EU has made Honorary Citizens of Europe, an honor bestowed for extraordinary work to promote European cooperation.