Class Action Suit.
by Christopher Recouvreur
June 20, 2012
http://charles-carreon.com/2012/06/20/c ... _exclude=5
Dear Readers,
I am looking for persons to be party to a class action lawsuit against Matthew Inman, IndieGoGo, the National Wildlife Fund and anyone with Cancer. Once party to the suit you will reap many financial benefits, including a share of at least $200,000. Other benefits are a poem written in your honor by my wife Tara, here is a sample of her work:
Well he used to be a pterodactyl up in the sky,
Tearin' people's heads off,
and eatin' their eyes,
But now he's done a change-up,
Got a new disguise –
All Points Bulletin: Look out for this guy!
Also if you like cartoons or photoshop she can do that too. So you ask, "What do I need to do Charles?" Well it's really quite simple. Donate using the link below (Click the picture) and then we can say that Mr. Inman is misappropriating your donation. No it doesn't matter that the donations haven't ended and he hasn't done it yet. We all know he's going to buy himself medical grade cadavers with his proceeds to make brain smoothies.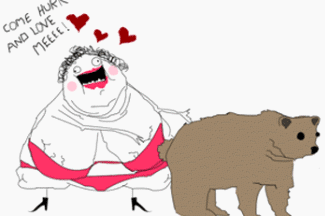 Again. Click the link (now above) in the picture. Donate. Then add your name to my class action lawsuit! 3 simple steps to pillaging a $200,000 slush fund.
Soon to be your representative,
Charles Carreon Esq.