Litigation Playwriting
by Christopher Recouvreur
March 22, 2013
http://charles-carreon.com/2013/03/22/l ... aywriting/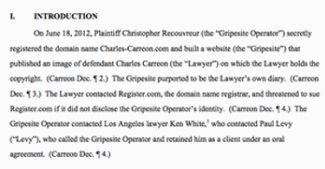 The "Lawyer" shall now explain why I chose the titles I used in my response to the "Gripesite Operator" motion for attorney fees. I wrote my motion as a play, a theatrical work, in order of course to impress Judge Seeborg with my creative flair. See, I always wanted to be a writer. Hence my many highly regarded ebooks available online. I am a man of passionate creativity and a romanticist; I cannot help that my legalese came out as poetic prose really.
A few questions asked of me:
Q – Why use "Gripesite Operator" which is 18 characters long rather than Plaintiff which is half as long at 9 characters in length?

A – It's a blatant attempt to bias readers against the evil Illuminati Libertarian Popehat pawn.

Q – Why use the title the "Lawyer" rather than your last name when multiple lawyers are envolved in the litigation? Isn't it confusing?

A – I am the only real lawyer envolved in the litigation. I also refuse to acknowledge one of the Gripesite Operator's counsels.

Q – Isn't it "Gripe site" not "Gripesite?"

A – Your correction of my misspelling is infringing upon my First Amendment rights, as such I shall exercise my First Amendment right to vexatiously threaten you with lawsuits.
Now that I have answered your pathetically dull questions, I must go and buy myself some more glue. Throwing theories at a judge hoping that one will stick requires a ton of Elmer's. Don't tell anyone, but I think someone in the house has been eating a bunch as well…
Practically Shakespeare,
Charles Carreon Esq.