Told you so.
by Christopher Recouvreur
June 25, 2012
http://charles-carreon.com/2012/06/25/t ... xclude=298
Well my detractors are out here again spewing villainous threats and making libelous statements about me (I'm looking at you W Ross and theMattScott). People out there have been claiming that I am devoid of clientele. Well my loyal followers, I have a new client and I can prove it! Here is a letter I received just today from one of our readers!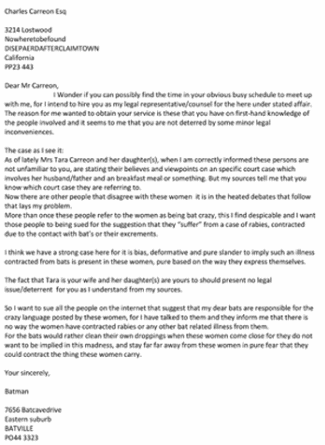 Charles Carreon Esq

3214 Lostwood
Nowheretobefound
DI5EPAERDAFTERCLAIMTOWN
California
PP23443

Dear Mr Carreon,

I Wonder if you can possibly find the time in your obvious busy schedule to meet up
with me, for I intend to hire you as my legal representative/counsel for the here under stated affair.
The reason for me wanted to obtain your service is these that you have on first-hand knowledge of
the people involved and it seems to me that you are not deterred by some minor legal
inconveniences.

The case as I see it:

As of lately Mrs Tara Carreon and her daughter(s), when I am correctly informed these persons are
not unfamiliar to you, are stating their believes and viewpoints on an specific court case which
involves her husband/father and an breakfast meal or something. But my sources tell me that you
know which court case they are referring to.

Now there are other people that disagree with these women it is in the heated debates that follow
that lays my problem.

More than once these people refer to the women as being bat crazy, this I find despicable and I want
those people to being sued for the suggestion that they "suffer" from a case of rabies, contracted
due to the contact with bat's or their excrements.

I think we have a strong case here for it is bias, deformative and pure slander to imply such an illness
contracted from bats is present in these women, pure based on the way they express themselves.

The fact that Tara is your wife and her daughter(s) are yours to should present no legal
issue/deterrent for you as I understand from my sources.

So I want to sue all the people on the internet that suggest that my dear bats are responsible for the
crazy language posted by these women, for I have talked to them and they inform me that there is
no way the women have contracted rabies or any other bat related illness from them.

For the bats would rather clean their own droppings when these women come close for they do not
want to be implied in this madness, and stay far far away from these women in pure fear that they
could contract the thing these women carry.

Your sincerely,

Batman

7656 Batcavedrive
Eastern suburb
BATVILLE
P0443323
See that my friends, plenty of people want my services. Like this Bruce Way…. wait I wasn't supposed to let anyone know that. Oops. Wait… I should have read that letter first… what Tara? I think he wants me to sue my wife. Well we'll have to amend the complaint to sue anyone who mentions my wife or uses the phrase batshit crazy. That should do. So just a reminder to all readers, please don't tell anyone I mentioned my clients real name and I am still looking for additional parties for my Class Action Suit.
Also I need to file another subpoena, it's off to go Doe Hunting!
Censoring Your Detractors Since 2012,
Charles Carreon Esq.