A break from character. Part 2
by Christopher Recouvreur
July 2, 2012
http://charles-carreon.com/2012/07/02/a ... er-part-2/
So here I find myself posting again outside of the character I have created on this website. I had said I would only do so if I was forced to, and I feel I have. This post is directed not only at Charles Carreon, but at any would be censor. You have no right to threaten me because I don't like you. We are a society of free expression under the Constitution. We are not a society of freedom to commit Lawfare. You might be able to threaten frivolous legal action to me but I have the right to fight you with my every breath. I have never threatened you, your family, your friends, or any of your numerous organizations you have created. I have spoken out against you, I have satirized you. I have not photoshopped your face into pornography or your wife's. Can you say the same of the people you satirized? No. I have also protected you. I have deleted comments on this blog that tried to identify your personal information. I have been granted no such thoughtfulness by you though.
There are good, decent, people in this world. People who go day by day working jobs they don't like to support people they love. There are billionaire philanthropist who recognize other people's plights and choose to take action. There are unintended heroes who by chance save someones life. I believe the good outweighs the bad on any given day. I also believe that if we don't fight what we see as injustice, the bad goes on in the shadows happily unacknowledged. I am fortunate that good, decent and brilliant people have taken my defense so that I can shine a light on you. Thank you Paul Alan Levy, Cathy Gellis, and Kenneth P. White. Those people and anyone who stands up against censorship are my heroes.
You might hate what I have to say and I might hate what you have to say but I have never said anything on this blog that wasn't done for the sake of information and humor. I have not called you a murderer and have not asked for you to be water boarded. I have remained civil as a satirist can. However now you come to me with
THIS
: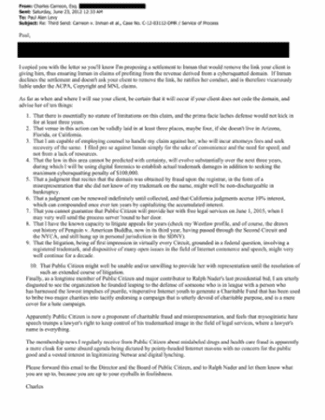 You have blatantly tried to censor me and in the course have threatened a company who has provided me service. You have threatened me as well. You have said that you will litigate me when and where you want and until I can litigate no further. You have tried to use the fear of financial ruin to keep me silent.
I will not stand down now, or ever. Did you think that because I choose to remain anonymous (for this reason exactly) that I am weak? My voice is as loud as yours and with every threat it becomes louder. I will not bend or break. I will remain a lawful citizen who chooses to speak out. I will not be censored as you have tried to do to myself and others. This isn't just about me, this is about my children and yours. So that they can one day speak out as I have if they feel the need.
You are probably going to try to make this about trademarks, however as people's right to create fair use sites based on trademarks has been settled numerous times before, that is a hollow argument. This is about you being upset and wanting to use whatever law you think you can to stop me from speaking. This is about you thinking that because you have the resource of being a lawyer yourself that you can shape the public conversation as you see fit. This is about you using your resources to shut down critics like your parody accounts on Twitter, or offering a $500.00 reward to anyone who would name the person behind it. Or threatening bloggers with legal action, as your wife has done. These are the actions of a censor.
This site will be a part of your living legacy. I had thought I'd do this website and eventually it'd stop getting traffic one day. That I'd move it to another domain, created for a new project, for archive purposes alone. I know some day no one will care about you enough to look at this site. However today I swear before anyone who is reading this and before my deity of choice, that this domain will stay open and available to the public as long as I can afford to do so.
You could have engaged me in meaningful dialogue. You could have put your angry hat away and emailed me. I would have agreed to disagree, but I would have listened to your concerns. I might have even agreed to find a mutually respectful compromise. I can disagree with your actions and still seek civility. That is over now. I have been threatened, my rights have been threatened, and I do not negotiate under threat. You cannot silence me for disagreeing with you. You cannot silence others who disagree with you.
Consider this my not so kind hearted way of saying fuck off,
Satirical Charles