A question.
by Christopher Recouvreur
July 4, 2012
http://charles-carreon.com/2012/07/04/a-question/
I wanted to do something special for Independence Day. I asked my hosting service if we could blow up my blog like a firework, but they said that wasn't feasible and might result in charges being filed against me. Then I emailed Kingsford on how to bbq a blog, they didn't respond. I tried to brew the blog, but all I did was get my shoes wet. After many failed attempts at baking it into an apple pie, I decided that how better to celebrate freedom than to vote as a democratic people. So here it is, my Illuminati endorsed poll. 6 out of 7 Bavarians agree, it's better than frivolous lawsuits.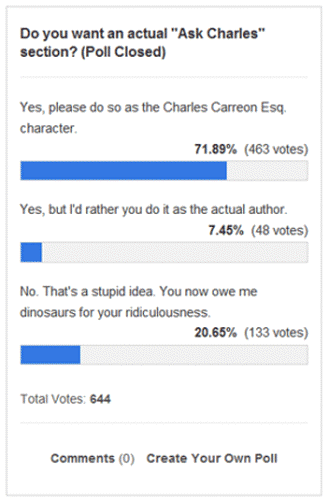 Do you want an actual "Ask Charles" section? (Poll Closed)
Yes, please do so as the Charles Carreon Esq. character. 71.89% (463 votes)
Yes, but I'd rather you do it as the actual author. 7.45% (48 votes)
No. That's a stupid idea. You now owe me dinosaurs for your ridiculousness. 20.65% (133 votes)
Total Votes: 644
Comments (0) Create Your Own Poll