Don't mess with my mom, or I'll go Tucson Jack on you.
by Christopher Recouvreur
June 19, 2012
http://charles-carreon.com/2012/06/19/d ... xclude=152
So people are trying to convince me that this picture drawn by The Oatmeal: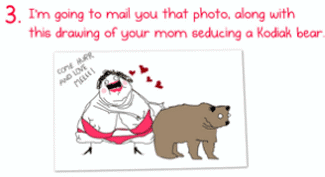 Is not directed at me? I mean seriously? I don't care if the whole blog post / letter / response he referred the word "you" to the owner of FunnyJunk. I don't care if his anger was directed at FunnyJunk. I still could care less if he even referred to me as "your lawyer" which implies the letter is directed at FunnyJunk. We all know this is about me. I can simply not allow theoatmeal creator Matthew Inman to change those facts. He drew a lewd picture about MY MOM! With her subtle curves and saggy, wrinkled breasts. The way she beckons the bear with her crazy stare and curly hair.
Some people would want to distance their mother and themselves from such a letter and almost pornographic image. No I am not some people. I am going to throw my mom right in there with the saggy breasts, pink bikini, and kodiak bear. To do any less would be un-Carreon. My sweet mother never once molested a bear and the only way to prove that is to insert her into this dispute, making the bear love picture about me and her, and then proving it all false through the court of law. Matthew Inman and his pterodactyl conspirators will rue the day I mistakingly thought that picture was of my mom.
Thank You Readers,
Charles Carreon Esq.