An Atlas of Her Body, by Charles Carreon
[Nature has an unerring weapon for controlling her children -- sex. The mysterious attraction of one body for another can never truly be fathomed, rather it is the sea upon which all human beings are borne. As a young man, troubled very much by the emotion of attraction for beautiful beings and things, I became quite worn out with the insistence of my own impulses. Perhaps in an effort to dry out my relationship with attraction, I created this Borgesian poetic essay extolling lust as a scholarly pursuit. Somewhat tongue in cheek, yet lovingly crafted, it is a work that I enjoy to this day.]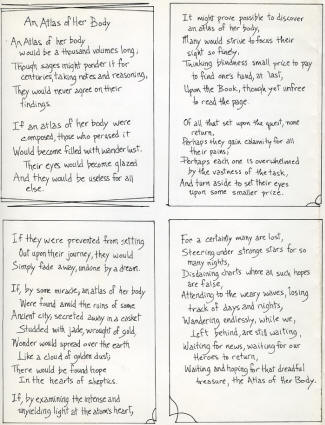 An Atlas of her body
would be a thousand volumes long;
Though sages might ponder it for
centuries, taking notes and reasoning,
They would never agree on their
findings.
If an atlas of her body were
composed, those who perused it
Would become filled with wanderlust.
Their eyes would become glazed
And they would be useless for all
else.
If they were prevented from setting
Out upon their journey, they would
Simply fade away, undone by a dream.
If, by some miracle, an atlas of her body
Were found amid the ruins of some
Ancient city, secreted away in a casket
Studded with jade, wrought of gold,
Wonder would spread over the earth
Like a cloud of golden dust;
There would be found hope
In the hearts of skeptics.
If, by examining the intense and
unyielding light at the atom's heart,
It might prove possible to discover
an atlas of her body,
Many would strive to focus their
sight so finely,
Thinking blindness small price to pay
to find one's hand, at last,
Upon the Book, though yet unfree
to read the page
Of all that set upon the quest, none
return.
Perhaps they gain calamity for all
their pains;
Perhaps each one is overwhelmed
by the vastness of the task,
And turn aside to set their eyes
upon some smaller prize.
For a certainty many are lost,
Steering under strange stars for so
many nights,
Disdaining charts where all such hopes
are false,
Attending to the weary waves, losing
track of days and nights,
Wandering endlessly, while we,
Left behind, are still waiting,
Waiting for news, waiting for our
Heroes to return,
Waiting and hoping for that dreadful
treasure, the Atlas of Her Body.