Plastic Doesn't Breathe, by Charles Carreon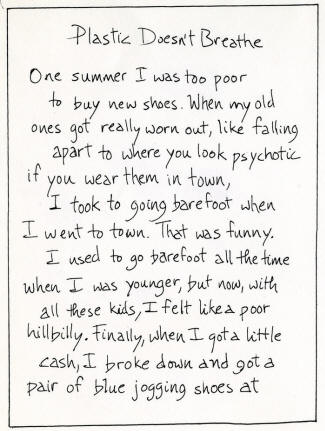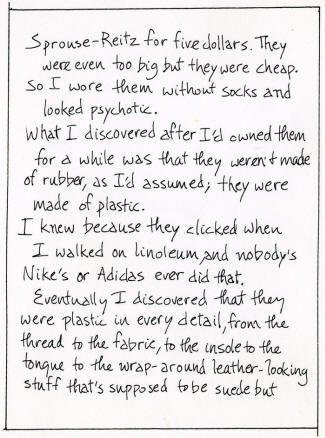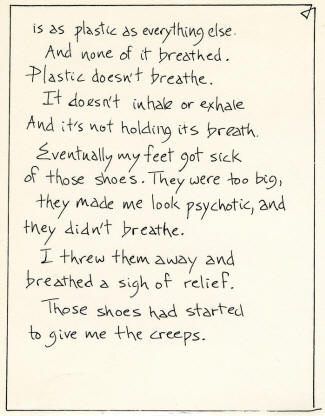 One summer I was too poor
to buy new shoes. When my old
ones got really worn out, like falling
apart to where you look psychotic
if you wear them in town,
I took to going barefoot when
I went to town. That was funny.
I used to go barefoot all the time
When I was younger, but now, with
all these kids, I felt like a poor
hillbilly. Finally, when I got a little
cash, I broke down and got a
pair of blue jogging shoes at
Sprouse-Reitz for five dollars. They
were even too big but they were cheap.
So I wore them without socks and
looked psychotic.
What I discovered after I'd owned them
for a while was that they weren't made
of rubber, as I'd assumed; they were
made of plastic.
I knew because they clicked when
I walked on linoleum, and nobody's
Nike's or Adidas ever did that.
Eventually I discovered that they
were plastic in every detail, from the
thread to the fabric, to the insole to the
tongue to the wrap-around leather-looking
stuff that's supposed to be suede but
is as plastic as everything else.
And none of it breathed.
Plastic doesn't breathe.
It doesn't inhale or exhale
And it's not holding its breath.
Eventually my feet got sick
of those shoes. They were too big,
they made me look psychotic, and
they didn't breathe.
I threw them away and
breathed a sigh of relief.
Those shoes had started
to give me the creeps.