Reese's Cups, by Charles Carreon (14 years old)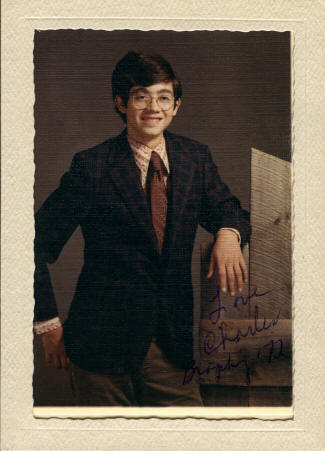 oh I think and reese's cups we are
mellow chocolate people with peanut butter
centers so creamy smooth
We are eight
in a car we feel
just like a mobile snackbar
two for a dime and
reese's cups we are
and headed for where?
out to the darkness in a candy car
with a failing transmission
could it be for lack of orange juice?
out of the car now
walking for a long time
only six reese's cups now
two we left back in the car
loving and melting together
On to the castle
With big power lines beside us
babbling their high tension talk
the very finest music
we listen then stagger on
feeling melted by the moon
just stumbling along and wondering
just what are those little things
all over the ground?
your flashlight
and oh god! they're really there
and look like octopi
we walk on and go through a very strange dry lake
looking like the moon
and our feet frozen
we stagger to the truck and
ho there is the candle and let's
build a fire
we do and it is a very nice fire
with red and white honeycombs and blue fringe
ah a patriotic fire!
we sit about and warm ourselves and watch
the fire acting strangely
then I stand and say to reese's cup Liz
we're gonna have'ta go and
she says yeah the sun's got an hour to go yet
before it's gotta get up
so Fred shows us the road and the power lines
and Liz and I go floating down the road so happy
together and our chocolate alive
our peanut butter vibrant!
1969