Slender Threads, by Charles Carreon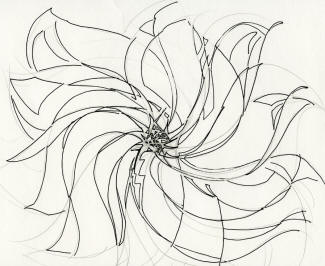 The universe is held together by a
slender knot.
The message we write to succeeding generations
is written in finest script.
Whether it all breaks down to yes and no
in the end
we'll never know.
The writing will be the same.
In your thumbprint and your bellybutton
and your voice and the twist of your joints
There's a changing signature, owned of generations,
Impressed with changes wrought of union.
Someone poured acid on the world
and the threads got twisted.
The message is mangled.
We can't read the notes we made to our cells;
The delicate lines run as if tears
were distorting our vision.
Woman's the victim.
Her womb's a mischief machine.
She can't trust it anymore.
The universe is held together by a slender thread,
And life is more tender than we had thought.
Someone dumped garbage in the sea.
Someone went walking on the moon.
Someone took a sheet of paper and made
a list of names they didn't know,
And the fragments of lives went falling
into the fire like scraps of paper
and tatters of old clothes.
Someone cashed a check at the bank.
And someone opened the drainpipe on a
sludge-spattered truck
And watched the poisoned liquid flow
into the swamp, into the water,
into the ambiguous night.