2 AM Swim At The Sunset Cliffs, by Charles Carreon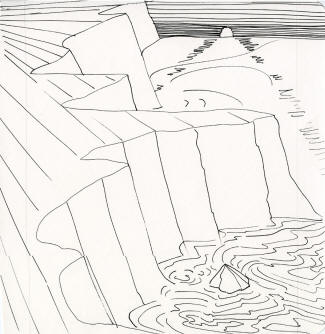 Pizza slinging done for the night --
After-hours Budweiser consumed.
Close the back door.
Silent dark streets, ocean roar
off to the right -- Japan, China, Hawaii, over there.
Beach condos, occupants asleep.
Dark waves rolling in.
Walking down the sidewalk damp with mist,
My shadow goes first before me, then behind,
slave to the nearest streetlamp.
Cut down from the well-lit cul-de-sac,
Squeeze between a wall and some barbed wire,
Follow a sandy track to the base of the cliffs.
Dark, calm sea, a slopping wet hugeness
Clawing softly at the shore.
I strip and roll my clothing up,
Wade into water black as pitch.
The sandy shelf tips sharply down
I feel like a pencil about to roll
off the edge; three or four steps
And the wetness closes over me,
limbs floating in a threatening womb,
Fathomless, pulling, down, down, deeper --
Appalling to the inner ear;
I try to float, abandoning effort, weight,
and thought, but I can't
Do it. Clearly I see a gleaming knot
of twisted iron. That's me/it's death.
Back in the land of the living --
My wallet, My pants, My glasses. I'm wet skin.
Walking with shoes on back to the travelall.
Down the freeway under serials of arc-lamps.