Tales of the Pioneers, by Charles Carreon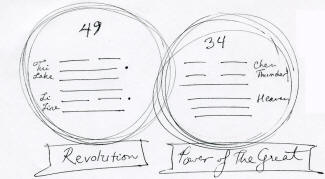 The old ones came when they were young.
Beautiful, without shoes,
Treading delicately on morning dew,
Drinking dawn air like
An ecstatic fluid.
The old ones knew nothing when they came,
Having fled homes of privilege,
The taste of things rustic being novel,
Their works were fanciful,
Emblazoned with imagery of dreams.
The old ones shared seed with each other,
And children blossomed like wildflowers
Covering the hillsides way up the mountains.
The old ones built the corrals of stone,
The houses of wood, dug the wells.
The old ones left an ambiguous legacy --
Prayer flags flap in the breeze,
Their words were those of libertines,
Sacrifice and ceremony were known to them,
But a cacophonous destructive tone marked their songs.
The old ones did not give much thought to history --
Their early goals changed like tadpoles,
Just in time when the puddles dried up,
And pragmatism drove them on when ideals
Proved too capricious to bear the load.
The old ones broke the soil
And it sullied them;
The first generation shall not see
The promised land; from the love
Of my ten thousand descendants
Shall come the seed to save my heart.
(1/14/94, Colestine)