Tasting the Edge of Dawn, by Charles Carreon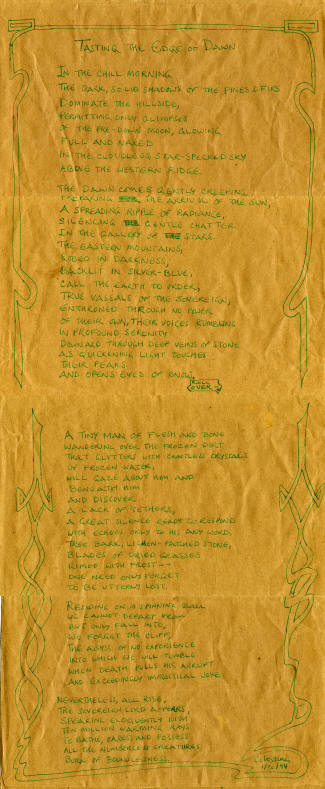 In the chill morning
The dark, solid shadows of the pines & firs
Dominate the hillside,
Permitting only glimpses
Of the pre-dawn moon, glowing
Full and naked
In the cloudless, star-specked sky
Above the western ridge.
The dawn comes gently creeping,
Preparing the arrival of the sun,
A spreading ripple of radiance,
Silencing gentle chatter
In the gallery of the stars.
The eastern mountains,
Robed in darkness,
Backlit in silver-blue,
Call the earth to order,
True vassals of the sovereign,
Enthroned through no power
Of their own, their voices rumbling
In profound serenity
Downward through deep veins of stone
As quickening light touched
Their peaks
And opens eyes of snow.
A tiny man of flesh and bone
Wandering over the frozen dirt
That glitters with countless crystals
Of frozen water,
Will gaze about him and
Beneath him
And discover
A lack of tethers,
A great silence ready to respond
With echoes only to his any word.
Tree bark, lichen-patched stone,
Blades of dried grasses
Rimed with frost --
One need only forget
To be utterly lost.
Residing on a spinning ball
We cannot depart from
But only fall into,
We forget the cliff,
The abyss of no experience
Into which we will tumble
When death pulls his abrupt
And exceedingly impractical joke.
Nevertheless, all rise,
The sovereign Lord appears,
Speaking eloquently with
Ten million warming rays
To bathe, caress and possess
All the numberless creatures
Born of boundlessness.
Colestine, 1/30/94