The Universe Begins With "A", by Charles Carreon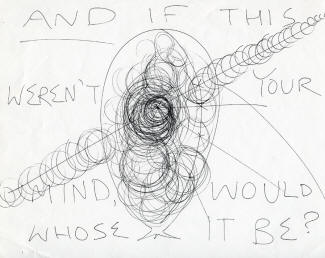 First the nuclear blast,
the all-encompassing destruction,
The unrestrained expression of complete
and total contempt for all grasping ideas
all forms all precious things strings of jewels
cities full of garbage woods full of wildlife
mountain majesties and whole galaxies
Whoom! It all collapses under the shock wave
Every atom flies apart from every other atom,
Every subatomic particle from every other one
Releasing energy
Pure energy with a sound like laughter.
And like a cinder at the core of the bomb crater,
A tiny blue light glowing unfathomably bright
Then flickering in and out
Getting brighter with each flicker
Till at last, Bam,
He's there, with her
The two of them in wild embrace
Hair wilder than the wildest man of Borneo
Twisting up with locks of flame
Forehead ornamented with five skulls
Frowning brows and bulging eyes
Grimacing jowls and flexing biceps,
A dominating stance, weapons brandished,
No quiet undertow of wisdom this,
But one voice of unrestrained bliss,
While falling from the sky
The endless rain of iron daggers,
big as icebergs, sharp as razors,
Falling with instantaneous precision
on encrustations, forms, formations
Before they have a chance to take shape,
and the blaze of the collision
Is simply the combustion of the carbon
of delusion
Being liberated into the diamond of space.
The universe begins with A,
for Apocalypse.