Windy Weather Sets You To Thinking, by Charles Carreon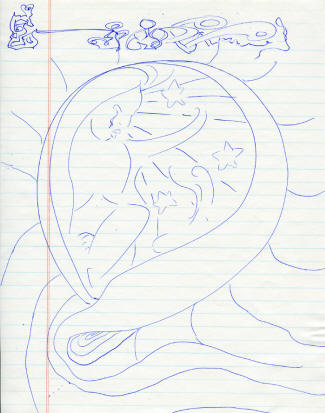 Wind-whipped morning,
Steel-gray light. 
Spring is a sure thing now,
and winter's in a panic,
pulling out all the stops like a cop hoping for a suspect,
whipping up
a river of air that buffets everything and
sprays chilly droplets
against the windows
like buckshot.
Over this rough conduct preside impassive clouds
whose gray faces do not even pass judgment.
The sun like a friendly accomplice trying to lend a hand
probes with slender knives but can't even slip
an edge of daylight through the stuck casement of dawn.
The woods struggle on in the gloom trying to pull off the job.
Individual trees are only as sure of staying in their place
as their trunks and roots are firm.
They cross their branches and hope for the best. 
Easy to lose your foothold in this world,
and never get it back.
So when we hear strong winds blow
and big branches creaking,
It sets us to thinking. 
A wind can fell a human
as easy as a tree.
A person's roots aren't so deep.
And like a tree, when a person goes down for real,
We others can't help them up. 
Do trees mourn fallen brethren
who go down with a crash?
Do they think, "There go I when the next wind blows,"
or "Life is short, make sugar now?" 
Probably not, and still,
sap is flowing,
and after the difficult wind,
Spring comes for every one still standing. 
(February, 1998)