After Troy, by Charles Carreon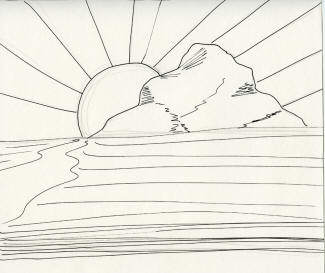 To destroy another's homeland is not brave.
The gods appoint the hours
Of man's destruction, and enemies
But loot the ruins of that which heaven overturns.
To be long away from home in battle is not sweet.
The spirit craves only the warmth of the home fires,
The familiar shape of one's own island
Carved against the sky.
An old goat sticks to the highlands
Where men don't trust their feet.
A clever fellow watches and waits.
Time does his work for him.
Now numberless leagues of sea
Separate my men from those they love.
The waves give not a single inch,
And silence is heard from above.
Adventures have carved sinews on my back,
Streaked my beard with grey.
The work of outwitting gods and men,
Is with me every day.
Scylla and Charybdis will I dare
Their gnashing teeth will meet my glare,
And Circe with her magics try
And little better fare.
As Heracles for golden apples
Journeyed to the sun,
So to join Penelope,
The longest race I'll run.