Good Morning, Cottonwood, by Charles Carreon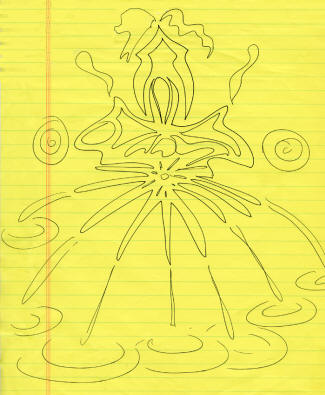 Good morning Cottonwood,
Freezing today. I suppose you felt it last night
stiffening the mud along your banks,
Forming fingers and half-moons of ice
in the still spots and puddles.
The meadow is covered with
cheap dime-store jewelry --
She's such a hick.
In the east the dawn's a silver disk
Where the sun's getting ready behind
its satin curtain.
Through the outhouse portal I see
that it is cold everywhere,
And besides your voice (which sounds hoarse
have you got a cold?), the first sounds
Are gasoline engines.
Down Colestine road a car buzzes
brightly; Jamie starts the Chevy-6
in his dumper; Shandor gets his generator going.
To join the fun I start the Toyota
that's parked halfway up the hill
full of wood where I left it yesterday
after three unsuccessful attempts to
reach the yurt. You see, I started
when the mud was hard, but with its
half-dead carburetor the Toyo took
so long to start, by the time I got rolling
the mud was all defrosted and halfway there
those super-high performance hiway tires'd
start spinning free as if the rear-end
were blocked up off the ground. pissed
me off. At any rate I won't bore you
with details, since you were probably
eavesdropping the whole time.
The sun's out of its dressing room now,
and looks like what the weatherman
calls "clear and cold with high clouds"
Have a nice day --
Your friend, Charles