PHOTOS AND DOCUMENTS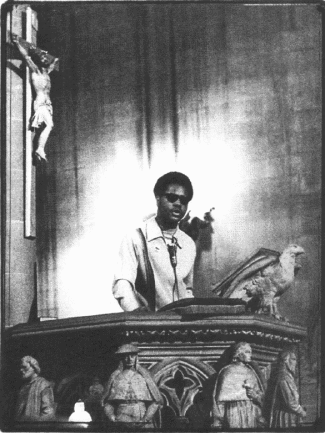 Mumia Abu-Jamal speaking at the memorial for Chairman Fred Hampton, December 1969, in the Church of the Advocate, Philadelphia.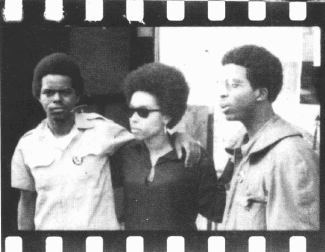 Jon Pinkett, Barbara Easley Cox, and Kentu share a frame.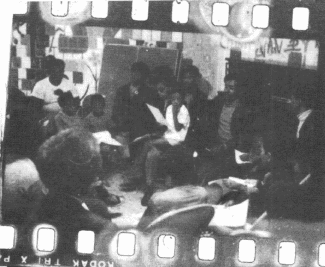 Barbara Cox reads to a child during a BPP function.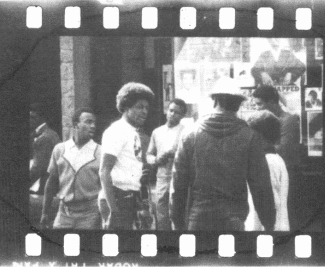 BPP member Rene Johnson raps with community in front of the office.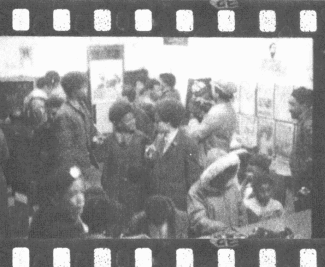 Black Panther meeting in Philadelphia, summer 1970.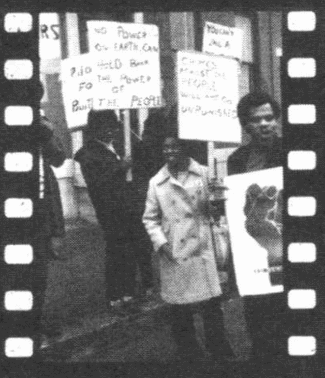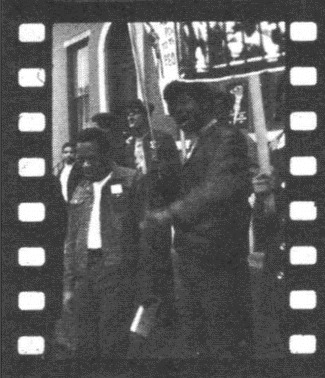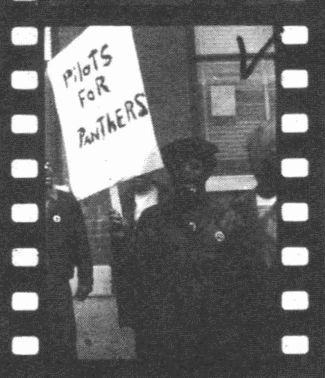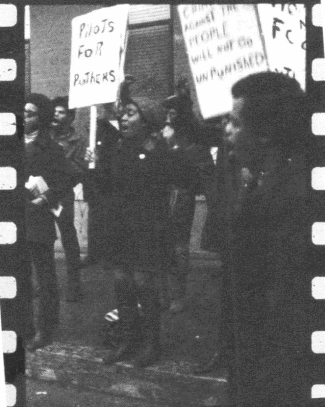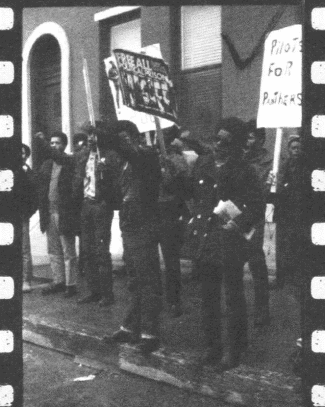 Photos of the "Pilots for Panthers" demonstration in Philadelphia supporting Eldridge Cleaver's call to exchange imprisoned Panthers for US POWs held in Vietnam by the NLF (see p. 107).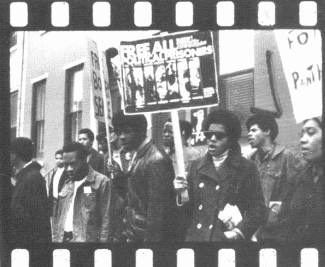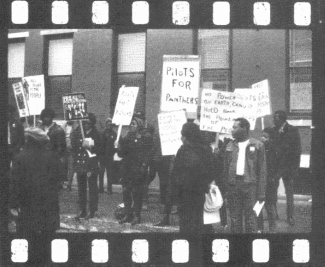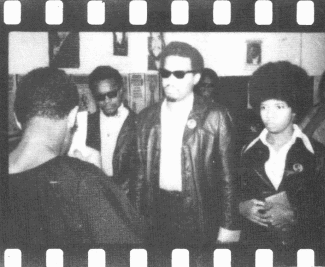 Rolando "Montae" Hearn and Gladys are married in the BPP office. Captain Reggie Schell in background.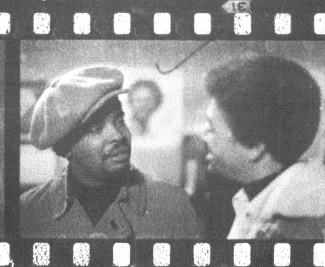 Montae and Billy O. in the office.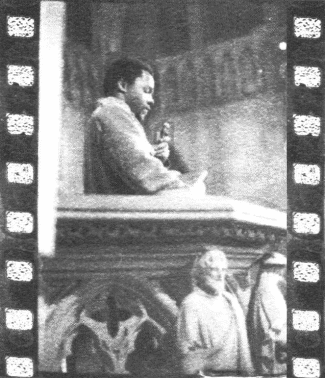 Captain Reggie Schell speaking at the memorial for Fred Hampton.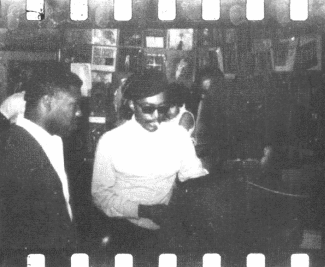 Black Panther Milt McGriff raps to a brother in a record shop.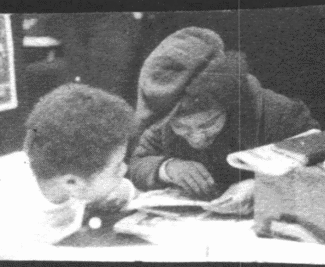 Officer of the Day (OD) Jon Pinkett explains something to Sister Madelyn Coleman.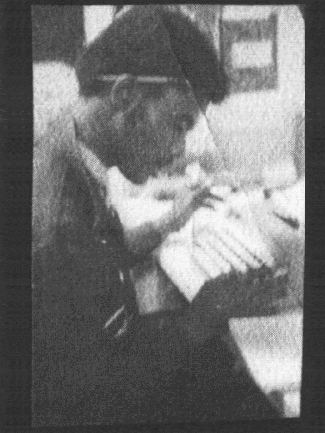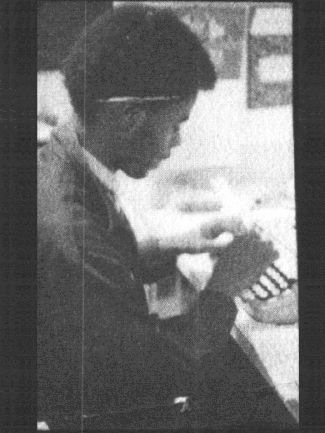 Two photos of Mumia Abu-Jamal, Lieutenant of Information, working in the BPP office typing up a leaflet for the Philadelphia branch.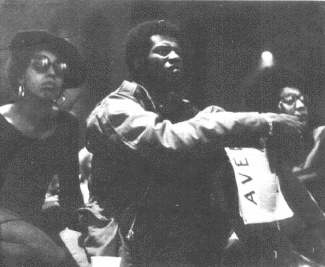 Michael "Cetewayo" Tabor of the New York 21 sitting and watching at the Revolutionary People's Constitutional Convention in Philadelphia, September 1970.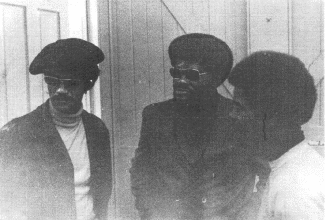 Sam Napier, the late, martyred Distribution Manager of The Black Panther; former Black Panther editor "Big Man" Howard; and Philadelphia Panther Jon Pinkett.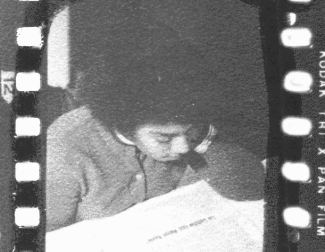 Black Panther Madelyn Coleman catches up on some reading.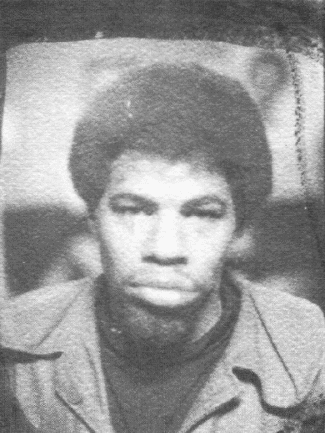 Philadelphia Black Panther member "Fish" shows bruises on his face after being beaten at the 55th and Pine Street police station.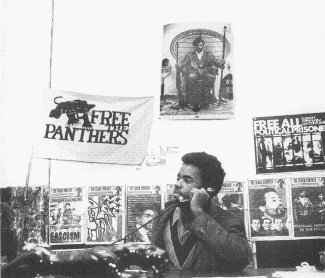 Temple University, Urban Archives. Mumia Abu-Jamal on the phone in the Philadelphia Black Panther office. This picture originally ran on the front page of the Philadelphia Inquirer, January 4, 1970. All other photographs taken from contact sheets by Philadelphia Black Panther Party photographer Steve Wilson (1969-70).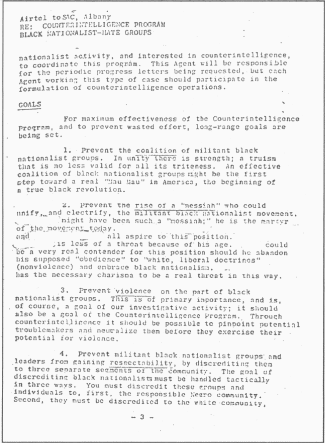 Airtel to SAC, Albany RE: COUNTERINTELLIGENCE PROGRAM BLACK NATIONALIST-HATE GROUPS
nationalist activity, and interested in counterintelligence, to coordinate this program. This Agent will be responsible for the periodic progress letters being requested, but each Agent working this type of case should participate in the formulation of counterintelligence operations.
GOALS
For maximum effectiveness of the Counterintelligence Program, and to prevent wasted effort, long-range goals are being set.
1. Prevent the coalition of militant black nationalist groups. In unity there is strength; a truism that is no less valid for all its triteness. An effective coalition of black nationalist groups might be the first step toward a real "Mau Mau" in America, the beginning of a true black revolution.
2. Prevent the rise of a "messiah" who could unify, and electrify, the militant black nationalist movement. [DELETE] might have been such a "messiah;" he is the martyr of the movement today. [DELETE] and [DELETE] all aspire to this position. [DELETE] [DELETE] is less of a threat because of his age. [DELETE] could be a very real contender for this position should he abandon his supposed "obedience" to "white, liberal doctrines" (nonviolence) and embrace black nationalism. [DELETE] has the necessary charisma to be a real threat in this way.
3. Prevent violence on the part of black nationalist groups. This is of primary importance, and is, of course, a goal of our investigative activity; it should also be a goal of the Counterintelligence Program. Through counterintelligence it should be possible to pinpoint potential troublemakers and neutralize them before they exercise their potential for violence.
4. Prevent militant black nationalist groups and leaders from gaining respectability, by discrediting them to three separate segments of the community. The goal of discrediting black nationalists must be handled tactically in three ways. You must discredit these groups and individuals to, first, the responsible Negro community. Second, they must be discredited to the white community, ...
FBI memo of February 29 and May 4, 1968: The infamous "prevent the rise of a 'messiah'" memorandum.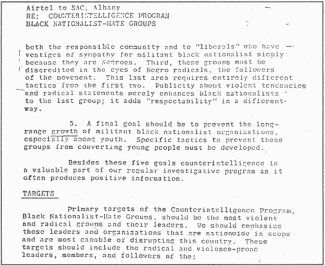 Airtel to SAC, Albany RE: COUNTERINTELLIGENCE PROGRAM BLACK NATIONALIST-HATE GROUPS
both the responsible community and to "liberals" who have vestiges of sympathy for militant black nationalist simply because they are Negroes. Third, these groups must be discredited in the eyes of Negro radicals, the followers of the movement. This last area requires entirely different tactics from the first two. Publicity about violence tendencies and radical statements merely enhances black nationalists to the last group; it adds "respectability" in a different way.
5. A final goal should be to prevent the long-range growth of militant black nationalist organizations, especially among youth. Specific tactics to prevent these groups from converting young people must be developed.
Besides these five goals counterintelligence is a valuable part of our regular investigative program as it often produces positive information.
TARGETS
Primary targets of the Counterintelligence Program, Black Nationalist-Hate Groups, should be the most violent and radical groups and their leaders. We should emphasize those leaders and organizations that are nationwide in scope and are most capable of disrupting this country. These targets should include the radical and violence-prone leaders, members, and followers of the: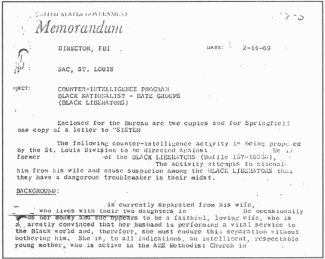 UNITED STATES GOVERNMENT Memorandum Director, FBI Date: 2-14-69
TO: SAC, ST. LOUIS
SUBJECT: COUNTER-INTELLIGENCE PROGRAM BLACK NATIONALIST-HATE GROUPS (BLACK LIBERATORS)
Enclosed for the Bureau are two copies and for Springfield one copy of a letter to "SISTER."
The following counter-intelligence activity is being proposed by the St. Louis Division to be directed against [DELETE] He is former [DELETE] of the BLACK LIBERATORS (Bufile 157-10356), [DELETE] [DELETE]. The activity attempts to alienate him from his wife and cause suspicion among the BLACK LIBERATORS that they have a dangerous troublemaker in their midst.
BACKGROUND:
[DELETE] is currently separated from his wife, [DELETE [DELETE] who lives with their two daughters in [DELETE]. He occasionally sends her money and she appears to be a faithful, loving wife, who is apparently convinced that her husband is performing a vital service to the Black world and, therefore, she must endure this separation without bothering him. She is, to all indications, an intelligent, respectable young mother, who is active in the AME Methodist Church in [DELETE].
FBI memo of February 14, 1969: Valentine's Day memo detailing a COINTELPRO against the Black Liberators of St. Lows (see p. 107) and noting anticipated results.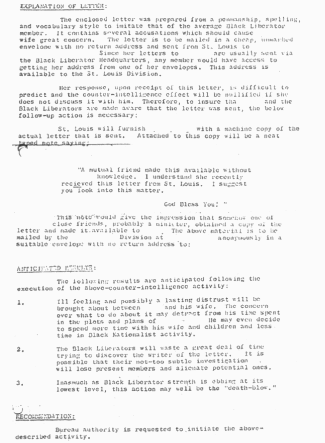 EXPLANATION OF LETTER:
The enclosed letter was prepared from a penmanship, spelling, and vocabulary style to imitate that of the average Black Liberator member. It contains several accusations which should cause [DELETE] wife great concern. The letter is to be mailed in a cheap, unmarked envelope with no return address and sent from St. Louis to [DELETE. [DELETE]. Since her letters to [DELETE] are usually sent via the Black Liberator Headquarters, any member would have access to getting her address from one of her envelopes. This address is available to the St. Louis Division.
Her response, upon receipt of this letter, is difficult to predict and the counter-intelligence effect will be nullified if she does not discuss it with him. Therefore, to insure that [DELETE] and the Black Liberators are made aware that the letter was sent, the below follow-up action is necessary:
St. Louis will furnish [DELETE] with a machine copy of the actual letter that is sent. Attached to this copy will be a neat typed note saying:
"A mutual friend made this available without [DELETE] knowledge. I understand she recently recieved this letter from St. Louis. I suggest you look into this matter.
God Bless You!"
This note would give the impression that somehow one of [DELETE] close friends, probably a minister, obtained a copy of the letter and made it available to [DELETE]. The above material is to be mailed by the [DELETE] Division at [DELETE] anonymously in a suitable envelope with no return address to: [DELETE]
ANTICIPATED RESULTS:
The following results are anticipated following the execution of the above-counter-intelligence activity:
1. Ill feeling and possibly a lasting distrust will be brought about between [DELETE] and his wife. The concern over what to do about it may detract from his time spent in the plots and plans of [DELETE.] He may even decide to spend more time with his wife and children and less time in Black Nationalist activity.
2. The Black Liberators will waste a great deal of time trying to discover the writer of the letter. It is possible that their not-too subtle investigation will lose present members and alienate potential ones.
3. Inasmuch as Black Liberator strength is ebbing at its lowest level, this action may well be the "death-blow."
RECOMMENDATION:
Bureau authority is requested to initiate the above-described activity.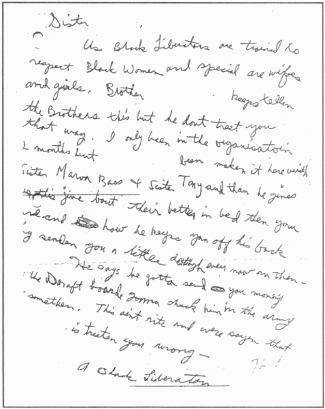 Sister
Us Black Liberators are trained to respect Black Women and special are wifes and girls. Brother [DELETE] keeps tellin the Brothers this but he dont treet you that way. I only been in the organisatoin 2 months but [DELETE] been maken it here with Sister Marva Bass & Sister Tony and than he gines as this jine bout their better in bed then your [ILLEGIBLE] how he keeps you off his back by senden you a little dough ever now an then -- He says he gotta send you money the Draft board gonna chuck him in the army somethen. This isn't rite and were sayen that is treeten you wrong --
A Black Liberator
Photocopy of the letter to the head of the Black Liberator's wife prepared in the "penmanship, spelling, and vocabulary style to imitate that of the average Black Liberator member."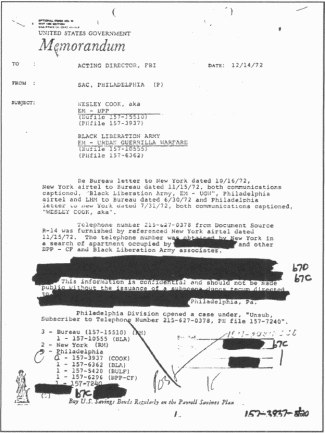 UNITED STATES GOVERNMENT Memorandum
TO: ACTING DIRECTOR, FBI
FROM: SAC, PHILADELPHIA (P)
SUBJECT: WESLEY COOK, aka EM-BPP (Bufile 157-15510) (PHfile 157-3937)
BLACK LIBERATION ARMY EM-URBAN GUERRILLA WARFARE (Bufile 157-10555) (PHfile 157-6362)
DATE: 12/14/72
Re Bureau letter to New York dated 10/16/72, New York airtel to Bureau dated 11/15/72, both communications captioned, "Black Liberation Army, EM-UGW", Philadelphia airtel and LHM to Bureau dated 6/30/72 and Philadelphia letter to New York dated 7/31/72, both communications captioned, "WESLEY COOK, aka".
Telephone number 215-627-0378 from Document Source R-14 was furnished by referenced New York airtel dated 11/15/72. The telephone number was obtained by New York in a search of apartment occupied by [DELETE] and other BPP-CF and Black Liberation Army Associates.
[DELETE] This information is confidential and should not be made public without the issuance of a subpoena duces tecum directed to [DELETE], Philadelphia, Pa.
Philadelphia Division opened a case under, "Unsub, Subscriber to Telephone Number 215-627-0378, PH file 157-7240".
3-Bureau (157-15510) (AM) 1-157-10555 (BLA) 2-New York (RM) [ILLEGIBLE]-Philadelphia 1-157-3937 (COOK) 1-157-6362 (BLA) 1-157-5420 (BULF) 1-157-6296 (BPP-CF) 1-157-7420 [delete] B7C [delete]
Two pages of FBI memo of December 14, 1972, apparently linking Mumia Abu-Jamal to the Black Liberation Army (BLA) as a result of his home phone number being found in a search of an apartment occupied by BPP and BLA "associates."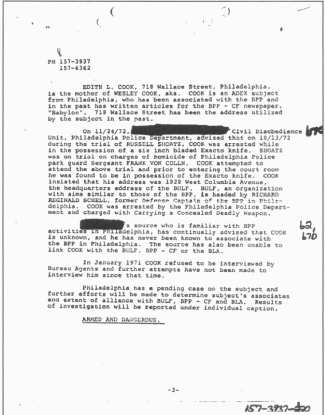 PH 157-3927 157-6362
EDITH L. COOK, 718 Wallace Street, Philadelphia, is the mother of WESLEY COOK, aka. COOK is an ADEX subject from Philadelphia, who has been associated with the BPP and in the past has written articles for the BPP-CF newspaper, "Babylon". 718 Wallace Street has been the address utilized by the subject in the past.
On 11/24/72, [DELETE] Civil Disobedience Unit, Philadelphia Police Department, advised that on 10/13/72 during the trial of RUSSELL SHOATZ, COOK was arrested while in the possession of a six inch bladed Exacto knife. SHOATZ was on trial on charges of homicide of Philadelphia Police park guard Sergeant FRANK VON COLLN. COOK attempted to attend the above trial and prior to entering the court room he was found to be in possession of the Exacto knife. COOK insisted that his address was 1928 West Columbia Avenue, the headquarters address of the BULF. BULF, an organization with aims similar to those of the BPP, is headed by RICHARD REGINALD SCHELL, former Defense Captain of the BPP in Philadelphia. COOK was arrested by the Philadelphia Police Department and charged with Carrying a Concealed Deadly Weapon.
[DELETE] a source who is familiar with BPP activities in Philadelphia, has continually advised that COOK is unknown, and he has never been known to associate with the BPP in Philadelphia. The source has also been unable to link COOK with the BULF, BPP-CF or the BLA.
In January 1971 COOK refused to be interviewed by Bureau agents and further attempts have not been made to interview him since that time.
Philadelphia has a pending case on the subject and further efforts will be made to determine subject's associates and extent of alliance with BULF, BPP-CF and BLA. Results of investigation will be reported under individual caption.
ARMED AND DANGEROUS.
Page two of the memo notes his arrest while trying to attend the trial of Russell Shoatz. A third page (not reproduced here) referring to his arrest at the trial is almost entirely blacked out.