The Brotherhoods: The True Story of Two Cops Who Murdered for the Mafia
by Guy Lawson & William Oldham
© 2006 by Guy Lawson & William Oldham
NOTICE: THIS WORK MAY BE PROTECTED BY COPYRIGHT
YOU ARE REQUIRED TO READ

THE COPYRIGHT NOTICE AT THIS LINK

BEFORE YOU READ THE FOLLOWING WORK, THAT IS AVAILABLE SOLELY FOR PRIVATE STUDY, SCHOLARSHIP OR RESEARCH PURSUANT TO 17 U.S.C. SECTION 107 AND 108. IN THE EVENT THAT THE LIBRARY DETERMINES THAT UNLAWFUL COPYING OF THIS WORK HAS OCCURRED, THE LIBRARY HAS THE RIGHT TO BLOCK THE I.P. ADDRESS AT WHICH THE UNLAWFUL COPYING APPEARED TO HAVE OCCURRED. THANK YOU FOR RESPECTING THE RIGHTS OF COPYRIGHT OWNERS.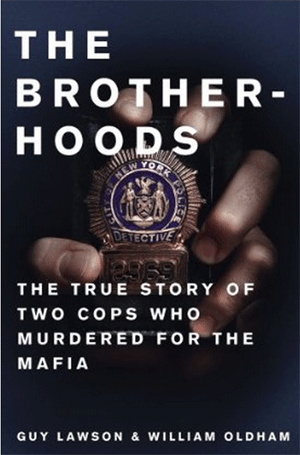 For Maya, always
-- GUY LAWSON

Dedicated to my brothers:
John Rochester: b. December 28, 1955; d. September 1, 1983, Sea of Japan
Benjamin Butler: b. February 16, 1958; d. January 4, 1976, Katmandu, Nepal
Please rest in peace.
And to my sisters: Charlotte Bowman and Nancy Patton
and my angels, my daughters, Olivia Grace and India Pearl.
And to L.
Please live in peace and with my eternal love.
-- WILLIAM OLDHAM
New York City, September 12, 2006
By the fall of 1996, Detective William Oldham had become one of the "go-to guys" in the Major Case Squad -- a successor to Detective Stephen Caracappa. Now forty-two years old, Oldham had been in the squad for more than six years. After the Born to Kill investigation, he had spent a year and a half investigating the Chinese Tong On gang in Baltimore, Washington, and New York, and an outfit known as the Mod Squad (a group of heroin dealers with a white kid, black kid, and two Chinese kids). His experience making RICO cases had expanded and deepened his ability to maneuver in the competitive world of organized crime law enforcement. He was fulfilling his deepest ambitions. "I had arrived," Oldham recalled. "I made my own cases. I was autonomous, to a large extent, free to pursue crimes and criminals that interested me. It was my version of starring on Broadway or making a fortune on Wall Street. The mafia had been pretty much defeated. I never made it to the OCHU -- which was disbanded after Caracappa left. But I was enterprising and I was busy. I scavenged for cold cases that everyone had given up on. I wanted to take the harder cases. It was ego, to some extent. But I also perceived a need.

"There were forty thousand cops in the NYPD and I loved them and would do anything for them. There were probably two hundred detectives who carried the department when it came to serious crime. They were scattered around the precincts, in Intel, Homicide, Major Case. If a case came in that demanded the best, or a question arose that needed to be answered, no matter what, there was a small group of investigators who bosses and beat cops could approach. It was what 'go-to' meant. I could help other detectives. But I had my own cases, too. My career was thriving. But it was taking a toll. I don't know when, precisely, it began to change. Police work was muddied up for me. I got muddied up as well. It's inevitable. If you spend a lot of time around evil, it hardens you. I went looking for the worst criminals. Killers, rapists, psychopaths, men who could torture and murder children. The criminals I wanted had little pity, no remorse. I saw that bet and raised it. I was willing to push the envelope. I was a little arrogant. People I worked with called me 'Billy' because the diminution made me seem nicer than I was. I got the job done but I wouldn't win any popularity contests. I had hardened myself -- heart and soul."

Oldham now operated nearly exclusively out of the offices of the Eastern District in One Pierrepont Plaza in downtown Brooklyn. Oldham wanted to be close to the action -- and a good proportion of the biggest cases in the city and the country wound up in the offices of the federal prosecutors working in Brooklyn. He rarely turned up at NYPD headquarters in lower Manhattan. He clocked in for duty by gassing up at the department pump at One Police Plaza. The printout showed that he had been at headquarters at that time on that date so it couldn't be claimed that he had not reported for work. But he went weeks without going up to the Major Case Squad office. "Half the time I didn't tell the bosses what I was working on. The leaks of the eighties and early nineties had decreased but there was still the possibility of a breach in security and I didn't want my snitches hurt. If I didn't tell the bosses what I was doing they couldn't tell me not to do it. If no one knew what I was doing, word wouldn't get to the FBI so the Bureau couldn't steal my cases. It also kept people guessing. It gave me the freedom to take on cases that I thought mattered. I always had two or three or four investigations lined up to work so I wouldn't be stuck with nothing to do after I closed a case. I called it 'the back burner.' I kept cases on the back burner for years -- just thinking about them, playing them out in my head, waiting for the time to work it, or a lucky break."

Oldham's small office in the Eastern District appeared chaotic, with crime scene photos and rap sheets and DD-5s scattered on every surface. The boxes he used to collect evidence related to the cases he was churning over in his mind also contained random items from his personal life: discarded ties, theater ticket stubs, hardcover novels. The assortment was, indeed, chaotic, but Oldham knew where everything was. Gathering material on lost causes and vagrant cases was more than a hobby for Oldham. It was a mania. He routinely made calls to contacts he had, ranging from the upper echelons of the Department of Justice in Washington to precinct detectives, to test theories or ask questions. Avoiding the bureaucracy of law enforcement had become a particular specialty of Oldham's. If he wanted a document, he contrived to get it as quickly as possible and nearly always by circumventing procedures. Even if it was relatively easy to use official channels, Oldham found pleasure in using back channels, keeping himself sharp and connected to the people who knew how to play the system.

"The back burner consisted of crimes I was interested in -- or potential crimes, or suspected crimes, or possible crimes. If a subject or a person caught my eye, I'd start up on them. I'd gather up what was available, from newspaper clippings to surveillance reports -- whatever I could get my hands on. When I was drinking, the back burner tended to go to a low simmer. But when I was sober, my mind was constantly working those cases. I kept myself from doing nothing by going through the boxes, cross-referencing and contemplating and waiting for a picture to emerge. Often I didn't know if the 'cases' I had on the back burner were cases at all. That was how it was with Caracappa and Eppolito. I saw the headlines in the newspaper in 1994 about Casso's snitching on them, like the rest of the city, and it raised my suspicions. It was why I had Mafia Cop in my desk drawer. But I figured the FBI would make the case, if there was a case. By then the FBI had been told four times of Casso's source in the NYPD -- by Al D'Arco, Pete Chiodo, Sammy Gravano, and Casso himself. I just had that book and my suspicions of Caracappa simmering away."

In early October 1996, Oldham was walking along a corridor in the Eastern District offices when he overheard a conversation about the rap sheet of one Walter Johnson, aka "King Tut." Assistant U.S. Attorney Sam Buell was marvelling at the length of the document. Curious, Oldham stepped inside Buell's office and asked to see King Tut's rap. "It was literally several feet long," Oldham recalled. "Rappers rapped about their criminal history, but Tut's dully prosaic rap sheet showed he was a menace to society. Tut was an aspiring rapper but his real art was committing crime -- and getting away with it. Rap sheets don't just include convictions. They include arrests. An arrest may go nowhere but it still means something to cops, who know convictions don't necessarily comport with guilt. The arrests dated back to ripping off ten-speeds when Walter Johnson was just a boy. When he was nineteen years old, he stuck up three hundred worshippers at his mother's Jehovah's Witness church, demanding their cash and valuables at gunpoint as the congregation knelt in prayer. Out on bail pending trial, Tut and his four-man-child posse boarded a city bus and robbed half a dozen passengers of their meager possessions. On and on it went: charges of assault, gun possession, involvement in a shootout with three police officers. But there were only a couple of relatively minor convictions. As I read his rap sheet, I knew I was going to take a case."

The same day, Oldham began an investigation of Walter Johnson. Oldham started by calling up the DD-Ss for a shootout Tut had gotten into with the three cops. According to eyewitness reports from the day in question, King Tut had gone with his younger brother and his son to get a haircut at a three-chair barbershop in Brownsville, home turf of heavyweight boxer Mike Tyson and one of the roughest areas in Brooklyn. "Walter Johnson, starring in his own life story in the role of King Tut, walked in to find three NYPD cops in the three chairs. Words were exchanged. Voices were raised, threats leveled. Guns were produced. A shootout transpired in very close quarters. The so-called King and his son weren't hit. All three cops were wounded. Police Officer Richard Aviles was paralyzed -- at twenty-four years old. Tut later denied that he had fired any shots. The outcome was not unusual for him. He was infamous in the rap community, for his violence and for the inability of law enforcement to convict and imprison him."

Oldham's work on the Tut case led him to undertake an investigation of potential connections between Sean "Puffy" Combs's Bad Boy Records and violent criminal organizations. The investigation would later stall with the murder of "Biggie" Smalls in Los Angeles, and no charges were brought. In the hyper-hyped world of gangster rap, rumors ran rampant that Tut was a member of the "Black Mafia," an organization Oldham didn't believe existed. Interviewing Tut's many victims, or the few who were willing to talk, Oldham developed an informant -- a woman who was an executive in the music industry who had been robbed and brutally assaulted by Tut. She told Oldham that real gangsters like King Tut robbed "gangsta rappers."

"The faux gangstas were terrified of thugs like Tut and his sidekick Haitian Jack. Tut traveled to the BET Music Awards ceremony in L.A., high-end clubs, concerts, specifically to stick up celebrity 'outlaw' rappers. The performers looked bad on MTV, and inspired a generation of kids in the suburbs to emulate their style, but the tough talk on the TV did not impress the Brownsville boys. Victims of Tut and his posse had nowhere to turn. Law enforcement was not overly concerned about the plight of the rappers, to put it politely. The supposed gangstas were rapping about shooting cops and that didn't endear them to law enforcement officials. Stopping their victimization wasn't high on our list of priorities. It was why rappers had so much personal security."

In November 1994 Tut had accosted Tupac Shakur in the lobby of a Times Square building in midtown Manhattan. The rapper had finished a recording session and was on his way into the building for a meeting when a gun fight erupted as Tut robbed $40,000 worth of gold and diamond jewelry from Shakur. The rapper was shot five times but managed to survive -- only to be murdered in Las Vegas in September 1996 by an unidentified assailant. "Before he was killed, Tupac rapped about Tut," Oldham said. "It was the usual Shakur recipe -- profanity, violence, glorification of crime and mob life. What was different and interesting was the extent to which Shakur's encounter with Tut gave him a glimpse of the reality Tut represented. For Shakur it was the 'realest shit' he ever saw."

Through the month of October, with the assistance of Oldham's informant, Oldham and his Major Case partners, Detectives George Slater and Jimmy Haley, accumulated evidence on a string of robberies and extortions pulled off by Tut. The crimes were relatively minor, compared with the serial criminal behavior. But Oldham was aiming to build a federal case against King Tut. By the end of October Detectives Oldham, Slater, and Haley attended a hearing for Tut in Brooklyn Supreme Court. The unsuspecting gangster was appearing for a status conference on a state assault charge. On this day, unbeknownst to Tut, the Brooklyn district attorney would drop the state charges. Oldham and his partners planned to rearrest him under the new federal "three strikes" statute. The law provided that anyone convicted of three violent felonies was subject to a sentence of life imprisonment upon conviction of another violent felony in federal court. "It's a horrible law. I revile the law. It's repugnant. In California people get three different hub-cap theft convictions and they go away for life. But the law was custom-made for Tut. If you've got a tool and you have a bloodsucker like Tut you've got to use it. It was the first and last time I used the three strikes law."

On October 24, King Tut came into the courtroom with his lawyer. The pair sat in the second row of the gallery and continued a whispered conversation about the procedural matter on the agenda. Tut was free on bail and had little to fear from the state charges. Oldham and his partners had notified the court officers, the DA, and the judge of what they were about to do. "Before Tut's case was called, we surrounded him and his attorney -- one on each side, one behind. I was on Tut's left. I leaned over and explained that I was going to arrest him. I spoke quietly, but Tut didn't appreciate the courtesy. He had been arrested hundreds of times. He started emptying his pockets, pushing his possessions to his attorney -- scraps of paper with phone numbers, his wallet, his phone book, his pager, it was potential evidence. 'What did I do?' Tut whined loudly, like an innocent man. Finally I sat on his lawyer to keep him from accepting Tut's paraphernalia. He made a CCRB [Civilian Complaint Review Board] complaint, but the people in the courtroom -- the judge, prosecutors, and court officers -- thought so little of the lawyer that, when they were interviewed by CCRB, 'No one saw nothing,' even though it happened in open court.

"I reported the incident, saying I attempted to sit between the attorney and client. We put Tut in handcuffs and 'leg irons' and walked him four blocks through the busy midday traffic of downtown Brooklyn to the federal courthouse. King Tut wasn't such a king after all. It was an exercise in public relations. Tut was infamous in Brooklyn and the rap community. He thought he was untouchable. It turned out he was touchable -- and cuffable and convictable."

FAT BOBBY'S FRAME

On the Friday after Thanksgiving Day, 1996, William David Oldham III married Andrea Beth Rashish in a private Jewish ceremony at Alison's on Dominick, a small romantic restaurant in west Soho. Oldham had asked her to marry him on September 1, the anniversary of the death of his younger brother John. "September 1 was always a hard one for me. I told Andrea I wanted to invest that day with some joy. We lived in a loft on Mott Street on the border between Little Italy and Chinatown. We had a black standard poodle. Andrea was out walking the dog one evening. The area was dead at night in those days, before it became trendy. She used to walk down Mulberry Street because she knew the gangsters at Gotti's social club, the Ravenite, would provide some protection for a young woman walking her dog through the deserted streets. She often exchanged pleasantries with wiseguys smoking cigars on folding chairs in front of the club. On the night in question, a warm June night, she turned the corner from Broome Street onto Mott Street to find a group of young Asian men who seemed to be roughhousing -- five or six guys had circled one guy. She watched as the guy in the center had his head smashed into a light pole. They were actually mugging the guy. Our trusty poodle sensed Andrea's adrenaline rush and lunged on her leash, barking. Andrea shouted out, 'Okay boys, the party's over.' The muggers scattered like cockroaches. Even my wife was fighting crime, making New York City a safer place for all."

During his investigation of Tut, Oldham learned a great deal about criminal behavior in the rap world. Tut had become the entree to a much larger investigation. In March 1997, Oldham flew to California to attend the 11th Annual Soul Train Music Awards. He was now tagging rap superstar Chris Wallace, aka the Notorious B.I.G. Biggie Smalls, as he was also known, was involved a state gun charge that arose from a search of the house in Nutley, New Jersey, where he lived with Kimberly Jones, better known as Lil' Kim. "Prospecting for crime often meant finding small, or seemingly small, offenses like what I had on Smalls. One step at a time, you build and build until you have the makings of a major case. Police work, for me, wasn't a passive enterprise. Crimes didn't come to me, I went looking for them. It was like starting a small business. Rap was a hole I found in the market of criminal investigations and I set out to fill it."

On the evening of March 8, 1997, Oldham posed as one of the photographers on the dais outside the Shrine Auditorium in Los Angeles, where the Soul Train Music Awards were being held. Shakur had been killed six months earlier but he was nominated for Rap Album of the Year for All Eyez on Me. The next day, Biggie Smalls would be killed driving away from a music industry party in Mid- Wilshire's Museum Row. Hundreds of industry executives and musicians were pouring out of the building at the time, but police had trouble finding anyone who admitted witnessing the shooting. It was a murder that spawned a subindustry of conspiracy theorists alleging law enforcement links to gangster rap.

-- The Brotherhoods: The True Story of Two Cops Who Murdered for the Mafia, by by Guy Lawson & William Oldham
Table of Contents:
CHARACTERS
PROLOGUE
CHAPTER ONE: THE HOOK
CHAPTER TWO: THE PRINCE OF DARKNESS
CHAPTER THREE: SNITCHES AND LEAKS
CHAPTER FOUR: THE CRYSTAL BALL
CHAPTER FIVE: MOBLAND
CHAPTER SIX: "GODFATHERS OF THE NYPD"
CHAPTER SEVEN: THE AMAZING LIFE AND TIMES OF "GASPIPE" CASSO
CHAPTER EIGHT: QUEEN FOR A DAY
CHAPTER NINE: DOWNTOWN BURT
CHAPTER TEN: EAGLE ON THE LAM
CHAPTER ELEVEN: OFF THE BOOKS
CHAPTER TWELVE: THE CADRE
CHAPTER THIRTEEN: FLIPPING BURT
CHAPTER FOURTEEN: MOB VEGAS
CHAPTER FIFTEEN: THE CIRCUS COMES TO BROOKLYN
CHAPTER SIXTEEN: TRIAL FOR THE AGES
CHAPTER SEVENTEEN: CORROBORATION
CHAPTER EIGHTEEN: THE RULE OF LAW
ACKNOWLEDGMENTS