ALLEGATIONS OF TORTURE IN ADEN
Unrest in Aden -- a former British colony now part of the People's Democratic Republic of the Yemen -- in the early 1960s brought British troops into action against local demonstrators. Many were detained. Controversy surrounded a 1966 Amnesty International mission that investigated allegations of torture by British interrogators in the colony. The mission concluded in its report that specific tortures had been inflicted on many of the hundreds of detainees in custody. Subsequent protests prompted the British Government to conduct its own inquiry, which recommended changes -- eventually accepted by the government -- to protect detainees. Extracts from the report of the mission are given here.
The military authorities in Aden have not caught many terrorists throwing handgrenades or in short duels with the military. The majority of those now detained are arrested in the following way:
The house is encircled in the early morning hours when the military are convinced that their suspects are sleeping inside. They break in the door, or a window, and enter the house, immediately arresting and taking away the man whom they are looking for and search the house, it is said, without consideration for the furniture and other belongings of the family; they often leave the house in a mess. The arrested man is allowed no contact with the outside world for an indefinite period of time. After interrogation, which in many cases has taken more than 28 days, he is moved to a detention centre and can be visited by his family and relatives. The exact number of these detainees is unknown but may lie between 200 and 300 persons, according to the Adeni sources. On July 25, 1966, Amnesty International received the names of 164 Adeni citizens who were arrested under similar conditions mentioned above ...
Next comes the question of ill-treatment and torture practised as a method of interrogation. The very fact that a neutral organisation such as Amnesty International is not allowed to interview the detainees increases the suspicion of practice of torture at the interrogation centres. The ex-detainees, the relatives of the present detainees, whom I interviewed in Aden and other sources complained of the following forms of torture:
1. Undressing the detainees and making them stand naked during interrogation.
2. Keeping the detainees naked in super-cooled cells with air conditioners and fans running at the highest speed.
3. Keeping the detainees awake by irritating them until they are exhausted.
4. Offering food to hungry detainees and removing it just as they start eating.
5. Forcing the detainees to sit on poles directed towards their anus.
6. Hitting and twisting their genital organs.
7. Extinguishing cigarettes on their skin.
8. Forcing them to run in circles until they are exhausted.
9. Banning visits to lavatories so that they soil their cells with faeces and urine.
10. Keeping them in filthy toilets with the floor covered with urine and faeces.
Other forms of ill-treatment can be read in individual case reports ...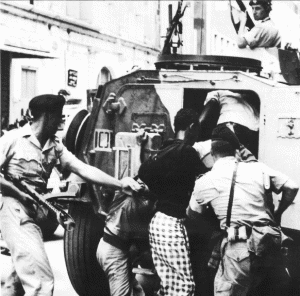 Demonstrators in Aden are rounded up by British soldiers during a protest against the arrival of a United Nations mission in April 1967.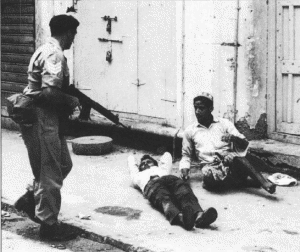 British Army sergeant with two demonstrators in the Crater district of Aden ... April 1967.
Hashim Jawee:
Elected member of the Municipal Council of the City of Aden. Profession clerk. About 25 years. I spoke to this ex-detainee in a private house in Aden on July 29, 1966. He gave me some information spontaneously but I had to ask some questions in order to get a detailed record of his interrogation at Fort Morbut. He seemed to be deeply shaken by the interrogation and showed some feelings of shame for the humiliating treatment to which he had been subjected. There was no doubt about the truth of his description of his arrest and interrogation. I read to him what I had written about his case; he approved the report and had no objection to the publication of his case report by Amnesty International. Hashim Jawee spoke to me in fluent English:
Two hours after midnight July 6th, 1966, the entrance door to his house was broken, and the house searched by a number of soldiers. He was taken to Fort Morbut and thrown into an isolated cell. The iron door was banged by kicking at half-hour intervals. Later on his clothes were taken off and he was left naked for a while before the interrogation began, by British Military personnel. His buttocks and genital organs were examined in order to humiliate him. The examiner was not a physician and the examination was not a medical health examination. After this examination they asked for his address which they already knew and he was sent back to his cell and his clothes were returned. During the first three days the barrel of a gun was pointed at him through the cell window and Jawee was told that he was going to be shot within a short time. The cell had a temperature of nearly 100°F (37°C) which is not unusual in this climate. He was not allowed to take a cold shower. On the third day he was asked about a list of names which the interrogators suspected that he was in contact with. On one occasion he was drawn by his hair and on another occasion he was kicked. He was not allowed to receive visitors or to confer with a lawyer.
On several occasions he was taken out of his cell at night and ordered to run round the courtyard until he was exhausted. When asking for a glass of water he was spat upon in the face. Inventories of the cell consisted of an iron bed covered by hard brushy clothing and a dirty blanket which was soaked in sweat. The food he received was inedible. He was asked to clean the lavatories several times. He was released after nearly two weeks without a charge.
Muhammed Said Basharain:
28 years old. Born and raised in Aden. Ex-detainee. Arrested twice; in 1963 and 1964. I met this man on July 29th, 1966. He spoke English fluently. He gave an open and reliable account about his arrests. I read up his case story which he accepted and had no objection that the information which he gave to Amnesty International was published.
First arrest, 1963. Mr. Basharain was arrested together with 58 trade union leaders including Mr. Abdullah Al Asnag and people belonging to PSP (Peoples Socialist Party). They were all arrested in the early hours of the morning. This happened after the bomb incident at Aden airport on December 10, 1963, and immediately after the proclamation of the State of Emergency. All the prisoners were taken to the capital of the Fadhly Federal State and imprisoned there for 62 days. They proclaimed a hunger strike in protest at the inhuman treatment to which they were subjected. They were released after 62 days of detention. All of them were interrogated several times and no evidence could be produced against them for their participation in the bomb incident.
Second arrest, October 1964. After the burning of a newspaper house he was arrested at noontime and taken to Fort Morbut. His clothes were removed except for underpants before he was interrogated by British Military personnel. He was left in a toilet for 12 hours lying on the floor covered by urine and faeces. He proclaimed a hunger strike which drew attention after 24 hours. He was then removed to a separate cell. After seven days of interrogation he was released for lack of evidence.
Radiya Ihsan:
Miss Radiya Ihsan is the general secretary of the Arab Women's Society in Aden. This case is taken to exemplify that people can be arrested in Aden for purely political reasons. Miss Ihsan, who is 32 years old, has been arrested twice.
First arrest: In December 1962 she was accused of participating in demonstrations against the union of Aden with the South Arabian Federation. She was kept in prison 10 weeks. During this period another charge was brought against her and she was fined a small sum of money. On one occasion she was kept in the same room with a number of psychiatric patients.
Second arrest: In December 1963, she was arrested once more, this time under the emergency laws. She spent one week in a cell at a police station followed by 8 weeks in Aden prison. The reason for this detention was, she says, to cut off her contacts with some journalists who were visiting Aden. The Arab Women's Society demonstrated in favour of Miss Ihsan. This case is well-known in Aden.
Published December 1966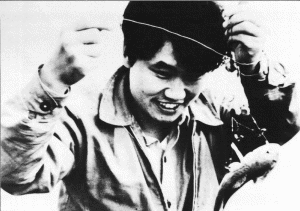 'YOUR EFFORT AND PRAYER SAVED MY LIFE'
Lee Shim-bom, a law student at Seoul National University in the Republic of Korea, was arrested in June 1980 and sentenced by a military court to nine years' imprisonment for organizing student demonstrations. Takento prison, he was in great pain, attributed to the beatings inflicted on him during interrogation. He was said to be unable to move his neck and one arm. The authorities, however, denied him medical treatment on the grounds that the prison did not have the necessary facilities. In protest, Lee Shim-bom started a hunger-strike.
Amnesty International learned of his worsening condition and launched a worldwide Urgent Action appeal on his behalf. He then received only minimal medical attention in prison and was not examined or treated in an appropriate hospital. Amnesty International continued its appeals for him to receive proper medical attention throughout his term of imprisonment.
The organization campaigned for Lee Shim-bom's unconditional release on the grounds that he was a prisoner of conscience, jailed for the non-violent exercise of his human rights. Under a presidential amnesty granted for Christmas 1982, he was released - having served only two years of his nine-year sentence. He now lives in the United States where he has received medical treatment by doctors connected with Amnesty International. In February 1983 he told an Amnesty International conference in California:
'During the dismal and lonesome days, international concern and support have always encouraged us greatly ... All the dictators have fantasies that they can suffocate and divide people in their own country. Under these circumstances we know what they are afraid of most is world opinion and criticism of their tyranny. Here we can see the effective role of the Amnesty International movement encouraging the oppressed.
'Your efforts and prayers saved my life and thanks to your support I can have an opportunity to live as a human being ... '