CAMPAIGN TO ABOLISH TORTURE
1972 saw the launch of Amnesty International's first worldwide campaign to abolish torture and end the widespread official practice of torturing prisoners and detainees to stifle political dissent. The following extracts appeared in 'Epidemic Torture' published as part of the continuing campaign.
'Incredible as it is, 2370 years after Socrates drank hemlock, 1970 years after the crucifixion of Christ, 435 years after Thomas More was beheaded and 370 years after Giordano Bruno was burnt at the stake, hundreds, thousands of men and women waste away their days in prison for their opinions. But opinions should be free. Let the violent man be guarded, but the man who utters what he thinks must be free, and if he is behind bars it is not he but those who keep him there who are dishonoured.'
S-- alvador de Madariaga
Where torture is being practised, by Carola Stern
I speak about torture today. The average citizen encounters it most often as entertainment, as 'spice' in a television thriller, gangster film or Western, as a story without basis in reality, which shows the armchair reader how pain can be inflicted on other people and how it can be justified. When he hears about torture as a factual news item, he hardly reacts. Through entertainment, he is psychologically conditioned and his mind has been blunted by the almost daily reports about other acts of violence, terror and mass killings. Or he unintentionally reacts in the way intended by the torturers: he does not believe the reports. The lack of credibility of an unimaginable crime is still its best camouflage.
The torture of political prisoners is at present spreading like an epidemic throughout the world and even more terrible, just because of this, it seems to become more and more difficult to rouse people against it.
Since Amnesty International came into being, we have received proof of torture and maltreatment of thousands of political prisoners. This year alone, we have had such reports from 32 countries.
The sites where torture is carried out are called by various names: Con Son in Vietnam; Korydallos Prison in Athens; Public Security Headquarters, Sao Paulo; Psychiatric Clinic, Chernyakhovsk in the USSR; Savak office in Iran. The often harmless-sounding descriptions of the methods also vary: 'parrot perch', 'dragon chair' and 'telephones' (Brazil), 'bicycle', 'record player' (Spain), etc. Yet the methods are alarmingly similar. Partly they go back to the Middle Ages, were adopted by the Gestapo and GPU, while newer methods, such as torture by electric shocks, were tried out by the French during the war in Algeria. Amnesty International is in possession of reports about electric shock torture -- where joints, sensory organs and genitals are connected to electrically-charged wires -- being practised in South Africa, Turkey, Indonesia, Brazil, Iran, South Vietnam and Greece, to name only a few instances.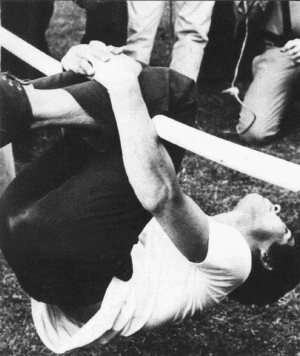 A former political prisoner from Brazil shows reporters how victims were tied to a pole in the 'pau de arara' (parrot's perch), which in the late 1960s and early 1970s was a common form of torture in Brazil.
Governments co-operate by exchanging information about instruments of torture and their effects. Relevant schools and courses have been set up. In 1959, for instance, a French priest reported after returning from Algeria, where he had been a reserve officer, that he had been forced to attend a course on so-called humane torture. Exactly ten years later, in October 1969, a course on torture was held in Rio de Janeiro for Brazilian army personnel. Techniques were explained, advice given on the use of different instruments, and the effect on the prisoner was demonstrated -- partly by lantern slides, but also on living objects: political prisoners. American soldiers, back from Vietnam, told how they were trained by their sergeants and officers in interrogation and torture techniques of enemy prisoners. Amnesty International also knows that there are international torture training programmes where torturers are trained in the latest medical and psychological techniques by instructors from different countries.
That which Herbert Marcuse describes as 'the aggressiveness of present-day industrial society' in the average person, and what he calls technological aggression, also affects torture in a perverse way. In the 'modern' methods of physical torture, the destruction of a person is not brought about directly by another person but by technical tools whose use does not require physical force, but only the pressing of a button. Electric shock torture, for instance, has a two-fold advantage for the torturer. It inflicts pain without leaving any traces, and it reduces the sense of guilt in the perpetrator by giving him the illusion that it was not he personally who had inflicted the pain, but the wires.
It is mainly in the USSR that a 'modern' form of psychological torture has been practised since the early 1960s: the committal of dissidents to mental hospitals, where they are detained together with seriously ill patients; and on the pretext that they need medical treatment, they are given overdoses of Aminasyn and Sulphasyn, which cause shock effects and serious physical disturbances.
According to the information available to Amnesty International, political prisoners are tortured most severely immediately after their arrest, while still at police stations, in the offices of the security police, and while under preliminary detention -- in the first place to make them reveal the names and hiding-places of their friends; and then to extort from them an extensive confession and declaration of remorse while their trial is being prepared, if there is to be a trial at all. The verdict is not being entrusted to independent judges; the outcome of the trial is decided in the torture chamber.
To attack the use of torture does not mean the defence of guerrilla warfare and political terror. But it must be agreed that there can be no justification whatever for torture. Even the other side's political terror does not supply the torturers with a justification. The torturers know much better than we do how many innocent and uninvolved people they have worn down, how many false confessions are filed in their archives - false confessions made in desperation. At the same time, they know how often, in spite of all, the victims have refused to speak. And they know how many people were induced only by torture to declare themselves for violent, merciless war.
Extortion of information and confessions, intimidation of the political opponent, deterrence - these are often the ostensible reasons for using torture. But on the basis of their investigations into the nature of sadism and cruelty, scientists have taught us that there is a further purpose.
Those who practise torture maintain that their victims do not belong to human society.
Criticised for the persecution of the political opposition in the USSR, Soviet officials declared that opposition in their country was a kind of schizophrenia. As allegedly mentally sick people, dissidents are deemed to be of unsound mind and therefore denied the status of a political opposition.
In Iran, the security police, the Savak, is particularly anxious to make political prisoners incriminate themselves with high treason under torture. Would not the patriotic public be prepared to exclude the traitor from the community?
The intention is always the same: to label the political opponent as the enemy, to expel him from society, to depict him as a beast. This is how the torturer is to see him, even before he tortures. This is how the tortured person is to see himself after being tortured.
'The purpose of torture is not only the extortion of confessions, of betrayal; the victim must disgrace himself, by his screams and his submission, like a human animal.' (Sartre).
***
THREE CASES

Brazil: Vera Silva Araujo Magalhaes
Vera Silva Araujo Magalhaes was a 24-year-old student of economics in Rio de Janeiro when she was arrested by the military police in March 1970 for 'distributing leaflets.'
Her torture began twenty days after her arrest at the army police headquarters where she was first suspended for more than seven hours on the 'Pau de arara' (Parrot's Perch, where a prisoner's wrists and ankles are tied together and the whole body suspended from an iron bar under the knees, leaving the naked body doubled over and defenceless). While in this position she was subjected to different voltages of electric shocks, water was forced into her mouth and nose and she was beaten with a truncheon and whip all over the body, including her genital area.
Miss Magalhaes later reported that since she was very weak the attending doctor advised that the session be shortened and the torturers followed this order. She was then transferred to the infirmary and then to the military hospital.
In the military hospital, according to Miss Magalhaes' sworn statement, she received no medical care. Instead the doctors administered sedatives which weakened her psychologically. In general, she reported, medical practitioners attached to the military headquarters are in attendance only to control the amount of torture to which a patient may be submitted or to prescribe sedatives to aid in interrogation.
Dental treatment consisted solely of pulling out teeth to avoid further decay. There were rats and mice in the cells and infirmaries. She only saw her family three times in three months because, she said, the authorities wished to prevent them from seeing her physical condition.
Miss Magalhaes was first brought before a judge in the military tribunal after a month and a half of detention -- her trial was already underway. Her case is exceptional: generally in Brazil the detained person is not brought before a judge until he has served approximately one year's detention.
The case against her was dismissed and she was released on the 15th June, 1970, more than three months after her arrest. She now lives in exile, confined to a wheelchair, her body paralysed from the waist down.
USSR: Pyotr Grigorenko
Pyotr Gregorevich Grigorenko, now aged 66, is a much-decorated former Major-General in the Red Army and permanently disabled from wounds he suffered during World War II. A devoted campaigner for human rights, he took up the cause of the Crimean Tartars deported to central Asia during the War. In May 1969, he was arrested for anti-Soviet activities; ten months later he was brought to trial, found guilty of crimes committed while of unsound mind and sentenced to an indefinite period of detention in a psychiatric hospital until his recovery.
While awaiting trial in a prison in Tashkent in June 1969 Grigorenko began a hunger strike in protest against his treatment. He was force-fed and deliberately beaten on his wounded leg. He wrote in his prison diary: 'I long to die, calculating that my death will serve to expose this tyranny.' But his captors frequently told him: 'You are utterly at our mercy, even after death.'
His physical pains were compounded by psychological pressures: his sick wife and disabled son were deprived of their pensions, he was allowed no contact with them at all or with his defence counsel before the trial, and his complaints were totally ignored.
'Only now have I realised the special horror of the fate which overtook those unfortunate people ~ho perished by the million in the torture chambers of Stalin's regime,' Grigorenko wrote. 'It wasn't the physical suffering - that's bearable. But they deprived people of any hope whatsoever; they reiterated to them the omnipotence of their tyranny, the absence of any way out. And that is unbearable.'
In the psychiatric hospital to which Grigorenko was sent, he has been confined to a cell of six square metres containing two people: himself and a cell-mate who stabbed his own wife to death and is in a constant state of delirium.
There is room to take only two steps. Despite the acute pains in his crippled leg, he is allotted only two hours exercise each day, the rest of the time being spent in his locked cell.
Every six months he is brought before a commission and questioned on a simple question and answer basis designed, according to Grigorenko, to reveal the inconsistency of his views and to prove that he is mad.
'When will you renounce your convictions?' he is asked.
Grigorenko is reported to have replied: 'Principles are not like gloves, they are not easy to change.'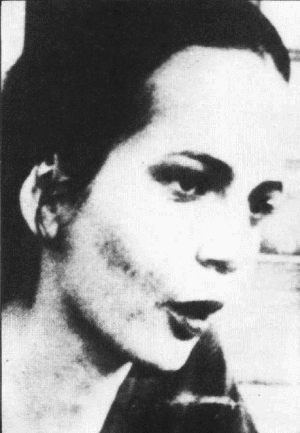 Vera Magalhaes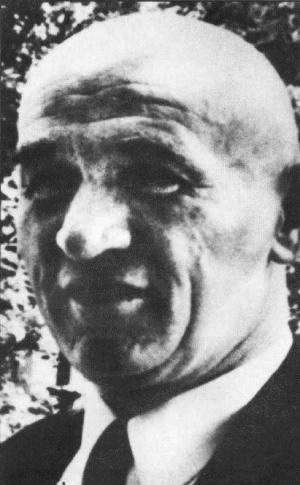 General Pyotr Grigorenko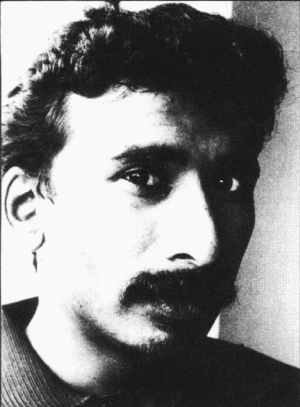 Desmond Francis
South Africa: Desmond Francis
Desmond Francis is a South African Indian schoolteacher now aged 34 and living in Zambia. He was arrested in January 1968 by Rhodesian security police when he crossed the border, allegedly because of his involvement with a magazine printed by the banned African National Congress.
He was taken first to Bulawayo in Rhodesia where he spent 17 days in an infested cell, chained by leg irons and severely beaten. His head was held under water to make him confess to corrupting African detectives and when he refused to comply, he was smothered by a canvas bag and beaten on his testicles with a copper finger-printing pad.
'All this took place in a centre office to hide screams,' reported Francis who, on the fifth day of this interrogation, tried to commit suicide by plunging a broken bottle into his chest. The police prevented his attempt and renewed their efforts to break him.
While still in Rhodesia, Francis was burnt repeatedly with a hot iron on the thigh and lighted matches held against his body. His pubic hair was singed off in this manner. To relieve the pain he was given two aspirins and placed in solitary confinement.
On the 18th of January, 1968, he was taken by car to South Africa. 'I pleaded not to be sent to South Africa,' stated Francis in a subsequent affidavit. 'I was told I would be a mental wreck by the time I reached Robben Island.'
For the next 13 months, he was held in solitary confinement in Pretoria Central Prison where, he said: 'I was beaten all over with fists and an inch-thick cane; one blow broke my right cheek-bone. I was then handcuffed and blindfolded with a wet cloth. I had to sit with a stick under my knees and over my arms. Electric terminals were applied to my ears and the current was turned on. This was a terrible experience. My whole body shook and my head seemed full of vibrations. My teeth chattered so that my tongue was cut to ribbons.'
It took over two weeks to extract a statement from Francis. The torture was kept up by rotating shifts of police using every conceivable method. Eventually he signed a statement -- with a rough canvas tool bag over his head and his nerves shattered by the fire-crackers the police were throwing at him. A week later, Francis was finally granted medical attention. He had been vomiting and excreting blood almost without stop. The prison doctor's diagnosis was bleeding piles.
He was released unexpectedly without a trial 475 days after his arrest and granted an exit visa to Zambia. Speaking of the others who remain in detention, he said: 'We are confined to a silent concrete grave, a living death, painful and complete.'
***
A sense of loss, by Jean-Pierre Clavel
'Sadism,' wrote Erich Fromm, 'is the passion for gaining absolute control over another being.' This passion to 'break' another being is the mainspring of the act of torture: the violation of a human will by the systematic infliction of suffering.
Whether or not anyone can presume to judge all torturers as sadists, the fact remains that the act itself of deliberate and sustained cruelty is universally recognised as a crime against humanity.
As such, it is not only held to be morally indefensible, it is an indictable offence under international law.
This principle was first established in the definition of Crimes against Humanity set down in the Nuremberg Charter, 1950:
'Murder, extermination, enslavement, deportation and other inhumane acts done against any civilian population or persecutions on political, racial or religious grounds, when such acts are done or such persecutions are carried out in execution of or in connection with any crime against peace or any war crime.'
It was the Universal Declaration of Human Rights, however, and the subsequent UN Covenant on Civil and Political Rights that made explicit the international injunction against all acts of torture:
'No one shall be subjected to torture, or to cruel, inhuman or degrading treatment or punishment.'
Despite arguments advanced by strategists to justify use of controlled third and fourth degree methods in urgent intelligence operations, no government or international body has since been able to openly sanction any form of torture. In fact, a consistent and consolidated effort has been made in recent years to bring torture under strict international legal control.
Nowhere can this be seen more clearly than in the fact that at no time in the history of international law in the years since the Second World War has any provision been made to admit the legality of torture even in wartime. The Geneva Conventions Relative to the Treatment of Prisoners of War and on the Protection of Civilians in Wartime are specific and unequivocal in prohibiting the cruel treatment and torture of captives.
This refusal to provide legal sanctions for torture under any circumstances has not, of course, prohibited its practice. Sartre's warning at the height of the Algerian War is even more true today: 'Disavowed -- sometimes very quietly -- but systematically practised behind a facade of democratic legality, torture has now acquired the status of a semi-clandestine institution.'
But the slowness of international law to halt the spread of torture does not repudiate the fundamental moral principles upon which that law is based.
Those principles are implicit in the idea of a fundamental 'humanity', unique in each individual, yet common to all.
Historically, the idea of this humanity has been primarily rooted in the belief in a basic, inalienable freedom; 'There can be nothing more dreadful,' wrote the philosopher Immanuel Kant, 'than that the actions of a man should be subject to the will of another.'
Not surprisingly, it is the history of Black Emancipation that most clearly documents the essential character of human freedom. It has always been liberty which distinguished the citizen from the slave, the man from the sub-man. 'The slave is not a man,' wrote Angela Davis shortly before her arrest in 1970, 'for if he were a man, he should certainly be free.'
But of all forms of direct and indirect oppression, it is the practice of torture which most relentlessly seeks to disintegrate the fundamental freedom of human personality; firstly, by naked assault and degradation and secondly, by attempts to gain 'absolute control' over the victim's will.
'The purpose of torture,' argued Sartre 'is not only the extortion of confessions, of betrayal: the victim must disgrace himself, by his screams and his submission, like a human animal. In the eyes of everybody and in his own eyes. He who yields under torture is not only to be made to talk, but is also to be marked as sub-human.'
Contrary to the belief that torture is only used to prevent the spread of violent insurgence, current evidence points alarmingly to its use as an instrument of social intimidation similar to the interrogations unleashed by the KGB [Committee of State Security] during the Stalinist purges.
Whether it be Iran, Greece, Brazil, Turkey, Vietnam or South Africa, the victim usually finds himself arrested without a warrant, cut off from anyone he knows, denied even minimal legal rights: 'The rules aren't made for the police,' reply his captors. He is simply seized on suspicion and dragged out of his daily life.
Suddenly without protection he may be forced to strip naked, compelled to urinate over his own body, strapped onto a bench already sticky with the vomit of those who went before. He insists there must be some mistake. He is beaten until a punctured lung forces him to cough blood through his nose and mouth. Through spells of dizziness and nausea he hears himself sworn at and laughed at.
All this before the questioning begins. When Andreas Frangias, a civil engineer, was arrested two years ago in Greece, he found himself surrounded by seven or eight shouting men who beat him repeatedly on his head, chest, stomach and belly. In his testimony to the Appeal Court he recalled the question put to him before he lost consciousness:
'Their stereotype shouted question was, 'Tell us why we have brought you here!' and at the same time they threatened me that, if I wanted to leave the place alive and see my wife and daughter again, then I must reply at once to this question.'
'But isn't this the only language people like that understand?' asks an urbane man in the cafe.
People like what? People like Henri Alleg -- the Algerian editor? People like Pyotr Grigorenko -- the Soviet Civil Rights advocate? People like Marcos de Arruda -- the Brazilian geologist? People like Immam Abdullah Haroun -- the South African Muslim leader?
'But, of course,' says the urbane gentleman, 'mistakes occur. The police do their best to protect society from violence and sometimes, in emergencies, they have to use violence.'
Unfortunately, this gentleman reads only the newspapers where torture is printed in inverted commas. To him, 'torture' is always an exaggeration unless, of course, the circumstances are desperate; then it becomes a necessary evil which the victim brings upon himself.
But torture once tolerated as a 'last resort' becomes epidemic. When, in 1955, M Willaume, a Senior French Civil Servant sent by the French government to investigate allegations of torture in Algeria, did not unambiguously condemn the use of torture, it should be noted that from that time until the end of the Algerian war in 1962 the use of torture by the authorities was not only endemic in Algeria but spread to Metropolitan France itself.
In its study of current torture practice and training, Amnesty International this year received testimony from a score of nations -- in most cases, the torture was alleged to be routine and appeared to be used solely for the systematic silencing and intimidation of political opposition. The evidence points to the establishment of torture as an institution in itself - outside the constitutional political process and completely outside the legal framework.
'Once all our army did was add a touch of colour to national festivals; now it has turned into a corps of executioners, holding 4,000 to 5,000 political prisoners at its mercy. A body of fewer than 15,000 men is enforcing a reign of terror over 21/2 million people.'
This statement emerges from testimony brought out of Uruguay by the noted French religious leader, Georges Casalis. Professor Casalis, of the French Protestant Federation, was one of the four authors of the celebrated document The Church and the Powers, published in 1972. During a subsequent visit to eight Latin American nations, he amassed first hand evidence of what he has termed an 'abyss of horror' -- often from men and women who have been torture victims themselves.
'In just a few years,' he wrote, 'a heavy yoke has descended; the streets are constantly patrolled ... men disappear without trace, families are divided against themselves People grow anxious if someone is half an hour late If a father has a meeting he takes two of his children along with him ... '
Casalis' report fits all too clearly into the cumulative evidence that an identifiable pattern of repression may now be emerging on a global scale. His findings are, unhappily, merely exemplary.
'It is taken for granted that the first stage in all interrogations is torture,' he wrote. 'A science of repressive techniques is developing. Arrests are frequently carried out on Friday evenings so that prisoners are subjected to three days of torture before being handed over to the police. In several recent cases the prisoner never was handed over; he died first.'
The accelerating violence is senseless: once developed into a method of operation it is used indiscriminately and the confessions extracted by it are usually fabrications or lies.
Studies conducted in the post-Korean War period proved that latent anxieties can be so intensified by isolation, sensory deprivation, systematic exhaustion and the administration of hallucinogenic chemicals that a 'subject' will begin to exhibit 'transient psychotic symptoms' and become highly receptive to suggestions, threats and enticements and submission can be achieved without tell-tale burn marks.
This supposed refinement serves merely to expose what has been described as the 'latent Satanism of torture': the passion to possess a human soul.
In a memorandum submitted to the United Kingdom government at the time of an official enquiry into alleged sensory deprivation torture in Northern Ireland, Amnesty International eloquently defined the fundamental character of psychological torture:
'It is because we regard the deliberate destruction of a man's ability to control his own mind with revulsion that we reserve a special place in our catalogue of moral crimes for techniques of thought control and brainwashing. Any interrogation procedure which has the purpose or effect of causing a malfunction or breakdown of a man's mental processes constitutes as grave an assault on the inherent dignity of the human person as more traditional techniques of physical torture.'
Whether a man 'goes out of his mind' from the pain of needles under his finger-nails or from an electronically induced delirium, the final effect remains that of an unbearable sense of loss, not only of control but ultimately of identity. He becomes, in Sartre's words, 'detached from his real self'. Perhaps nowhere has the suffering of this collapse been more graphically conveyed outside of literary masterpieces such as Kafka's The Trial or Shakespeare's King Lear than in Paulo Schilling's Theory and Practice of 'Torture in Brazil. In his description of the experience of electrical torture, he wrote:
'The torturer's abundant imagination determines where the shocks will be applied to the victim's body. The simplest way is to stick the contacts between the fingers or toes and then turn the crank. The electrical discharge causes a sensation which is difficult to describe; a physical and psychological commotion filled with electric sparks which, together with convulsive shaking and loss of muscular control, gives the victim a sense of loss, of unavoidable attraction for that turbulating electric trituration.
'The shock causes a stimulation in the muscle identical to the stimulation of the nerve fibres ... causing disorderly, uncontrollable movements similar to epileptic convulsions.
'The tortured victim shouts with all his might, grasping for a footing, somewhere to stand in the midst of that chaos of convulsions, shaking and sparks. He cannot loose himself or turn his attention away from that desperate sensation. For him in that moment any other form of combined torture - paddling, for example - would be a relief, for it would allow him to divert his attention, touch ground and his own body which feels like it is escaping his grasp. Pain saves him, beatings come to his rescue. He tries to cause himself pain by beating his head repeatedly on the ground. But generally he is tied, hanging on the 'parrot's perch' and not even that resource is available to him.'
In a letter smuggled out of a Greek prison two years ago, a victim of the Greek repression tried to account for torture such as this which he and his comrades suffered:
'The headhunters have locked us up in this narrow place in order to make us shrink, like those hideous human scalps which are their trophies.'
It is in this utter diminishment of humanity that torture reveals its final moral blasphemy - the secret repudiation not only of human freedom, but of humanity itself.
***
The victim, by George Mangakis
'I have experienced the fate of a victim. I have seen the torturer's face at close quarters. It was in a worse condition than my own bleeding, livid face. The torturer's face was distorted by a kind of twitching that had nothing human about it. He was in such a state of tension that he had an expression very similar to those we see on Chinese masks; I am not exaggerating. It is not an easy thing to torture people. It requires inner participation. In this situation, I turned out to be the lucky one. I was humiliated. I did not humiliate others. I was simply bearing a profoundly unhappy humanity in my aching entrails. Whereas the men who humiliate you must first humiliate the notion of humanity within themselves. Never mind if they strut around in their uniforms, swollen with the knowledge that they can control the suffering, sleeplessness, hunger and despair of their fellow human being, intoxicated with the power in their hands. Their intoxication is nothing other than the degradation of humanity. The ultimate degradation. They have had to pay very dearly for my torments. I wasn't the one in the worse position. I was simply a man who moaned because he was in great pain. I prefer that. At this moment I am deprived of the joy of seeing children going to school or playing in the parks. Whereas they have to look their own children in the face.' (Letter to Europeans, 1971)
Medical and psychological aspects
Pain is a signal that the body is being damaged or destroyed. To stay alive is undoubtedly one of our basic drives although death may eventually be counted as a merciful release. But few people can view with equanimity the prospect of living as a damaged body or mind. A 'mind' needs a complete 'body' for complete self expression. It needs intact genitalia for fulfilment of social ambitions such as marriage, for expression of sexual drives; intact hands for constructive and aggressive instincts; vision, speech and hearing for relating to other body/minds. A healthy body is seen as 'good', a disfigured one is 'bad' and therefore the victim sees himself as becoming regarded as a 'bad' person, a 'mind' to be shunned and therefore condemned like the wandering Jew to the continuous torture of eternal loneliness.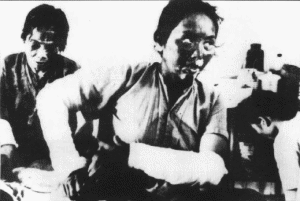 Women inmates of Tan Hiep national prison, South Vietnam, undergoing treatment for acid burns at Cho Ray Hospital in Saigon. They alleged they received these burns when the prison authorities forcibly suppressed a prisoner demonstration for better conditions.
The most senseless of all tortures is physical trauma to the brain. If a man's skull is struck, the brain may be shaken up (concussed), bruised (contused) or torn (lacerated). Brain cells die, blood vessels get torn, cerebral haemorrhage and further destruction of brain tissue occurs. Some brain cells, if damaged, recover: but dead cells are never replaced. To damage the organ of a healthy mind can serve no purpose, further no cause. Like picking the wings off a butterfly or the burning of the ancient library of Alexandria it produces an irreparable loss. Death, coma or a mindless 'vegetable' is a result with no suffering for the victim; but to be left aware that one's mind is damaged or distorted, deficient in its memory, its intellectual skills or its control is a terrible sentence. A profound depression often ensues; one may be subject to convulsions, or outbursts of rage, unable to work or to adjust to society.
Interrogation methods employing sensory deprivation techniques also have traumatic effects. Anxiety, hypochondria and hysteria are the most frequent in clinical situations; phobias, depressions, emotional fatigue and the obsessive-compulsive reactions are rarer. In addition to its subjective results, anxiety can lead to stomach, heart and genitourinary symptoms as well as tremors and sleep disturbance.
The induction of convulsions by passing an electric shock through the brain is, like the use of sensory deprivation, a perverted application of medical practice. Therapy using electrical shock in this way (Electro-convulsant therapy) is widely used for alleviating depressive illnesses. Even in medical use when it is given twice a week, it may induce mild confusion and memory impairment for a short period. When repeated many times in a day it causes such cerebral disturbance as to render men demented and incontinent and is analogous to a severe head injury.
Psychiatric cases encountered after the use of electrical torture in Algeria included instances of localised or generalised cenesthopathies in which 'the patients felt 'pins and needles' throughout their bodies; their hands seemed to be torn off, their heads seemed to be bursting and their tongues felt as if they were being swallowed'; I instances of apathy, aboulia and electricity phobia were also evident, the former two in patients who were 'inert' and the latter in patients who feared touching a switch, turning on the radio or using the telephone.
Just as severe damage to our physical system may leave a scar, so may mental stress have long term sequelae. If during the process of torture, our psychological defences are eroded and the mental systems with which we cope with stress become so overloaded that they are destroyed, we may find on return to our normal environment that we no longer have an adequate system for coping with any life problems. A survey of psychiatric casualties of World War I revealed that almost all were unable to return to normal life after discharge from the Army and were unable to work in their former capacity, if at all. Their minds became preoccupied with grief or bitterness over their misfortunes, or a permanent state of anxiety arose.
Distressing dreams and memories can occur many years after the severe stress, being re-awakened by another severe stress, and similarly a pattern of behaviour (such as a state of abject terror) acquired during torture, may suddenly reappear.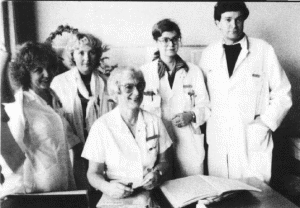 Specialist help for torture victims is provided by medical teams around the world. Like the Danish team pictured above, they work to help patients overcome the trauma of mental and physical abuse.
Within this context of breakdown through manipulated stress, physical abuse is also employed. The function of beatings, burnings, gaggings, finger irons and needles is clearly exhausting, demoralising and disorienting. In his study of the results of tortures of this order Frantz Fanon reported cases of agitated nervous depressions, patients who were sad and depressed, who shunned contact and were liable to show signs of very violent agitation without obvious cause. Perhaps the most serious problems were encountered in patients who, after torture, exhibited a phobia against all forms of physical contact with other people. Nurses who came near the patient and tried to touch him, to take his hand, for example, were at once pushed stiffly away. It was not possible to carry out artificial feeding or even to administer medicine.2 It is perhaps cases such as this that best reveal the meaning of Jean Amery's statement: 'Torture is the most terrible event remaining in man's memory.'
_______________
Notes:
1. F. Fanon, The Wretched of the Earth, Penguin, 1970, Chapter 5.
2.lbid.
Published September 1983
***
EQUATORIAL GUINEA: 'AN IMMENSE TORTURE CENTRE'
'A thick wall of silence, a silence of terror and of the grave, surrounds everything that goes on there.' This is how two escaped political prisoners from Equatorial Guinea describe their country in a detailed testimony recently received by Amnesty International. In retelling their prison ordeal, the two men charge that Guinean President Macias Nguema -- during whose nine-year rule a quarter of the country's population has gone into exile - has made Equatorial Guinea into 'an immense torture centre' where 'the way out is the way to the cemetery'.
Amnesty International considers the report significant in that, for the first time, it provides detailed corroboration of the numerous allegations received over nine years, of brutal murders, torture and inhuman prison conditions in Equatorial Guinea.
The testimony gives names and circumstances of death of 12 prisoners who died after torture in Bata Prison. Two allegedly died after having their eyes torn out by Guinean National Guards. Others died after beatings and bizarre humiliations were inflicted during forced labour. For example, two men were forced to re-enact the crucifixion of Christ, participating in a savage 'way of the Cross' accompanied by a group of other prisoners. After their fellow-prisoners were crucified, the remaining group was forced to celebrate a mock-mass over the dying men. The present government of Equatorial Guinea is hostile to the Roman Catholic faith of a minority of the population.
President Nguema himself is mentioned as figuring in one murder, and as having knowledge of another. In the first case President Nguema allegedly ordered a prisoner brought to Bata's airport to hunt rats. When the man failed to catch more than four, the rats and the prisoner were burned alive. In the second case the President referred in a public speech to a statistician whose fingers had been cut off 'because he could not count'. The actual fate of the statistician - according to witnesses quoted in the report - was even more horrible. The man's fingers, hands, feet and ears were cut off before he died.
In the testimony, general conditions for all inmates at Bata Prison, and especially for the political prisoners, are said to be bad. Up to 18 prisoners can be kept in cells measuring either one metre square, or 2 by 3 metres. Under the harsh regime of prison director Salvador Ela and his deputy Francisco Edu, male and female prisoners work for long hours without any food or drink. Their only food is provided by their families, and those without families can starve to death.
The testimony goes on: 'The National Guard invented the most incredible methods of torture, such as the 'injection' method, where they beat a prisoner on the ribs and testicles, while forcing him to swallow water. Women had thorns and other objects thrust up their vaginas, and then they were raped. If the guards got bored with this, they might tie up a prisoner with wire, pour petrol over him, and burn him alive in the prison courtyard, in front of everyone ...
'This method must have seemed too quick to them, for they discovered another method: hanging a man from his hands and feet by nylon cords from a pole parallel to the ground. After a while the weight of the prisoner's body would make the cords cut to the bone. Others would be beaten with clubs until their flesh swelled and wounds appeared. Then the wounds would be sprayed with petrol. The guards would not set the prisoners alight, but allowed the petrol to dry out their wounds in the heat of the sun, splitting the flesh open. People would die, literally split open. Antonio Ndo was one of many who died this way'. A list of 490 names of civil servants who have died under the regime was published by the Guinean exile community at the end of 1976, but even this cannot be regarded as complete.
AI Newsletter March 1978