AFRICAN NATIONALISTS INTERNED
Thousands of African nationalists were interned under the illegal government of Ian Smith before Rhodesia gained independence in April 1980 and became Zimbabwe. Amnesty International's concerns were set out in a report issued in 1976 from which the following extracts are taken.
Amnesty International is particularly concerned by the following human rights problems in Rhodesia:
(i) the use of preventive detention, imposed without charge or trial for periods of indefinite duration. Those detained include nationalist leaders belonging to banned political parties and rank and file members of political organizations, like the African National Council, which have not yet been proscribed;
(ii) the physical restriction of released prisoners and political detainees;
(iii) the holding of trials and detention review tribunals in camera;
(iv) the use of the death penalty, in some cases on a mandatory basis, for a wide range of offences, and the execution, in secret, of condemned prisoners;
(v) the torture of political prisoners;
(vi) the government's refusal to establish an independent inquiry into allegations of atrocities committed by the Rhodesian security forces;
(vii) the forced settlement of large numbers of rural Africans in so-called 'protected villages' as part of the government's counter-insurgency policy...
Since 1965 the United Kingdom has theoretically retained sole power to legislate for Rhodesia and all legislative enactments, executive actions and judicial procedures of the Rhodesian Front government have been regarded internationally as of no effect. However, in practice, the British government has been unable to exercise its legitimate authority.
The constitutional legality of the Rhodesian regime has also been tested in the courts. In 1968, the highest court of appeal for Rhodesian questions, the Judicial Committee of the Privy Council in London, ruled that the detention order served on Daniel Madzimbamuto, a political prisoner, in November 1965 was invalid since it had been issued by a 'rebel' administration. The Privy Council ordered Mr Madzimbamuto's immediate release.
This appeal was widely regarded outside Rhodesia as a test case to determine the illegality of the Rhodesian Front government, but despite initial hopes that the ruling would have effect in Salisbury, it was rejected by both judiciary and administration and Mr Madzimbamuto remained in detention. The Rhodesian government's right to implement the death penalty has been challenged internationally on similar legal grounds, and similarly upheld in Rhodesia.
Since UDI [Unilateral Declaration of Independence], the government has remained intransigent in the face of increasing pressures for African majority rule. Attempts at a constitutional settlement were made in direct negotiations between the British and Rhodesian governments in 1966, 1968 and 1971-72, and between the Rhodesian government and Rhodesia's African nationalist leaders on two occasions in 1974. These negotiations broke down because of the regime's unwillingness to make major concessions to African aspirations ...
Almost without exception, Rhodesia's political prisoners are Africans who actively support the nationalist struggle for majority rule on the basis of universal adult suffrage. They may differ as to political affiliation or strategy, but they are united by their desire to see an end to the social, economic and political domination of Rhodesia by the white minority population. Until recently, almost all African nationalist leaders were in detention in Rhodesia or were political exiles abroad. Both Joshua Nkomo, the former ZAPU [Zimbabwe African Peoples' Union] leader, and Reverend Ndabaningi Sithole, the former ZANU [Zimbabwe African National Union] leader, were detained almost continuously from the time that their political parties were banned in the early 1960s until December 1974.
Since the development of African nationalism as a mass movement in the 1950s, successive governments have used political imprisonment and detention as a means of controlling African political opposition. When the various African political organizations were proscribed in turn, usually within a short time of their formation, their leaders were restricted, detained or driven into exile ...
Prison conditions
Under the discriminatory system operated by the Rhodesian prison authorities, a prisoner is graded upon entry into prison according to the authorities' estimation of his or her standard of living. The grades stipulate the kind of food, clothing and cell equipment to be supplied. In practice Europeans are normally placed on scale I and receive the best treatment, Asians and Coloureds (people of mixed race) are put on scale II, and Africans on scale III, although better educated or more prosperous Africans may be placed on scale II.
Most political prisoners, including untried detainees, are classified on scale III. As such, they receive a diet consisting largely of sadza, a maize-meal porridge, but without items like bread and sugar which form a normal part of the diet of urban Africans. They wear shorts and singlets, but are barefoot. They are only given sisal sleeping mats and three or four blankets as bedding.
Although graded in the same way as convicted prisoners, political detainees have certain privileges not shared by other prisoners. They are allowed more frequent visits and mail, they do not have to work while in prison and they may purchase additional foodstuffs to supplement their prison diet with money sent to them from outside. Detainees are normally kept separate from convicted prisoners.
Despite these advantages, political detainees have complained many times about the harsh treatment they receive. In August 1972, 34 detainees at Salisbury Remand Prison smuggled out a letter to Amnesty International and the International Committee of the Red Cross detailing instances of bad treatment. Similarly detainees complained that the deaths in detention of Leopold Takawira in June 1970 and Kenneth Chisango in January 1974 were directly attributable to poor conditions and inadequate medical attention. The Rhodesian authorities deny these claims.
Torture allegations
There have been consistent allegations of torture since the introduction of the Law and Order (Maintenance) Act in 1960, but recent reports indicate that it is now employed almost as routine practice by both police and security forces. It is particularly acute in northeast Rhodesia where nationalist guerrillas are active. Many hundreds of Africans in that area are reported to have been detained for short periods by the security forces and subjected to interrogation and torture on the assumption that they possess information about guerrilla activities.
Various methods of torture are allegedly used. They include beating on the body with fists and sticks, beating on the soles of the feet with sticks, and the application of electric shocks by means of electrodes or cattle goads. In addition torture victims have been threatened with castration or immersed head first in barrels of water until unconscious.
Since 1974, church leaders and African parliamentarians have called repeatedly for the establishment of an independent inquiry into allegations of torture and atrocities committed by the security forces. All such calls have been rejected by the Minister for Law and Order on the grounds that any inquiry would undermine the morale of the armed forces. The minister has also stated that several allegations investigated by his department were found to be false. Nevertheless, when several torture victims brought actions for damages in the High Court in 1975, the government introduced the Indemnity and Compensation Act. This act effectively indemnifies members of the security forces against prosecution for any actions carried out since 1 December 1972 while on active service in the war zone. The act also gave the minister authority to terminate actions for damages which were before the High Court -- an authority that the minister exercised immediately to forestall several outstanding suits. In effect, the Indemnity and Compensation Act gives the security forces absolute discretion as to the methods they employ against suspected guerrillas even if such methods include killings among the civilian population. Consequently no inquiry has been held into reported civilian killings at Kandeya Tribal Trust Land in the Mount Darwin area on 12 June 1975.
Capital punishment
The death penalty is very widely used not only for criminal offences such as murder or rape, but also for those convicted of certain political offences under the Law and Order (Maintenance) Act. This act, which has been amended many times since 1965 so as to provide for increasingly severe sentences, created a number of offences which may incur a capital sentence and also specified offences which carry a mandatory death penalty. Possession of arms of war, commission of acts of terrorism or harbouring of guerrillas fall within the former category, in which a judge may exercise discretion in deciding whether to impose the death penalty. The latter category includes offences involving arson, the use of explosives or the recruitment of guerrillas. In these cases the judges have no discretion in sentencing and must impose the death penalty whatever the particular circumstances. Only pregnant women and children under 16 years of age are excluded from execution while youths aged between 16 and 19 may either be executed or sentenced to life imprisonment.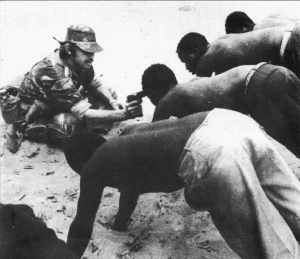 A Rhodesian trooper holds a gun in front of a line of prisoners as they are interrogated near Kikidoo, Rhodesia, September 1977. The prisoners were forced to hold their position in the head of the midday sun while the trooper repeatedly clicked his pistol in their faces.
Since 1965 more than 60 people are believed to have been hanged. The first executions were carried out in 1968 amidst a storm of international protest, and immediately led the United Nations to impose comprehensive and mandatory economic sanctions against Rhodesia. Before any executions took place the British government had reiterated the view that the Rhodesian Front regime could not lawfully carry out executions. Queen Elizabeth II, whose position as Rhodesian head of state had not at that time been challenged, exercised the royal prerogative of mercy to commute the sentences of the first three men due to be executed. Nevertheless, the three men were hanged on 6 March 1968 after the Rhodesian Chief Justice ruled that the Rhodesian Front regime had de facto authority to carry out executions.
Published March 1976