ILL-TREATMENT BY ISRAELI AUTHORITIES
Persistent allegations of ill-treatment of prisoners in Israel and the territories occupied by it after the 1967 war prompted a mission to discuss Amnesty International's concerns with the government. The following extracts come from the 'Report and Recommendations of an Amnesty International Mission to the Government of the State of Israel, 3-7 June 1979, including the Government's response and Amnesty International's comments'.
The following is a recent testimony of ill-treatment which is representative of allegations made in recent years as regards the type of ill-treatment and the circumstances surrounding arrest and detention. Dates and places have been changed at the requests of the individual involved. The words themselves constitute a paraphrase of the testimonies as they were received by Amnesty International.
'I was arrested in early 1978, at my home, while asleep. There were soldiers with guns all around, my mother was crying and my younger brothers were in terror. I was told to get dressed and then was put into a jeep and made to lie on the floor of the jeep. My shirt was taken off me and used to blindfold me. While I was lying on the floor of the jeep, the soldiers beat me on the head with their iron helmets, and kicked me.
'I was taken to the Moskobiya (a detention centre in Jerusalem) and here 1 was beaten by about five people, in the stomach, in the back of the head, and on the genitals. 1 lost consciousness.
'After breakfast the next day, 1 was taken to the interrogation room which had one table and two chairs. The interrogator asked me to speak and 1 answered, 'I did nothing.' He said, 'Now 1will force you to speak.'
'I was sitting on the chair in front of the desk and now he came and sat on the front of the desk, near me. He placed one of his feet on my genitals and pressed down on them whenever he felt like it. With the other foot he periodically kicked me in the face. The pressure on my genitals increased - it became very painful. At the same time he began to threaten me that my brother would be dismissed from his job. This treatment lasted for about two hours.
'Then my dossier arrived, and now the interrogator saw that 1 had been under interrogation several times before. I think the job of the first interrogator was just to throw fear into me. Now two other people were brought in to interrogate me. My hands were tied behind my back, to the chair. They began to beat me on the head and arms. One of them was beating me with a rope. This lasted about five hours. When 1 was sent back to my cell, my nose was bleeding, there was blood all over the inside of my mouth, and my genitals were blue.
'On the second day, I was again tied to the chair and a thick cloth sack was put over my head. But now I was not beaten. After some time, they took me into the courtyard and tied me to a pipe there so that I couldn't sit down, only stand. They left me this way for 48 hours, standing, with no food, no cigarettes, no sleeping, no going to the toilet. I urinated in my clothes at least twice. After this, I was sent back to my cell, where I rested for about two hours.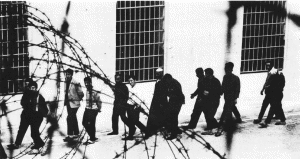 Prisoners in Nablus jail, Israel.
'Then I was taken for interrogation again. Now they began to throw information at me, that I had been a member of the Democratic Front for the Liberation of Palestine. They weren't beating me at all. Some of this information was correct and some of it was wrong. I admitted nothing, and they sent me back to the cell. I slept like a dead man. When I woke up, I did some exercises, since you have to be strong to withstand this kind of treatment.
'The next day, they brought before me a man who said that I had recruited him to the Democratic Front for the Liberation of Palestine. This man, whom I knew, looked like he had lost 15 kilos in weight. I admitted I had done this. Then they asked me how I got my orders. I told them nothing. Now a new torture began. I was again tied to the chair, but he had tied a rope to my penis and began to pull on the rope in time to the music on the radio he had turned on. The interrogator was laughing, dancing, and pulling on the rope. He was not even asking me questions. This lasted for several hours.
'And after this, I was again brought into the courtyard, tied to a pipe, and left standing for 48 hours.
'This kind of treatment continued for 29 days.
'It was only after 20 days that I first saw my lawyer. I was never seen by the Red Cross since my identity card is from East Jerusalem and the ICRC only visits prisoners from the West Bank.
'After this treatment, I was moved to another prison for about a month, where I was not interrogated. Then I was tried -- I had confessed to membership and recruiting -- and I was sentenced to eight months. After two months of this sentence, I was again brought to the Moskobiya for the same kind of treatment again. Now the treatment was even worse, because some other people had confessed and named me in their confession. Here I was under interrogation for 17 days but I said nothing since I knew I would be free in several months. But I saw the others who had named me, and they were in very bad shape.
'It is hard to avoid talking, but being prepared for the experience is the most important thing. Then you know that it is better not to talk at all - if you tell them something they will always want more, and they will hurt you any way to get it. You can never give them enough to satisfy them.' ....
Conclusions
1. Amnesty International reaffirms its view stated on several occasions since 1970 that there is sufficient prima facie evidence of ill-treatment of security suspects in the Occupied Territories by interrogators and detaining officials to warrant the establishment of a public inquiry into this matter.
2. Amnesty International is concerned that the present administrative procedures do not enable the Israeli authorities to bring forward conclusive evidence to refute allegations of ill-treatment.
3. The lack of such conclusive evidence is directly related, in Amnesty International's view, to the extended period of incommunicado detention permitted and often practised under the procedures now in effect in the Occupied Territories. During this period the arrested person is in the company only of interrogators and prison officials, may be denied visits from family, lawyer or personal doctor, and may not be brought speedily before the courts.
4. It is Amnesty International's view that certain legal provisions and practices enhance the possibility of ill-treatment of security suspects. These legal provisions and practices include:
(a) restrictions on the role of defence counsel in preparing the defence;
(b) security trials by military courts which are commonly composed of judges sometimes all of whom are career army officers and most of whom do not have formal legal training. Amnesty International questions whether sufficient weight is being given to that provision of Article 66 of the Fourth Geneva Convention which specifies that military courts are to be 'non-political';
(c) the frequent reliance in security cases on uncorroborated confessions given to police officers as the effective basis for conviction;
(d) the absence of effective opportunities for judicial appeal for those convicted of security offences.
5. The evidence available to Amnesty International suggests that the machinery for investigating complaints of ill-treatment by interrogating and detaining officials is inadequate.
Recommendations
Amnesty International, therefore, recommends that:
1. For reasons relating to the protection of suspects and security officials alike, a public and impartial committee of inquiry should be established to investigate the allegations of ill-treatment in their totality and the administrative and legal procedures and practices relevant to the arrest, confinement, interrogation and trial of security suspects. The committee's findings, conclusions and recommendations should be made public.
2. The terms of reference of this inquiry should include consideration of the interrogation process and the procedures permitting incommunicado detention. This committee of inquiry should examine:
(a) the rules relating to notification of arrest;
(b) the procedures governing visits to detainees by family and lawyer;
(c) methods both to improve the medical documentation available for assessing the treatment of arrested suspects and to facilitate the examination of suspects by private medical doctors;
(d) guidelines governing proper interrogation methods.
3. The terms of reference of this inquiry should also include examination of the legal rules and practices which may encourage ill-treatment. The committee should therefore consider:
(a) the composition of the military courts;
(b) ways to expand the role of defence counsel in preparing the accused's defence;
(c) providing legal rules whereby a conviction cannot be based effectively on an uncorroborated confession made in the presence only of police officers or other security personnel;
(d) the establishment of the right of judicial appeal for convicted security offenders.
4. The terms of reference of this inquiry should also include an investigation into the effectiveness of existing machinery for investigating complaints of ill-treatment.
5. Pending the establishment and reporting of such an inquiry, Amnesty International recommends that immediate steps be taken to ensure that security suspects under interrogation are protected against possible ill-treatment. Measures to this end should include access to family, lawyer and independent medical doctor promptly after arrest and at regular, brief intervals thereafter.
Published September 1980