HUMAN RIGHTS DEBATE IN PERU
The publication in January 1985 of Amnesty International's 'Briefing on Peru' received wide publicity within the country and intensified the national debate on human rights violations.
More than 1,000 men, women and children have 'disappeared' after being seized by troops or police since a remote area of Peru was placed under military rule two years ago. Hundreds of others are known to have been killed in custody, often after torture. In a new briefing on Peru, published on 23 January, AI points out that the true scale of the abuses by government forces in the mountainous southern area is not yet known.
The massive atrocities started after the launch of a military campaign against the Sendero Luminoso ('Shining Path') guerrilla movement, itself responsible for scores of execution-style killings and torture of civilians.
Since then, killings of captives by government forces have become so established that relatives of the 'disappeared' have learned to search roadside dumping grounds where bodies regularly turn up, often mutilated beyond recognition. The victims found in these dumps and in mass graves are usually naked, marked by torture, and with single gunshot wounds to the head.
Human rights violations on this scale are unprecedented in modern Peru. They have been inflicted mainly on peasants, local leaders and young people in the Emergency Zone, established at the end of 1982. The zone comprised 13 of Peru's more than 140 provinces at the time the report went to press.
Peru's Attorney-General, the Public Ministry he heads, and some judges have tried to protect the rights of the local people and have uncovered some of the abuses, but have been unable to halt them. Government prosecutors in the area have protested publicly against the armed forces' obstruction of their investigations.
AI has told the government that it condemns killing or torture of prisoners by the guerrillas, and recognizes the need to prevent and punish such crimes, but that government action must be within internationally accepted human rights standards.
The briefing on Peru includes basic information on some 1,000 reported 'disappearances' known to AI. It notes that the movement also knows of more than 400 cases of individuals named as having been detained and later found dead. All these are from the Emergency Zone; they have no parallel elsewhere in Peru.
Despite the remoteness of the area, AI -- as well as local human rights groups and Peruvian officials -- has amassed abundant evidence of the abuses and of the existence of unmarked mass graves and dumping grounds in areas under military control.
Local people provided the evidence, often by travelling to the main city in the Emergency Zone, Ayacucho, or the national capital, Lima. Documents and testimonies have come directly from families and community representatives, from church, professional, trade union and human rights organizations, and from lawyers. Hundreds of victims' relatives have filled out questionnaires based on a form prepared by the United Nations Working Group on Enforced or Involuntary Disappearances. In February 1984 Dr Zegarra Dongo, outgoing Ayacucho chief prosecutor, told the press that his staff had received 1,500 formal complaints of prisoners' 'disappearances' in the previous 14 months.
The Interior Ministry has said that in the 18 months up to the middle of 1984, 2,000 alleged guerrillas were killed and more than 1,600 civilians were alleged to have been killed by guerrillas. There is evidence that both categories include many civilians detained and killed by government forces.
Security patrols have raided schools as well as villages and homes to take away victims. All young people appear to be suspect -- and so liable to 'disappearance' -- in areas where the guerrillas are active. AI has documentation on 76 children and teenagers under 18 who have 'disappeared'.
Relatives of the 'disappeared' report being threatened with death by soldiers when they look for their loved ones at known dumping grounds, which are always near main roads regularly patrolled by troops or police. Many of the bodies are blindfolded and bound.
AI Newsletter February 1985
***
The national debate on human rights violations in Peru is reported to have intensified since the publication on 23 January of AI's Peru Briefing (see February Newsletter).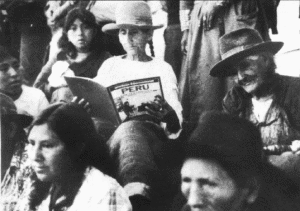 Amnesty International's Peru Briefing, published in 1984, was read throughout the country by all sections of the population. This reader was part of a group of people gathered on the steps of the cathedral in Ayacucho, the main city in the Emergency Zone.
A Peruvian television program "Eneuentros" (Encounters) gave the results of a survey on the briefing, using a sample of 1,000 people in the capital, Lima. They are reported to have shown that more than 70 per cent of the sample had heard of the report and that more than 47 per cent thought that "a pluralist commission should be appointed to investigate Amnesty International's denunciations."
Extensive reports on the briefing appeared in the country's major newspapers and magazines -- one magazine printed the fu1l20-page Spanish-language version -- and on the day of publication an hour-long prime-time television program was devoted to it. Copies of the briefing were on sale at news kiosks in 16 cities in Peru.
With some exceptions, the Peruvian Government's public reaction to the briefing appears to have been different in tone to harshly critical comments which followed the publication in September 1983 of an extensive memorandum to President Fernando Belaunde Terry. President Belaunde then said in a television interview that AI was 'a Communist organization', and that its letters to his government were 'thrown directly into the wastepaper basket'.
On 16 January, General Oscar Brush Noel, former Minister of Defence and now Minister of Interior, made a statement flatly rejecting AI's briefing. He claimed that the government respected the life and honour of Peru's citizens, and that Shining Path guerrillas alone were responsible for violating human rights in Peru.
On 20 January the general was questioned by international press agency correspondents on a news report published the day before; it contained evidence that nine people found that week in clandestine graves in Ayacucho had been previously detained by police and military forces and had 'disappeared'. He replied that 'only the Armed Forces Joint Command' was authorized to make statements concerning the situation in Ayacucho.
On 18 January, General Cesar Praeli, head of the Armed Forces Joint Command, was quoted as stating that 'the Armed Forces of Peru reject the Amnesty International report'.
Asked about the ever more numerous clandestine graves and the dozens of corpses discovered, showing signs of torture and gunshot wounds, he reportedly said: 'I am convinced that they are not acts perpetrated by the Armed Forces but by members of the terrorist group,' and added that the Command responsible for the Emergency Zone would carry out an exhaustive investigation in this regard and would study AI's briefing.
A series of statements have been made to the Peruvian and international news media by the Peruvian Prime Minister, Luis Percovich. On 23 January he reportedly declared that the government would investigate AFs allegations and 'give precise and public reports of this'. Later that day he is reported to have said that 'isolated' excesses by the security forces had taken place and that those responsible had been handed over to 'the appropriate authorities' .
On 25 January, the Prime Minister told reporters in Lima that Pervian officials with information from the police and military would answer AI's charges at the meeting of the United Nations Human Rights Commission in Geneva in February and March.
On 5 February the international news agency Reuters reported that the Prime Minister had told reporters that 'widespread errors' had been found in Amnesty International's briefing, affirming that:
' ... 53 of the 1,005 people Amnesty alleged to have disappeared in a government anti-guerrilla crackdown before last October had applied for voter registration cards after that date.'
On 1 February, AI cabled the Prime Minister welcoming the promise of an investigation into unresolved 'disappearances' in Peru and requesting his intercession to ensure the safety of three young Peruvians reported detained and 'disappeared' on 25 and 28 January in the Ayacucho Emergency Zone.
In a second cable on 7 February, AI expressed great interest in the Prime Minister's statement affirming the reappearance of 53 people previously reported 'disappeared'.
AI's cable also stressed its hope that most or all of the individuals reported to have remained 'disappeared' after detention at the time the briefing was prepared would reappear alive.
• AI has sent the Peruvian Government case outlines on another 70 people reported to have 'disappeared' in the Emergency Zone on whom it has received dossiers. It also sent the names of 16 people reported to have 'disappeared' whose bodies have since been found.
AI Newsletter March 1985
***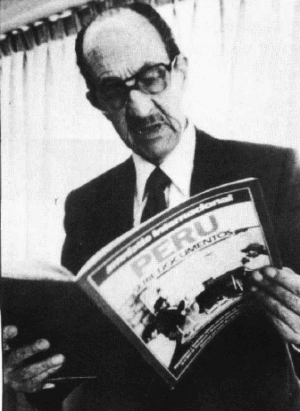 Peru's Attorney General, Alvaro Rey de Castro, examining Amnesty International's Peru Briefing, which was published on 23 January 1984. He is reported to have said the briefing provided 'a call for reflection by the forces in charge of the suppression of terrorism', and by the government itself. The Attorney General heads Peru's Public Ministry, which has continued to make determined efforts to bring the facts of extrajudicial killings and the country's 1,000-plus 'disappearances' out into the open. Public Ministry representatives regularly and publicly protested about the obstruction of their work by police and military authorities in Peru's Emergency Zone.
***
'MY ONLY CRIME WAS MY CONCERN FOR HUMANITY'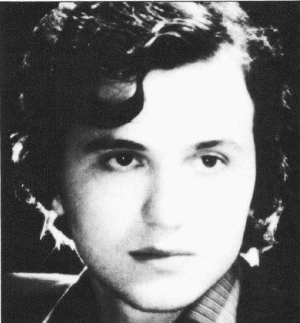 When individuals expose the crimes of the state they are often punished as though they were criminals. A petition calling for the release of all political prisoners in Yugoslavia was sent to the Presidency in November 1980. One of those who had collected signatures for it was Dobroslav Paraga, a 19-year-old student of law and theology. The State Security Police arrested him without warrant on 21 November 1980 and at his trial in May 1981 he was found guilty of 'hostile propaganda' and 'participating in hostile activity'. His first sentence of three years' imprisonment was increased after more legal proceedings to four years. He was released on 21 November 1984, and wrote this letter to Amnesty International:
'During that time of persecution and suffering, I came to know your generous hearts, full of sympathy, full of solidarity, fraternal affection and ideal support. Your constant care for my fate and the efforts you took to publicize this ... did not permit injustice to triumph. My only crime was my concern for humanity.
'I passed 271 days in solitary confinement, often without the right to read or rest. Because of that my eyes have become weak. However for me that is all nothing in comparison with the great happiness of being able to feel authentic human solidarity and to gain, in you, such devoted friends. I pray that God enables you to feel my great gratitude and friendship. We are united by the same ideal: to do well for all people. You defend human rights, for me this is the greatest duty of every person. Unfortunately my rights are very limited, even annulled: I no longer have a passport and cannot travel outside Yugoslavia. This is why it is not possible for me to thank you in person and to make the direct acquaintance of those to whom I owe so much. However, I wish to remain your grateful brother who would like to give you more than possibilities and circumstances permit...'