COLLABORATIVE REFORM INITIATIVE: AN ASSESSMENT OF DEADLY FORCE IN THE PHILADELPHIA POLICE DEPARTMENT
by George Fachner, Steven Carter, Community Oriented Policing Services, U.S. Department of Justice
© 2015 CNA Corporation.
YOU ARE REQUIRED TO READ

THE COPYRIGHT NOTICE AT THIS LINK

BEFORE YOU READ THE FOLLOWING WORK, THAT IS AVAILABLE SOLELY FOR PRIVATE STUDY, SCHOLARSHIP OR RESEARCH PURSUANT TO 17 U.S.C. SECTION 107 AND 108. IN THE EVENT THAT THE LIBRARY DETERMINES THAT UNLAWFUL COPYING OF THIS WORK HAS OCCURRED, THE LIBRARY HAS THE RIGHT TO BLOCK THE I.P. ADDRESS AT WHICH THE UNLAWFUL COPYING APPEARED TO HAVE OCCURRED. THANK YOU FOR RESPECTING THE RIGHTS OF COPYRIGHT OWNERS.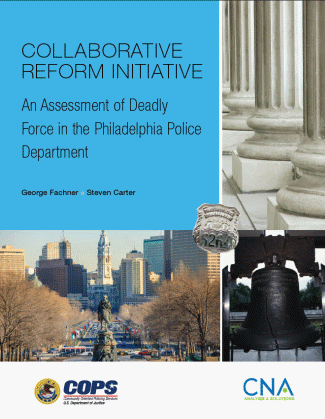 This project was supported by cooperative agreement number 2013-CK-WX-K016 awarded by the Office of Community Oriented Policing Services, U.S. Department of Justice. The opinions contained herein are those of the author(s) and do not necessarily represent the official position or policies of the U.S. Department of Justice. References to specific agencies, companies, products, or services should not be considered an endorsement by the author(s) or the U.S. Department of Justice. Rather, the references are illustrations to supplement discussion of the issues.
This document contains preliminary analysis that is subject to further review and modification. It may not be quoted or cited and should not be disseminated further without the express permission of CNA or the U.S. Department of Justice. Any copyright in this work is subject to the Government's Unlimited Rights license as defined in FAR 52-227.14. The reproduction of this work for commercial purposes is strictly prohibited. Nongovernmental users may copy and distribute this document in any medium, either commercial or noncommercial, provided that this copyright notice is reproduced in all copies. Non-governmental users may not use technical measures to obstruct or control the reading or further copying of the copies they make or distribute. Nongovernmental users may not accept compensation of any manner in exchange for copies. All other rights reserved.
The Internet references cited in this publication were valid as of the date of this publication. Given that URLs and websites are in constant flux, neither the author(s) nor the COPS Office can vouch for their current validity.
Recommended citation:
Fachner, George, and Steven Carter. 2015. An Assessment of Deadly Force in the Philadelphia Police Department. Collaborative Reform Initiative. Washington, DC: Office of Community Oriented Policing Services.
Copyright © 2015 CNA Corporation. The U.S. Department of Justice reserves a royalty-free, nonexclusive, and irrevocable license to reproduce, publish, or otherwise use, and authorize others to use, this publication for Federal Government purposes. This publication may be freely distributed and used for noncommercial and educational purposes only.
Published 2015
Table of Contents:
• Acknowledgments
o Collaborative Reform team
o Deadly Force Investigation Review panel
• Executive Summary
o Methods
o By the numbers: Trends and patterns in officer-involved shootings in Philadelphia
o Use of force policies
o Basic recruit training
o In-service training
o Investigations
o Use of force review and officer accountability
o External oversight and transparency
o Conclusion
• Chapter 1. Introduction
o The Philadelphia Police Department
o Collaborative Reform Initiative
o Organization of this report
o Note to the reader
• Chapter 2. Methods
o Overview
o Document review
o Interviews
o Direct observation
o Data analysis
o Developing findings and recommendations
• Chapter 3. By the Numbers: Trends and Patterns in Officer-Involved Shootings in Philadelphia
o OIS defined
o When are OISs occurring?
o Where are OISs occurring?
o Who is involved in OISs?
o Under what circumstances do OISs occur?
• Chapter 4. Use of Force Policies
o Overview
o PPD directive 10
o PPD directive 22
o Electronic control weapons
o Findings and recommendations
• Chapter 5. Basic Recruit Training
o Overview
o Management and administration
o Academy training
o Firearms training
o Findings and recommendations
• Chapter 6. In-Service Training
o Overview
o Management and administration
o Instructor requirements
o Mandatory in-service training.
o Return-to-duty training
o Specialized training
o Commissioner-mandated training
o Findings and recommendations
• Chapter 7. Investigations
o Overview
o Criminal investigation
o Administrative investigation
o Evaluation of OIS investigative quality
o Findings and recommendations
• Chapter 8. Use of Deadly Force Review and Officer Accountability
o Overview
o Case review program
o PPD internal review of OISs
o PPD OIS case processing
o Findings and recommendations
• Chapter 9. External Oversight and Transparency
o Overview
o External oversight
o Transparency
o Findings and recommendations
• Chapter 10. Conclusion
• Appendix A. Table of Findings and Recommendations
o Use of force policies
o Basic recruit training
o In-service training
o Investigations
o Use of deadly force and officer accountability
o External oversight and transparency
• Appendix B. PPD Investigation Flow Chart
• Appendix C. Police Advisory Commissioner Letter Re: Officer-Involved Shootings
• Appendix D. Acronyms and Abbreviations
• Appendix E. PPD directive 10
o Index
o I. Policy
o II. Definitions
o III. Use of force
o IV. Specific prohibitions
o V. Reporting discharges of firearms
o VI. Investigation of police discharges
o VII. Custody and disposition of firearms discharged by police personnel
o VIII. Use of force review board (UFRB)
o IX. Discharges involving animals
o X. Annual review
• Appendix F. PPD directive 22
o I. Purpose
o II. Policy
o III. Utilizing force (general)
o IV. Use of OC pepper spray
o V. Use of the police baton/ASP VI. Assault on police investigations procedures
o VI. Assault on Police Investigations Procedures
o VII. Use of force notification procedure
o VIII. Distribution of the use of force form
o Related procedures
o PPD directive 22 appendix A
o PPD directive 22 appendix B
• About the COPS Office
• About CNA
• Notes