The Red Cross' Secret Disaster
by Justin Elliott and Jesse Eisinger, ProPublica, and Laura Sullivan, NPR
NOTICE: THIS WORK MAY BE PROTECTED BY COPYRIGHT
YOU ARE REQUIRED TO READ

THE COPYRIGHT NOTICE AT THIS LINK

BEFORE YOU READ THE FOLLOWING WORK, THAT IS AVAILABLE SOLELY FOR PRIVATE STUDY, SCHOLARSHIP OR RESEARCH PURSUANT TO 17 U.S.C. SECTION 107 AND 108. IN THE EVENT THAT THE LIBRARY DETERMINES THAT UNLAWFUL COPYING OF THIS WORK HAS OCCURRED, THE LIBRARY HAS THE RIGHT TO BLOCK THE I.P. ADDRESS AT WHICH THE UNLAWFUL COPYING APPEARED TO HAVE OCCURRED. THANK YOU FOR RESPECTING THE RIGHTS OF COPYRIGHT OWNERS.
October 29, 2014
PART 1 OF 4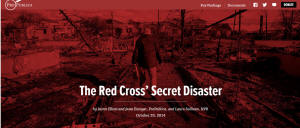 IN 2012, TWO MASSIVE STORMS pounded the United States, leaving hundreds of thousands of people homeless, hungry or without power for days and weeks.
Americans did what they so often do after disasters. They sent hundreds of millions of dollars to the Red Cross, confident their money would ease the suffering left behind by Superstorm Sandy and Hurricane Isaac. They believed the charity was up to the job.
They were wrong.
The Red Cross botched key elements of its mission after Sandy and Isaac, leaving behind a trail of unmet needs and acrimony, according to an investigation by ProPublica and NPR. The charity's shortcomings were detailed in confidential reports and internal emails, as well as accounts from current and former disaster relief specialists.
What's more, Red Cross officials at national headquarters in Washington, D.C. compounded the charity's inability to provide relief by "diverting assets for public relations purposes," as one internal report puts it. Distribution of relief supplies, the report said, was "politically driven."
Red Cross Presentation: Sandy and Isaac Lessons Learned

American Red Cross

Mass Care

Observations/Lessons Learned from Hurricane Isaac and Sandy

Material was compiled from:

1. ORO Narratives

2. ORO leadership feedback

3. NHQ MC experiences

Many recommendations, will cover some.

Facility - vertical sheltering, restroom/shower accessibility (1 accessible toilet for 60 people creating 30 minute wait). Segregation into "FNSS areas." Many were gov't shelters, but when ARC vests are in them, it's perceived as our shelter.

Services - 25+ clients had cot-wetting incidents with no effort to provide bedpans, medical cots or assistance going to the restroom.

Equipment - procurement issues, need more urgency. Lack of medical cots, 8-10 Clients with mobility issues lost their wheelchairs with no effort to acquire them one for first 5 days.

Clients slept in their wheelchairs for days. Problems getting medical cots (inclining head) or other means for them to sleep.

PAS - Contract was initiated by FEMA in NY & NJ, used sparsely, ARC needs to understand the process and allow access.

Dietary needs - not a priority, low-sodium and diabetic needs not addressed. Religious and vegetarian meals not in high demand.

SME' s - need to allow our SME's in HS & DMH to take the lead, work together as a team to help clients, resolve issues and communicate.

RECOMMENDATIONS:

1. Planning w/ all types of partners to increase Whole Community response.

2. Education at all levels of chapter of FNSS issues, services, needs, community demographics.

Facility Selection - inadequate # toilets/ showers (takes too long to mitigate), obtaining last minute, gov't lead, put staff in shelters we wouldn't use for clients (under construction, not safe, sanitation issues ... ). Scrambling last minute to find.

Materials - lack of enough shelter kits, cots, blankets, ...

Staff - Inadequate staffing initially, inexperienced/untrained shelter mgrs, poor delegation, mean spirited ...

Shelter agreements - problems obtaining them by LOG.

STAFF SHELTERS

Mgmt/staffing - poorly staffed in quantity and quality, which impacts ALL service delivery. Run them as you would for clients, we need to take care of our workforce.

Volume - not knowing # of incoming staff, not enough space, not enough facilities.

Location - not near worksites.

RECOMMENDATIONS:

1. Shelter kit - national product.

2. 10 more staff shelters pre-disaster, work with partners (Elks Lodge).

3. During response, create a leadership team comprised of 1 SH, 1 SS and 1 LOG rep to solely run staff shelters. If lacking facilities, add External Relations group also.

4. Get SS rep in each staff shelter.

5. Read Staff Shelter handbook.

6. Large DR' s, get support teams of Staff Wellness and DMH.

Sex offenders - staff didn't know/follow procedures. Sex offenders were placed in a special area off of dorm, but they weren't there, they were all over, including playing in children's area. Mothers in shelter had raised issue.

Unaccompanied Minors - handled well!

Showers - unrelated adults showering with children, conjugal visits.

NSS

Reporting - continue to have problems getting #'s. Daily Shelter Report form!

FROST - did amazing work. Work with MC NHQ for connection to them.

Age demographics - first time use. Breakdown: 0-3, 3-7, 8-12, 13-18, 19-65, 65+. Helped partners provide appropriate services, prepare for long term recovery, ...

Capacity - embarrassing when CNN asks how 250 people fit into a shelter with 0 capacity.

Mapping - redcross.org and app only show models 1 & 2. Continue to ensure the shelter is mapped ("Lookup" button next to Lat/Long data). You'd be surprised who and how many look at this.

Shelter Teams - pre-formed teams from chapters worked very well. Willingness to do something else was good and bad. Need flexibility to meet operational needs.

Direct Deployment - Orange, TX, created shelter teams and sent directly to shelter sites. Breakdown in communication, sites/district/GIA didn't know who/how many/where many times. DROHQ leadership didn't know either. HS/DMH needed more of a connection with their folks on these teams, needed ability to move them to meet operational needs. Current project team working on SOPs.

Shelter Assessment Teams - piloted new program developed from multi-agency concept. Was just ARC reps from SH, HS, DMH, and later CC. Great way to help inexperienced shelter mgrs, meet client needs faster, improve communication, increase situational awareness.

INDEPENDENT SHELTERS

Expectations - clear definition of roles and responsibilities, especially with gov't. Big disconnect on this which caused poor decision-making and poor service to clients, mostly not our fault, but perception was different.

Population #' s - NSS expanded reporting is still a protocol, paint the big picture. Still difficult.

Support - guidance vs. reality. SH Assessment teams able to visit some and found numerous issues (lack of food, supplies, equipment). These visits also helped w/ reporting issue.

Kitchen Mgrs - Isaac - District model caused outpouring of SME' s to the districts and away from typical sites, such as the kitchens. Lack of appropriate staff at beginning caused problems with routes, quantity of food, waste, procurement, reporting etc.

Kitchen locations - Sandy - State took too long on decision of kitchen locations, caused loss 3+ days of hot food service delivery.

Kitchen support/setup - Sandy - lack of support equipment, trailers, etc. Gov't unable to help in timely manner, needed fuel, toll relief, etc. Seemed state didn't like working with ARC.

During the Sandy disaster, some government officials came to resent the Red Cross.

When the storm hit, officials in Bergen County, New Jersey activated their Emergency Operations Center. In keeping with a carefully established plan, representatives from government agencies and charities gather there to coordinate, share information and respond to crises 24 hours a day.

A seat was reserved for the Red Cross, the most important nongovernment responder. But the Red Cross' seat remained empty for the full duration of the Sandy response.

"They were the only major player not there," says police lieutenant Matthew Tiedemann, who helped run Bergen County's response to Sandy. County officials had no easy way to get in touch with Red Cross leadership to tell them about areas of need on the ground, he says.

-- The Red Cross' Secret Disaster, by Justin Elliott and Jesse Eisinger, ProPublica, and Laura Sullivan, NPR

Chapter food orders - in excess of $140K for food/snacks without DRO knowledge. 2 trailers full of food in a parking lot that no one knew about until we got the bill.

Food waste - excessive because

1. kitchen manager inexperience,

2. longer time in "seek and serve",

3. political pressures,

4. poor communication bit chapter & DRO.

Ex. Non-food product put on a reefer, ruined food.

Started tracking "overage" to help stop routes and for finance and planning purposes. Overage is any food product that is disposed of, or food that you have to find a place to deliver to so as not to waste it.

Shelter meals -

1. not the right amount (in both directions),

2. Low quality, clients preferred Salvation Army food (better taste & arrived on time).

ERV crews - Isaac - some had never been in an ERV, didn't know what an NFO or spoodle were.

Preloaded - Sandy - many came empty. Need to be pre-loaded with life essential items (shelf stable meals, snacks, water, etc.)

IKD mobile feeding partners expressed concerns about not being able to touch base with Mass Care about feeding needs, locations, etc ...

Politics - Asking for CUK' s before storm passed. Need to educate EM on the process of BD and improve relationship.

Support Services - waiting on warehouse, forklifts, etc.

Reporting -Sandy - separate BD push complicated reporting. Sheer size of DRO's crippled our ability to count. BD operation should have been consolidated weeks earlier.

Tracking standards - need standard way to track BD vehicles, too much key swapping between FF, BD and LOG.

Item push - too much pushed into area without knowing need, also applies to partner organizations. (However, with our slow procurement system, it' s better to overpush than have clients wait for days on needed product.)

IKD trailers were continually moved. Several in-kind refrigerated trailers were lost or continually misplaced for a 3 week period. (In some cases feeding partners were in possession of the in-kind trailers without Mass Care being aware.)

Staffing: Staffing requests during Sandy were disregarded immediately following landfall. SWL responders were not assigned until day 4. Staffing requests were submitted by MN pre landfall.

PROMOTION

Safe and Well Website was poorly promoted on media during both Sandy and Isaac.

Shelter managers at ARC run shelters needed to actively promote Safe and Well paper registrations at registration intake tables on day 1 of shelter opening.

RECOMMENDATION

Shelter worker(s) need to be assigned to this task at each shelter.

Sandy: Computers and paper registrations were in the shelter kits at ARC Shelters but not utilized and were found later by SWL workers and set up for clients.

CALL CENTERS

Sandy and Isaac - Chapters needed desperately to have a SWL representative assisting in answering phone calls from clients looking for loved ones on day 1 post landfall.

NHQ - Micro management. Direct involvement in Service Delivery decisions without local understanding. Writing of feeding purchase orders from NHQs, failing to provide copies of the PO to the DRO in a timely manner. Diverting assets for public relation purposes.

Supply Chain- not having accurate inventory/location of product, status of 6409's, slow system, lack of support trailers (kitchen & shelter). Need LOG rep at each kitchen.

Lack of understanding that if the resource is for a health related issue or FNSS issue, the resource should be purchased or rented from our two national contracts if not readily available locally.

No consolidated purchase process between regions and DROHQ. Frequently orders were entirely missed or doubled. Includes reqs for staffing, logistical items and meals. Too many people receiving on Mass Care side which made it difficult to track reqs.

MCPC - read the brochure, fill out register and save receipts. In jeopardy of losing this resource.

Staff lodging - too much moving staff, poor staff shelters, poor locations ... Didn't have a hot meal for dinner in NY b/c of staff lodging locations. Many people simply went home because we failed them here, including our SSC partners.

EXPECTATIONS

Number of community partners wanting services. Sometimes they were right next to each other. We should have worked to get them to work together instead of separately.

Cannot take a request at 11:30 for hot meals at 12:00. It should become standard operating procedures to make it mandatory that hot meals need 24 hours notice.

Need clearly defined roles and responsibilities with gov't and community partners. ARC Initially based shelter staffing models on assumptions of state role, which led to overwhelmed shelter staff and sub-par shelter conditions.

Paper - playing catch up on 5266, 6409, facility agreements, MCPC, etc. New tools developed during each DRO.

Operating Picture - Need a system to track and show all service delivery, would allow all activities to do better planning and service delivery, alleviate many information sharing issues.

Unable to provide up-to-date shelter addresses and contact info to other activities for first 10 days.

DRO Structure - Can't staff 3 OHQ's per state. Each DRO had issues that caused communication challenges between DRO, NHQ and service delivery sites. Better initial conversations on transition from chapter to DRO and a clear structure could resolve that. Clear and consistent roles and responsibilities.

RECOMMENDATIONS:

1. Consistent template of how this works when we start up a DRO. Each operation seems to have a new twist and yet it never is clearly communicated from the start or it changes from week to week or job director to job director.

2. Playbooks/checklists to Include best practices.

SOPs - success too dependent on site manager's KSA' s - need checklists & exercises/drills to standardize field operations for managers and site managers, not reinventing wheel every DRO. MC at DROHQ also operates differently depending on who's running it. Operations should begin, transition and end in standard, professional and sustainable way.

Communication -

1. Couldn't accurately tell our story and show what and where of service delivery.

2. MC didn't communicate plans well with other activities (HS, CC, LOG) at times, so they couldn't keep up.

3, Too many layers for and opportunities for breakdown.

4. Info not reaching worker level.

LOG not knowing BD is shutting down and stranding BD trucks.

RECOMMENDATIONS:

1. Use technology to show our service delivery and do planning! Also use to share with stakeholders.

2. Poll OM & government partners to discover patterns of info requests so we can update forms & procedures appropriately,

Sandy - MC Planning Cell - collected data of service and needs for planning.

Reporting -

1. some MN's had never seen a 5266 collection tool.

2. requirements and processes often changed. Spent too much time educating instead of service delivery.

These issues led to staff morale problems and many staff relations issues.

SH - New training not being taken, guidance not being shared. No effort during DRO to share.

Shelter manager leading a team, but first time ever in a shelter, didn't say anything.

SV skills lacking

Turning in numbers in time,

Sign in sheets for volunteers at the site,

Knowing there out processing dates,

Ordering more staff for their site,

Doing job inductions, putting people in there right positions to start off with.

Evaluations

RECOMMENDATIONS:

1. Visiting Staff Orientation - start too late. Have 1 pagers ready with local information, that visiting staff wouldn't know. Include local resources, restaurants, demographics, etc. Examples: NY - how long it takes to go 5 miles (way underestimated). How to get a cab. LA - parishes. NJ - jug handles.

2. Local resource sheets by site (OHQ, Region, Shelter, Kitchen, Emergency Aid Station).

Slow Planning - storm sitting over land. Insufficient staff pre-landfall.

Direct Deployment- communication issues, staff deployed where not needed and not with right skills.

Structure/T.O. - too many people making decisions.

Kitchen support - Push packages not properly equipped. Lack of qualified staff on kitchen site.

Staff Relations - leadership spent up to 50% of their day on staff relations issues for many days.

Gov't - ARC is not directed by government - we are directed by our fundamental principles. Not a simple solution. Not acceptable that a state won't open shelters because "don't want the neighboring state/county/parish in them". Have to get smarter and client focused when it comes to government.

EAS - would have been first choice in service delivery, but didn't have the appropriate support staff (HS, DMH) or vehicles, couldn't get signage, tents, etc.

Hot Shots - This was a cluster because of multiple requests coming from many directions and slowing down the scaling up process, in addition to detracting from efficient tactical operations.

RECOMMENDATION:

Standardized way to track requests - prioritize/verify, assign them so 6 people are spinning their wheels and getting 6 different resolutions, close the loop on outcomes.

Slow scaling up - Delayed decisions by State and Feeding Lead, (Salvation Army) on feeding responsibilities and location for ARC kitchens. Took too many days to setup kitchens with needed equipment, supplies, vehicles, staff, fuel, etc.

Emergency items - fuel, propane, water ...

Untraditional - high rises.

Tolls - Insufficient support from government, (NHQs) when waiver for tolls expired.

SOCIAL MEDIA - tracking spreadsheet from NHQ pushed to ground, closing loop. For better (fundraising) and worse (directing service delivery), social media is here to stay. We need to create systems that integrate social media during response.

Food banks - extending our ability to feed with longer term solutions.

Neighborhood - developed late, but helped us have a one stop shop for information so we could hound the DRO less.

Pets

Co-located shelters were run well.

First time distributing pet food through mobile BD on large scale.

Mentoring program, NY - incorporating local leadership into DRO leadership through KSA assessments and development interests.
During Isaac, Red Cross supervisors ordered dozens of trucks usually deployed to deliver aid to be driven around nearly empty instead, "just to be seen," one of the drivers, Jim Dunham, recalls.
"We were sent way down on the Gulf with nothing to give," Dunham says. The Red Cross' relief effort was "worse than the storm."
During Sandy, emergency vehicles were taken away from relief work and assigned to serve as backdrops for press conferences, angering disaster responders on the ground.
After both storms, the charity's problems left some victims in dire circumstances or vulnerable to harm, the organization's internal assessments acknowledge. Handicapped victims "slept in their wheelchairs for days" because the charity had not secured proper cots. In one shelter, sex offenders were "all over including playing in children's area" because Red Cross staff "didn't know/follow procedures."
According to interviews and documents, the Red Cross lacked basic supplies like food, blankets and batteries to distribute to victims in the days just after the storms. Sometimes, even when supplies were plentiful, they went to waste. In one case, the Red Cross had to throw out tens of thousands of meals because it couldn't find the people who needed them.
The Red Cross marshalled an army of volunteers, but many were misdirected by the charity's managers. Some were ordered to stay in Tampa long after it became clear that Isaac would bypass the city. After Sandy, volunteers wandered the streets of New York in search of stricken neighborhoods, lost because they had not been given GPS equipment to guide them.
The problems stand in stark contrast to the Red Cross' standing in the realm of disaster relief. President Obama, who is the charity's honorary chairman, vouched for the group after Sandy, telling Americans to donate. "The Red Cross knows what they're doing," he said.
Two weeks after Sandy hit, Red Cross Chief Executive Gail McGovern declared that the group's relief efforts had been "near flawless."
The group's self-assessments, drawn together just weeks later, were far less congratulatory.
"Multiple systems failed," say minutes from a closed-door meeting of top officials in December 2012, referring to logistics. "We didn't have the kind of sophistication needed for this size job," noted a Red Cross vice president in the same meeting, the minutes say.
Red Cross officials deny the group had made decisions based on public relations. They defend the Red Cross' performance after Isaac and Sandy.
"While it's impossible to meet every need in the first chaotic hours and days of a disaster, we are proud that we were able to provide millions of people with hot meals, shelter, relief supplies and financial support during the 2012 hurricanes," the charity wrote in a statement to ProPublica and NPR.