4 Cancer Charities are Accused of Fraud, by Rebecca R. Ruiz

Posted:
Thu May 21, 2015 5:56 am
4 CANCER CHARITIES ARE ACCUSED OF FRAUD
by Rebecca R. Ruiz
May 19, 2015
NOTICE: THIS WORK MAY BE PROTECTED BY COPYRIGHT
YOU ARE REQUIRED TO READ

THE COPYRIGHT NOTICE AT THIS LINK

BEFORE YOU READ THE FOLLOWING WORK, THAT IS AVAILABLE SOLELY FOR PRIVATE STUDY, SCHOLARSHIP OR RESEARCH PURSUANT TO 17 U.S.C. SECTION 107 AND 108. IN THE EVENT THAT THE LIBRARY DETERMINES THAT UNLAWFUL COPYING OF THIS WORK HAS OCCURRED, THE LIBRARY HAS THE RIGHT TO BLOCK THE I.P. ADDRESS AT WHICH THE UNLAWFUL COPYING APPEARED TO HAVE OCCURRED. THANK YOU FOR RESPECTING THE RIGHTS OF COPYRIGHT OWNERS.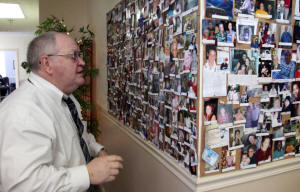 James T. Reynolds Sr., president of the Cancer Fund of America, is accused of misusing funds collected for cancer patients.
ADAM BRIMER / KNOXVILLE NEWS SENTINEL, VIA ASSOCIATED PRESS
There were subscriptions to dating websites, meals at Hooters and purchases at Victoria's Secret — not to mention jet ski joy rides and couples' cruises to the Caribbean.
All of it was paid for with the nearly $200 million donated to cancer charities, and was enjoyed by the healthy friends and family members of those running the groups, in what government officials said Tuesday was one of the largest charity fraud cases ever.
At the center of the operation was James T. Reynolds Sr., who opened the Cancer Fund of America in 1987. Over the decades, according to a complaint filed by the Federal Trade Commission and regulators from 50 states and the District of Columbia, he expanded the enterprise to four separate groups and was joined by his son, friends and members of his Mormon Church congregation in Knoxville, Tenn.
In its complaint, the F.T.C. called all four of the cancer groups "sham charities," charging the organizations with deceiving donors and misusing millions of dollars in donations, including putting money toward personal expenses like carwashes and college tuition, from 2008 to 2012.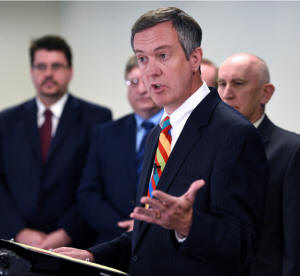 [img]Tre Hargett, the Tennessee secretary of state, announcing a federal suit against several cancer charities on Tuesday.
MICHAEL PATRICK / KNOXVILLE NEWS SENTINEL, VIA ASSOCIATED PRESS[/img]
In soliciting donations, the charities said they spent 100 percent of proceeds on services like hospice care, transporting patients to and from chemotherapy sessions and buying pain medication for children. "These were lies," the complaint said, noting that the charities spent less than 3 percent of donations on cancer patients.
"Some charities use donations to send children with cancer to Disney World," said Mark Hammond, secretary of state for South Carolina, whose office joined the investigation of the groups in 2012. "In this case, the Children's Cancer Fund of America used donations to send themselves to Disney World."
The other charities connected to Mr. Reynolds and named in the suit were Cancer Support Services, Children's Cancer Fund of America and the Breast Cancer Society. According to government officials, the four groups spent the vast majority of the donations they received on fund-raising for more donations, reserving a portion for showering the groups' workers and their friends with large salaries, bonuses and lavish expenses.
The lawsuit also accuses the charities of falsifying financial documents, reporting inflated revenues and overvaluing gift donations like plastic cutlery and Little Debbie snack cakes delivered to cancer patients. Such bookkeeping manipulations may explain how the scheme persisted for years.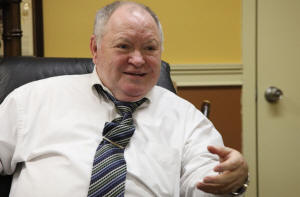 James T. Reynolds Sr. opened the Cancer Fund of America in 1987 and expanded the enterprise to four separate groups.
ADAM BRIMER / KNOXVILLE NEWS SENTINEL, VIA ASSOCIATED PRESS
Sometimes, the government said, those donated goods did not make it to cancer patients at all, and instead were delivered to groups like the Knoxville Firefighters Association or a local youth soccer program.
Mr. Reynolds and his associates did not respond to messages on Tuesday. By the morning, most of the charities' websites had gone dark. But the Breast Cancer Society's page included a note from Mr. Reynolds's son, James T. Reynolds II, the group's executive director.
"Charities — including some of the world's best-known and reputable organizations — are increasingly facing the scrutiny of government regulators," he wrote. "Unfortunately, as our operations expanded — all with the goal of serving more patients — the threat of litigation from our government increased as well."
Two of the charities, the Children's Cancer Fund of America and the Breast Cancer Society, agreed to settle the charges before the complaint was filed on Monday, according to the F.T.C. Those organizations will be dissolved. Litigation will proceed against the two other charities and Mr. Reynolds. His son, who is also named in the complaint, agreed to settle charges and will be banned from fund-raising, charity management and oversight of charitable assets.
The F.T.C. said that it did not expect to recover the full amount of the fraud because the defendants' bank accounts contained insufficient funds. Money paid through settlements will be distributed to the states for donation to legitimate charities, the government said.
Questions have been raised about some of the groups in the past. The Cancer Fund of America placed second on a list of America's worst charities published by The Tampa Bay Times and the Center for Investigative Reporting. (That ranking was based on cash paid to solicitors over a 10-year period.)
Charity Navigator, a rating site, gave two of the organizations a low rating, one out of four stars, for the 2013 fiscal year. And three of the four charities had been named to South Carolina's Scrooge list, which notes charities that spend a lot on fund-raising and comparatively little on charitable programs.
Given the charities' reputations, some questioned why the action announced on Tuesday had taken years.
H. Art Taylor, president and chief executive of the Better Business Bureau's Wise Giving Alliance, said he thought the delay highlighted regulators' need for more resources.
Mr. Taylor added that he thought cancer fund-raising was a favored target for perpetrators of fraud. "If you get a phone call, your response is 'I know someone who had cancer, or I had cancer,' " he said. "Your instinct is to open your wallet."
Still, he said he did not expect the news would adversely affect gift-giving to legitimate organizations.
William Josephson, a retired partner at the law firm of Fried, Frank, said it was important that the F.T.C. waited to take action until all states were on board.
"You need to keep these charities from reincorporating elsewhere," said Mr. Josephson, a former leader of the New York State attorney general's charities bureau, noting that he had seen charities that had been shut down in New York re-establish themselves in New Jersey. "This is a very significant development."
Mr. Hammond of South Carolina said that the revelations were a reminder: "Be vigilant when giving to charity."
Correction: May 19, 2015
An earlier version of this article and its capsule summary misstated the amount of money the charities are accused of putting toward personal expenses. It is a portion of $187 million in donations, not the entire $187 million.