Meditation in Association with Psychosis
by Tinnakorn Chan-Ob, M.D.* and Vudhichai Boonyanaruthee, M.D.*
Journal of the Medical Association of Thailand
October 1999  
NOTICE: THIS WORK MAY BE PROTECTED BY COPYRIGHT
YOU ARE REQUIRED TO READ

THE COPYRIGHT NOTICE AT THIS LINK

BEFORE YOU READ THE FOLLOWING WORK, THAT IS AVAILABLE SOLELY FOR PRIVATE STUDY, SCHOLARSHIP OR RESEARCH PURSUANT TO 17 U.S.C. SECTION 107 AND 108. IN THE EVENT THAT THE LIBRARY DETERMINES THAT UNLAWFUL COPYING OF THIS WORK HAS OCCURRED, THE LIBRARY HAS THE RIGHT TO BLOCK THE I.P. ADDRESS AT WHICH THE UNLAWFUL COPYING APPEARED TO HAVE OCCURRED. THANK YOU FOR RESPECTING THE RIGHTS OF COPYRIGHT OWNERS.
Abstract
This study analysed the correlation between contemplation and psychosis from three cases of patients presenting psychotic symptoms subsequent to practising meditation. Sleep loss following a wrong doing in meditation was found to be the main cause in the first two cases, and drug withdrawal was found to be the principal factor in causing a psychotic eruption in the third case. In this last case, sleep deprivation subsequent to meditation was only a minor influence.
Discussion regarding the correlation between meditation and psychosis is presented in this study
Key word Meditation, Psychosis, Sleep Deprivation
Buddhism has been the national religion in Thailand for a long time. From children to the elderly, meditation, a kind of Buddhist practice has been very popular among Thai people for hundreds of years. It is divided into two types: mindfulness (Vipassana) and concentration.
Meditation, a fundamental and imperative practice for attaining its goal: nirvana, has different procedures. Although they are explicitly diverse in method, they cannot be separated naturally in practice. In this context, Vipassana meditation does not affect the alteration of consciousness, but concentration meditation does(1).
Many experiences that occur while meditating such as feelings of mystical encounters, unity, a deeply felt positive mood, and a oneness with individual things(2,3).
The most common psychiatric features are depersonalization and derealization, while the others are panic and anxiety(4). In general, these psychiatric consequences cause few problems to meditators, and up to now, there has been no report on meditation-induced psychosis. However, this study presents 3 cases from the Maharaj Nakorn Chiang Mai Hospital who showed psychotic symptoms while practising meditation. This research studies the possible causes of psychosis in the three meditators.
CASE REPORTS

Case 1
A 25-year-old female student suffering hallucinations was presented to the hospital with hallucination after practising meditation at a renowned temple in Chiang Mai. She had a past history of stress, depression and family problems.
It was suggested that she solve her problems by using a psychological approach because the problem arose from psychological cause. Therefore, she went to the temple and took a meditation course.
The method used in this temple differed from others. It was called "Intensive course", and consisted of 7 days of very tough practice. The meditators were suggested to stick to meditation all the time, eat once a day, sleep as little as possible, 4-5 hours a night.
All meditators received the same approach regardless of their previous state of mind.
The main point of the practice was the awareness of every moment of movement. They were asked to forget other things that came to mind and to focus their full attention on body movement. During the course, the subject in this case felt more tense and worried about what she should do in the meditative practice along with what to do next in her real life. She ate and slept less, and sometimes could not sleep at all. Nevertheless, she continued to practice meditation in the morning. One week later, she began to feel a fear of being persecuted by an unknown origin, and she was then brought to hospital. A mental status examination revealed hallucinations, disorientation to time and place, labile affect, mild loosening of association and very poor insight and judgment. There was no neurological deficit on physical examination, and findings were negative on Electroencephalogram (EEG) and Cranial Computerized Tomography (CCT). The patient's initial diagnosis was "Acute psychosis".
Therapy and follow-up.
The patient was administered a sedative drug that made her fully rested. Haloperidol was prescribed for controlling the psychotic symptom. The patient gradually recovered and was cleared in one week. The final diagnosis was "Brief psychotic disorder".
Case 2
A 35-year-old businessman was distressed about his economic problems. He, therefore, went to a meditation center (the same temple as in case 1) in an effort to calm himself and find an answer to his situation. He found that it was very hard to detach himself from such a big problem. He ruminated about it over and over again, and tried to focus on only one thing, as the teacher had assigned but it, made him feel more distressed. Then he lost his appetite and was unable to sleep. He replaced his insomnia by walking meditation (the meditation practice where the meditator focuses all his attention on his step of walking), which he did all night for 3 consecutive nights. After that, he experienced hallucinations and delusions of grandiose. He believed that he was able to contact God, read peoples' minds and know everything. He developed bizarre behavior, pressure of speech, flight of ideas and absolutely no insight. Finally he was brought to the hospital. The patient was admitted to hospital and investigated for organic causes for his condition. The results of an EEG and a CCT revealed no relevant pathological findings. The patient was diagnosed "Acute psychosis".
Therapy and follow-up.
The patient was given Haloperidol at 15 mg/day. His psychotic symptom subsided two days later and had almost disappeared after one week. The patient was discharged on day 22 fully recovered. The final diagnosis was Bipolar disorder Type I (Manic Psychosis).
Case 3
A 28-year-old woman had a psychic breakdown 2 weeks after practising meditation. The psychiatrist's assessment of her condition stated that she had persecutory hallucinations, and delusions and loosening of association. She was known to have schizophreniform disorder for the last 2 years and was therefore given Haloperidol as an antipsychotic. She took the medicine for 1 month. After being discharged, she discontinued it because of her unwillingness to take any further role as a patient. Then she was lost to follow-up. Later she became involved in a family conflict, which was concurrent with a financial problem. These problems forced her to become troubled. When she discovered that no one could help her, she thought of meditation as a solution and went to the same temple as the first two cases. She practised meditation for 10 days, and when she began to have severe psychotic symptoms, she was admitted to hospital. The patient was diagnosed with Schizophrenia.
Therapy and follow-up.
The patient received Trifluoperazine at 15 mg/day, an antipsychotic drug previously administered to her. Her psychotic symptoms subsided after seven days. The patient was discharged 1 month later when she had clinically improved.
DISCUSSION
All three cases presented with the same symptom (psychosis), which precipitated their psychological problems. It raises the issue of whether meditation can induce psychosis. This study revealed that psychosis was the first diagnosis for the first two cases. In acutely psychotic cases, psychosocial stressors and sleep deprivation are common features, and their response to the antipsychotic drug (Haloperidol) was very good. In the last case, the patient had a history of schizophreniform disorder and sleep deprivation. Therefore, the effect of practising meditation was only a precipitating factor for relapse of the disorder.
Psychosis might not be a sequelae of meditation practice. However, Freud interpreted the "oceanic" meditative experience from meditation as a reaction formation of omnipotence to infantile helplessness(5). Kris viewed meditation as a transitory regressive state that is conducive to the expression of hidden memories, fear, love and anger(6). In addition, meditation is seen as a "libidinal, narcissistic turning of the urge for knowing inwardly. A sort of artificial schizophrenia with a complete withdrawal of libidinal interest of the outside world(7)". However, that was their opinion with no evidence to support it, especially the regression to psychosis. This view is also in contrast to the Lord Buddha's teaching about meditation. Allison described that the adaptive regressive states have been differentiated from pathological regressive states by virtue of their transitory and quickly reversible nature, and their ability to increase self esteem(8). However, there is no evidence of a long meditative state that produces a regressive thought or behavior whether during meditation or post meditation. The history of the three patients as described, showed that practising meditation caused them to suffer sleep deprivation, and a tendency to sleep disruption.
In the first case, the practice was too strict, and extreme, and might be regarded as a malpractice: not in a middle way, and it caused evident sleep loss before psychosis erupted.
This study might cite several papers published on the relationship between sleep deprivation and psychosis, which explain that sleep deprivation can precipitate transient psychosis or manic symptoms as described by Wright(9). Also Tyler described psychotic symptoms after total sleep deprivation as being more like paranoid or schizophrenic-like illnesses and others have supported this(10-14). In this sense, given psychosis may be like the state of delirium concerning its course and clinical picture (case 1), and Bipolar disorder (case 2), which has a causal relationship to sleep loss as explained by Wehr et al. (15-18). In the last case, psychosis developed after a relapse caused by the lack of drugs. Sleep loss facilitated by practising meditation was only a minor precipitating factor. This finding was similar to the reports of others(19,20).
As Lord Buddha's teaching is pertinent to meditation: meditation, regardless of kinds or schools, has never produced psychotic symptoms provided it is practised in the right way. It can induce a euphoric state, calm, and wise thoughts. The deeper, the better. The deeper, the wiser. As the Buddha said, "The mind attaching to higher stages of concentration is ready for all kinds of work(1)." Hence, two possible factors that may be considered when talking of meditation and psychosis are:
1. sleep deprivation that is facilitated by meditative malpractice: one strict rule of meditation is "Do not torture your body while practising meditation. Be concerned about your mind, not things about your body (including your brain)."
Meditators who can often make good this rule and are likely to satisfy the euphoric state (Piti: in Upacara samadhi) or calmness and unity (Jhana: Attainment concentration) they are encountering. However, meditators may not take enough time for rest or sleep through ignorance or misunderstanding. Some keep practising all day and night. Such a practice probably induces sleep loss followed shortly by psychosis or delirium.
Three levels of concentration: I. Momentary concentration (Khanika-samadhi) usually happens in daily life without training. 2. Access concentration (Upacara-samadhi) -- A more sustained concentration, usually induced by practising meditation, but sometimes occurs accidentally. In this stage, the feeling of euphoria and strange experiences can occur such as seeing various kinds of pictures and an alteration of bodily sensation. However, all this disappears when meditation is discontinued. 3. Attainment concentration (Appana - samadhi, Jhana) -- A deep, higher level- concentration, divided into 4 sublevels (Jhana 1-4). The final sublevel gives meditators no response to their environment, including their body sensation, but they are in a happy mood(21).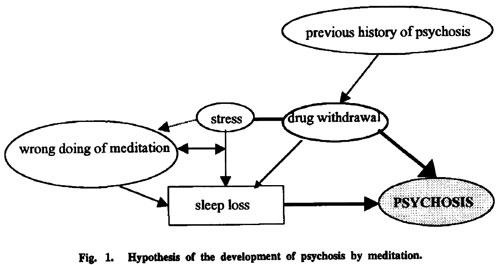 Fig. 1. Hypothesis of the development of psychosis by meditation.
2. Meditator's fear "Nimitta" -- a natural phenomenon in Access or higher level concentration(1). Nimitta in Access concentration is "visualized image [controllable, conceptualized image which appears in Attainment concentration (Jhana)]" presented by various kinds of uncontrollable pictures such as the full moon, animals, a beast, ugly or beautiful things and even God, which comes mostly in concentration meditation. Some meditators see terrible pictures that make them so scared they possibly lose their mind. Should this event actually occur, then meditators can confide in their practitioners. Meditation can be controlled by the meditators and they can abolish Nimitta whenever they want to in order to prevent frightening or unwanted consequences.
The above diagram shows the study's hypothesis of psychosis following the practice of meditation in three cases. The more dense lines mean the stronger causal relationship. Psychotropic drug discontinuation caused a flare up of the existent anxiety and frustration (case 3). The patient turned to meditation to mitigate these symptoms. Drug discontinuation also altered sleep. Sleep loss concurrent with drug discontinuation (bold line) was the major cause of developing psychosis in this patient. This model is generally accepted. In the first two cases stress led them to practice meditation (dotted line), but the way they did it was not correct and it caused sleep deprivation.
Wrongly practiced meditation causes more stress. The more stress, the more sleep loss. Sleep deprivation itself can bring about psychosis.
SUMMARY
This study shows three patients presenting psychosis to the hospital after meditation. Their condition was not caused by meditation itself, but sleep deprivation and other factors. The first two cases showed delirium and Bipolar type caused directly by sleep deprivation. The other was exacerbated by sleep deprivation concurrent with lack of drugs.
Those who develop psychosis subsequent to meditation are likely to have had a predisposing factor, and then become frustrated by inability to achieve the desired level of meditation. Whereas, meditators who can attain the desired level of meditation will not suffer from any psychological distress. However, it is very difficult to attain this level of meditation, even for a healthy person.
Meditation rarely produces psychosis providing it is carried out properly under an experienced supervisor and no harm should come to the meditators. A very long history of practising meditation in Thailand has ensured everyone about meditation and whether or not it can produce psychotic symptoms. On the other hand, there have been some reports from Western countries, although they are doubtful, as Epstein and Lieff concluded, "Most reported cases of pathological responses to meditation are by Western practitioners, but no attempts to locate this phenomenon in traditional settings have been reported. Thus, there are many gaps in our understanding ... "(22).
The authors warn that psychosis relating to meditation possesses other factors besides meditation itself. In addition, meditation should not be forbidden for a patient who needs to do it, but good guidance and supervision is necessary. Meditation, can be of very great benefit for all kinds of meditators, from all walks of life.
_______________
(Received for publication on November 11, 1998)
* Department of Psychiatry, Faculty of Medicine, Chiang Mai University, Chiang Mai 50200, Thailand.
REFERENCES
1. Abhidhamma Pitaka. Tripitaka (Thai Buddhist canon). 4th ed. Department of religious, Ministry of Education, Kamsassana printing. Bangkok 1982.
2. Stace W. Mysticism and philosophy. London, JB Lippincott, 1960.
3. Davidson JM. The physiological of meditation and mystical state of consciousness. Perspect Bioi Med 1976; 19:345-80.
4. Castillo-RJ. Depersonalization and meditation. Psychiatry 1990;53: 158-68.
5. Freud S. Civilization and its discontents (1930), in Complete Psychological Works, Standard ed, vol 21. London, Hogarth Press 1961.
6. Kris E. The psychology of caricature. Int J Psychoanal 1963; 17:285-303.
7. Alexander F. Buddhist training as an artificial catatonia. Psychoanal Rev 1931;18:129-45.
8. Allison J. Adaptive regression and their intense religious experiences. J Nerv Ment Dis 1967; 145: 452-63.
9. Wright JB. Mania following sleep deprivation. Br J Psychiatry 1993;163:679-80.
10. Tyler DB. Psychological changes during experimental sleep deprivation. Disease of the Nervous System 1955;16:295-9.
11. Bliss EL. Review of disorders of sleep in schizophrenia and depression. In: W. Dement, ed. Sleep and Altered Stated of Consciousness. Baltimore: William & Wilkins, 1967: 456-69.
12. West JL, Jenzen HH, Lester BK. Psychosis of sleep deprivation. Annals of the New York Academic of science 1962;96:66-70.
13. Tucker RP. A review of the effects of sleep deprivation. University of Michigan Medical Center Journal 1968;34:161-4.
14. Karanyi EK, Lehman HE. Experimental sleep deprivation in schizophrenic patients. Arch Gen Psychiatry 1960;2:534-8.
15. Wehr TA. Sleep loss as a mediator of diverse causes of mania. Br J Psychiatry 1991 ;159:576-8.
16. Wehr TA. Sleep loss: A preventive cause of mania and other excited states. J Clin Psychiatry 1989: 50 (12,Suppl):8-16.
17. Wehr TA, Sack DA, Rosenthal NE. Sleep reduction as a final common pathway in the genesis. Am J Psychiatry 1987;144:201-3.
18. Wehr TA, Goodwin FK, Wirz-Justice A, et al. 48-hour sleep wake cycles in manic-depressive illness: Natural observations and sleep deprivation experiments. Arch Gen Psychiatry 1982;39:559- 65.
19. Garcia Trujillo R, Monterrey AL, Gonzalez de Rivera JL. Meditacion y psicosis. (Meditation and psychosis.) Psiquis Revista de Psiquiatria 1992; 13: 39-43.
20. Walsh R, Roche L. Precipitation of acute psychotic episodes by intensive meditation in individuals with a history of schizophrenia. Am J Psychiatry 1980; 137:663-73.
21. Phra Devathi. Dictionary of Buddhism. 8th ed, Mahachulalongkom Royal College. Thaphrachan, Bangkok, 1995. 
22. Epstein MD, Lieff JD. Psychiatric complications of meditation practice. J Transpersonal Psychol 1981;13:137-47.