Striking EEG Profiles From Single Episodes of Glossolalia and Transcendental Meditation
by Michael A. Persinger, Laurentian University1
Accepted December 6, 1983.
Perceptual and Motor Skills, 1984, 58, 127-133. © Perceptual and Motor Skills 1984
NOTICE: THIS WORK MAY BE PROTECTED BY COPYRIGHT
YOU ARE REQUIRED TO READ

THE COPYRIGHT NOTICE AT THIS LINK

BEFORE YOU READ THE FOLLOWING WORK, THAT IS AVAILABLE SOLELY FOR PRIVATE STUDY, SCHOLARSHIP OR RESEARCH PURSUANT TO 17 U.S.C. SECTION 107 AND 108. IN THE EVENT THAT THE LIBRARY DETERMINES THAT UNLAWFUL COPYING OF THIS WORK HAS OCCURRED, THE LIBRARY HAS THE RIGHT TO BLOCK THE I.P. ADDRESS AT WHICH THE UNLAWFUL COPYING APPEARED TO HAVE OCCURRED. THANK YOU FOR RESPECTING THE RIGHTS OF COPYRIGHT OWNERS.
Summary
Transient, focal, epileptic-like electrical changes in the temporal lobe, without convulsions, have been hypothesized to be primary correlates of religious experiences.

Given these properties, direct measurement of these phenomena within the laboratory should be rare. However, two illustrated instances have been recorded. The first case involved

the occurrence of a delta-wave-dominant electrical seizure for about 10 sec. from the temporal lobe only of a Transcendental Meditation teacher during a peak experience within a routine TM episode.

The second case involved

the occurrence of spikes within the temporal lobe only during protracted intermittent episodes of glossolalia by a member of a pentecostal sect.

Neither subject had any psychiatric history. These observations are

commensurate with the hypothesis that religious experiences are natural correlates of temporal lobe transients that can be detected by routine EEG measures.
Religious experiences have been hypothesized to be associated with temporal lobe transients (Persinger, 1983). These phenomena are defined as brief (a few seconds), focal (deep within the temporal lobe) electrophysiological changes that reflect the conditions associated with the experience.
Trigger stimuli, events that can precipitate temporal lobe transients (TLTs), include the chemistry of personal crisis (corticosteroid elevations), fatigue, hypoxia, hypoglycemia and psychotropic drugs
that preferentially affect temporal lobe structures. Predisposing factors influence the potency of the trigger variable. Although most TLTs should occur as deep microseizures, some of them should be expressed occasionally in surface (electroencephalographic) measures.
Because of the focal nature of TLTs, religious experiences should be dominated by the functions associated with this part of the brain.
Intense meaningfulness, focus upon the "sense of self" with respect to the limits of space and time and sudden revelations through "knowing" are dominant symptoms.
Coherence at lower frequencies among temporal lobe structures (especially the hippocampus and amygdala) that have not been correlated since early childhood could allow access to and retrieval of older ontogenetic functions. These transient operations could also recruit infantile body images and reinforcement patterns, such as the expectations of parental surrogates, into the experience.
TLTs could become associated with
discriminative stimuli which could control the occurrences.
This is not unusual for subcortical temporal lobe structures.
Learned controlled electrophysiological changes are typical of kindling phenomena in general
(Gloor, 1972; MacLean, 1970; Pay, 1982). There are several anecdotal cases (Efron, 1957) of electrical seizures that were influenced (apparently) by volitional cues.
The most likely discriminative stimulus would be language, specifically, a particular sequence of words with unique associations (Persinger, Carrey, & Suess, 1980). Nonsense phrases, such as mantras or infantile gibberish, are classic candidates.
The present study reports two cases of TLTs occurring during routine EEG recordings of populations of people claiming to engage in various forms of mystical experiences.
Although the existence of transient and focal changes within EEG profiles in normal human beings is well documented, interpretation of these changes is difficult since behavioral correlates are either not measured or are ignored.
METHODS AND RESULTS
The first case involved a 32-yr.-old Caucasian, brunette female who had been practicing Transcendental Meditation (TM) for about 10 yr. and had been teaching the technique for an unspecified period; there was no history of psychiatric disorders. Bipolar E4S silver-plated disk electrode arrangements (Kiloh, et al., 1972) along the same horizontal plane over the temporal lobe (approximately T3-T4), occipital lobe (01-02) and frontal lobe (Fpl-Fp2) were secured by EC2 electrode cream and maintained by an adjustable headband. Continuous recordings during the latter 5 min. of standardization and throughout the 30 min. of meditation and postmeditation were completed with a three-channel Model 79 EEG (Grass Instrument; Quincy, MA). The subject sat quietly in a comfortable chair during the entire recording period. Ambient fluorescent illumination ranged between 10 and 50 lux.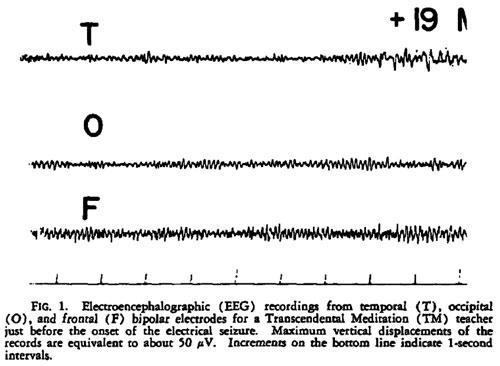 FIG. 1. Electroencephalographic (EEG) recordings from temporal (T), occipital (O) and frontal (F) bipolar electrodes for a Transcendental Meditation (TM) teacher just before the onset of the electrical seizure. Maximum vertical displacements of the records are equivalent to about 50 uV. Increments on the bottom line indicate 1-second intervals.
As can be seen in Fig. 1, typical alpha frequency bursts were generated from all three leads (eyes closed) during the first portion of the experiment. However, after about 19 min. of meditation, clear delta frequencies with an aberrant spike and slow-wave-like profile emerged for about 15 to 20 sec. on the temporal lobe leads only (Fig. 2). No obvious changes occurred in the other leads. The TLT, whose amplitude was about 3X the pre- and postoccurrence activity, was followed by a silent period of a similar duration and then a return to normal amplitude and frequency.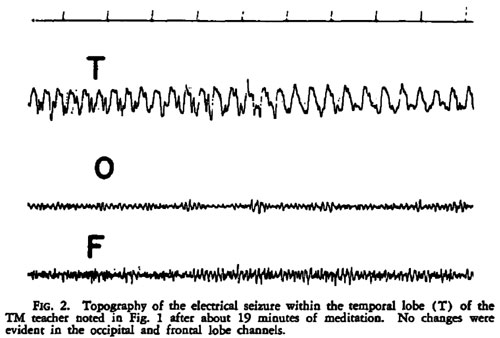 FIG. 2. Topography of the electrical seizure within the temporal lobe (T) of the TM teacher noted in Fig. 1 after about 19 minutes of meditation. No changes were evident in the occipital and frontal lobe channels.
After the subject had completed the meditation sequence, the occipital EEG was dominated by the typical "beta buzz" (associated with higher than normal amplitude beta frequencies) for about 30 sec. When asked about the quality of the episode, she reported that this particular experience was especially meaningful and that she had felt being very close to "the cosmic whole." There had been no evidence of any facial movements (jerks or muscle twitches) or general body alterations during the TLT period.
From a total of 10 TM practitioners monitored during mantra repetition in this laboratory, this subject was the only one to display a TLT during a meditational episode.
None of the other nine reported a "peak experience, although relaxation reports were frequent.
The second subject was a 20-yr.-old blond, Caucasian female who claimed she could speak in tongues (SIT). She was one of only two volunteers who responded to a request to test people who could "speak in the spirit," from local pentecostal groups. The other volunteer, a 23-yr.-old brunette Caucasian female, did not demonstrate any unusual EEG phenomena. Both volunteers were university students.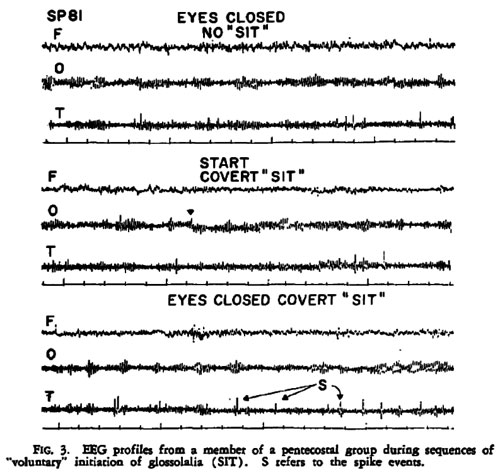 FIG. 3. EEG profiles from a member of a pentecostal group during sequences of "voluntary" initiation of glossolalia (SIT). S refers to the spike events.
The subject was an A student who had been argumentative in several classes about religious topics and had proselytized frequently within the university. Although there was no psychiatric history, she had sought pastoral counseling. Unlike the 23-yr.-old volunteer who had "learned speaking" by watching others in a protestant pentecostal sect,
the subject "had suddenly begun to speak by herself" one day as a young girl. She was Roman Catholic by early training and had recently been attracted, presumably in view of her glossolalia, to a pentecostal group.
During a 2-hr. test period, the subject sat comfortably and was requested to speak in tongues with both free and forced paradigms.
Each "speaking" episode lasted about 5 to 10 min.
and was followed by a 1- to 5-min. rest period. Since these episodes were reported to have both an "overt" and "covert" component, that is, vocal or non-vocal, these operations in conjunction with eyes-open and eyes-closed instructions were instituted as well. Bipolar electrode arrangements were attached to the same basic areas in the temporal, occipital, and frontal regions as reported for the TM subject, although different channels were used to measure the temporal and frontal leads. The entire session was tape recorded.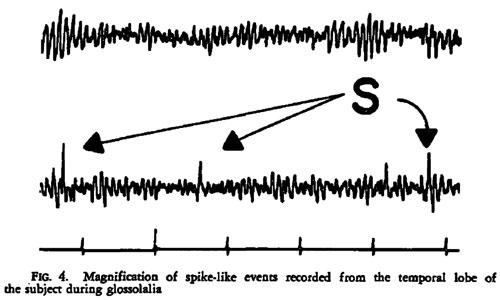 FIG. 4. Magnification of spike-like events recorded from the temporal lobe of the subject during glossolalia
Figs. 3 and 4 are representative of the phenomenon noted.
Spike events began to occur from the temporal lobe electrodes within 20 min. of the recording session following about 10 min. of overt glossolalia Initially, the spike numbers were reduced when the speaking episode was terminated. However, as the session progressed, the spikes began to persist during non-SIT intervals. Neither removal and replacement of electrodes nor alteration of channel leads eliminated the phenomenon which was only recorded from the temporal lobe input.
Heart rate artifacts were not evident. The subject reported that the "closest contact with the Spirit" occurred during the latter periods of the session. These periods were followed by conspicuous increases in the amount of enhanced beta activity ("beta buzz"), for 10 to 15 sec., from the temporal lobe. The effect was enhanced by simultaneously terminating the speaking episode and opening the eyes.
Close attention by a second experimenter indicated that
the subject did not display any obvious facial transients or stereotyped body movements with the exception of subtle alterations in the right foot during the "covert" periods of glossolalia. This movement was regular, synchronous and similar to "foottapping" associated with musical stimuli.
Inspection of the tape by two independent witnesses identified three to four distinguishable sounds that comprised the bulk of the glossolalic material. There was no apparent change in the distribution of these sounds over the session.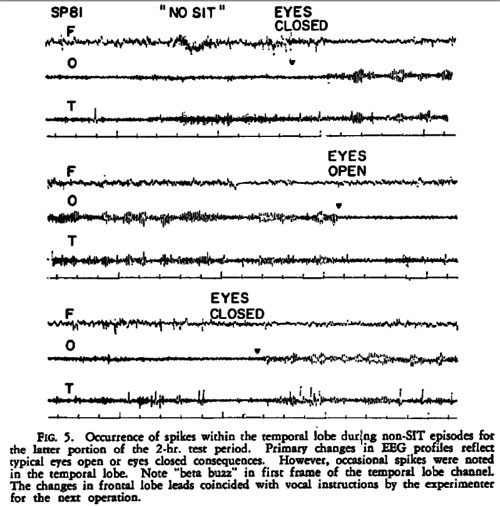 FIG. 5. Occurrence of spikes within the temporal lobe during non-SIT episodes for the latter portion of the 2-hr. test period. Primary changes in EEG profiles reflect typical eyes open or eyes closed consequences. However, occasional spikes were noted in the temporal lobe. Note "beta buzz" in first frame of the temporal lobe channel. The changes in frontal lobe leads coincided with vocal instructions by the experimenter for the next operation.
DISCUSSION
The delta wave and spike burst associated with the TM episode and the spike-like activity associated with glossolalia can be considered candidate TLTs. They were very brief displays that were not transcencephalic. Since the electrode arrangement involved bipolar, bilateral comparisons, there is a strong possibility that these events were localized within only one hemisphere. Both cases are commensurate with the hypothesis that TLTs, without motoric concomitants, are a portion of the electroencephalic continuum that are correlates of religious experiences.
The validity of religious experiences, if TLTs are clearly demonstrated to be persistent correlates, may involve different methodologies. From a neuropsychological perspective, these events may be considered self-limiting and perhaps even learned microseizures within the reward centers of the human brain. There is no doubt, based upon both facial expression and verbal reports, that the two episodes reported here were paired with significant and meaningful personal experiences. They were explained with religious significance.
Over the last 10 years, about 50 people, with no detectable epileptic or psychiatric history, claiming various forms of mystical states (from out-of-body experiences to "spiritual communion") have been measured in this laboratory. These two cases are the most specific TLT displays from only four possible candidates. Most "altered states," within the limits of our recordings, have been associated with enhanced bouts of alpha activity or normal alpha trains or spindles (even with the eyes open). According to the hypothesis (Persinger, 1983), most of the TLTs that are associated with religious experiences should remain within deep subcortical structures. Occasionally, a few, especially those that have been leaned or have been brought under cortical control, should be evident even with surface (electroencephalographic) measures.
_______________
Notes:
1 Neuroscience Laboratory, Department of Psychology, Laurentian University, Sudbuq, Ontario, Canada P3E 2C6.
REFERENCES
EFRON, R. The conditioned inhibition of uncinate fits. Brain, 1957, 80, 251-257.
GLOOR, P. Temporal lobe epilepsy: its possible contribution to the understanding of the functional significance of the amygdala and of its interaction with neocortical-temporal mechanisms. In B. E. Eleftheriou (Ed.), The neurobiology of the amygdala. New York: Plenum, 1972. Pp. 423-457.
KILOH, L. G., MCCOMAS, A. J., & OSSELTON J. W. Clinical electroencephalography. (3rd ed.) London: Butterworths, 1972.
MACLEAN, P. D. The limbic brain in relation to the psychoses. In P. Black (Ed.), Physiological correlates of emotion. New York: Academic Press, 1970. Pp. 129-146.
PAY, R. G. Behavioral steering in dual and social states of conation by the amygdala, hypothalamus, ventrial striatum and thalamus. International Journal of Neuroscience, 1982, 16, 1-40.
PERSINGER M. A. Religious and mystical experiences as artifacts of temporal lobe function: a general hypothesis. Perceptual and Motor Skills, 1983, 57, 1255- 1262.
PERSINGER M. A., CARREY, N., & SUESS, L. TM and cultmania. Boston, MA: Christopher, 1980.