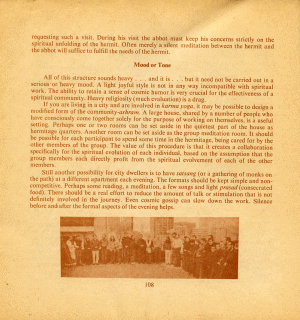 FAMILY SADHANA
The course of family sadhana in the West in the 1970's is a difficult one to practice. Whereas in the past in both East and West there have been precise models these have been built around a culture and tradition which was supportive of this practice. In Western culture the support system has been destroyed by the industrial revolution and the money economy which has caused the virtual destruction of the family as a spiritual and psychic union by compelling at least one and often both principal members to become money earners. This necessitates daily absence from the home and reliance on day-care centers, nursery schools or regular schools to provide a spiritual foundation which one cannot expect them to provide as they essentially are educating and directing children to become "good members" of the same society which is in essence profane and in extension looking only to continue its existence at the present level of consciousness. Consequently the family is dispersed, its members isolated from each other and effectively only together as an economic and sleeping unit. The family thus has no center to radiate from and no spiritual-psychic support system. It is dead. The outlook is bleak from this vantage point.
However, in the last decade there has been a resurgence of spiritual life brought about by lysergic acid, the bomb, rock 'n' roll, visiting teachers from the East and the incredible vacuum and death that is the rot at the core. And as life will not permit a vacuum, the times they are a-changing.
SO
HOW?
TO BEGIN?
To begin we must begin at the beginning. At the beginning is the spirit. Spirit is a Latin word meaning breath. It's like breathing out and breathing in, NO THING -- yup, no thing. And this no thing is basic for our life. Breathe spirit, this spirit which sustains and maintains, without which we die to this form. This no thing is the foundation upon which all must be based. Life must be dedicated to the spirit alone for as it has been laid out ... seek you first the kingdom of heaven and all else shall be added to you ... so ... with the family sadhana as with all sadhana this is where we begin. The family and all it is thru /by / in extension must be dedicated solely to the spirit.
Next:
An earth-real consideration of physical plane realities. Food, shelter, and clothing. An examination in truth of real needs. Not desires, not fantasies, but you know: how many pairs of pants? what kind of food? what type of shelter? how big? who for? where? and then?
HOW NOW
Can you afford to take a cut? Can you afford not to? Can you and will you let go of all the things and values and trips that you have gotten caught in? If you can adapt your present means of livelihood to your spiritual work then you're cool. (See section on "Money and Right Livelihood.") If you can't then you'll probably have to make a radical change in your life. Try getting into subsistence economy. Just making it. Not too much not too little but just enough to make it.
Buy an old farm (there're lots -- cheap) or set up a craft scene.
Use the system to teach yourself how to operate these well and efficiently. Keep it all together. Run a good ship. This is our second base. Apply consciousness clearly. Understand values. Don't be afraid to make mistakes but don't court disaster.
Why a farm, why a small craft scene? Just this. The family can "be" together.
There are functions in these situations for all the members from the children to the adults. The work is clear and definite. Jesus was a carpenter. Ghandi spun. This daily concern with the vehicle of sustenance on the gross plane must be clear, straight and simple. As work / time / space is shared (based all ways on the spirit) a family grows together. Here exists mutuality, trust, openness, a psychic organism develops -- this is what a family is. The possibilities on this level are endless: farm, crafts, natural food store, general store, restaurant, creamery, small paper, bookstore. Drop into reality.
Now we have an environment and a basis for practice.
First turn the environment into a shrine, a temple. If the family is primarily bhakti, plaster the walls with holy pictures, light incense, radiate love; if it's Christian make it a home for Christ; if it's more austere, moving toward Zen, reflect nothingness. Whatever your trip make the whole environment support it.
Next set up a clear movement thru time. Rise daily at the same time, meditate together, pray together, offer all actions to the spirit, offer all food to the spirit, cook in love for love, keep the home clean, calm and clear so if Lord Buddha walked in he'd feel right at home. Maintain the body as a temple, clean it, feed it, take good care of it, have compassion for it; love it. The discipline of a daily schedule is a drag at first, after a while you will feel the results. It all runs on automatic. Don't think. Fill your whole mind with the spirit. BE! And in being together in the spirit be in love together. It's all making love. Make love in beauty, in joy, in seeing each other in truth, choose your marriage model. The Sun and the Moon, Heaven and Earth, Yab-Yum, Shiva-Shakti, Siva and Parvati, the Eternal Companions, the Alchemical Marriage, Mohammed and his Wives, Adam and Eve, Christ and his Bride.
Let the man worship woman as God, the Holy Mother, the Divine Shakti, the Mana, the Food of Life, the Sustainer of Being, Isis, Astarte, the Good Earth, Terrible Kali, and Herself -- All Of It. She is all of it.

Let the woman worship man as God, the Son, the Sun, the Father, the Lite of Her Life, the Creator, the Provider, as Jesus, as Ram, as Shiva, as Krishna, as all of them and Himself.

Surrender and die to one another. Become one. The glorious Mystic Rose in the garden of the Heavenly Father. Permeate the universe, fill it, become it for this is the union beyond duality.

O Holy Family
This is the seat of the practice.
And as the children who are the fruit of the union appear, see them as divine avatars, holy beings who have come recently from our true HOME to teach. Nourish and feed them as they feed you. Listen for their tone, see their ray so as to help them fulfill their spiritual destiny, provide a matrix for their consciousness. Great care must be taken to guide the entity on this plane. Choose carefully the initial impressions which they will be registering as you would the food they eat. They are the hope and destiny of the universe. Respect and honor them. Guide them clearly. Keep the home calm and free of chaotic inputs. Let love burn in all the lamps. Thru all of this face and cope out the difficulties.
For the woman there will be the heavy pull of the earth element.
The children will feel any psychic withdrawal on her part. She must find a place a little removed for deep meditation. When they wake up during meditation explain clearly what you are doing. Read them holy stories to acquaint them with spirit life so that they may remember. Keep your practice regular and the children will stay in tune. Don't trip too far too fast or psychic disequilibrium will upset months of work. Do not sacrifice relationships with the children for what you may think is spiritual necessity. The whole thing is sadhana. Chant mantras together. The first word of one infant here was Allah (God). Children really love bhajan. They go around singing Bhaja Shri Krishna Chaitanya or Om Sri Ram Jai Ram Jai Jai Ram. Bring them in. Sing together.
For men it's most often astral tripping. Far out trips in far out worlds that get so far out they become disconnected and then have to find someone to understand and then its Drama Drama Drama instead of Rama Rama Rama. Men struggle with death and rebirth and fear it's a tough trip alone and being together makes it both easier and harder.
The key to it all is absolute and total surrender to the spirit.
With this it is all possible.
The real difficulty in family sadhana seems to be in the maintenance over a long period of time of the discipline. In most other sadhana there is either overt or covert reliance on a sangha. In any given area there are just not that many people who will gravitate towards family sadhana. Most people are on their own spiritual paths. While it is true that these people constitute a sangha of sorts the uniqueness of family sadhana makes it difficult to tie all of this together. A very good alternative is to join together with others and form a spiritual community. That is, a community constituted solely for spiritual purposes. We who are writing this chapter have done this. The results seem rewarding (see the chapter "Setting: The Spiritual Community"). We have been involved, at Lama over a four-year period in practicing family sadhana in the context of spiritual community and the practice is flowering, deepening and continuing.
By comparison many couples who were similarly involved but chose the individual family model have broken or drifted apart to pursue their own paths, lapsed into profane or secular life paths or merely pay a form of lip service to the practice like well-kept churches in nice locations with all the promise latent but devoid of the total and complete submission to the spirit and the effort necessary to maintain it.

In the end this is the nut. It's all or nothing.
Constantly revised schedules to squeeze the Spirit in for 10 or 20 minutes a day won't make it. This is not criticism but observation. The practice is fierce because it is so easy to forget and fall asleep. The families we have seen who are practicing in communal context (using as a vehicle disciplines ranging from Sufi ecstatic practice thru Christian fellowship and Hindu bhakti to deep Soto Zen practice) seem to be getting on with it.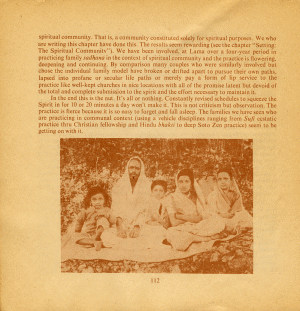 SADHANA IF YOU LIVE ALONE
You naturally have more flexibility and more life time to work on your sadhana when you live alone. You can get up very early in the morning, chant you mantras out loud, light candles, burn incense, ring a bell, or do whatever brings you into the Spirit without disturbing anybody else. If you are fasting, nobody feels disturbed about it, or if you want to eat some special diet which makes you feel light and in the Spirit (but which tastes like a horsehair mattress) you can feast on it whenever you feel hungry.
And then there is the silence. If you prefer to live in a quiet world, free of radio, TV, or records, you can spend a lot of time, if you live alone, in a warm cocoon of silence.
And then there is noise. If you are developing the witness and want to carry on a dramatic monologue to help you remember, you can play the star role aloud:
"He's heading toward the refrigerator now. He's thinking about eating some ice cream. He's decided to do some pranayam instead ..." A running commentary like this helps to keep you in the witness but it doesn't help you fill the role of the ideal roommate.
Although you may have more chance to work on your sadhana when you live alone, you have less chance to practice that most difficult of all paths, karma yoga. In solitude you don't have many demands made upon you, nor do you develop the elasticity which comes with the give-and-take of living with others. If your work is also solitary, you may want to preserve a balance by seeking opportunities to interact with others. You may look for continuing situations where the interaction will be on a deep rather than a superficial, social level, such as teaching at a community center, taking on a group of scouts, etc. Situations which are totally engrossing are most apt to capture you and therefore provide the best practice in keeping your witness an d your center. (Working with others will also enable you to see how losing and regaining your center affects those around you.)
However, if you live alone, you probably spend a large part of your time in solitude. Solitude does not mean that you are really living alone, even if you seem to be living alone. You know that when you shut the door and darken the room and look within that the door is open, the light is on, and "Someone is in your room ... darkness like a dark bird, flies away ... flies away.
The vibration sweeps along, touching with its swift wing the whole universe and the germ that dwelleth in darkness.

--

The Secret Doctrine -- The Synthesis of Science, Religion, and Philosophy, by Helena Petrovna Blavatsky
DYING
You must live before you can die. But you must die before you can live.
Live consciously ! Die consciously !
Gandhi, the Indian Politician-Saint, was assassinated as he walked out of his home by an assassin who fired four bullets directly into his body. In the moment Gandhi fell, he was heard to utter the name, "RAM." The rishis (the men of India who know) say that to die uttering the name of God takes you immediately "beyond the beyond" with no further effort.
[Priest] Listen to his epitaph:

"Here lies Gaius Pompeius Trimalchio. A pious, strong, and faithful patron who came from nothing ... he left 30 million sesterces and never listened to a philosopher. And the same be for you!

[Trimalchio] Act like you're guests at my funeral banquet.

Eat, drink, and remember me. Call the musicians, and have them play something pretty. Farewell ... farewell ... There ...

I'm dead.

-- Satyricon, directed by Federico Fellini
Practice Dying

1. Experience your own death:
Ritual death has been practiced throughout the world for centuries. Many Buddhist meditation exercises are designed to take you through your own death. Christian ascetics experience their death through contemplation for a vision of life sub specie aeternitatis (as Eternal Present). See, for example, St. Ignatius Loyola's recommendations in his Spiritual Exercises.)
Laura Huxley has members of her seminars experience their own death psychologically. For example:
"Have the room comfortably dark or dimly lighted.
Lie down on your bed or sofa or on the floor.
Let your body go. Imagine that the life is out of it. Do not speak or move.
Imagine that you have died: Your body is passive, lifeless, useless. Your body is discarded. Your funeral is about to take place.
Let go of your body. Let it be there as something which is no longer yours. Follow to the limit this feeling of being completely alone, abandoned, not loved -- not in life, not in death. Cry, scream, curse, if this is what you feel. Go to the limit of your feeling. And after you have cried and screamed and cursed, when you are empty and exhausted, stop and listen.
This is your last party. Speak to everyone there, tell them all about yourself, about your mistakes and your suffering, about your love and your longings.
No longer do you need to protect yourself, no longer do you need to hide behind a wall or a suit of armor. It is your last party: you can explode, you can be miserable or pitiful, insignificant or despicable. At your funeral you can be yourself.
This is your chance: do what others have failed to do. Look at the unloved one, the miserable one. This is your chance to do an act of love toward one who has had no love. This is your chance to do justice where intentional or unintentional injustice has been committed. This is your chance to give warmth and courage to one who feels only coldness, loneliness and death.
Let your tears flow from the very depth of you. Let your bitterness flow out with them. And when the bitterness is out, your tears will be gentle and sweet. Then take the hand of this lifeless body of yours, take it in your hands and with respect and love bring it to your lips and kiss it.
Now gently come back to your living body.
With this feeling of respect and love, come back to your living body, and let this feeling remain with you, inside of you. Let it spread to each nerve, to each muscle, along every vein and artery. Let this feeling of respect and love spread inside you, throughout your entire organism, and then let it spread out around you in everything, object or animal or human, that is part of your life. Feel this feeling of love and respect circulating inside you with the force of life itself; let it be in your blood, in the air you breathe. Feel it -- accept it -- give it." (A "recipe" from You are Not the Target, Laura Huxley.)
The Tibetan Book of the Dead is a manual of practices for dying, and being re-born. There have been many ancient manuals for dying, e.g., the Egyptian Book of the Dead. Their purpose is to take a dying person through the various steps in this energy transformation dance called dying.
The psychedelics have been used with these manuals and exercises as sets or programs to experience death / rebirth. (See The Psychedelic Experience.)
Each time we can "let go" -- of goals, of our ego-image compulsions, of controlling, of driving ourselves -- and BE instead of DO, we die (as ego) and are reborn (as Self, as Buddha). Use a signal (the name Ram, a mantra word or phrase, a mandala image) to trigger that death whenever you are aware of your body being up-tight in the shape it's desire-tension holds it in; then feel your breathing distribute itself throughout your body diffusing and lightening it as you die to desire, to ego, and then "not I but He lives in me."
Suicide, we might be reminded here, is a different type of death in which one remains attached to his ego. Rather than liberation it brings perpetual bondage ... which is why it has been condemned at all times by enlightened men.
2. Experience death with someone else:
To be with a person who is dying, to share consciousness with him, and to help him die consciously is one of the most exquisite manifestations of the bodhisattva role. It should be sought out.
A few suggestions for practicing this yoga:
Meditate together or separately, whichever feels right. Meditation helps you remain in the Eternal Present where no-thing is happening ... and it helps you serve lovingly with total involvement and with no attachment.
Don't teach by other than your being. If you remain centered, your calm presence helps to free all those about you who are ready.
Speak the truth as you see it ... but only if asked! Speak nothing untrue.
See in the dying person only that which is eternal. You are merely seeing the Divine Mother doing it again. All forms you see in another person are, after all, but the manifestations of your own desire. A realized being wherever he looks sees no-thing or all things simultaneously, and knows them to be the same.
Read silently or aloud from the words of Those Who Know.
Perhaps one day we will have in this country Centers for dying and for being born ... places located near mountains or the ocean where anyone who wishes might go to be in the presence of conscious beings during these crucial events. There would be healers and helpers as well as guides to assist along the way of any path -- religious-metaphoric, yogic, or psychedelic -- anyone might choose.
We all die in each moment ... and we are all born in each moment ... in truth, whether this death / rebirth is called physical or psychological. We can apply all of the above suggestions ever day and in every interaction with people so as to be aware of this and conscious in it.
"Lightly, my darling, lightly. Even when it comes to dying. Nothing ponderous, or portentious, or emphatic. No rhetoric, no tremelos, no self-conscious persona putting on its celebrated imitation of Christ or Goethe or Little Nell. And, of course, no theology, no metaphysics. Just the fact of dying and the fact of the Clear Light. So throw away all your baggage and go forward. There are quicksands all about you, sucking at your feet, trying to suck you down into fear and self-pity and despair. That's why you must walk so lightly ..."
"The Light," came the hoarse whisper, "the Clear Light. It's here -- along with the pain, in spite of the pain."
"And where are you?"
"Over there, in the corner. I can see myself there. And she can see my body on the bed."
"Brighter," came the barely audible whisper, "brighter." And a smile of happiness intense almost to the point of elation transfigured her face.
Through his tears Dr. Robert smiled back at her. "So now you can let go, my darling." He stroked her gray hair. "Now you can let go. Let go," he insisted. "Let go of this poor old body. You don't need it anymore. Let it fall away from you. Leave it lying there like a pile of worn-out clothes ... Go on, go on into the Light, into the peace, into the living peace of the Clear Light." -- Aldous Huxley, Island.
GLOSSARY
A
ajna - the point between the eyebrows; third eye; sixth of the seven chakras; actually located in the midbrain, related to the thalamus.
akasha - ether; subtlest, all-pervading material manifestation.
asana - comfortable posture; seat; third of the eight parts of yoga.
ashram - monastic retreat, usually directed by a guru.
Atman - Soul-Spirit; individualized Brahman.
avatar - (lit. to come from without) an incarnation of the Supreme Lord in human form, e.g., Christ, Krishna, Rama, Zoroastor, Buddha.
avidya - ignorance.
B
ban marg - the left-handed path.
bardo - the state between death and rebirth.
Bhakti Yoga - the yoga of devotion.
bhajan - singing of holy songs; devotional music
bindu - a lower form of pran.
brahmacharya - (lit. to live in Brahma) sexual continence (a frequent meaning).
Brahman - the absolute one from which all else emanates; Ultimate Reality.
C
chakras - (lit. wheels) psychic energy vortices in the body, associated with the plexuses.
chela - disciple.
chillum - an earthen pipe cylinder used for smoking ganga or chars.
D
Dharma - Universal Law; the Way.
dhyana - meditation; identification with the Divine One.
G
gasho - a bow in reverence to another being with the understanding of the essential Buddha nature in all sentient beings.
gopis - the dancing milkmaids charmed by the cowboy flute player, Lord Krishna.
guru - spiritual guide, or preceptor.
H
Hatha Yoga - (ha-sun; tha-moon) work with the body.
hridayam - spiritual heart.
I
ida - subtle nerve on the left side of the shushumna (the kundalini channel within the spine); the lunar nadi. See pingala.
Ista Devata -- a personal God (Ishvara) who receives prayers and protects the chela on the path
J
japa - repetition of the Name of God, usually with a mala.
Jnana Yoga - the path of knowledge arrived at through reasoning and discrimination.
K
Kargyupa - an ascetic Tibetan Buddhist sect.
karma -- (lit. action) the law of cause and effect; the apparent spread of energy through thoughts, words and deeds
Karma Yoga - realization through action; selfless service (Sat Sewa).
kinhin - walking meditation practiced in Zen Buddhism.
kirtan - repetition in song of the Names of God.
koan - meditation exercise in question or paradox form used in Rinzai Zen practice.
kundalini - energy channeled from the base of the spine; aroused like a serpent by various yoga exercises to light the chakra lamps of consciousness.
L
Love - say the Word and you will be FREE; we do not HAVE love when we ARE love.
lama - teacher
M
Mahamudra - the union union of opposites; the Middle Path; the Great Gesture; the Great Symbol.
Mayana - the Great Vehicle or High Way of northern Buddhism, Tibetan, Chinese and Japanese.
maithuna - the practice of yab-yum (sexual intercourse in which the woman sits astride the man facing him).
mala - a string of 108 beads and a guru (Meru) bead, used for japa; rosary.
mandala - (lit. a circle) a geometric and psychometric arrangement of lines, forms and colors. used as a vehicle for meditation.
mantra - words, syllables or phrases manifested to effect psychic states by sounding the chakras.
maya - the phenomenal world.
Meru - the mountain in the Center.
mouni - a sadhu who uses silence as an upaya.
moxa - liberation.
mudra - a gesture of the fingers or hands or limbs, used to affect prana.
muhlbandh - the closing of the anal sphincter.
N
Nad Yoga - the yoga of inner sound (from nadi, nerve channel).
nadi - nerve channel.
nirvakalpa samadhi - the highest superconscious, formless state, in which there is no distinction between subject and object.
nirvana - at-one-ment with the all and everything, the everything and no-thing; beyond karma.
Nyingmapa - a Tantric Tibetan Buddhist sect which does not require its members to be monks.
O
ojas - the highest form of pran.
OM(AUM) - the sum total of all energy; the first cause; all-pervading sound.
P
padmasan - the full lotus asana in which the legs are crossed and the feet rest on the thighs.
pandit - a learned man.
pingala - subtle nerve channel on the right side; solar nadi. See ida.
prajna - supreme intuitive wisdom.
pran(a) - life energy.
pranayama - control of prana through control of breathing.
prasad - consecrated food.
R
Ram(a) - solar avatar incarnated in Satya Yuga.
Rimpoche - (lit. Precious One) title accorded high lamas and tulkus.
roshi - a zen guide.
S
sadhak - a spiritual aspirant doing sadhana.
sadhana - a spiritual way, work, or exercise.
sadhu - a full-time worker; a holy man.
samadhi - oneness of mind; undistracted union of subject and object.
samsara - the repetitious cycle of birth-death-rebirth.
sanyasi - a renunciate; a mendicant monk in achre robe.
Sat Chit Ananda - complete Being-Knowledge-Bliss; our true nature; reality.
Satipatthana Vipassana - application of mindfulness.
Satsang (Sangha) - communion or community of Workers on the Way. (Sat Guru - Sat Sang - Sat Seva: pure guide - pure companion - pure service)
Sattvic - pure.
Satya Yuga - the Golden Age of Truth-Purity.
siddhi - occult (hidden) power
Siva - the dancing destroyer (of ego); e.g., incarnated as Shankara, Bhagavan Ramana Maharishi.
T
Tao - the way and The Way.
Tantra Yoga - the yoga of using the senses to go beyond the senses; often called the Rapid Path.
tapasya - austerity; penance; purification by fire.
tratak - the discipline of gazing at and "grokking" a seed object such as a candle flame, a flower, the Sun.
U
udyanahandh - closing of the upper intestinal door.
upaya - method.
V
vairag - the failing away of worldly desires.
Vajrayana - the Adamantine Way.
Vichara Atma - "Who Am I?'
Vishnu - the Preserver; incarnated as Rama, Krishna, Buddha, Jesus.
Y
yoga - a yoke; union; making straight the Path through which God realizes Himself.
Z
zazen - being in the natural state; ceasing conceptual activity.
zendo - the place where zazen is practiced.