THE AGES OF GAIA: A BIOGRAPHY OF OUR LIVING EARTH
by James Lovelock
©1988 by The Commonwealth Fund Book Program of Memorial Sloan-Kettering Cancer Center
Jacket design by Kevin O'Neill
NOTICE: THIS WORK MAY BE PROTECTED BY COPYRIGHT
YOU ARE REQUIRED TO READ

THE COPYRIGHT NOTICE AT THIS LINK

BEFORE YOU READ THE FOLLOWING WORK, THAT IS AVAILABLE SOLELY FOR PRIVATE STUDY, SCHOLARSHIP OR RESEARCH PURSUANT TO 17 U.S.C. SECTION 107 AND 108. IN THE EVENT THAT THE LIBRARY DETERMINES THAT UNLAWFUL COPYING OF THIS WORK HAS OCCURRED, THE LIBRARY HAS THE RIGHT TO BLOCK THE I.P. ADDRESS AT WHICH THE UNLAWFUL COPYING APPEARED TO HAVE OCCURRED. THANK YOU FOR RESPECTING THE RIGHTS OF COPYRIGHT OWNERS.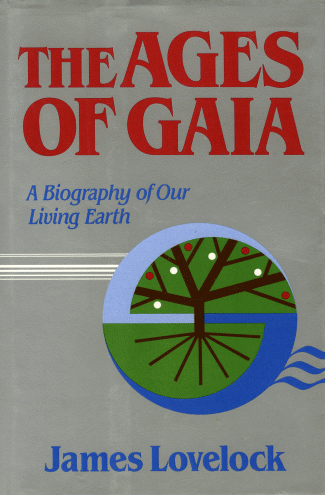 Table of Contents:
• Inside and Back Cover
• Foreword
• Preface
• 1: Introductory
• 2: What is Gaia?
• 3: Exploring Daisyworld
• 4: The Archean
• 5: The Middle Ages
• 6: Modern Times
• 7: Gaia and the Contemporary Environment
• 8: The Second Home
• 9: God and Gaia
• Epilog
• References
• Further Reading
• Index
Geophysiologists do not ignore the depletion of the ozone layer in the stratosphere with its concomitant risk of increased irradiation with short-wave ultraviolet, or the problem of acid rain. These are seen as real and potentially serious hazards but mainly to the people and ecosystems of the First World -- from a Gaian perspective, a region that is clearly expendable. It was buried beneath glaciers, or was icy tundra, only 10,000 years ago. As for what seems to be the greatest concern, nuclear radiation, fearful though it is to individual humans it is to Gaia a minor affair. It may seem to many readers that I am mocking those environmental scientists whose life work is concerned with these threats to human life. This is not my intention. I wish only to speak out for Gaia because there are so few who do, compared with the multitudes who speak for the people.

***

They hate to admit it, but the life scientists, whether the natural historians of the nineteenth century or the biologists of the twentieth, cannot explain what life is in scientific terms. They all know what it is, as we have done since childhood; but in my view no one has yet succeeded in defining life.

***

Life is social. It exists in communities and collectives.

***

"What is the meaning of the books?" I would have seized some of them for experimental tests -- for example, burning them in a calorimeter and measuring, accurately, the heat released.

***

I like to think of entropy as the quantity that expresses the most certain property of our present Universe: its tendency to run down, to burn out. Others see it as the direction of time's arrow, a progression inevitably from birth to death. Far from being something tragic or a cause of sorrow, this universal tendency to decay benefits us. Without the decay of the Universe there could have been no Sun, and without the superabundant consumption of its energy store the Sun could never have provided the light that let us be.

***

But imagine that some cosmic chef takes all the ingredients of the present Earth as atoms, mixes them, and lets them stand. The probability that those atoms would combine into the molecules that make up our living Earth is zero.

***

At the risk of having my membership card of the Friends of the Earth withdrawn, I say that only by pollution do we survive. We animals pollute the air with carbon dioxide, and the vegetation pollutes it with oxygen. The pollution of one is the meat of another.

***

An important general conclusion is that large and unprecedented perturbations imposed by man are likely to be more traumatic for complex ecosystems than for simple ones. This inverts the naive, if well intentioned, view that "complexity begets stability" and its accompanying moral that we should preserve, or even create, complex systems as buffers against man's importunities. I would argue that the complex natural ecosystems currently under siege in the tropics and subtropics are less able to withstand our battering than are the relatively simple temperate and boreal systems. This disclaimer recognizes the stability of complex ecosystems in the real world; but the impression remains that diversity is, in general, a disadvantage and that Nature, by disregarding the elegant mathematics of theoretical biology, has somehow cheated.

***

Perhaps it is a metaphor for our own experience that the family and society do better when firm, but justly applied, rules exist than they do with unrestricted freedom.

***

Daisyworld does not have any clearly established goal like a set point; it just settles down, like a cat, to a comfortable position and resists attempts to dislodge it.

***

It is small wonder that practitioners of the various disciplines imagine that in these imaginary worlds they see glimpses of real world whereas in fact they are lost in the fractal dimensional world of a Mandelbrot set that goes on forever at every level from minus to plus infinity. The delusion is encouraged by professional mathematicians who find similarities between their mathematical theories and the pathologies of the real world, and the numerous modern mathematical scientists whose contemplation of the demons of hyper-space -- the "strange attractors" of chaos -- is much more beguiling than the dull old real world of Nature.

***

It matters little whether Gaia theory is right or wrong; already it is providing a new and more productive view of the Earth and the other planets. Gaia theory provokes a view of the Earth where: 1. Life is a planetary-scale phenomenon. On this scale it is near immortal and has no need to reproduce. 2. There can be no partial occupation of a planet by living organisms. It would be as impermanent as half an animal. The presence of sufficient living organisms on a planet is needed for the regulation of the environment. Where there is incomplete occupation, the ineluctable forces of physical and chemical evolution would soon render it uninhabitable. 3. Our interpretation of Darwin's great vision is altered. Gaia draws attention to the fallibility of the concept of adaptation. It is no longer sufficient to say that "organisms better adapted than others are more likely to leave offspring." It is necessary to add that the growth of an organism affects its physical and chemical environment; the evolution of the species and the evolution of the rocks, therefore, are tightly coupled as a single, indivisible process. 4. Theoretical ecology is enlarged. By taking the species and their physical environment together as a single system, we can, for the first time, build ecological models that are mathematically stable and yet include large numbers of competing species. In these models increased diversity among the species leads to better regulation.

***

We have at last a reason for our instinctive anger over the heedless deletion of species; an answer to those who say it is mere sentimentality. No longer do we have to justify the preservation of the rich variety of species in natural ecosystems, like those of the humid tropical forests, on the feeble humanist grounds that they might, for example, carry plants with drugs that could cure human disease. Gaia theory makes us wonder if they offer much more than this. Through their capacity to evaporate vast volumes of water vapor through the surface of their leaves, trees serve to keep the ecosystems of the humid tropics and the planet cool by providing a sunshade of white reflecting clouds.

***

There is the wartime joke that hides a truth: how the message passed by word of mouth, "Send reinforcements, we are going to advance" mutated into "Send three and four pence, we are going to a dance." If we wish to know life's origins from genetic information we need to be prepared to reconstruct the truth from errors of this kind.

***

We tend to ignore that we oddities, who use combustion as a source of energy, inhabit a nuclear-powered Universe. The power plants, the stars, run for billions of years with utmost reliability. But just as the most dependable systems we design can still have the occasional accident, so some kinds of stars occasionally explode. Fortunately for us, one of them did and gave us the start we needed.

***

We are so used to thinking of radioactivity as artificial that we easily ignore the fact that we ourselves are naturally radioactive. Every minute, in each one of us, a few million potassium atoms undergo radioactive decay.... The element potassium is radioactive but it is also essential for life. If it were removed and replaced by the very similar element, sodium, we should die instantly. Potassium, like uranium and thorium and radium, is a long-lived radioactive nuclear waste of the supernova bomb. When potassium atoms decay, they are transmuted to form atoms of calcium and of the noble gas argon.

***

We can accept as reasonable the view that life started from the molecular chemical equivalent of eddies and whirlpools. The power that drove them was the flux of energy from the Sun and also the free energy of a hot young Earth....

The stepwise evolution from protolife to the first living cell by a process of natural selection does not seem to me so difficult an intellectual pill to swallow....

Again, the mental image of a wind instrument like a flute is helpful in this otherwise confusing topic. Just blowing makes a hiss of unruly dissipating eddies. But when the flutist blows across the port hole of the flute, the eddies are caught and tamed within the solid bounds of its hollow resonant tube to emerge as coherent musical notes.

***

I suspect that the origin of Gaia was separate from the origin of life. Gaia did not awaken until bacteria had already colonized most of the planet. Once awake, planetary life would assiduously and incessantly resist changes that might be adverse and act so to keep the planet fit for life. .

***

The successful evolution of the photosynthesizers could have led to the first environmental crisis on Earth, and I like to think the first evidence of Gaia's awakening.

***

What I would like to propose is a dynamic interaction between the early photosynthesizers, the organisms that processed their products, and the planetary environment. From this there evolved a stable self-regulating system, a system that kept the Earth's temperature constant and comfortable for life.

Before venturing further into this imaginary reconstruction of life with Gaia in the Archean, I must emphasize that it will be no more than a flight of fancy....The point of my model is not to argue for one or other global Archean ecosystem, but rather to illustrate how Gaia theory provides a different set of rules for planet models. The possible climatologies and geologies of a living planet are wholly different from those of a dead planet bearing life as a mere passenger. Having said this, let us continue with our "let's pretend."

***

Like Daisyworld, there is an abrupt change of conditions when life starts. Living organisms grow rapidly until a steady state is reached where growth and decay are in balance. This rapid, almost explosive, tendency to expand to fill an environmental niche acts as an amplifier. The system moves rapidly in positive feedback to approach a balance. Soon stability is achieved and the planet runs on in comfortable homeostasis.

***

But there would have been violent interruptions when planetesimals crashed in from space. There were at least ten of these collisions; each a catastrophe great enough to destroy more than half of all planetary life. They would have changed the physical and chemical environment enough to hazard the remainder of life for hundreds if not thousands of years to follow. It is a tribute to the strength of Gaia that our planetary home was restored so promptly and effectively after these events.

***

That, then, is an account of a few aspects of the Archean seen through Gaia theory. It was a period when the Earth's operating system was populated wholly by bacteria. It was a long period, when the living constituents of Gaia could be truly considered as a single tissue. Bacteria are both mobile and motile, and could have moved around the world carried by winds and ocean currents. They can also readily exchange information, as messages encoded on low-molecular-weight chains of nucleic acids called plasmids. All life on Earth was then linked by a slow but precise communication network. Marshall McLuhan's vision of the "global village," with humans tied in a chattering network of telecommunication, is a re-enactment of this Archean device.

***

The speculations that follow about the regulation of climate, oxygen, salinity and other properties of the environment are in this geophysiological context, in other words, as if they were speculations about the state of a living organism. In no sense is this intended as a teleology, or meant to imply that the biota use foresight or planning in the regulation of the Earth. What we need to think about is how a global regulatory system can develop from the local activity of organisms. It is by no means far-fetched to imagine a single new bacterium evolving with its environment to form a system that can change the Earth.

***

A bizarre consequence of the appearance of oxygen was the advent of the world's first nuclear reactors. Nuclear power from its inception has rarely been described publicly except in hyperbole. The impression has been given that to design and construct a nuclear reactor is a feat unique to physical science and engineering creativity. It is chastening to find that, in the Proterozoic, an unassertive community of modest bacteria built a set of nuclear reactors that ran for millions of years....Bacteria could not have debated the costs and benefits of nuclear power. The fact that the reactors ran so long and that there was more than one of them suggests that replenishment must have occurred and that the radiation and nuclear waste from the reactor was not a deterrent to that ancient bacterial ecosystem. (The distribution of stable fission products around the reactor site is also valuable evidence to suggest that the problems of nuclear waste disposal now are nowhere near so difficult or dangerous as the feverish pronouncements of the antinuclear movement would suggest.)

***

During the Proterozoic, the constant rain of planetesimals continued. As well as numerous smaller ones, there were at least ten that did damage to Gaia comparable in severity to that of a burn affecting 60 percent of the skin area of a human.

***

If we take Gaia to be a living organism, the Phanerozoic can be viewed as the most recent stage in her life, and the one she is still in. This may be easier than considering independently the lives of the billions of organisms from which she is made. Getting to know a friend does not usually require a detailed knowledge of her cellular structure. Similarly, geophysiology, concerned with the whole Earth, need not be too confused by the mass of undecomposed detail that lies, like thick layers of fallen leaves, beneath the branches of the tree of science.

***

My colleagues have made it very clear to me that what follows about oxygen is speculative and often contrary to conventional wisdom. I have included it in spite of their protest because it illustrates a view of the evolution of free oxygen in the light of Gaia theory. Whether it is right or wrong seems to me less important than its value in stimulating new experiments and measurement.

***

We seem to be approaching the end of one of these long stable periods. When life began, the Sun was less luminous and the threat was overcooling. In the middle ages of the Proterozoic, the Sun shone just right for life and little regulation was needed, but now it grows hot and overheating becomes an ever-increasing threat to the biosphere of which we are a part.

***

This vision of a blighted summer's day somehow encapsulates the conflict between the flabby good intentions of the humanist dream and the awful consequences of its near realization....There can be very few who do not in some way add to the never-ceasing demolition of the natural environment. Characteristically, arrogantly, we blame technology rather than ourselves.

***

Those simple bacteria that first used sunlight to make themselves ...

***

Looked at from the time scale of our own brief lives, environmental change must seem haphazard, even malign. From the long Gaian view, the evolution of the environment is characterized by periods of stasis punctuated by abrupt and sudden change. The environment has never been so uncomfortable as to threaten the extinction of life on Earth, but during those abrupt changes the resident species suffered catastrophe whose scale was such as to make a total nuclear war seem, by comparison, as trivial as a summer breeze is to a hurricane. We are ourselves a product of one such catastrophe. Could it be that we are unwittingly precipitating another punctuation that will alter the environment to suit our successors?

***

It is true that, in the case of Gaia, the complaint comes not from the patient but rather from the intelligent fleas that infest her.

***

For humans, a hundred thousand years is almost indistinguishable from infinity; to Gaia, who is about 3.6 eons old, it is equivalent to no more than three of our months. Gaia has cause for concern about the long-term decline of carbon dioxide, but the rise of carbon dioxide from burning fossil fuels is, for her, just a minor perturbation that lasts but an instant of time. She is, in any case, tending to offset the decline....The rate and the extent of the rise of carbon dioxide now under way as a result of our actions is comparable with that of the natural rise that terminated the last ice age. Some time in the next century it seems likely that the increment we add will be equal to that caused by the failure of the pumps some 12,000 years ago. The change of climate we need to think about, therefore, is possibly one as large as that from the last ice age until now; one that would make winter spring, spring summer, and summer always as hot as the hottest summer you can recall.

***

Some wisdom comes from geophysiology, which reminds us that the Earth is an active and responsive system and not just a damp and misty sphere of rock. Systems in homeostasis are forgiving about perturbations, and work to keep the comfortable state. Maybe, if left to herself, Gaia could absorb the excess carbon dioxide and the heat that it brings.

***

Much more serious than the direct and predictable effects of adding carbon dioxide to a stable system are the consequences of disturbing a system that is precariously balanced at the limits of stability. From control theory, and from physiology, we know that the perturbation of a system that is close to instability can lead to oscillations, chaotic change, or failure. Paradoxically, an animal close to death from exposure to cold, whose core temperature is below 25°C, will die if put into a warm bath. The well-intentioned attempt to restore heat succeeds only in warming the skin to the point where its oxygen consumption is greater than the slowly beating, still-cold heart and lungs can supply. In a vicious circle of positive feedback the blood vessels of the skin dilate; this so reduces blood pressure that death comes rapidly from the failure of the heart as a pump to circulate blood that is too depleted in oxygen for the system's needs. A hypothermic animal will recover if left to warm slowly, or if heat is supplied internally as by diathermy.

***

Like our latter-day physician, we find that diagnosis is easier than a cure. We are left with the uneasy feeling that to add carbon dioxide to the Earth now could be as unwise as warming the surface of our hypothetical hypothermic patient. It is not much comfort to know that, if we inadvertently precipitate a punctuation, life will go on in a new stable state. It is a near certainty that the new state will be less favorable for humans than the one we enjoy now.

***

A Case of Acid Indigestion: The greenhouse effect of carbon dioxide is not the only problem to arise from the burning of fossil fuels. In the northern temperate regions of the Earth there is an increased morbidity and mortality of the ecosystems. Trees, and the life in lakes and rivers, are particularly affected. The symptoms seem to be connected with an observed increase in the rate of deposition of acidic substances. Combustion is said to be the cause of acid deposition and of all the harm it does to forest ecosystems. Does geophysiology have any different view on this? It could be said that it is all the fault of oxygen. If those ancient godfathers, the cyanobacteria, had not polluted the Earth with this noxious gas there would be no oxides of nitrogen and of sulfur to trouble the air, and therefore no acid rain.

***

Any detached observer of the heated European or North American debate over acid rain might gather the impression that all acid rain was due to the burning of sulfur-rich fossil fuel in power stations, industrial furnaces, and domestic heating systems....Canada, Scandinavia, Scotland, and many other northern regions are on ancient rocks, the hard, soluble residue of eons of weathering. The ecosystems that survive on this unpromising, and often normally acidic, terrain have less capacity to resist the stress of acidification. It is from the countries of these regions that comes a justifiable complaint that their industrial neighbors are destroying them....

The geophysiological contribution to this debate is to observe that this acid indigestion may have another source in addition to the sulfuric vinegar of neighbors. The fitting of sulfur dioxide removers to the chimneys might only alleviate, not cure, the problem. The neglected source of acid is the natural sulfur carrier, dimethyl sulfide. In the past two years, Meinrat Andreae and Peter Liss (ocean chemists based, respectively, in Florida and the United Kingdom) have shown that the emission of this gas from phytoplankton blooms at the surface of the oceans around western Europe is so large as to be comparable with the total emissions of sulfur from industry in this region.

***

In the late 1960s I developed a simple apparatus able to detect chlorofluorocarbons (CFCs) in the atmosphere down to parts per trillion by volume. This is an exquisite sensitivity; at such levels even the most toxic of chemicals could be breathed in or swallowed without harm, indefinitely.

***

Ozone is a deep blue, explosive, and very poisonous gas. It is strange that so many have regarded it as if it were some beautiful endangered species. But it was the mood of the 1970s to respond to environmental hazards much as previous generations had responded to witchcraft....This was also the time when the word "chemical" became pejorative, and all products of the chemical industry were assumed to be bad unless proved harmless. In a more sensible environment, we might have regarded the predictions of doom in the next century due to a single industrial chemical as far fetched -- something to watch closely, but not something requiring immediate legislation. But the 1970s was not the time for a long, cool look at things.

***

Once again the wisdom of Paracelsus that the poison is the dose was ignored, and in its place the "zero" shibboleth took charge. "There is no safe level of ultraviolet radiation," was the cry. "Ultraviolet, like other carcinogens, should be reduced to zero." In fact, ultraviolet radiation is part of our natural environment, and has been there as long as life itself. It is the nature of living things to be opportunistic. Ultraviolet, although potentially harmful, can also be used by living organisms for the photosynthesis of vitamin D. When it is a threat, it can be avoided by synthesizing such pigments as melanin to absorb it.

***

Exposure to any radiation with a high quantum energy that penetrates the skin can damage the genetic material of our cells and corrupt their program of instructions. Among the adverse effects is the conversion from normal to malignant growth. This is frightening stuff, but we can keep our cool by remembering that these carcinogenic consequences are no different from those of breathing oxygen, which is also a carcinogen. Breathing oxygen may be what sets a limit to the life span of most animals, but not breathing it is even more rapidly lethal. There is a right level of oxygen, namely 21 percent; more or less than this can be harmful. To set a level of zero for oxygen in the interests of preventing cancer would be most unwise.

***

Ozone, they said, prevents the penetration of hard ultraviolet radiation that otherwise would keep the land sterilized and uninhabitable by life. This was a decent scientific hypothesis and a very testable one at that. Indeed it was tested by my colleague Lynn Margulis, who challenged it by showing that photosynthetic algae could survive exposure to ultraviolet radiation equivalent in intensity to that of sunlight unfiltered by the atmosphere. But this did not stop the hypothesis from becoming one of the truly great scientific myths of the century; it is almost certainly untrue, and it survives only because of the apartheid that separates the sciences.

***

The natural energy of the Universe, the power that lights the stars in the sky, is nuclear. Chemical energy, wind, and water wheels: such sources of energy are, from the viewpoint of a manager of the Universe, almost as rare as a coal-burning star. If this is so, and if God's Universe is nuclear-powered, why then are so many of us prepared to march in protest against its use to provide us with electricity?

***

[E]ven water can kill if too much is taken. It is usually assumed that the change in attitude towards radiation came from our revulsion at that first misuse of nuclear energy at Hiroshima and Nagasaki. But it is not that simple. I well remember how the first nuclear power stations were a source of national pride as they quietly delivered their benefice of energy without the vast pollution of the coal burners they replaced. There was a long spell of innocence between the end of the Second World War and the start of the protest movements of the 1960s. So what went wrong?

Nothing really went wrong, it just happens that nuclear radiation, pesticides, and ozone depleters share in common the property that they are easily measured and monitored. The attachment of a number to anything or anyone bestows a significance that previously was missing. Sometimes, as with a telephone number, it is real and valuable. But some observations -- for example, that the atmospheric abundance of perfluoromethyl cyclohexane is 5.6 x 10-15, or that as you read this line of text at least one hundred thousand of the atoms within you will have disintegrated -- while scientifically interesting, neither confer benefit nor have significance for your health. They are of no concern to the public.

***

If this alone were not enough, there are the media, ready to entertain us. They have in the nuclear industry a permanent soap opera that costs them nothing. Why, we can even experience the excitement of a real disaster, like Chernobyl, but in which, as in fiction, only a few heroes died. It is true that calculations have been made of the cancer deaths across Europe that might come from Chernobyl, but if we were consistent, we might wonder also about the cancer deaths from breathing the coal smoke smogs of London and look on a piece of coal with the same fear now reserved for uranium. How different is the fear of death from nuclear accidents from the commonplace and boring death toll of the roads, of cigarette smoking, or of mining -- which when taken together are equivalent to thousands of Chernobyls a day.

***
The foregoing paragraphs are not intended as support for the nuclear industry, nor to imply that I am enamoured of nuclear power. My concern is that the hype about it, both for and against, diverts us from the real and serious problem of living in harmony with ourselves and the rest of the biota....To my ecologist friends, many of whom have been at the sharp end of protest against nuclear power, these views must seem like a betrayal. In fact, I have never regarded nuclear radiation or nuclear power as anything other than a normal and inevitable part of the environment.

***

Let's look at his proposition: "Suppose that the biological effects of exposure to nuclear radiation are no different from those of breathing oxygen."... Or to put it another way, breathing is fifty times more dangerous than the sum total of radiation we normally receive from all sources.

***

[W]e can only guess that tropical forest systems are vital for the world ecology. It may be that they are like the temperate forests that seem to be expendable without serious harm to the system as a whole.

***

We do recognize the needs of the Earth, even if our response time is slow. We can be altruistic and selfish simultaneously in a kind of unconscious enlightened self-interest. We most certainly are not a cancer of the Earth, nor is the Earth some mechanical contraption needing the services of a mechanic.

***

I will remind you that the Gaia hypothesis was a serendipitous discovery, arising directly from the invention of a method of planetary-life detection intended for use on Mars. Nearly twenty years later I found myself speculating on the possibility of changing the physical environment of Mars so that it becomes a self-sustaining living system and a brother to Gaia. ...It came about because of a book called The Greening of Mars, written with my friend Michael Allaby, a fluent writer on environmental topics. He wanted a world on which to act out a new colonial expansion; a place with new environmental challenges and free of the tribal problems of the Earth. I just wanted a model planet on which to play new games with Gaia, or rather Ares, the proper name for Gaia's sibling.

***

To make Mars a fit home for life we shall first have to make the planet comfortable for bacterial life. In the book, we proposed that this impossible and outrageous act, the changing of the environment of a whole planet, could only be done by a slightly disreputable entrepreneur; the type of man about whom it is said, "He never breaks the law but whenever he does something, legislation is needed to stop him from doing it again." People like this are needed to probe the boundaries and to do those things that are forbidden, things that are apparently too costly or are beyond the possibility of achievement by the well-meant but sometimes undesirable caution of the planned enterprise of governmental agencies.

The scenario of The Greening of Mars included therefore a buccaneering character called Argo Brassbottom; later in life, success induced a snobbish gentility that caused him to change his surname to Foxe. He was a dealer in surplus weapons, and had the notion that there must be money to be made from the disposal of the vast accumulation of large, out-of-date ICBMs and other military rocket vehicles. The nuclear warheads could be, and would be, reprocessed as plutonium plowshares or future swords under strict governmental control. But what of the rocket carcasses full of solid propellant? These could not safely be disassembled and reused but they could, without modification, be the key components of a private space program. Brassbottom, through his many contacts in the civil and military services of the West and East, soon found that there would indeed be a reward for disposing of these unwanted rockets. Then he had another bright idea. His main line of business was as an industrial scavenger, a human dung beetle who profited from the disposal of toxic wastes and other noxious products that we prefer not to notice. Why not, he thought, use the rockets to propel the toxic wastes right outside the Earth? Deep space could be a safe dumping place.

***

My thoughts about religion when a child grew from those of my father and the country folk I knew. It was an odd mixture, composed of witches, May trees, and the views expressed by Quakers, in and outside the Sunday school at a Friends' meeting house. Christmas was more of a solstice feast than a Christian one. We were, as a family, well into the present century, yet still amazingly superstitious. So ingrained was my childhood conditioning about the power of the occult that in later life it took a positive act of will to stop touching wood or crossing fingers whenever some hazard was to be faced. Christianity was there not so much as a faith, rather as a set of sensible directions on how to be good.

***

Thinking of the Earth as alive makes it seem, on happy days, in the right places, as if the whole planet were celebrating a sacred ceremony.

***

That is only what I feel about Gaia. What about God? I am too committed to the scientific way of thinking to feel comfortable when enunciating the Creed or the Lord's Prayer in a Christian Church. The insistence of the definition "I believe in God the Father Almighty, Maker of Heaven and Earth" seems to anesthetize the sense of wonder, as if one were committed to a single line of thought by a cosmic legal contract. It seems wrong also to take it merely as a metaphor. But I respect the intuition of those who do believe, and I am moved by the ceremony, the music, and most of all by the glory of the words of the prayer book that to me are the nearest to perfect expression of our language.

***

At a meeting in London recently, a wise man, Dr. Donald Braben, asked me: "Why do you stop with the Earth? Why not consider if the Solar System, the Galaxy, or even the Universe is alive?" My instant answer was that the concept of a living Earth, Gaia, is manageable.

***

Those millions of Christians who make a special place in their hearts for the Virgin Mary possibly respond as I do. The concept of Jahweh as remote, all-powerful, all-seeing is either frightening or unapproachable. Even the sense of presence of a more contemporary God, a still, small voice within, may not be enough for those who need to communicate with someone outside. Mary is close and can be talked to. She is believable and manageable. It could be that the importance of the Virgin Mary in faith is something of this kind, but there may be more to it. What if Mary is another name for Gaia? Then her capacity for virgin birth is no miracle or parthenogenetic aberration, it is a role of Gaia since life began. Immortals do not need to reproduce an image of themselves; it is enough to renew continuously the life that constitutes them. Any living organism a quarter as old as the Universe itself and still full of vigor is as near immortal as we ever need to know. She is of this Universe and, conceivably, a part of God. On Earth she is the source of life everlasting and is alive now; she gave birth to humankind and we are a part of her. This is why, for me, Gaia is a religious as well as a scientific concept, and in both spheres it is manageable.

***

Our humanist concerns about the poor of the inner cities or the Third World, and our near-obscene obsession with death, suffering, and pain as if these were evil in themselves -- these thoughts divert the mind from our gross and excessive domination of the natural world.

***

Individuals interact with Gaia in the cycling of the elements and in the control of the climate, just like a cell does in the body.

***

A frequent misunderstanding of my vision of Gaia is that I champion complacence, that I claim feedback will always protect the environment from any serious harm that humans might do. It is sometimes more crudely put as "Lovelock's Gaia gives industry the green light to pollute at will." The truth is almost diametrically opposite. Gaia, as I see her, is no doting mother tolerant of misdemeanors, nor is she some fragile and delicate damsel in danger from brutal mankind. She is stern and tough, always keeping the world warm and comfortable for those who obey the rules, but ruthless in her destruction of those who transgress. Her unconscious goal is a planet fit for life. If humans stand in the way of this, we shall be eliminated with as little pity as would be shown by the micro-brain of an intercontinental ballistic nuclear missile in full flight to its target.

***

I have tried to show that God and Gaia, theology and science, even physics and biology are not separate but a single way of thought.

***

In no way do I see Gaia as a sentient being, a surrogate God. To me Gaia is alive and part of the ineffable Universe and I am a part of her.

***

Science has its fashions, and one thing guaranteed to stir interest and start a new fashion is the exploration of a pathology. Health is far less interesting than disease....Theoretical ecology, as we have already discussed, is more concerned with sick than with healthy ecosystems. The vagaries of weather are more interesting than the long-term stability of climate. Continuous creation never had a chance in face of the ultimate pathology of the Big Bang.

***

When that great and good man Pope John Paul travels around the world, he, in an act of great humility and respect for the Mother or Father Land, bends down and kisses the airport tarmac. I sometimes imagine him walking those few steps beyond the dead concrete to kiss the living grass; part of our true Mother and of ourselves.

***

As a novice scientist I was interested in things like wild plants, especially the poisonous ones like henbane, aconite, and deadly nightshade.

***

The environmentalists, who should have seen what was happening and protested before it was too late, were much too busy fighting urban battles, or demonstrating outside the nuclear power stations. Their battle, whatever was claimed otherwise, was more against authority, represented by the monolithic electricity supply board, than for saving the countryside. They sometimes noticed poisonous sprays, for they were the products of the hated multinational chemical industries. But few were the friends of the soil who protested the agribusiness farms, or noticed the mechanized army of diggers and cutters working to make the landscape sterile for next year's planting of grain. There is no excuse for their neglect.

***

My vision of a future England would be like Blake's: to build Jerusalem on this green and pleasant land.

***

Left to herself, Gaia will relax again into another long ice age. We forget that the temperate Northern Hemisphere, the home of the rich First World, now enjoys a brief summer between long, long periods of winter that last for a hundred thousand years. Even the nukes would not so devastate the land; nor would a "nuclear winter," if it could happen at all, last long enough to return the land to its normal frozen state.

***

As a metaphor, Gaia emphasizes most the significance of the individual organism. It is always from the action of individuals that powerful local, regional, and global systems evolve. When the activity of an organism favors the environment as well as the organism itself, then its spread will be assisted; eventually the organism and the environmental change associated with it will become global in extent. The reverse is also true, and any species that adversely affects the environment is doomed; but life goes on.

***

Gaia theory arose from a detached, extraterrestrial view of the Earth, too distant to be much concerned with humans. Strangely, the view is not inconsistent with the human values of kindness and compassion; indeed it helps us to reject sentimentality about pain and death, and accept mortality, for us as well as for our species. With such a view in mind, Helen and I wish our eight grandchildren to inherit a healthy planet. In some ways, the worst fate that we can imagine for them is to become immortal through medical science -- to be condemned to live on a geriatric planet, with the unending and overwhelming task of forever keeping it and themselves alive for our kind of life. Death and decay are certain, but they seem a small price to pay for the possession, even briefly, of life as an individual. The second law of thermodynamics points the only way the Universe can run-down, to a heat death.