SENNACHERIB
by Wikipedia
NOTICE: THIS WORK MAY BE PROTECTED BY COPYRIGHT
YOU ARE REQUIRED TO READ

THE COPYRIGHT NOTICE AT THIS LINK

BEFORE YOU READ THE FOLLOWING WORK, THAT IS AVAILABLE SOLELY FOR PRIVATE STUDY, SCHOLARSHIP OR RESEARCH PURSUANT TO 17 U.S.C. SECTION 107 AND 108. IN THE EVENT THAT THE LIBRARY DETERMINES THAT UNLAWFUL COPYING OF THIS WORK HAS OCCURRED, THE LIBRARY HAS THE RIGHT TO BLOCK THE I.P. ADDRESS AT WHICH THE UNLAWFUL COPYING APPEARED TO HAVE OCCURRED. THANK YOU FOR RESPECTING THE RIGHTS OF COPYRIGHT OWNERS.
[All Bible "PROOF" edited out.]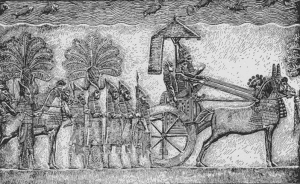 Sennacherib during his Babylonian war, relief from his palace in Nineveh
[Sennacherib (Akkadian Sîn-ahhī-erība ("(Moon god) Sîn has replaced (lost) brothers for me") was the son of Sargon II, whom he succeeded on the throne of Assyria (704 – 681 BC).
Rise to power
As the crown prince, Sennacherib was placed in charge of the Assyrian Empire while his father, Sargon II, was on campaign. Unlike his predecessors, the Sennacherib's reign was not largely marked by military campaigns, but mainly by architectural renovations, constructions, and expansions. After the violent death of his father, Sennacherib encountered numerous problems in establishing his power and faced threats to his domain. However, he was able to overcome these power struggles and ultimately carry out his building projects. During his reign, he moved the empire's capital from his father's newly-constructed city of Dur-Sharrukin to the old city and former capital of Nineveh. It is considered to be striking that Sennacherib not only left his father's city, but also doesn't name him in any official inscription during his reign.
War with Judah

Background
In 701 BC, a rebellion backed by Egypt and Babylonia broke out in Judah, led by King Hezekiah. In response Sennacherib sacked a number of cities in Judah. He laid siege to Jerusalem, but soon returned to Nineveh, with Jerusalem not having been sacked, in order to put down an attempted coup. This event was recorded by Sennacherib himself, and by Herodotus.
Sennacherib's account
Some of the Assyrian chronicles, such as the baked-clay Taylor prism now preserved in the Oriental Institute, Chicago, date from very close to the time. (see also: Military history of the Neo-Assyrian Empire) [1](The Taylor Prism itself bears the date "the month of Tammuz; eponym of Galihu, governor of Hatarikka" which is Tammuz in the year 689 BC, according to the Assyrian Eponym List).
Sennacherib's Prism or Taylor prism is a clay prism inscribed with the annals of the Assyrian king Sennacherib notable for describing his siege of Jerusalem in 701 BC during the reign of king Hezekiah.
Taylor prism

The Taylor Prism, photo by David Castor

Description

The prism contains six paragraphs of cuneiform written Akkadian. It is hexagonal in shape, made of red baked clay, and stands 38.0 cm high by 14.0 cm wide, and was created during the reign of Sennacherib (689 BC).

Significance

It is one of three accounts discovered so far which have been left by Sennacherib of his campaign against the Kingdom of Israel and Kingdom of Judah.

The Taylor Prism proclaims that 46 walled cities and innumerable smaller settlements were conquered by the Assyrians, with 200,150 people, and livestock, being deported, and the conquered territory being dispersed among the three kings of the Philistines instead of being given back.

Additionally, the Prism says that siege resulted in Hezekiah being shut up in Jerusalem like a caged bird, Hezekiah's mercenaries and 'Arabs' deserted him, and Hezekiah eventually bribed Sennacherib, having to give him not only money, jewels, and ivory-inlaid furniture, but also his own daughters, harem, and musicians. It states that Hezekiah became a tributary ruler.

Discovery

The prism comes from Nineveh, which was the ancient capital of the Assyrian Empire under Sennacherib. The prism was discovered by Colonel Taylor in 1830 in the ruins of Sennacherib's palace at Nineveh, now in northern Iraq. It was purchased from Colonel Taylor's widow in 1850 by the British Museum.[5] Another version, now in the Oriental Institute and known as the Sennacherib Prism, was purchased by James Henry Breasted from a Baghdad antiques dealer in 1919 for the Oriental Institute, where it now resides.[6]

The two known complete examples of this inscription are nearly identical, with only minor variants, although the dates on the prisms show that they were written sixteen months apart (the Taylor Prism in 691 BC and the Oriental Institute prism in 689 BC). There are also at least eight other fragmentary prisms preserving parts of this text, all in the British Museum, and most of them containing just a few lines.

The text was translated by Daniel David Luckenbill and the Akkadian text, along with a translation into English, is available in his book: "THE ANNALS OF SENNACHERIB" D.D. Luckenbill 1924, University of Chicago Press.
Assyrian accounts do not treat it as a disaster, but a great victory — they maintain that the siege was so successful that Hezekiah was forced to give a monetary tribute, and the Assyrians left victoriously, without losses of thousands of men, and without sacking Jerusalem. In the Taylor Prism, Sennacherib states that he had shut up Hezekiah the Judahite within Jerusalem, his own royal city, like a caged bird.
Sennacherib first recounts several of his previous victories, and how his enemies had become overwhelmed by his presence. He was able to do this to Great Sidon, Little Sidon, Bit-Zitti, Zaribtu, Mahalliba, Ushu, Akzib and Akko. After taking each of these cities, Sennacherib installed a puppet leader named Ethbaal as ruler over the entire region. Sennacherib then turned his attention to Beth-Dagon, Joppa, Banai-Barqa, and Azjuru, cities that were ruled by Sidqia and also fell to Sennacherib.
Egypt and Nubia then came to the aid of the stricken cities. Sennacherib defeated the Egyptians and, by his own account, single-handedly captured the Egyptian and Nubian charioteers. Sennacherib captured and sacked several other cities, including Lachish (the second most-strongly fortified city in the Kingdom of Judah). He punished the "criminal" citizens of the cities, and he reinstalled Padi, their leader, who had been held as a hostage in Jerusalem.
After this, Sennacherib turned to King Hezekiah of Judah, who stubbornly refused to submit to him. Forty-six of Hezekiah's cities (cities 1st millennium BC terms ranged in size from large modern-day towns to villages) were conquered by Sennacherib, but Jerusalem did not fall. His own account of this invasion, as given in the Taylor prism, is as follows:
"Because Hezekiah, king of Judah, would not submit to my yoke, I came up against him, and by force of arms and by the might of my power I took 46 of his strong fenced cities; and of the smaller towns which were scattered about, I took and plundered a countless number. From these places I took and carried off 200,156 persons, old and young, male and female, together with horses and mules, asses and camels, oxen and sheep, a countless multitude; and Hezekiah himself I shut up in Jerusalem, his capital city, like a bird in a cage, building towers round the city to hem him in, and raising banks of earth against the gates, so as to prevent escape... Then upon Hezekiah there fell the fear of the power of my arms, and he sent out to me the chiefs and the elders of Jerusalem with 30 talents of gold and 800 talents of silver, and diverse treasures, a rich and immense booty... All these things were brought to me at Nineveh, the seat of my government. "
Building projects
During Sennacherib's reign, Nineveh evolved into the leading Metropolis of the empire. His building projects started almost as soon as he became king. Already in 703 BC he had built a palace complete with park and artificial irrigation he called his new home 'The palace without rival'. For this ambitious project an old palace was torn down to make more room. In addition to his own large gardens, several small gardens were made for the citizens of Nineveh. He also constructed the first ever aqueduct, at Jerwan in 690 BCE,[5] which supplied the large demand of water in Nineveh. The narrow alleys and squares of Nineveh were cleaned up and enlarged, and a royal road and avenue were constructed, which crossed a bridge on its approach to the park gate and which was lined on both sides with stelae. Temples were restored and built during his reign, as is the duty of the king. Most notable is his work on the Assur (god) and the new year (Akitu) temples. He also expanded the city defences which included a moat surrounding the city walls. Some of his city walls have been restored and can still be seen nowadays. The labour for his giant building project was performed by people of Que, Cilicia, Philistia, Tyre, and Chaldeans, Aramaeans, and Mannaeans who were there involuntarily.
Sennacherib is sometimes credited with the invention of the Archimedes screw for the purpose of irrigation, although evidence for this is contentious[6].
Death
Sennacherib was assassinated by two of his sons. [7] He was ultimately succeeded by another son Esarhaddon. One part tells of one of Sennacherib's sons toppling a giant statue of a bull with a mans head, thus crushing him to death.
_______________
References
1. (
http://www.kchanson.com/ANCDOCS/meso/sennprism1.html
)
2. ["Wesley's Notes on the Bible" II Chronicles 32
http://wes.biblecommenter.com/2_chronicles/32.htm
]
3. The legends of the Jews, Volume 6 By Louis Ginzberg, Henrietta Szold, Paul Radin
4. [Adam Clarke's Commentary - 2 Chronicles 32
http://www.godrules.net/library/clarke/clarke2chr32.htm
]
5. von Soden, Wolfram. (1985). The Ancient Orient: An Introduction to the Study of the Ancient Near East. (pp.58). Grand Rapids: Erdman's Publishing Company.
6. Stephanie Dalley and John Peter Oleson (January 2003). "Sennacherib, Archimedes, and the Water Screw: The Context of Invention in the Ancient World", Technology and Culture 44 (1).
7. The British Museum: Sennacherib, king of Assyria (704-681 BC)