Part 1 of 2
Sexual assaults and violent rages... Inside the dark world of Buddhist teacher Sogyal Rinpoche
by Mick Brown
The Telegraph
September 21, 2017
NOTICE: THIS WORK MAY BE PROTECTED BY COPYRIGHT
YOU ARE REQUIRED TO READ

THE COPYRIGHT NOTICE AT THIS LINK

BEFORE YOU READ THE FOLLOWING WORK, THAT IS AVAILABLE SOLELY FOR PRIVATE STUDY, SCHOLARSHIP OR RESEARCH PURSUANT TO 17 U.S.C. SECTION 107 AND 108. IN THE EVENT THAT THE LIBRARY DETERMINES THAT UNLAWFUL COPYING OF THIS WORK HAS OCCURRED, THE LIBRARY HAS THE RIGHT TO BLOCK THE I.P. ADDRESS AT WHICH THE UNLAWFUL COPYING APPEARED TO HAVE OCCURRED. THANK YOU FOR RESPECTING THE RIGHTS OF COPYRIGHT OWNERS.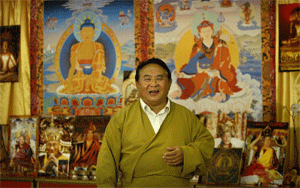 Sogyal Rinpoche as a guest speaker at a healing seminar in Melbourne in 2004 CREDIT: GETTY IMAGES
In August last year, Sogyal Rinpoche, the Tibetan lama whose book The Tibetan Book of Living and Dying has sold more than three million copies around the world, and made him probably the best known Tibetan Buddhist teacher after the Dalai Lama, gave his annual teaching at his French centre Lerab Ling.
Sogyal's organisation Rigpa - a Tibetan word meaning the essential nature of mind - has more than 100 centres in 40 countries around the world, but Lerab Ling, situated in rolling countryside in L'Hérault is the jewel in the crown. Boasting what is said to be the largest Tibetan Buddhist temple in the West, it was formally opened in 2008 by the Dalai Lama, with Carla Bruni Sarkozy, then France's first lady, and a host of other dignitaries in attendance.
Sogyal is regarded by his students as a living embodiment of the Buddhist teachings of wisdom and compassion, but a man who teaches in a highly unorthodox way, known as 'crazy wisdom'.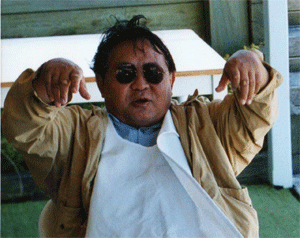 Sogyal Rinpoche
At Lerab Ling, more than 1000 students were gathered in the temple as he walked on stage, accompanied by his attendant, a Danish nun named Ani Chokyi. Sogyal, who is 70, is a portly, bespectacled man who requires a footstool to mount the throne from which he customarily teaches.
Approaching the throne, he paused, then turned suddenly and punched the nun hard in the stomach.

'I guess the footstool wasn't in exactly the right position,' says Gary Goldman, an American student of more than 20 years standing, who was seated in one of the front rows. 'He had this flash of anger, and he just punched her - a short gut punch. It just stunned me. I thought, what the hell's that about? Everybody around me kind of sucked their breath in. She started crying, and he told her to leave, get out, and then he started to talk.'

'To see the master not as a human being but as the Buddha himself,' Sogyal has often told his students, 'is the source of the highest blessing.' Those attending his teachings are cautioned not to be surprised or to draw 'the wrong conclusions' about the way he might behave. Apparently irrational, even violent conduct, it is said, should be viewed as 'mere appearance'.
But punching a nun in the stomach... 'Afterwards, everybody was trying to make sense of what had happened,' Goldman says. 'People were very upset.' It was customary for students at the retreat to email any thoughts or questions they might have on the day's teachings to Sogyal's senior instructors.
As a young man, Goldman was a US Army Ranger who served in Vietnam. 'We all wrote something up,' he says. 'I said, I understood his methods were unconventional but punching Ani Chökyi was knocking the ball out of the park.
'I've seen this kind of thing in the military and we don't do that anymore - at least not legally. But on the other hand, if this was another part of his 'crazy wisdom' teaching, we seriously needed to talk about it...'
The next day, one of the Rigpa hierarchy addressed the doubters. Sogyal, he said, was upset that people should be questioning his methods. If people didn't understand what had actually happened, then they probably weren't ready for the promised higher-level teachings, and Sogyal would not teach again during the retreat.
'This is what he does,' Goldman says, 'when something comes up he'll very skillfully manipulate his students to get them back in line. I just thought, I'm done with this...'
A catalogue of damning allegations
Largely thanks to the benign, smiling example of the Dalai Lama, Tibetan Buddhism has grown enormously in popularity in the West over the past thirty years, largely escaping the scandal that has dogged other religious institutions - at least publicly
.
Within the Buddhist community, however, Sogyal Rinpoche has long been a controversial figure. For years, rumours have circulated on the internet about his behaviour, and in the 1990s a lawsuit alleging sexual and physical abuse was settled out of court.
Yet his position as one of the foremost Buddhist teachers in the West has remained remarkably intact - until now.
In July, eight senior and long-standing current and former students sent a 12-page letter to Sogyal. 'Long simmering issues with your behaviour,' it began, 'can no longer be ignored or denied', going on to list a catalogue of damning allegations against him.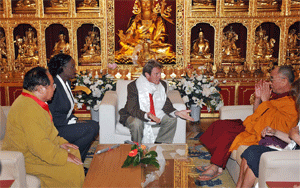 The Dalai Lama and Sogyal Rinpoche, talks with French Foreign Affairs minister Bernard Kouchner during the inauguration of the Buddhist Lerab Ling temple CREDIT: PASCAL GUYOT/AFP/GETTY IMAGES
Sogyal's habitual physical abuse, the letter alleged, had 'left monks, nuns, and lay people students of yours with bloody injuries and permanent scars.' He had used his role as a teacher 'to gain access to young women, and to coerce, intimidate and manipulate them into giving you sexual favours'. Students had been ordered to strip, 'to show you our genitals', 'to give you oral sex,' and 'to have sex in your bed with our partners'.

Sogyal, it went on, had led a 'lavish, gluttonous and sybaritic lifestyle', which had been kept secret from the large body of his followers, and financed by donations by students 'who believe their offering is being used to further wisdom and compassion in the world.'

'If your striking and punching us and others, and having sex with your students and married women, and funding your sybaritic lifestyle with students' donations is actually the ethical and compassionate behaviour of a Buddhist teacher, please explain to us how it is.'
Copied to the Dalai Lama, and Sogyal's most senior students, the letter quickly went viral, shaking the foundation of Rigpa to the core. For Sogyal Rinpoche himself it was the prelude to the most spectacular fall from grace.
From Tibet to Cambridge
More than just a sordid story of an errant spiritual teacher, the case of
Sogyal Rinpoche is a symptom of the perils that may arise when Westerners fall in thrall to esoteric spiritual teachings
they may not fully understand, and when Eastern teachers are exposed to the glamour and temptations of celebrity worship.
Sogyal Lakar was born in Kham, in the east of Tibet, into a family of traders. Among his followers, he is believed to be the reincarnation of Sogyal Terton, a Tibetan lama who was a teacher of the 13th Dalai Lama (the present Dalai Lama is the 14th). But according to Rob Hogendoorn, a Dutch academic and Buddhist who has researched Sogyal's background, the only authority for that claim appears to be Sogyal's own mother.
Sogyal had little formal Buddhist training, and it is notable that few in the Tibetan community have ever attended his teachings.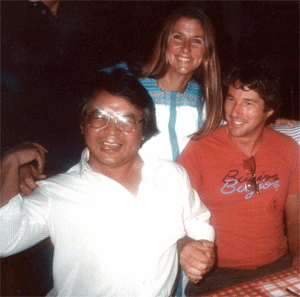 Sogyal Rinpoche pictured with Buddhist teacher Joan Halifax and Richard Gere in Switzerland, 1985 CREDIT: JOAN HALIFAX
When he was six months old, his mother put him in the care of her sister, Khandro Tsering Chodron, who was the young consort - or spiritual wife - of an eminent Tibetan lama, Jamyang Khyentse Chokyi Lodro, who became Sogyal's effective guardian.
In 1954 the family fled from the invading Chinese army to Kalimpong in West Bengal, where Sogyal was educated at a Catholic primary school, St Augustine's. Jamyang Khyentse died when Sogyal was around 10 or 11, and his education continued at an Anglican school, St Stephen's College in Delhi. In 1971 he arrived at Trinity College Cambridge, taking a course in theological and religious studies, although he never graduated.
It was in Cambridge that he met Mary Finnigan, then a young Buddhist student, now an author and Sogyal's fiercest critic, who has been assiduous in her chronicling of his alleged misdemeanours.
At that time there were only four Tibetan lamas living in Britain. 'There was nobody teaching in London and there were no centres,' Finnigan says. She arranged Sogyal's first teachings, in the squat where she was living in London, and would remain his student until 1979.
Approaching the throne, Sogyal Rinpoche paused, then turned suddenly and punched the nun hard in the stomach.
Sogyal was an exotic presence; a Tibetan who could speak fluent English and seemed to know what he was talking about. His following rapidly grew, and
with a £100,000 donation from a well-known English comedy actor he was able establish his first centre in London.

Assuming the honorific Rinpoche (it means 'precious one') Sogyal set himself up as a teacher in the Vajrayana
, or tantric, tradition - a deeply esoteric aspect of Tibetan Buddhism, through which, it is believed, a student can unshackle the chains of ego and attain enlightenment in a single lifetime - 'the helicopter to the top of the mountain', as Sogyal has put it.
It involves the student giving total obedience to the lama in the belief that whatever the lama does, no matter how irrational or incomprehensible it may seem, is for the student's benefit. Whatever doubts might arise in the mind of the student about these methods is due to 'impure perception.'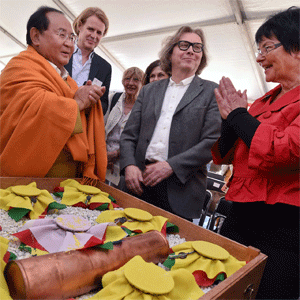 Sogyal Rinpoche in Germany in 2014 CREDIT: DPA PICTURE ALLIANCE / ALAMY STOCK PHOTO
Tibetan Buddhist lore is filled with stories of great masters - or mahasiddhas - bringing their pupils to enlightenment by methods that appear to verge on madness. One of the most famous involves the 9th century mahasiddha Naropa, whose teacher Tilopa subjected him to a series of ordeals including leaping from the top of a temple and breaking his bones, jumping into fire and freezing water, and giving his wife to Tilopa as an offering.
According to these stories every time Naropa was broken or near death, Tilopa would heal him with the wave of a hand, giving him an instruction that would bring Naropa's mind to a more advanced level.
Fundamental to this relationship between master and disciple is the bond of samaya, or trust, in which the pupil not only vows total obedience to the guru, but the guru vows to act only for the benefit of the pupil. Breaking samaya is held to have the most grave consequences, including banishment to 'vajra hell' and an infinity of unfortunate rebirths.
Wearing robes you have one arm bare, and he touched me there, as if I were sexual object. It made my skin crawl. I saw that the way he related to me could change completely
'Once you enter into the hermetic world of Tibetan Buddhism, you somehow burn your bridges to Western rationality,' says Stephen Batchelor
, an English Buddhist teacher and academic who was himself a Tibetan Buddhist monk for eight years. 'You enter a world that appears to be entirely consistent internally; everything makes sense; the structures of power seem to be in the service of these high ideals of enlightenment, and the relationship with the guru is the key element in your capacity to follow this path in the most effective way.'
But the Vajrayana is recognised as a particularly hazardous path, particularly to Western students without the deep grounding in Tibetan culture.
In characteristically light-hearted style, the Dalai Lama has spoken of his own caution in discussing the Vajrayana path. 'I have to be careful what I say in teaching, as there are some seekers who might take the Naropa story literally and jump off a cliff, thinking the guru was hinting about it. Not only do I not have the ability to heal the broken body with a wave of my hand, but here in Dharamsala we don't even have a proper ambulance service!'
The Dalai Lama has cautioned putative students that a good test of a teacher who is beyond attachments and the temptations of self-gratification is whether they can eat a piece of excrement with the same equanimity as a piece of food. Asked which Tibetan teachers were of a sufficiently high level of self-realisation to do this, he replied 'Zero.'
In… Christianity and Buddhism terror and nausea are a prelude to bursts of burning spiritual activity… ecstasy begins where horror is sloughed off. A sense of union with the irresistible powers that bear all things before them is frequently more acute in those religions where the pangs of terror and nausea are felt most deeply. [28]

"St Catherine of Sienna, when she felt revulsion from the wounds she was tending, is said to have bitterly reproached herself. Sound hygiene was incompatible with charity, so she deliberately drank a bowl of pus." [29] The self-proscribed magical ordeals that were Crowley's focus in the summer of 1920 were motivated by a similar impulse, and were designed to have a similar effect. Bataille notes that "the underlying affinity between sanctity and transgression has never ceased to be felt. Even in the eyes of believers, the libertine is nearer to the saint than the man without desire." As flagellation, starvation and the

dark night of the soul

are the mystic's prelude to the experience of God, so Crowley's experiences at Cefalù, including the proliferous sickness, his coprophagy, the affair with the goat, his daughter's death, and the extreme financial trouble he found himself in, were the prelude to his attaining the grade Ipsissimus (the highest possible Grade in the Great White Brotherhood of Light) and experiencing Samadhi. [30] There is a relationship between the lowest physical degradation and the highest spiritual attainment. The horror must be experienced that one may rise above it; indeed the horrific and nauseating are the most potent ways of accessing the divine. Crowley himself saw the process as parallel to psychoanalysis. In the tourist brochure he produced for the Abbey at Cefalù, Crowley wrote the following description for La Chambre des Cauchemars, the very room in which he performed his night of coprophagy, and many of the other sex magical acts in which he engaged in the summer of 1920.

Those who have come successfully through the trial say that they have become immunized from all possible infection by those ideas of evil which interfere between the soul and its divine Self… they have attained permanent mastery of their minds. The process is similar to that of "Psycho-analysis"; it releases the subject from fear of reality and the phantasms and neuroses thereby caused... [31]

The experiments in the chamber were thus an attempt to free his soul of all the last vestiges of fears and inhibitions – the ones he had "sunk so deep," for he believed that only through this process could one actualize the divine self.

For Crowley, the excesses and abysses into which he plunged himself served in particular one key process; the mastery of mind over matter. Crowley wished to free himself from natural physiological reactions to physical matter, to prove that his will was stronger than his animal self. Crowley, the paradigmatic figure of libertine excess, was in fact pursuing the ascetic ideal. "Thou strives ever; even in thy yielding thou strives to yield and lo! Thou yieldest not. Go thou unto the outermost places and subdue all things, subdue thy fear and thy disgust. Then – yield!" [32] Crowley felt himself flawed by the sense of sin and disgust, so did all he could to evoke these feelings that he might overcome them. He thus describes how playing Leah's lesbian slave "revolted even my own body, and made me free forever of my preference for matter, made me Pure Spirit." [33] The summer's magical ordeals were Crowley's experiments with different ways of bringing to the surface that which had been repressed, laying bare the most insidious of his negative emotions, the deepest of his hidden weaknesses. They also represented his attempts to cross the line of the animal, and prove his will stronger than his own physicality; to uncover the places where instinct and physiology were still stronger than his theology, faith or will. Although Crowley is popularly portrayed as the poster-boy of physical excess, his description of the coprophagic act does not suggest a celebration of the physical world but a refusal to acknowledge its power and further shows a resentment of humanity as a physiological existence. Crowley understood that the thin air at high altitudes imposed physical restrictions upon the mountaineer; however he refused to accept that coprophagy similarly imposes physiological conditions upon the body. Although disgust at feces is a learnt (or rather taught) reaction, it is not an arbitrary one, and when one does force oneself to break this taboo there will be physiological consequences.

Crowley believed that it was his doubt and his spiritual failure that caused the coprophagic act, about which he had fantasized so lengthily and waxed so eloquently, to remain so horrific. He refused to recognize the naturalness – and practical necessity – of the physiological reaction to coprophagy. He conceived of the coprophagic act as a sacrament; thus the consuming of feces would be an outward sign of his elevated inward grace. In his Magical Record of the Beast, in an entry for 5 July 1920, Crowley declares "In my Mass the Host is of excrement, that I can consume in awe and adoration." [34] It would be easy to declare such statements simply the ultimate form of sacrilege, but Crowley's concept of the excremental host has far more significance than this. It is not, in fact, a matter of taboo or sacrilege, but the taking to its logical end

The Gnostic Mass's claim that 'There is no part of me that is not of the gods.'

The Eucharistic host is the body of god; excrement may bear this title as much as any other physical thing.Thus we can understand Crowley's frustration when his non-divinity was proven; he was unable to understand why that which appeared to be ambrosia to Leah's tongue burnt and ulcered his. It could only be through the failure of his will.

--

Aleister Crowley and Coprophagy: The Limits of Transgression, by Georgia van Raalte
A guru who drank like a fish
In 1976, Sogyal visited America to meet with another Tibetan lama, Chogyam Trungpa, who was regarded as the most extreme exemplar of 'crazy wisdom' teachings. Trungpa drank like a fish (he would die in 1987 from complications arising due to alcoholism), openly slept with his students and ran his organisation like a feudal court, surrounding himself with an elite bodyguard, sometimes amusing himself by dressing as a Grenadier guard. 'The real function of the guru,' he once said, 'is to insult you.' 'Sogyal looked at what Trungpa had,' says Mary Finnigan, 'and said "That's what I want."'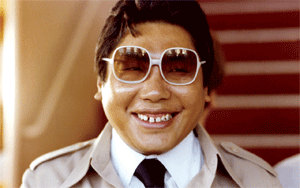 Tibetan lama, Chogyam Trungpa, who was regarded as the most extreme exemplar of 'crazy wisdom' teachings CREDIT: REXFEATURES
Like Trungpa, he adopted an unorthodox, often jokey, teaching style, but he was a compelling orator, with an ability to hold an audience in the palm of his hand and convey the Buddhist teachings in a clear and understandable way. 'There are three kinds of people who show up for spiritual practice or information,' Gary Goldman says.
'You get the intellectuals who are curious and want to learn something about it; you get the people who are actively seeking truth, and looking to figure out what life and the world is about; and then you get the people who are totally psychologically f-d up; they've been abused; terrible things have happened to them. Sogyal was able to satisfy all three groups, very well and very compassionately.'
The book that made Sogyal a celebrity
In 1992 he published The Tibetan Book of Living and Dying, a book that presented traditional Tibetan teachings on a happy life and good death for a Western audience. Clinicians, hospice workers and psychologists applauded it for the comfort it brought to the terminally ill. John Cleese, an early supporter, described it as 'one of the most helpful books I have ever read.'

It was a runaway success. But quite how much Sogyal himself had to do with it is debatable; according to those close to the project, most of the work was done by ghost-writers - Sogyal's closest student, and now his right-hand man, Patrick Gaffney, and the author Andrew Harvey.
What used to be called simply, "The Tibetan Book of Living and Dying" is now a trumpet being blown by a Narcissist: "The Tibetan Book of Living and Dying: A New Spiritual Classic from One of the Foremost Interpreters of Tibetan Buddhism to the West," by Patrick Gaffney (Editor), Andrew Harvey (Editor), Sogyal Rinpoche (Author)

Oh puleeeez, what hogwash! It should be called, "The Tibetan Art of Lies and Lying."

As far as I know from "Jane Doe" and others who contacted me in 1993, and 1994, Andrew Harvey wrote most of the book and Sogyal put his name on it. Andrew is an ex-cult devotee of Sogyal's who opted OUT.

-- Letter to Tiger Lily by AmLearning [Victoria Barlow], January 13, 2004
The book made Sogyal a celebrity. He appeared in Bernardo Bertolucci's film Little Buddha, and he travelled the world, establishing new centres. The combination of Sogyal's charisma - a purveyor of ancient wisdom in touch with the modern world - and the mystique of Tibetan Buddhism proved a potent lure for new followers.
Those signing up for his courses had little idea that, as one former follower puts it, Sogyal was 'using meditation as a gateway drug into a cult of personality.'
But the first storm clouds were already gathering. Sogyal is not a monk, and there is theoretically no prohibition on him marrying or having sexual relations. But his sexual conduct was becoming a cause of increasing controversy in Buddhist circles - not least his surrounding himself with an effective harem of young women, whom Sogyal described as his 'dakinis' - a Tibetan term meaning spiritual muse.
In 1994, an American student using the legal pseudonym Janice Doe brought a suit against Sogyal, alleging that using the justification of his spiritual status he had sexually and physically abused her, turning her against her husband and family.
By sleeping with the teacher you get a closeness to him which everyone is hankering after
This, the charge alleged, was merely one example of a pattern of abuse against a number of women. The Telegraph Magazine published a cover story on the case in which two English women spoke about their own sexual encounters with Sogyal.
'You're chosen, which makes you feel special,' said one woman. 'Because he was my spiritual teacher I trusted that whatever he asked was in my best interests… You want to progress on the spiritual path, and by sleeping with the teacher you get a closeness to him which everyone is hankering after. I saw it as part of the teachings on the illusory nature of experience and emotions. But in fact it caused me a lot of pain that I wasn't able to dissolve.'

Another spoke of her distress at discovering, shortly after he initiated a relationship with her, that Sogyal was also having sex with three other students. Sogyal, she said, had 'used the teachings to attempt to keep me in a sexual relationship with him - one that I did not want to be in.'
Physical abuse and verbal humiliation
The Janice Doe case was settled quietly out of court. And in an age before the internet, most readers of The Tibetan Book of Living and Dying remained happily oblivious to any hint of scandal. Rather, the book was to prove a powerful medium in bringing him new followers.
Among them was a young Australian woman, who would later become a Buddhist nun, taking the name Drolma.
Drolma first read Sogyal's book as a 21-year-old. 'I thought that's all very nice, but I don't need this, and put it back on my bookshelf.' Two years later, with her life 'falling apart' following an abortion and the break-up of a difficult relationship, she attended a retreat where Sogyal was teaching in New South Wales..
'My life was at a point where I had no understanding of the suffering I was going through, and this provided some answers, and some practical steps, like meditation.'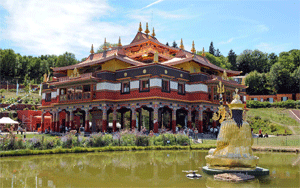 The Lerab Ling temple in Roqueredonde, Hérault, in southern France CREDIT: PASCAL GUYOT/AFP/GETTY IMAGES
She became more involved in Rigpa, travelling to Lerab Ling for retreats and facilitating study groups. In 2002 she turned her back on a flourishing career as an artist to become a nun.
'There was this aspect of devotion for the teacher that I felt very strongly. I felt it as the fire of the love of God.
And I chose Buddhism because I felt I'd met an authentic example, someone I could follow.'
Even before taking monastic vows, she had witnessed an example of Sogyal's 'crazy wisdom' when he publicly humiliated a male attendant during a teaching session. 'He'd forgotten to put a full stop on the travel plans or something; Sogyal got him to kneel at the foot of the podium and then run backwards and forwards across the tent. And he did it with his tail between his legs. I felt terribly uncomfortable but I also thought he was very fortunate to have such close attention from the teacher.'
Sogyal made Drolma his personal assistant, handling his schedule. She would later become responsible for caring for his mother and aunt, Khandro, when they came to live at Lerab Ling.
Her duties entailed maintaining a careful rapprochement with the inner-circle of Sogyal's dakinis.

'Their lives were incredibly pressurised,' she says, 'There was lots of jealousy, lots of secrets. If one of them was unhappy or in a mood, then all of us would feel the repercussions, so we also had to do our best to keep them supported.'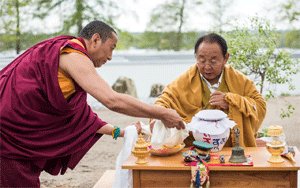 Sogyal Rinpoche and Lama Yonten conduct a ceremony at the opening of the Sukhavati Spiritual Care Center in Bad Saarow, Germany, May 2016 CREDIT: ALAMY
The first time Sogyal hit her hard on the head with the backscratcher that he carries everywhere, Drolma says, she accepted it as part of his 'wrathful' training. 'I thought, wow, he really trusts me...'

It was the beginning of years of physical abuse and verbal humiliation. 'If he became anxious about his mother, or over a relationship with a girlfriend or some financial thing, he would slap me across the face, or hit me over the head with his backscratcher.' On one occasion he pulled her by the ear so violently hard that it drew blood.

The first time he punched her in the stomach was in the ante-room of the temple at Lerab Ling, where Drolma was preparing his ritual objects prior to an important ceremony for a visiting lama and his retinue of monks.
Like Trungpa, he adopted an unorthodox, often jokey, teaching style, but he was a compelling orator, with an ability to hold an audience in the palm of his hand and convey the Buddhist teachings in a clear and understandable way
'He got out of the car, furious for some reason, slammed the door and just punched me. Then he got dressed in his robes and we went in. I was walking behind him in tears, feeling completely humiliated, with these Tibetan monks there, thinking "Flakey Western nun…"'

Such incidents of violence and abuse were common for those closest to Sogyal, explained away by senior instructors within Rigpa as the lama employing 'skillful methods'.
'There was definitely a very well thought-out structure within the Rigpa system that would block the perception of abuse, either by using those historical stories, or
making you feel really special if this was the attention you were getting,' Drolma says. 'People would say "please train me, Rinpoche."'

The Telegraph has been given numerous accounts of similar abuse meted out to Sogyal's closest students: a woman being beaten violently around the head with a backscratcher. A man being kicked, punched in the face, pinned against the wall by Sogyal with his hands around his throat, and hit so hard on the head with a hardbound practice book that he fell to the floor.

'One goes back to one's room at the end of a day of it, thinking what the hell was that about, but still hanging on to the trust that this is part and parcel of the purification of negative karma,' said one man, who was a student for 20 years.

The thought of reporting Sogyal to the police, he said, never crossed his mind. 'These are criminal acts. But the problem is we've been complicit, we've allowed it, and he keeps doing it.'

In this environment, everything would be rationalised and accepted as 'a teaching'. Several people told the Telegraph how Sogyal would sometimes address his closest students while defecating - like a Tudor monarch, ordering his 'dakinis' to perform the appropriate ablutions as a demonstration of 'service'.

The analogy with a monarch is not misplaced. It is further alleged that among his inner circle, Sogyal frequently practiced a sort of droit de seigneur, taking the wives or girlfriends of his most loyal male followers as his sexual partners, either openly or covertly. Men were expected to accept this is as part of the teaching. When one complained, Sogyal told his partner the man was 'possessed by demons'. The eight-signatory letter further alleges that on at least one occasion, Sogyal had offered one of his female attendants to another lama for sex.

For a woman to be chosen by Sogyal as a sexual partner was regarded as 'an honour,' Drolma says. 'It meant they had dakini qualities, and you're said to be prolonging the life of the master.'
Travel, excess spending and 'a modest life'
The offerings expected from followers maintained Sogyal in a lifestyle of profligate extravagance. At Lerab Ling, he lived in a chalet, decorated with cedar wood panels, which overlooked his own heated swimming pool. There was a giant television on which he enjoyed watching his favourite American action movies. In the 'lama kitchen' attendants were available day and night to provide his favourite dishes at a moment's notice.
Attendants and his inner circle were worked to a point of physical exhaustion serving him. In the months that Sogyal was at Lerab Ling, or whenever she travelled with him,
Drolma worked 14 hour days, six days a week
. 'It was always about survival and addressing his most immediate needs for fear of the repercussions if you didn't.'
On foreign trips, he travelled first class, his retinue with him. Oane Bijlsma, a Dutch woman who joined Rigpa in 2011 going on to become one of Sogyal's attendants, describes how for an Easter teaching in Britain in 2012, Rigpa took over Haileybury, the public school in Hertfordshire. Sogyal was installed in the music teacher's house.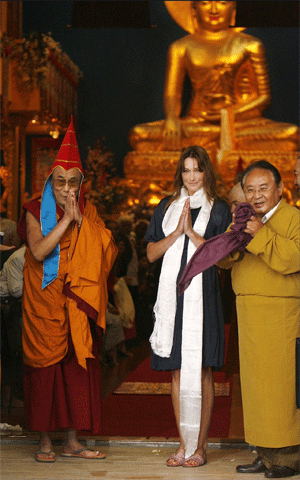 The Dalai Lama and Carla Bruni-Sarkozy with Sogyal Rinpoche, at the inauguration of Lerab Ling temple, 2008 CREDIT: GETTY IMAGES
On his instruction, his students carefully photographed each room, then moved every stick of furniture into storage, replacing it with furnishings more suited to Sogyal's tastes, including a large flat-screen tv with satellite connection. At the end of the six day teaching, the rooms were restored to their original state. Oane, who was in charge of provisions, was instructed to visit local butchers, taking photographs of the best joints of meat, which she had to submit for Sogyal's approval, before buying them.
'I was shopping for groceries with hundreds of pounds in my pocket in cash. I was buying ridiculous amounts of the best meats I could get. And the wine and the roses and the chocolates... And then people in the inner-circle would be on stage at the teachings talking about Sogyal living a modest life, and keeping nothing for himself. It was totally obscene.'

'In Tibet a lama would have been under much more control,' one former follower told me. 'The system would have curbed his excesses. But Sogyal has been surrounded by Western followers who believe that everything he says and does is perfect. It's a disaster for him, and a disaster for everybody else. He completely lost touch with reality.'
Reaching saturation point
For some within Rigpa, the paradox between being beaten and abused while being told it was for their benefit was causing predictable problems. 'It creates split personalities in people,' one student told told me. 'People feel a loyalty to the teachings which is constantly being contradicted by Sogyal's behaviour; their hearts are split in two.'
MKUltra used numerous methods to manipulate people's mental states and alter brain functions, including the surreptitious administration of drugs (especially LSD) and other chemicals, hypnosis, sensory deprivation, isolation and verbal abuse, as well as other forms of psychological torture....

Another MKUltra effort, Subproject 54, was the Navy's top secret "Perfect Concussion" program, which was supposed to use sub-aural frequency blasts to erase memory....

Physical methods of producing shock and confusion over extended periods of time and capable of surreptitious use....

-- MKUltra, by Wikipedia
In 2007, Sogyal introduced a programme that he called 'Rigpa Therapy', in which a number of qualified psychotherapists, who were also Rigpa students, were assigned to treat those entertaining doubts about the teachings. Drolma was among them.
'The crux of every session,' she says, 'was exploring how what Sogyal did related to other past relationships in my life. It was all about that, and how my difficulties were nothing to do with Sogyal, and how his blessing was letting me go back to that time and work through it.
Basically, the therapists had been been brought in to stop people leaving.
'
Meanwhile Dr Lawrence had been given highly unusual instructions by Gabriel to attend all of the appointments of community members whenever they were able to see any doctors outside the community. While this would give him a needed education regarding these various medical practices, he would also know exactly what was going on with each patient/community member, which would be reported, like everything else, to Gabriel Niann, and the community psychologist, giving them a considerable advantage over the individual, and greatly contributing to their ability to be in control. I was always disturbed by the fact that there was never a "doctor-patient confidentiality agreement", since all medical records are shared by Lawrence and Cunningham, (the psychologist), with Gabriel and Niann. (It reminds me of the required detailed 'confessions', sometimes requested in writing a comprised list of all the negative things that the member thinks they may have done, not only in this life, but how they may have offended Gabriel, or others, in past ones. This compounded information places the subject-member in a compromising and susceptible situation, and gives those who have placed themselves in a position over them further control. Blackmail, would not be an inappropriate definition.)

--

Follow-Up Article Re Question 10, by John Thurstin