Former ACC Resident was Told Who to "Partner" With
by Nate Hansen and Christopher Fox Graham
Sedona Red Rock News
April 20, 2007
NOTICE: THIS WORK MAY BE PROTECTED BY COPYRIGHT
YOU ARE REQUIRED TO READ

THE COPYRIGHT NOTICE AT THIS LINK

BEFORE YOU READ THE FOLLOWING WORK, THAT IS AVAILABLE SOLELY FOR PRIVATE STUDY, SCHOLARSHIP OR RESEARCH PURSUANT TO 17 U.S.C. SECTION 107 AND 108. IN THE EVENT THAT THE LIBRARY DETERMINES THAT UNLAWFUL COPYING OF THIS WORK HAS OCCURRED, THE LIBRARY HAS THE RIGHT TO BLOCK THE I.P. ADDRESS AT WHICH THE UNLAWFUL COPYING APPEARED TO HAVE OCCURRED. THANK YOU FOR RESPECTING THE RIGHTS OF COPYRIGHT OWNERS.
Avalon Gardens For Sale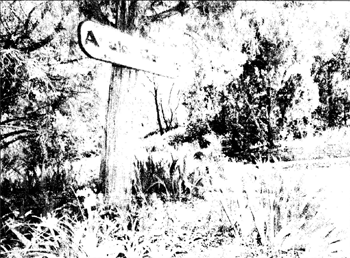 AVALON GARDENS, currently for sale by Global Communications Community Alliance, formerly known as Aquarian Concepts Community, is one of the properties owned by the local alternative living group. The organic garden and acreage is one of the various meeting places GCCA members congregate to listen to direction and instructions from leader Tony Delevin, according to former member Beth Sundberg-Leoni.
Mal Cooper/Larson Newspapers
After a divorce in 1993, Beth Sundberg-Leoni looked up an old friend in Sedona, Kathleen Connors.
Connors, otherwise known as "Blue Evening Star," convinced Sundberg-Leoni to "start over" and come to Sedona. In Sedona, as Sundberg-Leoni remembers Connors saying, there's a community of like-minded people -- the Aquarian Concepts Community, which recently renamed itself the Global Community Communications Alliance.
In 1995, after seeing a change within the community, Sundberg-Leoni left.
"It really morphed into something ... I don't know where it's going. I just know I wasn't going with it," she says.
Sundberg-Leoni 's breaking point from ACC came after being asked to sacrifice too many things. She adds that it wasn't because she was denied use of her professional skills so much as it was an invasion into her private life.

Being asked to part with her material possessions, her career and a relationship to someone with whom she cared for intimately bothered her, she says.

But being asked to connect with someone sexually and giving up her own free will was out of the question, she insists.
Sundberg-Leoni, 50, currently works in various hospitals in and around Las Vegas. She says she lives alone -- she likes it that way.
In 1979, she began practicing "bedside care." At University of Nevada, Las Vegas she earned a bachelor's degree in nursing.
She attained certification in critical care and emergency room nursing.
When she arrived at ACC, she says she worked parttime in area hospitals, hoping she could contribute her skills to the new alternative community.
'Pair Units at ACC'

The following are excerpts from an Aquarian Concepts Community document titled "Trinity Associations and Complementary Associations" provided by Beth Sundberg-Leoni, former ACC member. According to Sundberg-Leoni, the document assigns "partners" and "Morontian companions."

The letters indicate assignments for member:

• "P" designates "past."

• "PR" designates "present. "

• "IF" designates "immediate future [1 to 3 years].

• "F" designates "future" [long-term relationship of many, many years].

Members are identified by their "cosmic name" rather than legal name.

• Gabriel:

Niann P, PR, F

Len Mana P, PR, F

Tiyiendea P, PR, F

• Marayeh:

Tarenta P

• Celinas:

Tarenta P

• Kamon:

Centria P, F

Len Mana P

Willowela P, F

Fortunate F

• Tarenta:

Dalena P

Cecelian P, F

Celinas P, F

Marayeh P

MoritaSeen P, F

Blue Evening Star P

Fortunate P, F

Centria P, F

• Centria:

Kamon P, F

Santeen P, F

Tarenta P, F
Unfortunately, regardless of any qualifications she had, she wasn't used.

When Sundberg-Leoni advised ACC school teachers to maintain the children's immunizations, she says she was told to stay away. She was instructed to keep a distance, she recalls.

When her intention was to recommend a decongestant to a resident, she was told "back off," she adds.

'''Gabriel' discerns health needs," she says.
"Gabriel," whose legal name is Tony Delevin, is the founder and leader of the Aquarian Concepts Community.
Despite having a medical doctor -- Patrick Lawrence, M.D., otherwise known as "Landau" -- and a nurse on staff, Sundberg-Leoni says it was Delevin who claimed to heal people, from congestion to heart conditions and cancer.

If people remained ill, there was always a reason excusing Delevin from his failure to heal, she says.

'''Gabriel' is supposed to be 'Mr. Healer,' so if when he didn't heal anyone when he laid his hands on them, it was their fault. He said they weren't spiritually centered," she says.

As a consequence of Sundberg-Leoni's concern, she said she was asked to quit her profession.

She did not.
It was one of many straws to break.
Personal separation
One evening, according to Sundberg-Leoni, the community gathered to hear Delevin address what he called "Trinity Associations and Complementary Associations."
Each member was given pages listing members and their "complements." The names of over 50 people instructed them who each community member should consider as a "partner" and "Morontian companion."
Sundberg-Leoni was given the "cosmic name" of "Talomar" and matched to four men: "Sharu," "Miesen," "Driten" and "A'Journe."

At the time, "A'Journe" was legally married to ACC member "Clistine," she says.

The list is the equivalent to the child's game spin-the-bottle, Sundberg-Leoni explains.

"It was an immature, 'OK, we're going to be naughty' feeling," she adds.
Sundberg-Leoni denies consummating these assigned relationships, though she admits it felt as if they were arranged marriages.
There was pressure to maintain the partnerships, she says, adding she believed it was meant to take away people's identities.

She states mandatory "counseling sessions" were appointed with community psychologist Linda Cunningham, aka "Marayeh," when anyone appeared to deviate from partner designations.
She says she believes those sessions were intended to gather "dirty secrets" and share them with ACC leaders Delevin and Nancy Chase, aka Niann.
When Sundberg-Leoni refused to follow complement orders, she says she was confronted by Cunningham and ACC attorney Celinas Ruth.

Sundberg-Leoni admits her "fall from grace" came after she told both Ruth and Cunningham she would not be controlled.

"Nobody tells me who I can and cannot share a bed with," she says.
Another straw, broken.
Shunned and shamed
Less than a decade ago, Sundberg-Leoni left Sedona.
Though she departed what she deems the "chains and prison bars" of ACC in 1995, she says she remained in Sedona to be close to friends, some of whom also left ACC.
She also had a job working per diem at both the Flagstaff Medical Center and Verde Valley Medical Center in Cottonwood.
Life was good, aside from the harassment, she says.
"They [ACC members] were very confrontational when I first got out of the community," she says.

Though there were never threats of physical violence, she says verbal attacks were regular.

Because she left ACC, she was told she would "burn in hell," she adds.
When Sundberg-Leoni arrived at ACC, she says she felt comfortable among the "laissez-faire" attitude of fellow members.
She remembers having regular dinners with Delevin and Chase and pleasant study groups on The Urantia Book.
"I don't regret being in the community, but I came to a point when I realized that there is no one person standing between you and the greater spirit you believe," she says. "Nobody can dictate a person's faith."
She says she often thinks of The Urantia Book and how one man's belief tried to mislead her faith and others.
''I'm really sorry 'Gabriel' used that book as a springboard," she says. "More so, I never had a chance to say my peace with Kathleen [Conners] -- she's still there."
"There is so much untruth in your story it is impossible to comment at this time," GCCA attorney Celinas Ruth said.
To reach Nate Hansen call 282-7795, Ext. 132, or e-mail to nhansen@larsonnewspapers.com