CHAPTER XV. THE BLOOD-ATONEMENT. THE DESTROYING ANGELS. DANITES AND THEIR DEEDS.
Sweet, Saintly Sentiments. "He ought to have his Throat cut." Too many Gentiles About. The Spirit of "Blood-Atonement" Still Cherished. Present Position of Apostates. How they used to be "Cut Off." "Cutting Men off below the Ears." How "Accidents" happened to People who "Knew too Much." How Mr. Langford expressed his Opinion too Freely. Mormon Friends kindly advise him to "Shut Up." "Be on your Guard!" Poetry among the Saints: a Popular Song. Human Sacrifices Proposed! How Saints were taught to Atone for their Sins. "Somebody" ready to shed their Blood. "The Destroying Angels:" who they were, and what they did. Saints told to do their own "Dirty Work." People who "ought to be Used up." Murdering by Proxy! Brigham Young proved to be the Vilest of Assassins. Hideous Crimes of Porter Rockwell and Bill Hickman. How Rockwell tried to Murder Governor Boggs. Hickman Confesses his Atrocious Crimes. Six Men Robbed of $25,000, and then "Used Up." Another Frightful Assassination. A Council of Mormon Murderers. The "Church" orders the Assassination of the Aikin Party.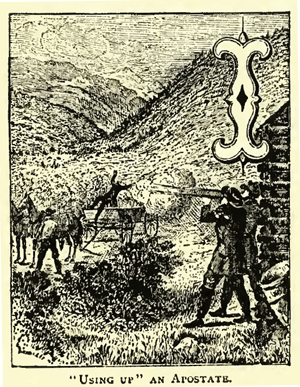 "USING UP" AN APOSTATE.
IT is only a very few weeks since two prominent officers of the Mormon Church were overheard in the street, in Salt Lake City, angrily discussing some person who had "broken his covenants." Said one, --

"He ought to have his throat cut."

"It wouldn't do," replied the other; "there are too many Gentiles about."

It is now nearly twenty years since the eventful "Reformation" and its horrible teachings, and the effects are still felt. The principles that Young, and Grant, and Kimball, and their fellows taught then have not been forgotten in all these years that have intervened, and it is only the presence of a large "Gentile" element that prevents the full exercise of the "Blood-Atonement."

There never has been any real and impartial trial by jury in Utah. No twelve men could be found and sworn in who would dare to render an unbiassed verdict. This has been repeatedly seen in trials which have taken place. So true is it, that hundreds of Gentiles who are conscious of the justice of their several causes, would never think of bringing them into court during the existing state of affairs. They know it would be useless. Prejudice runs high; in fact, so high that outsiders are perfectly incapable of realizing it. Still, murders have been fewer of late, for President Young knows that the eye of Uncle Sam is fixed with no small degree of sternness upon the City of the Saints; and, more important still, Deseret has not yet been admitted into the Union as a State!

Yet the spirit of assassination still remains; and were it unchecked, hundreds would be added to the already appallingly long list of men and women foully dealt with and sent into eternity without a moment's warning, for no crime at all except for daring to differ, if ever so slightly, from those in authority. If any person, deceived by the present peaceful attitude of the Mormon leaders and their constant boast that crime is almost unknown among them, thinks that they have altered in their real views at all since the days when they first advocated the "Blood-Atonement," he is very much mistaken. The feelings that they have been obliged to hide are bitterer because they have not dared to show them.
An apostate nowadays is comparatively safe from any deeds of violence on their part. The most they can do is to abuse him through their newspapers, and curse him in the church, and give him over to the tender mercies of Satan; but as "Deseret" newspaper abuse is rarely heard outside of the church which it represents, and as the cursing does not produce physical hurt, and as Satan's mercies are to the full as tender as theirs, the Gentile does not mind anything about the whole of it, but goes on his way quietly enough.
But twenty, fifteen, even ten years ago, an apostate's or Gentile's life was worth absolutely nothing. It was difficult to tell which of the two they hated with the most deadly hatred. The doom of either was irrevocably fixed, and it came, swift and sudden, often before he knew that danger menaced him. It did not need actual knowledge of a man's defection from the church, or that his disapprobation of the course pursued by leaders should be openly expressed; it was enough that he should be merely suspected, and his fate was just as certain, coming swift and sure, before he had even an opportunity of defending himself.

A strict surveillance was kept over the movements of any stranger in the city, and if his words or actions displeased the Mormon spies, he never got far beyond city limits on his onward journey before some sad accident befell him, which left him lying dead by the road-side.
It was well when a stranger had any person to caution him against any expression of his mind against the people or their religion; above all, against their beloved institution of polygamy, for they are very sensitive on this point, hating and dreading criticism in the very thing, above all others, that provokes and invites it. In this case he might escape with nothing more terrible than the consciousness of a spy dogging his every footstep and listening to every word.
In the autumn of 1863, Mr. N. P. Langford, of St. Paul, Minnesota (the author of the "Yellowstone Articles," published a few years since in Scribner's Magazine), in company with several others, started from Montana for Salt Lake City. While on the journey they fell in with a party of Mormons, numbering eight, all men, and all bound for Salt Lake City. The two parties travelled together the remainder of the way, and became very friendly. As a natural consequence of this companionship, the talk turned upon Mormonism, and the arguments between them were frequent and interesting.

One of the Mormons, named Cunningham, was a very intelligent man, and, while contending that his was the only true faith, would argue with Langford, without showing any ill feeling -- a very uncommon thing for a Mormon to do, by the way, since they are usually so very intolerant that they will not listen to an opponent with the least degree of patience, but, at the first sign of opposition, lose temper, and, instead of fairly arguing the question, shower anathemas on the one who has dared to call their religion in question. It must be a weak position that can only be defended by vituperation.

At night, while round the camp-fire, the Mormons would sing of Brigham as "the word of the Lord," and what Langford called a "string of nursery rhymes," in which Cunningham would sing the solo, and the rest the chorus. The idea conveyed in these rhymes, was, that only in Mormonism was happiness to be found, and that they were glad that they were Mormons.

After the party arrived in Salt Lake City, Cunningham called Langford on one side, and said to him, "You boys seem to be pretty good fellows, and I do not wish you to come to harm, and will give you a word of advice. Here in Salt Lake, you must not express yourselves about Mormonism as you have when you have talked with me; for, if you do, your lives won't be worth a cent."

"Why so?" asked Langford.

"Because you will be assassinated," was the reply.

Langford thanked him, and followed his advice. Soon afterwards he mentioned the fact to a Gentile with whom he had business, who in reply said, "You must do as he says, or you will never leave the city alive. Do you see that man with a gray coat? He is a Mormon spy, and is evidently watching you, and will watch you as long as you remain in the city. I say, as your Mormon adviser did, Be on your guard."

During all the time that Langford was in the city he was followed by this man, and he said he felt sure that if one word in disparagement, or criticism, of the Mormon people, or their religion, had crossed his lips, he would have been a dead man. He followed the advice he received, however, else the readers of Scribner would not have been so charmingly entertained afterwards, as they were by his readable articles.
It may seem like digressing somewhat, but I cannot refrain from quoting the "nursery rhymes" which the Mormons sang by the camp-fire, and which evidently impressed Langford with their absurdity. These rhymes are printed in the Mormon Sunday-school song-book, and are sung in Sunday-schools and religious meetings to the tune of "The Bonny Breast Knots." They are a most remarkable piece of religious composition.
"What peace and joy pervade the soul,
And sweet sensations through me roll,
And love and peace my heart console,
Since first I met the Mormons!

"They sing the folly of the wise;
Sectarian precepts they despise;
A heaven far above the skies
Is never sought by Mormons.

"To Sabbath meetings they repair;
Both old and young assemble there,
The words of inspiration share:
No less can suit the Mormons.

"At night the Mormons do convene,
To chat a while, and sing a hymn;
And one, perchance, repeat a rhyme
He made about the Mormons.

"The Mormon fathers love to see
Their Mormon families all agree;
The prattling infant on his knee
Cries, 'Daddy, I'm a Mormon!'

"As youth in Israel once decried,
To wed with those that Heaven denied,
So youth among us now have cried,
'We'll marry none but Mormons.'

"High be our heaven, the Mormons cry,
Our place of birth, and when they die,
Celestialize and purify
This earth for perfect Mormons.

"So, while we tread the foeman's ground,
We'll make the trump of freedom sound,
And scatter blessings all around,
Like free and happy Mormons.

[Chorus to each verse.]

"Hey, the merry, O, the busy,
Hey, the sturdy Mormons;
I never knew what joy was
Till I became a Mormon."
I have heard women singing this chorus in some meeting, because they dared not be silent, when their faces belied the words of the song, and who I knew hated the life which they were compelled to live, and who had seen nothing but the most abject misery since they had entered it; whose lives were one long, terrible torture, and who would have been perfectly happy had they seen any way of escape from it.
The dangers of non-Mormons in 1863, great as they were, were much less than in days just succeeding the "Reformation," which days have been rightly called "The Reign of Terror." It was a terrible time, indeed, and one fairly shudders to recall the blood-curdling atrocities that were committed at that period. All "in the name of the Lord," too, and as an exercise of religious faith. The Spirit of the New Testament, the Christ-like spirit, breathing out "peace on earth, good will to men," seemed entirely lost. The "Church of Jesus Christ of the Latter-Day Saints" forgot the sweet song of good-fellowship and love that the angels sang at the birth of Him whom they professed to follow, and by whose name they were called. The angry denunciations of fanatics and religious tyrants, and their servile followers, demanding blood and calling loudly and openly for the sacrifice of human life, and the destruction of all who dared to differ from them, drowned the angel voices.

The old Mosaic spirit of retribution was abroad in all its most fearful force. "Altars of sacrifice" were loudly recommended, and the victims were advised to place themselves thereon voluntarily; if they would not become willing sacrifices, they became involuntary ones, for "somebody" took the matter in hand, and saw that the "atonement" was made.

Usually this mysterious "somebody" was one of the "Danites," or "Destroying-Angels," a band of men regularly organized for the purpose of putting obnoxious persons out of the way. It is said that the band had its origin in Missouri, in the early days of Mormonism, before the settlement of Nauvoo. But they never became so very notorious until the "Reformation" times, when their peculiar talents were called into play, and their services into constant requisition.

As loudly as the Mormon leaders talked to the people about doing their "dirty work" themselves, they, nevertheless, shrank from soiling their own fingers; so they employed others to do their own share, and contented themselves by saying that such a person ought to be "used up," and thinking no more of it until they received the news of a mysterious death. In this way Brigham Young has "managed" a great many murders, of which he would probably avow himself entirely guiltless, since his hand did not perform the deed. But though his hand may have no bloodstain to haunt him, yet his heart must be terribly weighted with the load of guilt, which he cannot shake off, let him try as hard as he may. To look at the man, rosy and smiling, comfortable in every particular, you would never take him to be the hard, cruel despot he is. He looks clean enough outwardly, but within he is ruled with moral rottenness to the very core.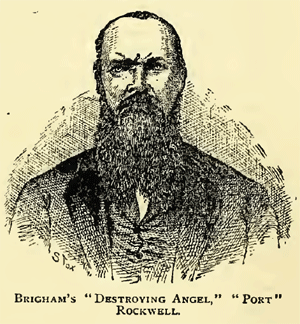 Brigham's "Destroying Angel," "Port" Rockwell.
Among the men he has employed, the most notorious are Orrin Porter Rockwell, known familiarily as "Port" Rockwell, and William, or, as he is called, "Bill" Hickman. "Port" was an old friend and ally of Joseph Smith, holding very much the same relation to him that "Bill Hickman" has held to the present Prophet. Among other things of which he was accused, was the murder of Governor Boggs, of Missouri. Joseph Smith and he were both accused, the former of instigating the murder, the latter for committing it; but Smith got free without a trial, through some quibble of the law, and Rockwell proved that he was in another place at the time of the attempted assassination. He was always near the Prophet in the time of danger, and, in return, Joseph promised "Port" that so long as he wore his hair uncut his life should be safe. So he still wears his hair long, in braided queues down his back, and he says that he shall live until every enemy of Joseph Smith is killed.

His evil deeds will probably equal, if not outnumber, Bill Hickman's; but the latter, either touched with remorse at the remembrance of all the crimes which he had committed, or else annoyed because Brigham was so avaricious and parsimonious, and did not give him money enough, or because he thought to save his own neck, turned State's evidence against Brigham and the other Mormon leaders, and made what he calls a "full confession" of his crimes. The list of them is perfectly appalling, and he claims that he did them all at Young's instigation.

Among the most famous of the murders was that of Lobbs, and the massacre of the "Aiken party" -- a deed that stands in cold-blooded atrocity and treachery next to the "Mountain Meadow Massacre," and in which Port Rockwell figures also. It was a deed that could be committed by no one except the fanatical Mormons, who were drunk with "Reformation" excitement, and filled with an insane desire for blood-shedding.

A party of six men, on their way from Sacramento, which city they had left in May, 1857, going, as it was supposed, to join Johnston's army. A part of the way they travelled with a party of Mormons who were ordered home from Missouri to assist in the "Mormon war."

The Mormon party took a great liking to them all, and the relations between them were very amicable. John Pendleton, one of the Mormons, said in his testimony, "They were kind, polite, and brave, and always ready to do anything that was needed." Unfortunately for them, they got impatient at the slowness with which the Mormon party travelled, and so they left it, and hurried on. At Raysville, a town about twenty-five miles north of Salt Lake, they were all arrested on the charge of being government spies. A few days after their arrest, the Mormon party came in, and Pendleton, it seems, instantly recognized their horses in the public corral. He at once inquired what it meant, and on being told that the party had been arrested as spies, he replied, with an oath, that it was impossible; that they knew nothing about the army; that, in fact, they had been their companions nearly all the way. "Can't help it; we shall keep them," was the reply. When it is remembered that they had property with them to the amount of twenty-five thousand dollars, I think their detention will be fully explained.

They were tried as spies, and nothing being proved against them, they were promised safe-conduct out of the Territory, but they must be sent by the southern route. Four of them went, leaving the other two of their party in the city, accompanied by Rockwell, John Lot, a man of the name of Watts, and one other man. At Nephi, one hundred miles south of Salt Lake, Rockwell informed Bishop Bryant that the party were to be "used up" there. A council was held, and the Bishop appointed four more men to assist the four who had the men in charge. Among these last appointed was the Bishop's own counsellor, Pitchfor, and a man named Bigbee, who is now a Bishop. This party of four started early in the night, while the Aikens' party did not leave until daylight. When they reached the Sevier River, Rockwell said he thought they had better camp there, for they could find no other camping-place that day; so they stopped. Very soon the other party, who had been lying in wait for them, approached, and asked permission to camp with them, which was readily granted.

The men were tired, and removing their arms, they were soon sound asleep. Their treacherous companions hovered over them like greedy birds of prey. Why didn't something warn those men of the terrible fate that was in store for them? But there came no voice of warning, and still they slept on as peacefully and as trustfully as though in their own homes among those who loved them; and still the assassins hovered over them, waiting for what they did not know. They discussed the manner in which the deed should be done, and decided not to use fire-arms. Armed with clubs, they crept stealthily up to where their sleeping companions lay, and dealt furious blows at them while they slept. Two of the men died without a struggle; John Aiken was but slightly wounded, and rose to his feet to defend himself, but received a shot from the pistol of one of the men which laid him senseless. A man called the "Colonel," believing the whole party were attacked by robbers, made his way into the bush, receiving as he went a shot in the shoulder from "Port" Rockwell's pistols. He succeeded in evading his pursuers, and made his way to Nephi, twenty-five miles distant, and arrived, pale and drenched with blood, at Bishop Foote's, whose guests the party had been during their stay in Nephi. He told his story, which was listened to with a surprise and horror that were well feigned.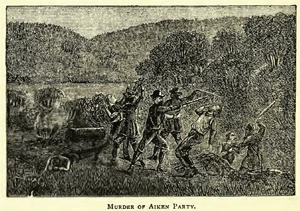 Murder of Aiken Party.
The three bodies were thrown into the river; but in some miraculous manner, in spite of his wounds, John Aiken managed to get ashore, and, hiding in the bush, he heard one of the men ask Rockwell "if all the damned Gentiles were dead;" to which the other replied, that they were, all but one, but that he ran away. Aiken lay quietly until he heard the assassins leave; then he made his way, as best he could, through the cold November night, drenched with water, sorely wounded, and with very little clothing, back to Nephi. He knew who were his attempted assassins, and he knew that to go to Nephi was to go directly back into the jaws of death; but he did not know what else to do; so he plodded painfully on until he reached the town, where he sank fainting at the door of the very first house which he reached. The woman of the house was surprised at his appearance, and told him that another one was at Bishop Foote's. "It is my brother!" he exclaimed, and moved away from the door. No one attempted to stop him; all were too much shocked at his appearance and manner, and he reached Bishop Foote's in safety, where he found not his brother, but the "Colonel."

The meeting between them was heart-rending. They wept like children, and, falling into each other's arms, embraced one another with all the tenderness of women. And the Mormon men looked on and coolly decided upon the manner of their death.

Bishop Bryant came with condolences and regrets at their own misfortunes and the sad fate of their friends, extracted the balls, dressed the wounds, and advised them to return, as soon as they possibly could, to Salt Lake City. In the mean time the murderers were in Nephi, concocting a new plan of assassination. It is said that the men had saved a watch worth two hundred and fifty dollars, and a pistol. When they got ready to leave, a bill for thirty dollars was presented to them, which, having no money with them, they promised to settle directly on their return to Salt Lake. They were told that such an arrangement could not be made; so Aiken said, "Well, here is my watch and my partner's pistol; you can take which you choose." Without hesitation the Bishop took the pistol; so leaving the men entirely unarmed. As he gave it to Foote, he turned to his friend and said, with the tears rolling down his face, "Prepare for death; we shall never leave this Valley alive."

Previous to their departure, John Aiken had commenced to write an account of the affair; but it moved him so that he was utterly unable to proceed with it, and so he got a son of Bishop Foote, who had proved a good friend to them, to finish it for him. This account, by some mysterious good fortune, has never been destroyed.

They had got but a few miles from Nephi when the driver of their wagon a Mormon, and in the plot stopped in front of an old cabin, and saying that he must water his horses, unhitched them and led them away. Instantly, two men stepped from the cabin, and before the doomed men could realize the situation, fired at them, killing them instantly; they were then taken from the wagon, and, loaded with stone, put in a "bottomless spring," such as is often seen in Utah.

While this atrocious act of villainy was going on, Rockwell and his men had returned to Salt Lake, and taking the remaining ones of the party, had started southward with them, plying them with liquor constantly. One of them, named Back, feigned drunkenness; but the other man was absolutely insensible when they reached the "Point of the Mountain," where it had been decided to make away with them; or, in Danite parlance, "use them up." They were suddenly attacked with slung-shot. The drunken man was quickly despatched, without the slightest trouble; but Back, who had been suspicious of his companions, and had been on the lookout for treachery, leaped from the wagon, and succeeded in outrunning his pursuers and in evading their bullets. He swam the Jordan, and came down to the city, where he told the whole story, creating a tremendous excitement. Brigham was terribly exercised, and sent at once for Hickman, telling him, in his usual refined manner, "The boys have made a bad job putting a man out of the way. They all got drunk, bruised up a fellow, and he got away from them at the Point of the Mountain, came back to the city, and is telling all that has happened, which is making a bad stink."

He then told him that he must find that man and use him up; that, first of all, he was to go and find George Grant and William Kimball, both of whom were "generals" in the Utah militia, and consult with them about having him taken care of. Hickman found the "generals" decidedly disgusted at "Rockwell's mismanagement of the affair," as they termed it; that something must be done, and that at once, and asked if Brigham had sent him up. On being told that he had, they informed him that they had arranged everything, and only wished him to carry out their arrangements and follow their instructions.

They had planned with a man with whom Back had stayed a great deal on his first arrival in Utah, and in whom he had implicit confidence, to invite him to visit him. He was to come to town to fetch him to his home, which was about twelve miles from the city, and Hickman was to meet them on the way and despatch Back. He was to go a certain road, which was very quiet, being but little travelled, was to drive white horses, and was to go very fast. Hickman and another man named Meacham started out a little before sundown, and rode to the appointed spot. About dusk, the wagon with the white horses came swiftly along; the two men were talking interestedly, and the poor victim of this treacherous plan was entirely off his guard: supposing himself to be with a friend, no thought of harm had entered his mind, and he was entirely unprepared for his cruel fate. Hickman and Meacham stepped suddenly out into the lonely road, and called to the driver to halt, at the same time firing at Back, shooting him through the head, and killing him instantly. The body was put into a ditch, a rag hung on a bush to mark the spot, and the assassins returned to George Grant's house to report their success. They found Grant, Kimball, and Port Rockwell all there, and after hearing the result of the expedition, all took spades and went out and buried the man. The next day Hickman gave an account of the affair to Young, who expressed himself as delighted that he had been put out of the way.

It was fourteen years before the truth of this affair was known. It was for a while shrouded in deep mystery, and the blood of the innocent victims cried out for retribution unheeded and unnoted for all those years. Now their fate is known beyond a doubt, and foremost in the list of assassins stands the name of Brigham Young.