Boulder man who set car on fire and died identified
by John Bear
Staff Writer
POSTED: 07/10/2018 07:36:46 PM MDT
UPDATED: 07/10/2018 07:38:19 PM MDT
NOTICE: THIS WORK MAY BE PROTECTED BY COPYRIGHT
YOU ARE REQUIRED TO READ

THE COPYRIGHT NOTICE AT THIS LINK

BEFORE YOU READ THE FOLLOWING WORK, THAT IS AVAILABLE SOLELY FOR PRIVATE STUDY, SCHOLARSHIP OR RESEARCH PURSUANT TO 17 U.S.C. SECTION 107 AND 108. IN THE EVENT THAT THE LIBRARY DETERMINES THAT UNLAWFUL COPYING OF THIS WORK HAS OCCURRED, THE LIBRARY HAS THE RIGHT TO BLOCK THE I.P. ADDRESS AT WHICH THE UNLAWFUL COPYING APPEARED TO HAVE OCCURRED. THANK YOU FOR RESPECTING THE RIGHTS OF COPYRIGHT OWNERS.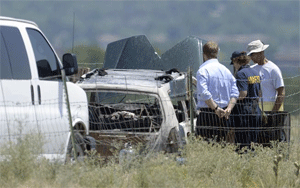 The Boulder County Coroner's Office has identified a man who was found dead Sunday in the front seat of a car that he had intentionally set on fire. (Lewis Geyer / Staff Photographer)
Kathleen Moore spoke fifth, and gave me permission to disclose her name. Moore was the partner of the late Bill Scheffel, who died of suicide on July 8th. He immolated himself in his car a week after giving a despairing address to a community gathering to discuss the scandal.

Moore issued a direct and personal appeal for accountability amidst a culture of silencing.

Moore described having been isolated by the community after Scheffel's death, pushed to the margin as an outsider, as someone willing to discuss toxic dynamics within the group. This follows, as she says, a pattern that impacted Scheffel himself. She began by reading a quote from Scheffel's address:

I'm in a world of pain. When Trungpa Rinpoche died, there were many forces at work. Now there's a phenomena of you're either in or out. We are no longer a society. We've become a church. Society has division, diversity and dissonance. The rank-ism [here] creates distance and has broken me.

"Since he died," Moore continued, "his friends who are mostly senior students of Trungpa Rinpoche, almost all of them teachers, are saying things like, I killed him, that I'm responsible for his death. No one will say this to me. I hear it from others who've heard it and believe those people. But what I'm experiencing is incredible amounts of silence."

Instead of directly answering Moore's public appeal to suggest policy that would address ways in those who criticize the group are marginalized, Simmer-Brown offered to meet with Moore in person.

"It sounds like this may be a more personal conversation between you and me and I would be delighted to talk with you one on one about that," said Simmer-Brown, effectively silencing a discussion about silencing, and further blurring the lines between public responsibility, private resolutions, and perhaps even therapy.

-- Judith Simmer-Brown to Distraught Shambhala Members: "Practice More." (Notes and Transcript), by Matthew Remski
A man who died after intentionally setting his car on fire near the Boulder Rifle Club on Sunday has been identified as 64-year-old William Scheffel, of Boulder.
The Boulder County Coroner's Office has completed an autopsy and Scheffel's cause and manner of death are pending further investigation, according to news release.
Boulder County sheriff's deputies responded to a report of a burning car near the 4900 block of North 26th Street on Sunday morning and
found charred human remains in the driver's seat of the car
.
Figure 1: Partially burned car abandoned in a rural area

Arson and fire will render very difficult forensic evaluation of a crime scene, and in particular of a victim deliberately burned post-mortem.

-- "The Fire will do the Rest": Concealing Homicide through Posthumous Burning of Corpses, by Zija Ismaili, Bledar Xhemali, Admir Sinamati and Gentian Vyshka
Scheffel's death remains under investigation, but no foul play is suspected.
My personal effects began to be routinely sabotaged and a mixture of corn chips, grass and gravel were placed in my vehicle's fuel tank. The Director suspected the Kitchen Manager in the vehicle sabotage while I told him that it was more likely the work of his ex-army chauffeur friend who he had recently employed in the Facilities Maintenance Department, Jeremy Blackburn....

About an hour after leaving Dorje Denma Ling, I discovered that the strange sound on my vehicle came from the rear-axle gears: the oil cap on the differential cover had been removed. The oil inside the differential had completely drained from it. This could have resulted in my death as the gears could have seized while I was driving, and caused a major accident on the highway. I immediately suspected the Kitchen Manager in collusion with the Director's friend in the Dorje Denma Ling Facilities Department, the latter having quietly slipped away to Europe just days earlier without explanation. I later learned that he had in fact been banned from Dorje Denma Ling due to his slander and witnessed physical assault of me and that this had occurred without my knowledge or formal input. However, his banning clearly occurred too late.

I began to investigate what I felt at least criminally reckless behaviour and to research which laws may be applied to the situation. As I could have died in the incident which occurred in the context of relentless harassment, and as Blackburn is most likely to have known the mechanical implications of such an action, it seems obvious that had I died there would have been a murder investigation. In addition, given that no life was lost, the overwhelming likelihood of Blackburn's involvement in the apparent first and second vehicle sabotages makes an allegation of attempted murder plausible in this case.

In this analysis I am supported by Shambhala International's former President, Richard Reoch. He is also the former Public Relations Chief for Amnesty International and a broker in the ceasefire in the intractable recent war in Sri Lanka. On two occasions in 2015, four months apart he was careful in assessing what I told him of the scenario, found it to be credible, and earnestly encouraged me to not refer to the incident as merely willful aggression or recklessness, but as attempted murder. He encouraged me to do what I could to pursue all avenues of investigation in this. He was also very clear that I may get nowhere with the Sangha's internal conflict resolution processes as wrongdoing was, "…systemic…" in the Sangha. He finally told me that if I approached the Sakyong, "…even though you think he should be interested, he ain't! He just ain't!"

Having effected an emergency repair, I drove to Maine to spend three nights at the home of Toby Sifton, one of the Kasung Command and my main supervisor. He consoled me with apparent heart, while I arranged for a new differential to be fitted to my vehicle at a cost of $3,000. Nobody offered any compensation and it was clear it was not worth asking for any, despite it being clear to Kasung Command that a major incident had just occurred at Dorje Denma Ling.

Sifton ordered me to silence so as to, "…not feed this beast", namely the gossip surrounding the Kitchen Manager's storyline. In my utter confusion, I began a month of attempted healing at Karme Chöling in Vermont. I effectively suppressed any criticism of anybody elses's responsibility in the aggression which had, preventably, come my way. However, just as the Jews are not responsible for their holocaust, I am not accountable for that aggression and the Sangha remains at risk of harm because, to this day it has been swept under the rug.

Sifton informed me via email that I would risk his personally collecting me from Karme Choling to, "…exile on Ragged Island to subsist on seaweed", (on the coast of Maine) should I discuss my experience at Dorje Denma Ling with anybody at Karme Choling during my month there. It did seem somewhat of a harsh to toy with making me his prisoner while the Kitchen Manager was left freely crowing around the Nova Scotia Sangha, "We ejected the Rusung from Dorje Denma Ling!" The Kitchen Manager was reported to have done this in the Sakyong's Halifax kitchen in her role as his trainee cook. Still she was not questioned, and it would be six months before she was properly fired. As a victim of Sangha crime I was being silenced while slander was allowed to generate against me.

-- The institutionalised cover up of crime in the Shambhala International Sangha, by Edmund Butler
John Bear: 303-473-1355, bearj@dailycamera.com or twitter.com/johnbearwithme
***************************************
Librarian's Comment
: May 2 at 11:59 PM
https://www.reddit.com/r/ShambhalaBuddh ... dium=web2x
As a retired prosecutor and criminal defense attorney, I can only say that finding a body in a burned automobile raises serious suspicions about whether the death was a homicide, rather than a suicide. Burning yourself to death is a difficult way to kill yourself, and self immolation inside a car is almost unheard of. The only reference to a case of self-immolation in an automobile is in a paper entitled Unusual motor vehicle suicides, and was "a backup to a drug overdose."
On the other hand, burning a body in a car is a textbook way of hiding evidence of murder. Planting rumors about why the person would commit suicide is a second form of concealment, called staging: "For example, after killing a person an offender puts the victim into their vehicle and sets the car on fire with the aim of destroying any physical evidence that may have been left behind. This would be a precautionary act. If the offender does the exact same thing, but writes a suicide note, signing on behalf of the victim, speaking of mental anguish and the desire to end their life, this would constitute staging."
Getting Away With Murder: An examination of detected homicides staged as suicides
I became acquainted with the technique of burning the body in an automobile after simulating an automobile accident when I was an Oregon Deputy DA, and watched a video with some detectives of the exhumation of a body that had been buried eighteen years. Asking why we were watching this, another DA told me that a Native American in a Georgia prison was dying, and confessed to participating in a biker murder in Grants Pass where they shot the victim in the throat with a shotgun, put his body in a car, doused it all with gasoline, and pushed it over a cliff. Sure enough, Josephine County sheriffs called it a fatal one-vehicle crash. But when they exhumed the body (not much flesh left on the bones by the maggots, but there was still a cohesive spinal structure visible), they x-rayed it and -- boom! There was a wad of buckshot right in the neck.
Obviously, if a person self-immolates themselves, there's going to be a different appearance than if someone ignites their corpse. Here is the difference: "If a person is alive but unconscious before they are burned, the burned body will assume a pugilistic posture. This term arises from the similarity of the posture to that of a boxer in the ring; the arms are raised up in a defensive position and the hands are tightened into fists. The legs may be bent into a defensive stance as well. "
Burning Evidence
I don't have any information on the appearance of Bill's body, but good police forensic practices are often not followed, and homicides are taken for suicides all the time. (
See the likely murders of Ferguson activists
, including at least one the police are calling suicide that was almost certainly a lynching. The Boulder law enforcement do not have a great reputation for investigating homicides involving the wealthy, as we can recall from their inability to solve the Jon Benet case.
Suicide by a Dharma student is a rare thing. Sometimes people know too much. Questions should be asked, but the Boulder media isn't doing it. Somebody should get the coroner's report, and see if Bill's burned corpse was in a "pugilistic posture." If not, then he was dead before the car was burned.
Charles Carreon