Garrison Institute Biannual Report
by Marc Weiss / Executive Director
Garrison Institute
2016-2017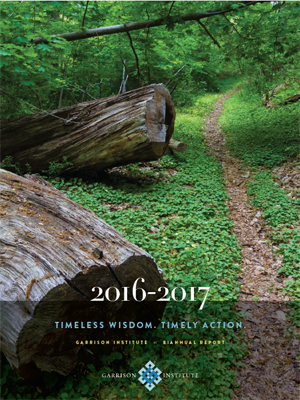 The Garrison Institute's tagline "Timeless Wisdom, Timely Action," evokes both dimensions of our work, from
eternal truths to current events
. It's about inwardness – tuning in and discovering what is unchanging and most fundamentally human through contemplative practice. It's equally about outwardness – reaching out, deeply engaging with the world here and now, and applying what is skillful and effective to meet the needs of our time.
2016 and 2017 were quite a time. They were years of historic change and disruption, stress, and distress. But as many
wisdom traditions
teach, that's impermanence; it's endemic, always with us one way or another. Recognizing and working with that basic truth is the gateway to relieving suffering.
So it proved for us. As you'll read in this biannual report, 2016 and 2017 also brought historic opportunities to pursue our mission of building a more compassionate and resilient future for all.
Our work has never been more relevant or more in demand. It speaks to
a widely felt need to meet rising fears and crises with wisdom and compassion, groundedness and connectedness.
Starting at the end of 2016, we saw attendance at Garrison Institute retreats and events swell significantly. As division and polarization deepened in our culture,
we focused on building community, compassion, resilience, and renewal
, both in our own region and across the country. We got strategic about extending our reach to match the growing need,
finding new venues and partners beyond our walls
, and leveraging national and even global impacts.
For example,
as conflicts, climate change and natural disasters intensified around the world, we tripled the number of trainings offered by our Contemplative-Based Resilience (CBR) Project, which helps humanitarian aid workers cope with the stress of serving those in need.
As the refugee crisis engulfed the Middle East, we established CBR trainings in Amman, Jordan, enabling us to help aid workers deployed in Syria and throughout the region.
The following pages give a brief overview of what we did in this consequential time in history, how we did it, and how it helped further our mission. To say we're proud of these achievements is true, but
"grateful" would be nearer the mark. We're thankful to be in a position to make a difference
, and we appreciate how lucky we are to be part of a vital and growing community of like-minded people and organizations working with us towards a better future.
With gratitude,
Marc Weiss / Executive Director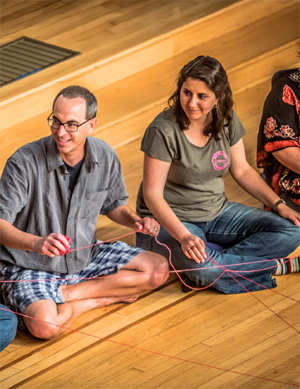 Tuning In
Headquartered in a former monastery on the banks of the Hudson River, which we reimagined and reshaped as "a monastery for the 21st century"
– diverse, inclusive, welcoming, and relevant – each year, the Garrison Institute offers refuge, reflection, and restoration for thousands of people from all walks of life.

All our activities share a common thread of doing "inner work" and tuning into inner experience in order to animate our "outer work" and conceive new possibilities for the world around us.
We bring together teachers, students, practitioners, and innovators in the fields of contemplative practices, science, the arts, technology, social justice and environmental advocacy.
Through a rich array of contemplative-based retreats and gatherings, together we explore diverse wisdom traditions and contemporary ideas, seeking to deepen spiritual practices, cultivate inner resources, build compassion and resilience, reframe our relationship with the natural world and with technology, and prepare us to work effectively for a more just, loving, and sustainable world.

We offer specially designed trainings for people working in such fields as social work, education, humanitarian aid, and the non-profit sector.
We also host private meetings and retreats for businesses and institutions, working with them to design their retreat experience, and drawing on our network of renowned teachers, experts, innovators, and authors to speak and facilitate.
In 2016 and 2017, we offered a total of 240 diverse retreats, workshops, symposia, and gatherings at the Garrison Institute, in a wide variety of formats, exploring everything from affordable housing to Zen Buddhism. Nearly all entailed some component of contemplative or mindfulness practice.
Some addressed what we call "Transformational and Contemplative Ecology," growing and convening our network of climate, sustainability, spiritual and community leaders to re-conceive our relationship with the natural world and help make environmental advocacy more effective. For example, in 2016 Joanna Macy led a retreat on "Rainer Maria Rilke and the Force of the Storm." Macy's "Work that Reconnects" trainings have empowered environmental activists and scientists worldwide, drawing on Buddhist teachings, systems theory and the deep ecological visions of poets like Rilke, whom Macy and Anita Barrows translated, and who foresaw the disruptions of our time over a century ago. You can watch Macy introducing the retreat here.
Joanna Macy on Rainer Maria Rilke, Garrison Institute
Rilke's Book of Hours: Love Poems to God; poems by Rainer Maria Rilke, translated by Anita Barrows and Joanna Macy

; Riverhead Books (1996); ISBN 1-59448-156-3
One such rather influential interpretation [coming out of the modern gnostic foundation] could be found in the George circle. This so called 'cosmic circle' took shape in the Schwabing quarter of Munich at the end of the nineteenth century, around the figure and poetry of Stefan George. Among its core members were

Karl Wolfskehl (1869-1948), Friedrich Gundolf (1880-1931), Hans Busse (1867-1914), Friedrich Huch (1873-1913), Franziska Reventlov (1871-1918),

Rainer Maria Rilke (1875-1926)

, Alfred Schulter and Ludwig Klages.

-- Modern Gnosis and Zionism: The Crisis of Culture, Life Philosophy and Jewish National Thought, by Yotam Hotam
Another woman who experienced Freda's ability to break down barriers to get what she wanted was

Joanna Macy

, renowned American environmentalist, teacher, and author. She was living in Delhi with her husband

Francis Underhill Macy

], who was working for the Peace Corps, when Freda came to visit.

"I remember I opened the door and she stood there in her maroon clothes, greeting me as if somehow I and not she were the guest. I loved the way that touch of the Raj blended so paradoxically and superbly with the monk's garb she wore. She had come because she wanted my husband to release a particular person in the Peace Corps to work for her in Dalhousie. 'I shall speak to my friend Mr. B in the Cabinet,' Mummy said with a smile. 'When do you think we can expect him?' It was the marriage of serenity and sheer nerve. She was English in the way only the English can be. She had implicit authority," Macy said.

Later, Macy went to Dalhousie to help settle Khamtrul Rinpoche, a high lama who had escaped from Tibet with a huge number of followers, including monks and a large community of accomplished artists and craftspeople. She took the opportunity to take teachings from Freda at a small class for Westerners she had organized in Dalhousie. Macy also undertook a silent retreat under Freda's direction, and today acknowledges Freda's influence on her spiritual life.

"What she had to say had a lucidity and simplicity about it. I can't accept any teachings if there is a false note -- if it is not coming from a person's wholeness and integrity, if what they are saying merely comes from what has been heard or read. With Freda I was able to drink it in. It was coming from beyond."

"I don't know how realized she was. I didn't go into those areas. She told me something about her mystical experience in Burma. She said she came out onto the street and saw everything in the world lit up as though from within. She did not go into a featureless expanse -- but the ordinary world was transformed for her.

"She also taught me from her actions. I never heard her say a mean thing about anyone. She was always thinking of others, writing to people all the time, trying to get others what they needed. And it was done with such affection. She constantly had a folder in her lap, and whenever she had a minute, she'd write a note to someone.

"Mummy was wonderful for me to a very high degree," Macy continued. "First of all, she was important because she was a woman. I am grateful to someone who understood the teachings and practice, and that it was a woman in a tradition that is quite male dominated. That was not by choice -- it was sheer good luck. I was not consciously being a feminist, but I knew and I trusted her. She had a love of the Dharma and used it in a bold, brave way. When I first approached her for teachings, she replied, 'Yes, of course, my dear, I will be delighted. That is just the thing.' I sensed she had just been waiting for me to ask.

"Although she had reverence for the tradition, she did not present me with any overlay of doctrine or view. Nor did she start me off as the lamas would have done, with the Vajrayana (the Buddhism exclusive to Tibet). Instead, she wanted me to recapitulate her own journey, starting with the Theravada buddhism she had learned in Rangoon. For me this was quite marvelous. It acquainted me with the early teachings of the Buddha and disciplined my mind in a way of following empirically my own experience in the immediate arising of mental and physical phenomena in my own body and mind. 'Bare attention -- just watch the thoughts. Know you are thinking, thinking. Get the "I" out of it," Mummy instructed. This allowed me later on in graduate school to approach the early teachings without any filter, with tremendous respect and curiosity for what the Buddha was saying. During my retreat I was in torment yet fascinated watching my own mind.

"She was trying to bring me right up to Tibetan practice. She kept talking about Trungpa, whom she loved very much. 'Wait till you meet him,' she said. When Trungpa came to the States, I thought, 'Now I'll graduate to a Tibetan practice,' but I stayed with the Vipassana I'd learned from Mummy.

"What Mummy did not do for me, however, was to model the social significance of the Buddha's teachings for our times, which is what I had become very focused on. 'Engaged Buddhism,' as it's called. To me Buddhism frees us to act for social and ecological survival, what needs to be done for a just and sustainable society. This wasn't of interest to Mummy."

-- The Revolutionary Life of Freda Bedi, by Vicki Mackenzie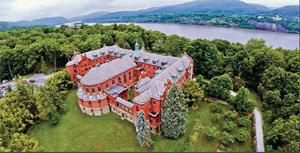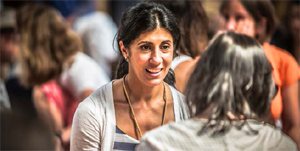 We also focused on "Transformational Leadership," forming partnerships with businesses and institutions that seek to help their leaders build a more mindful, compassionate, mission-driven organizational culture amid intense volatility and change. To that end, we hosted successful corporate retreats for organizations ranging from Kickstarter to the Global Impact Investing Network. In 2017, we reached out to businesses and organizations and invited them to collaborate on transformational leadership work. As a result, we will be working with more businesses in 2018, exploring best practices for bringing mindfulness and compassion to the workplace and strategies for nurturing the growth of the transformational leadership movement.
Some of our events and workshops explored the arts as ways of deepening our sense of connectedness and shared humanity, analogous in that sense to spirituality and contemplative practice.
In 2016, the Sufi musical group Riyaaz Qawwali gave a concert coupled with a talk by Pir Zia Inayat-Khan on music and sound as a devotional practice in the Sufi tradition. Eve Ensler's play "Extraordinary Measures," which deals with the dying process, was performed at the Institute as part of the 2016 Buddhist Contemplative Care Symposium. Meredith Monk led a 2017 workshop at the Institute on "Voice as Practice," and gave a public concert and talk on art and spiritual practice.
Joanna Macy - Choosing Life | Bioneers

We open our heart-mind to behold and give shape to our world, to let our hearts be a mirror to the world....

Carl Jung believed

that the core of each life is a question that that life, that person, must pursue, and is fortunate if he or she discovers it. Well, I know what the question was ... the question was how to be fully present to my world, present enough to enjoy it and be useful, while at the same time knowing that my species, we human species, are progressively destroying this world. Wow! That splits you right down the middle and puts you back together again, over and over again. It has asked me to keep my eyes and heart open to what I see happening, to unblock the feedback loops, and help others do it too, to speak the truth...

I wanted to dedicate the minutes of my talk with you to

Edward Snowden

, and to Chelsea Manning, and to countless others of our brothers and sisters who are helping us see what really is going on,

breaking down the walls of secrecy

!

Because it is only when we are able to see our world and touch it that we can be part of its self-healing....

The prominence of the USIA is significant, since this is an agency with a long track record in political and psychological operations. It was created by the Eisenhower administration in 1953 as an agency within the NSC at the recommendation of a top-secret report issued by the President's Committee on International Information Activities. Its explicit purpose was to conduct propaganda, political and psychological operations abroad in conjunction with CIA activities.41 A National Security Action Memo in 1962 stipulated coordination among the USIA, the AID, the CIA, the Pentagon, and the State Department in waging political warfare operations, including civic action, economic and military aid programs.

-- Promoting Polyarchy: Globalization, U.S. Intervention, and Hegemony, by William I. Robinson

To see my world as lover and self, to not be afraid of the suffering, and not being afraid, can get my heart-mind kind of bruised and banged up a little bit. That's what the time we're in seems to call for. And so the times of welcoming the world in a heart and mind have brought such adventures....

So this question opens me up, and opens us all up. And I turn to Rilke again, "I live my life in widening circles that reach out across the world." ...

I've been circling around God, that primordial tower, I've been circling for thousands of years, and I still don't know.

Am I a vulcan

, a storm, or a great song? Same for you! That's the same for you! I've learned that in my

deep ecology

. Friends, as we tell the truth of what we feel and know is happening, as we let others speak through us, other life forms, the life in us is so big, it cannot be reduced to one social role, to one curriculum vitae. Our roots go back, back, back to the beginnings of life. You know that. To the first splitting and spinning of the stars. And all of that journey forward, our human journey, and those before us, have brought us to this point. And we can be so grateful, I am so grateful to be alive now. Because, for life to continue, well, that means -- and you know it in your heart, and that's why you're here at Bioneers, and that's why Kenny Ausubel and Nina Simons are so faithful in bringing it -- that

we have to make a giant step in our consciousness

. We have to make real what we dream and know and intuit: That

we are one planet people

. And we can only be one planet people if we honor all our differences. That

we belong to one living sacred body of earth

. And when we get that, my brothers and sisters, when we really get that, we'll be able to achieve the ongoing singing of the song of life. Isn't that so?! ...

Rilke said toward the end of his life, in a sonnet to Orpheus ... "Quiet friend who has come so far, feel how your breathing makes more space around you." And then he says, "Let this darkness be a bell-tower, and you the bell, and as you ring, what batters you becomes your strength!" Ho, ho! Get that! Then you realize that you're made for change.

And I love it that systems thinking helps us see that, with positive feedback loops, where the change is so great that the old values, and the old norms, and the old self-images, the old worries and feuds, don't fit anymore. And that you have to die to the old forms, and resurrect in a larger self, wider rings....

The word is "positive disintegration." Because you are having to die to images and concepts of yourself that are simply too small. That there is something so big that wants to happen through us. And that we

MUST

allow it to happen through us if we want life to continue on this planet. Because the engines of destruction are strong!
Riyaaz Qawwali

"Religiously, we're Hindus and Muslims and Sikhs, agnostics, atheists."...And that's the ethos that informs their music. They weave songs and texts from Hinduism and Sikhism into the Muslim material. Sonny says that there is plenty of precedent within qawwali for

mixing ideas from different faiths within one song

. He points to one older verse as an example.

"'Mandir, masjid yeh maikhane, koi yeh maane koi wo maane,'" Sonny says. "Mandir, a [Hindu] temple. Masjid, a mosque. Maikhana, which is a bar! So it's an interesting piece of poetry, I think! It's saying,

'Some people believe in this [Hindu] deity of Ram, some people do their bowing of head in the masjid, and some people bow their heads to a maikhana! Some believe in this, some believe in that.' But then, if everyone is just believing in something, we're forgetting Your [God's] identity, because we're interested more in the differences."...

At its heart, qawwali is ecstatic music. It was born in

the religious practices of Sufi Islam

in South Asia. Sufis seek a mystical, personal connection with God. They often use joyous, ecstatic music as a conduit for that experience....

And they hope that that joy transcends religion.

-- Deep In The Heart Of Texas, Muslim Music Blossoms, by Anastasia Tsioulcas
A Lecture with Sufi Scholar and Teacher Pir Zia Inayat-Khan

[Hal Roth, Professor of religious studies and the Director of the Contemplative Studies Initiative at Brown University] My name is Hal Roth, and I direct the contemplative studies initiative and concentration. Some of you, of course, know about contemplative studies, but perhaps some of you do not. So I'd like to say a few words before introducing our speaker for this evening. In contemplative studies we look at human contemplative practices and experiences across cultures and across traditions. And we approach them from humanistic, scientific and artistic perspectives. We have developed a particularly unique form of pedagogy. We call it integrative contemplative pedagogy. And with that, we look at these contemplative practices in their contexts. We look at them from third person points of view that we find throughout the university, looking at history and philosophy and a variety of other factors. We also look at them from what we call critical first person perspectives. In critical first person perspectives we actually teach students direct experience of contemplative techniques in the classroom. We ask them to learn the contemplative practices, they read about what the cognitive frameworks, what the philosophical frameworks are for those practices, but we do not ask them to believe in the truth of those cognitive frameworks. That's something that students are encouraged to do on their own. To test out empirically in the lab of their bodies-minds....

[Professor __] Our esteemed guest's grandfather,

Hazrat Inayat Khan

, who was born in 1882, visited the U.S. from 1910-1912, and then again in the 1920s for a lecture tour which included a stop at Columbia University, and a musical performance there as well. So your being here tonight is part of a long tradition that is more than a century old. Hazrat Inayat Khan founded the Sufi order of the West in 1914, and this coincided with an important moment in American history that also included arrival on American shores of a number of Sufi movements ...

Our guest, Pir Zia Inayat-Khan, who was born in 1971 took over leadership of the organization, in guiding sufi communities in north and south America, Europe, the Middle East, and even in the South Pacific in traditions that connect contemplative wisdom from various strains of mystical thinking, but also just contemplative traditions, and helping to link them with solutions to problems that contemporary society faces with emphasis on responding to urgent social challenges of the day.

The spirit of our guest's grandfather, who arrived in the U.S. at a time which, in his own words, "the time was not yet ripe" for the message that he brought is in many ways still with us today. Hazrat Inayat Khan remarked on the pace and busyness of life in America, was critical of the superficiality with which many approached spiritual teachings from abroad, and was sensitively attuned to the racism suffered particularly by African-Americans. And he wrote that he felt kinship as an Indian with brown skin who at times was also looked upon with contempt.

Sadly, we are now in at another important moment in the history of the relationship between the broad and vast tradition that is Islam and the United States. The social challenges of that era are in many ways still with us, and have even been exceeded. We are in a period of disenchantment with Islam, both from within the Islam community and without. The message of universal Sufism, based on the unity of all people and religions, and the spiritual guidance that is present in all people and places, still has apparently a lot of work to do and much to offer us. To enliven and reanimate the spirit of the vast tradition called Islam whose vibrance has recently been threatened by the politicized and violent manifestations of that tradition that receive so much attention these days, whether in the form of brutality of militants or in the dry and litigious exclusive and absolutist claims of Saudi Wahhabism.

Also in the first decades of the 21st century, the orientalist A.J. Wensinck opined that if not for the flourishing of Sufism, of what is sometimes called the mystical tradition of Islam, even though that is an oversimplification, the Muslim religion would have become a lifeless form." That was in a book that was published in 1932 called "The Muslim Creed." ... At a time in which religion is experiencing a revival, it is also undergoing tremendous change, and needs uniting impulses that can speak to global audiences and address the urgent social, political, and environmental challenges that today feel more pressing than ever....

[Pir Zia Inayat-Khan] And this has led me to re-read a book which belongs to the great literature of the middle ages, the literature of the grail legends, and particularly to reexamine a work of the grail genre which emerged just after the unsuccessful 4th Crusade, when Europe was in a state of deep despondency because of the failure of that Crusade, the failure of this effort to reclaim Jerusalem, which had captured the imagination of Christendom, and then which fell flat, leading to a sense of impotence and cultural hopelessness.

Well, then came

Wolfram von Eschenbach

's great interpretation of the

Parsifal [Parzival] legend

. And as we know, there have been a number of versions of that legend. The earlier one of Chrétien de Troyes' most notably. But Wolfram's version adds an extremely important element, which is the backstory.

Now Parsifal by then was very well known as the grail hero, the champion who at last attains the grail after years of searching. But what Wolfram shows us is that Parsifal had a brother, a half-brother. And he learned this from a bard named Kyot of Provence who himself is said to have learned it from a discarded Arabic manuscript in Toledo, which was the work of a certain Flegatonis, who was known to be an astrologer, a mystic apparently, quite possibly a Sufi.

So this hidden story of the grail reveals that the father of Parsifal [Gahmuret], before Parsifal was born, had gone to Baghdad, and there had served the Caliph of Baghdad. So this quintessential Christian knight had been in the service of a Muslim king, and on further adventures had gone on to Africa to the kingdom of Zazamank, and there had rescued the queen [Herzeloyde]. And upon rescuing her, the two fell in love and were married and had a child. But this Ajevan prince was one to roam. He was never happy to put down roots, so he left his new wife and child and went on his way, returned to Europe, and there married again. And his Christian wife also bore him a child. And subsequently he died in an attempt, actually, returning to Baghdad. To defend Baghdad he died there.

So he left two children. The child born to the Christian mother was Parsifal. But he had this prior son, of which Christendom was completely unaware until Wolfram brought forth this story. And this son was named Firifis. He was notable for his partly colored skin. He was half black and half white, in patches. And eventually, when he grew up, he went in search of his father. And in the course of some adventures, he came across Parsifal in a glade.

Now Parsifal had been seeking the grail for 4-1/2 years precisely, because he had once encountered the grail castle and had been shown the grail, and was dazzled. But he failed to answer the right question. So the grail withdrew, the castle disappeared, and he was left in a state of utter frustration and sought frantically to recover that ultimate experience. So it was in the midst of this ongoing quest that he came across a Saracen knight. Now that word "Saracen" was the word used in those times to refer to the Muslims, or Arabs. Although etymologically it really should be traced back to another root. In the mythology, the legends, it's traced to the island Saras…. And that island was known as the island of the grail. It was the island to which Gallahad brought back the grail after he attained it.

So here was a Saracen knight confronting a Christian knight, and they fell at each other swinging and clanging their swords, and at last Parsifal's sword broke in two. So he was rendered helpless. And Firifis had the upper hand. He could have dealt the final blow, but instead he practiced

Futuwwa, or Sufi chivalry

. He sheathed his sword. He didn't take advantage of his advantage, and the two sat down to talk. They removed their helmets, and Parsifal asked, "Who are you?" He said, "I am Firifis, the Ajevan." He said, "How could you be an Ajevan? I am Parsifal. I am the Ajevan." And so they got to talking, and realized at last they had the same father. Just as soon as that realization came, Parsifal took Firifis to Arthur's camp, and he was warmly welcomed there. He was made a knight of the round table. And then came Kundry with the message that they were called to the Grail Castle.

And so this quest, which Parsifal had pursued for so long now reached its conclusion. And why did it reach this conclusion? Because the two brothers were united.

Now, there is significance in this story. And it is significant that it came at the end of the 4th crusade. Why? Because here is shown the moral: that the grail which symbolizes attainment, the grail that symbolizes salvation, is found in the reconciliation of two lives of the Abrahamic prophetic family. That is to say, that salvation which was sought by a conquest of the holy lands, needs to be redirected toward a process of reconciliation and spiritual reunification. That is what this version which draws upon the backstory shows.

And so it's a version that evokes a kind of chivalry which is common to all three of these civilizations. And it's a chivalry that's traced back to the Prophet Abraham. The Sufi text refers specifically to Abraham as the founder of chivalry.

So we have chivalry understood in Suffism as the myth of Parsifal. Parsifal, upon attaining the grail, becomes the new grail keeper and Firifis is married to the maiden who is the holder of the grail. So there is a triumphal conclusion. And that conclusion is a piece of evidence, which together with the evidence of Futuwwa in Sufism, points to an understanding that was held by some in the middle ages, and which has been elaborated, and explored in great detail, in the Sufi texts, that there exists a tradition of ethical excellence and spiritual kinship between the people of the Abrahamic family despite the political differences between the empires that determine the fate of these peoples.
Other Garrison Institute activities support what we call "Movements of the Spirit," identifying diverse communities of spiritual practice, building an interdisciplinary community around them and designing spiritually grounded, civil dialogues among them that can cut across political divides.
Spiritual frameworks shape our sense of perspective, morality, meaning, and purpose, and are a deep part of our common bond. We believe that reaffirming them is key to overcoming polarization and divisiveness we're now experiencing, and reweaving our frayed social fabric.
Our work has touched a nerve. As we told The Wall Street Journal, the Institute experienced a significant uptick in attendance at the end of 2016 and into 2017. With retreats like Tara Brach and Jonathan Foust's "Mindfulness and Compassion Practices that Release the Trance of Fear" or Jack Kornfield's "Loving Awareness, Wisdom, and Compassion in Tough Times," and our first evening salon in New York City's Judson Memorial Church on "(Mis)Information Overload: Living in Truth in a Post-Truth Age," we spoke to a growing need for reconnecting with ourselves and one another, cultivating compassion and resilience, and staying present in challenging times.
Our impact has grown along with the need. In 2016 and 2017, almost 12,000 people came to the Garrison Institute (a total of over 65,000 since we opened our doors in 2003).
We also reached thousands more by collaborating with various partners, and conducting offsite activities, trainings, and events, from New York City to Amman, Jordan.
"Being able to deepen my practice has revolutionized my relationship to myself and others. It's transformed my life, and I'm extremely grateful. Garrison has helped me connect my inner journey with my work with nonprofits that are making a real difference in people's lives."

-- Retreat Participant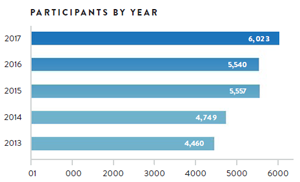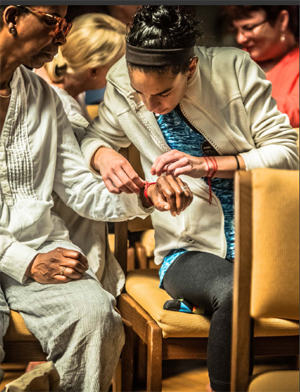 Reaching Out
For many thousands of people, the Garrison Institute has been a kind of sanctuary for inner exploration and renewal, but one founded with the intention of facilitating deep engagement with the world and addressing the most pressing challenges of our time. Those who come through our doors experience the transformative power of contemplation, then go back into the world better equipped to relieve suffering, foster compassion, and help build a better future. In 2016 and 2017, we intensified our focus on what happens beyond the walls of the Institute, and leveraged tangible regional, national, and global impacts.
We held some 40 events in New York City featuring compelling speakers and teachers such as "How Does Spiritual Practice Lead to Social Activism?" with Rabbi Rachel Cowan and Zen priest Norman Fischer at the Marlene Meyerson JCC Manhattan, or "On Wisdom and Being" with Krista Tippett and Andrew Zolli at the 92nd Street Y, or "America's Mindfulness Movement" with Daniel Goleman, Richard Davidson, and Jon Kabat- Zinn at the New York Society for Ethical Culture.
Our NYC events helped us reach new audiences and connect with new communities of practice. As part of our Movements of the Spirit work, we're intentionally expanding our network of these communities across the US and internationally and finding new ways to engage with them. In 2017, we undertook the formation of a Garrison Institute Leadership Council composed of influencers in their 40s and younger who represent the current and next generation of entrepreneurs, innovators, and leaders. They help us expand our outreach, and keep our content and programing cutting-edge.
Our Transformational Leadership work bore fruit regionally, nationally and beyond. For example, we partnered with the Good Work Institute (GWI), an independent non-profit launched by the online retailer Etsy, on its 2016 Hudson Valley (HV) Fellowship. GWI's HV fellows are drawn from local businesses, community and nonprofit organizations, and government. They work to build "compassionate, regenerative, and equitable communities in the Hudson Valley and around the world." When the Institute hosted a retreat for them, we found GWI's mission was aligned with ours, and we decided to work more closely together. Members of our staff participated in the fellowship program, and Garrison Institute and GWI jointly organized an event on "Business as a Force for Good" with Daniel Goleman. We're planning further joint events in the future.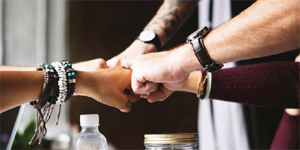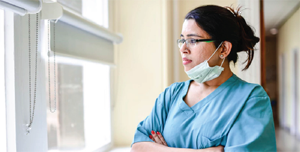 In 2017, we formed a partnership with Mindful Leader, organizers of the annual Mindful Leadership Summit in Washington, DC, the world's largest gathering dedicated to mindfulness and compassion in the workplace. The Summit is growing exponentially, attracting thousands of leaders from around the world, and our partnership with Mindful Leader has given our transformational leadership work a national and global platform.
In 2016 and 2017, we expanded our offerings and broadened the focus of our Care for the Caregivers activities. They provide unique contemplative-based trainings for people who care for others, whether in their families or communities, or in the helping professions – teaching, healthcare, end-of-life care, humanitarian aid, social justice and more.
Nearly half of teachers report feeling chronically stressed, and 30 – 40% leave the profession within their first five years. Our CARE for Teachers and Mindful Schools trainings give teachers self-care tools and contemplative skills to cope with stress, avoid burnout, and reanimate their teaching, so they and their students can flourish. Covered by NPR in 2016 and The New York Times in 2017, CARE for Teachers has attracted national recognition and growing demand. To help meet it, we've licensed the CARE for Teachers training, and it's now part of the national organization CREATE for Education.
"The retreat was life-changing for me: profound, grounding and illuminating. My work is rewarding, but I can feel bleak at times. Truly nourishing self-care helps make my activism sustainable long-term."

-- Retreat Participant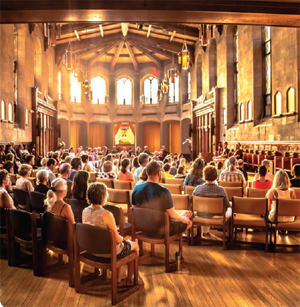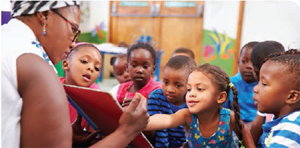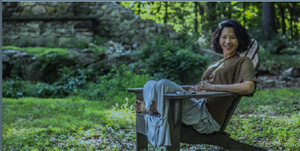 79% of humanitarian aid workers report having experienced mental health problems themselves. Deployed in some of the world's most difficult environments, their work is stressful, dangerous, and puts them at risk for primary and secondary trauma, PTSD and burnout. The strain is growing along with climate change, protracted conflicts and the refugee crisis. Our Contemplative-Based Resilience (CBR) Project helps aid workers counter the physical and psychological effects of chronic stress and exposure to trauma, so they can continue and thrive in their lifesaving work.
In 2016, we brought CBR to the Middle East for the first time, establishing operations in Amman, Jordan and holding the first CBR training there, which enabled us to have an impact on the Syrian refugee crisis. In 2017, we developed partnerships with more aid agencies, which sent their staffs to be trained, and we tripled the number of CBR trainees over 2016. 70% of them were women. In addition to Jordan and Syria, CBR trainees are now working in Iraq, Pakistan, Turkey, Lebanon and the Palestinian Territories and beyond. You can read about CBR's outcomes in detail in the summer 2017 issue of Stanford Social Innovation Review.
CBR techniques designed for humanitarian aid workers and human rights defenders can also be adapted for social workers and others who do vital but stressful work that exposes them to trauma. In 2017, we held our first CBR training for people working in the affordable housing sector in the U.S. We're also planning CBR trainings for leaders of non-profits who work with and advocate for women.
Another way we extend the reach of our work beyond our walls is through thought leadership and communications. The Garrison Institute has built a wide, world-class network of teachers, writers, thinkers and innovators who are leaders and luminaries in their fields, and who help further our mission and carry our message. In addition to featuring them in our events, we're publishing their ideas in a wealth of online blog posts and videos and our annual print anthology Lineages, enabling us to reach more communities and wider audiences. People in over 200 countries are now reading and sharing our content and visiting our website.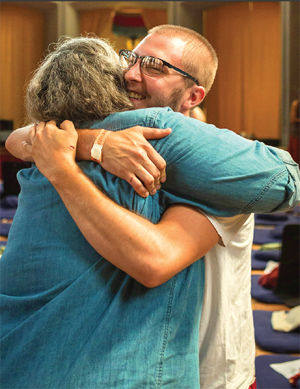 Giving Thanks
The Garrison Institute is a community of people working together towards positive social change. Our funders and supporters not only make our work possible, they are an integral part of it. They actively participate in our community, working with us in many different ways towards our shared goal of a more compassionate, resilient future. From Friends of the Garrison Institute and individual donors to major grant-making organizations and corporate sponsors, partnerships and in-kind support, we're incredibly fortunate to be part of a vital, engaged, collaborative circle of people and organizations.
We're deeply thankful for and mindful of their contributions and colleagueship, and so are the people who participate in our retreats and gatherings. To see them express it in their own heartfelt words and images, click here.
Scholarships Extend Our Reach
Generous support from our donors funds scholarships to make our retreats and workshops accessible to more people. We gave over $200,000 in scholarships, awarding 256 in 2016 and 283 in 2017.
New support in 2016 and 2017 funded scholarships for people in specific professional fields and for specific retreats. The Angell Foundation, which promotes "high-impact programs that help people empower themselves," underwrote scholarships for educators, healthcare workers and frontline workers to attend Garrison Institute events. It also funded scholarships for specific Garrison Institute retreats in the humanities.
The Hemera Foundation's Contemplative Fellowships for educators and health care professionals and its Tending Space Fellowship Program for artists funded scholarships for people in these fields to attend our retreats and workshops.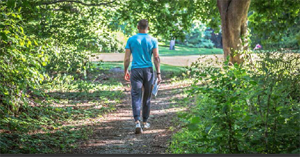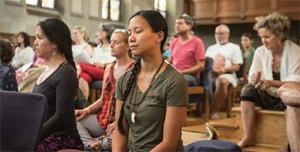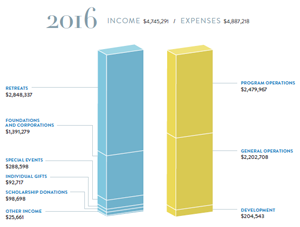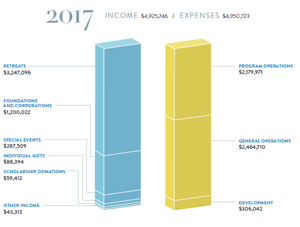 Acknowledgments

THE GARRISON INSTITUTE BOARD OF TRUSTEES
Lisette Cooper
Ruth Cummings
Susan Davis
Rachel Gutter, Board Co-Chair
Paul Hawken
Will Rogers
Diana Calthorpe Rose
Jonathan F. P. Rose, Board Co-Chair
Sharon Salzberg
Dan Siegel
Monica Winsor
ADVISORY COUNCIL
Dan Goleman
Michael Lerner, MD
Peter Senge
Frederick B. (Bart) Harvey III
Betsy Taylor
Mary Evelyn Tucker
SENIOR STAFF
Marc Weiss, Executive Director
Jeanne Johnson, Deputy Managing Director, People and Operations
Jane Kolleeny, Retreats and Business Development Director
Amanda Sherlip, Director of Development
GARRISON INSTITUTE
P.O. Box 532
14 Mary's Way, Route 9D
Garrison, NY 10524
T: 845-424-4800
garrisoninstitute.org
Our Funders
The Garrison Institute is profoundly grateful for the support of its many funders, whose vision and generosity make our scholarships, retreats, workshops, events, and operations possible.
FOUNDATIONS
THE ANGELL FOUNDATION
OUR FOUNDERS: David & Lynn Angell

-- Who We Are, by Angell Foundation
He married Lynn Edwards on August 14, 1971. Soon after Angell entered the U.S. Army upon graduation and served at the Pentagon until 1972 ... Angell and his wife Lynn both died heading home from their vacation on Cape Cod aboard American Airlines Flight 11, the first plane to hit the World Trade Center during the September 11 attacks.[2]

-- David Angell, by Wikipedia
Using documentation from press reports, Woody Box and Nico Haupt have concluded that two distinct aircraft took off from Boston on the morning of September under the designation of American Flight 11. "Where did Flight 11 start?," writes Box. "There are two answers: Gate 26 and Gate 32. And both answers resist any attempt to refute them." American 11's departure was regularly scheduled for 7:45 AM from Terminal B, Gate 32 of Boston's Logan Airport. This was American 11's departure gate on 9/11, as shown in a transcript of radio communications between American 11 and the Logan tower published in the New York Times: "7:45:48 -- Ground Control 1: American eleven heavy Boston ground gate thirty two you're going to wait for a Saab to go by then push back" (New York Times, October 16, 2001) But many press reports indicate that passengers on American 11 embarked at Gate 26 (Washington Post, September 15, 2001, and other newspapers) Gate 26 is located in another wing of Terminal B, and is about 1000 feet away from Gate 32. Gate 26 is the majority view.

One paper, the Boston Globe, mentioned both gates on successive days. In an extra of the Boston Globe published on September 11, we find: "One airport employee, who asked not to be identified, said the American flight left on time from Gate 32 in Terminal B, and that nothing unusual was apparent." One day later, in the Boston Globe article entitled "Crashes in NYC had grim origins at Logan", we read: "The American flight left from Gate 26 in Terminal B, and the United flight from Gate 19 in Terminal C. One airport employee said nothing unusual was apparent when the American flight left." Was this the same employee as the day before? The Gate 26 flight pushed back later than its scheduled departure time of 7:45 AM.

Was one of these two flights a dummy flight, a decoy being used in one of the live fly hijacking exercises described above? Did its unannounced presence contribute even more to the confusion that reigned in US airspace on the morning of 9/11? Or was there some other, more devious purpose?

-- 9/11 Synthetic Terror Made in USA, by Webster Griffin Tarpley
CALTHORPE FAMILY FUND
BENJAMIN COTSEN FAMILY FUND
Cotsen "had a lot of money and the will to do something beautiful with it," said Judith Johnson, the founding and former executive director of the Cotsen Foundation for the Art of Teaching.

-- Lloyd Cotsen, the multimillionaire soap salesman who became an elite L.A. philanthropist, dies at 88, by Steve Marble, L.A. Times
THE NATHAN CUMMINGS FOUNDATION
The Nathan Cummings Foundation is a multigenerational family foundation,

rooted in the Jewish tradition of social justice

, working to create a more just, vibrant, sustainable, and democratic society. We partner with social movements, organizations and individuals who have creative and catalytic solutions to climate change and inequality.

Our Founder

Nathan Cummings was born in Saint John, New Brunswick, Canada, in 1896. He moved from impoverished beginnings to great success by hard work, entrepreneurial genius and a willingness to take risks. In 1939, he purchased the C.D. Kenny Company of Baltimore, a small wholesale distributor of canned foods, coffee, tea and spices. That was the beginning of the international company that was known as

the Sara Lee Corporation

. For three decades, he personally guided the growth of the company. He retired from active management in 1968 to pursue philanthropic interests.

-- Our Legacy, by the Nathan Cummings Foundation
SHARON DAVIS FOUNDATION
WILLIAM H. DONNER FOUNDATION, INC.
Human Rights ... Environment... Arts and Culture... Animal Welfare ... Education... Science...

Foreign and/or Defense Policy...

Veterans... Underserved Youth...

-- Donner Foundation, by The William H. Donner Foundation, Inc.
In creating Union Steel Company, Donner received financial backing from Henry Clay Frick, Andrew W. Mellon, and Richard B. Mellon, in addition to Donner's own funds....

In 1932, Donner turned his attention to philanthropy, with a special interest in cancer research. ...

In 1993, the conservative American Donner heirs who control the foundation changed its primary focus to that of supporting conservative research.

From 1993 to 1999, under the leadership of executive directors Devon Gaffney Cross and then Patrick Luciani, the foundation provided the seed money to start several conservative Canadian think-tanks and publications, and became the "lifeblood of conservative research" in Canada.

In 1999, the American Donner heirs who control the foundation began donating more of its money to land and wildlife conservation, international development, medical research and the arts, reducing funding of conservative research (though it is still one of the most generous benefactors to the right in Canada).

-- William Donner, by Wikipedia
DOREEN DOWNS MILLER FOUNDATION, INC.
THE ETTINGER FOUNDATION
Ettinger Foundation

Location: NEW YORK, NY

Tax ID: 06-6038938

Tax-Exempt Status: 501(c)(3)-PF

Budget (2015): Revenue: $3,581,950

Expenses: $765,435

Assets: $11,560,068

Formation: 1950

Founders: Richard Prentice Ettinger and Elsie P. Ettinger

The Ettinger Foundation, Inc. is a 501(c)(3) private, non-operating foundation founded in 1950. The foundation, founded by the late Prentice-Hall textbook publishing house co-founder Richard P. Ettinger, provides grants to environmentalist groups and other progressive nonprofits.

In 2015, the foundation reported $11,560,068 in total assets to the Internal Revenue Service.[1]

Contributions

According to the Center for Organizational Research and Education, the Ettinger Foundation donated $32,900 in 2005 to the Union of Concerned Scientists, an environmentalist "science advocacy" organization. In the same year, it gave $25,500 to the Natural Resources Defense Council, "one of the largest and most well-funded environmental activist organizations in the United States."[2]

The Foundation's smaller contributions include a $15,000 donation to radical environmental activist group Greenpeace and $8,000 to the Sierra Club,[3] a 125-year-old nonprofit organization known for lobbying against the use of coal and other forms of affordable energy.[4]

Associated Organizations

Richard P. Ettinger, co-founder of textbook publisher Prentice-Hall and his wife, Elsie P. Ettinger, also founded The Educational Foundation of America (EFA).

[5] The same address in Westport, CT is listed for the EFA and the Ettinger Foundation.[6]

On its website, the EFA claims "promoting environmental preservation and conservation" is a focal point of its funding. Since it was established in 1959, the foundation has donated $295,000 to the Sierra Club and $1,920,000 to the Natural Resources Defense Council.[7]

References

CitizenAudit.org. Accessed May 30, 2017.

https://www.citizenaudit.org/organizati ... ION%20INC/

.

"Ettinger Foundation." Activist Facts. Accessed May 24, 2017.

https://www.activistfacts.com/foundatio ... oundation/

.

"Ettinger Foundation." Activist Facts. Accessed May 24, 2017.

https://www.activistfacts.com/foundatio ... oundation/

.

Holden, Emily. E&E News. Wednesday, April 12, 2017. "ENERGY TRANSITIONS: Coal lobby says it is exploring building new U.S. plant." Accessed May 30, 2017.

https://www.eenews.net/stories/1060052949

.

"Our History." The Educational Foundation of America. April 15, 2013. Accessed May 31, 2017.

http://www.theefa.org/our-history/

.

"Educational Foundation of America." Activist Facts. Accessed May 24, 2017.

https://www.activistfacts.com/foundatio ... ofAmerica/

"Educational Foundation of America." Activist Facts. Accessed May 24, 2017.

https://www.activistfacts.com/foundatio ... ofAmerica/

-- Ettinger Foundation, by Influence Watch
THE EILEEN FISHER COMMUNITY FOUNDATION
FULLERTON FAMILY FOUNDATION
GOLDMAN SONNENFELDT FOUNDATION
HEMERA FOUNDATION
ROY A. HUNT FOUNDATION
KENDEDA FUND
LIKE A RIVER FUND
LOSTAND FOUNDATION
THE LOST MAN FOUNDATION
HOWARD AND NANCY MARKS CHARITABLE FUND
THE MERCK FOUNDATION
MID-ATLANTIC ARTS FOUNDATION
THE DOROTHY AND MARK NELKIN CHARITABLE FUND
OVERHILLS FOUNDATION
THE SCULLY PERETSMAN FOUNDATION
PEW CHARITABLE TRUSTS
THE DEBORAH ROSE FOUNDATION
SUSAN AND ELIHU ROSE FOUNDATION
THE FREDERICK P. AND SANDRA P. ROSE FOUNDATION
SHELLEY & DONALD RUBIN FOUNDATION INC.
THE SEA STONE FOUNDATION
STUART FOUNDATION
TIDES FOUNDATION
THE VERMONT COMMUNITY FOUNDATION
WISDOM LOTUS FOUNDATION INC.
WOODHULL INSTITUTE FOR ETHICAL LEADERSHIP
ORGANIZATIONS
ATHENA CAPITAL ADVISORS LLC
BRYAN CAVE LEIGHTON PAISNER LLP
CENTER FOR TRANSFORMATIVE CHANGE
CHAFFIN LIGHT ASSOCIATES
FAIL-SAFE TECHNICAL ASSOCIATES, INC.
FENTON COMMUNICATIONS
FREDERIC H. MAYERSON GROUP
GET EFFICIENT
GLYNWOOD CENTER
GOOD WORKS INSTITUTE
LANGDON FORD FINANCIAL
MARSHALL AND STERLING
MINDSIGHT INSTITUTE
PKF O'CONNOR DAVIES LLP
STERLING SANITARY SUPPLY
THE A&A FUND
UNITED WAY OF WESTCHESTER AND PUTNAM, INC.
WEBLAB.ORG
Z+ INC.
Our Funders

INDIVIDUALS
LYNN ANDERSON
JOSH ARONSON
DOUGLAS & SARAH BANKER
-- Castle Rock, the Garrison home of Douglas and Sarah Banker
BICE BERRY
MARK BERTIN
LEANN BILLUPS
CHARLENE BLOEDORN
JOEL BLUESTEIN
JAMES BOORSTEIN
ROSE BOYLE
PRILL BOYLE
JESSICA BRACKMAN
CHRISTOPHER BUCK
ALESSIA BULGARI
BRENDAN CALDER
PETER CAMPBELL
PETER CARLTON
ARNOLD CHACE
EIZABETH CHANT
PEG CLARK
HEATHER COCHRANE
SAARA COHEN
JAMES COLEMAN
ANDREA & ERIC COLOMBEL
LISETTE COOPER
CAROLE CORCORAN
RABBI RACHEL COWAN
DAVID COWBURN
ANDY CRAIG
LUDWIG CRAMER-KLETT
RUTH CUMMINGS
LINDA DAINES
SUZY & TONY DAVIS
JOE DIZNEY
JAMIE DRAPER
PEGGY DULANY
DOUGLAS DURST
AARON EDISON
FRANCES BEINECKE & PAUL ELSTON
ADAM ENGLE
ROSALIE FEDORUK
ANDERS FERGUSON
BETSY & JESSE FINK
STEPHEN FLAVIN
ANTHONY FORD-HUTCHINSON
ALAN FOX
DAVID FRIEDMAN
NICOLE FROST
STEVEN GLASS
ROZANNE GOLD
DORIAN GOLDMAN
LINDA GOLDSTEIN
DAN & TARA GOLEMAN
RACHEL GUTTER
EVA HALLER
MAYRA HERNANDEZ
SHEILA HIXON
ELIZABETH DABNEY HOCHMAN
PETER HOFMANN
ASHLEY HOLZER
NANCY JEFFRIES
CURTIS JONES
RICHARD KAHAN
RICHARD KAHAN
ARSHISH KAPADIA
SUSIE KESSLER
RACHEL KING
ROBERT KLEINBERG
DEREK & JANE KOLLEENY
EILEEN O'KANE KORNREICH
EILEEN KORNREICH
LOUISE KUZIOMKO
PAUL LACAVA
CORINA LAMOTTE
THERESA LANG
KIM LARSON
STEVE LATHAM
CATHERINE LECLAIR
LESLIE LEE
THOMAS LESSER
ROGER & SUSAN LIPSEY
JUDY LOMBARDI
LESLIE LORBER
MATT LUDMER
LARRY & VICKY LUNT
SAMANTHA MAGISTRO
SANDRA MAGNUSSEN
ANDREW MARKS
FREDERIC MAYERSON
LYNN MCKELVEY
ANISA MEHDI
FRIEDRIKE MERCK
STACEY MITCHELL
MEREDITH MONK
BEN MOORE
DANIEL NADLER
DANE NELLER
EDWARD NORTON
ANTHONY OCONE
MARY & JIM OTTAWAY
SARA OVERTON
JOSEPH PERERA
PAULA A. PERLIS
SARAH PETER
DONNA POILE
LIESEL PRITZKER
KATHERINE RABINOWITZ
FRED RANDALL
ERIC RAYMAN
JONATHAN RAYMOND
DAVID & SUSAN ROCKEFELLER [David Rockefeller's son and wife]
WILL ROGERS
TINA ROTHBART
ALFIE RUSTOM
ROBERT SCHLOSS
LARRY SCHWARTZ
STEVEN SCHWARTZ
AVIVA SCULLY
BENNETT SHAPIRO & FREDERICKA
FOSTER SHAPIRO
NEAL SIDHWANEY
PAULA SIMON
EDWARD SIMON
RICHARD SIMON
ELLEN SINGER
MELISSA & ROBERT SOROS [Billionaire George Soros's son and wife]
NANCY OLNICK & GIORGIO SPANU
SILDA WALL SPITZER
VINCENT STANLEY
MATT STINCHCOMB
CLARE STONE
JON STRYKER
RICHARD STUART
CECILIE TESTMAN
ANDY TOBIAS
CHARLOTTE TRIEFUS
MARY EVELYN TUCKER
ANNIE UMBRICHT
CHAMPA WEINREB
MARC & ROBIN WEISS
KAREN WILSON
BETTINA & RAOUL WITTEVEEN
MARILYN YOUNG
Garrison Institute
P.O. BOX 532, 14 MARY'S WAY, RTE. 9D, GARRISON, NY 10524
COVER PHOTO BY MADMARTIGEN
http://WWW.GARRISONINSTITUTE.ORG