Cult of personality
by Wikipedia
Accessed: 12/8/19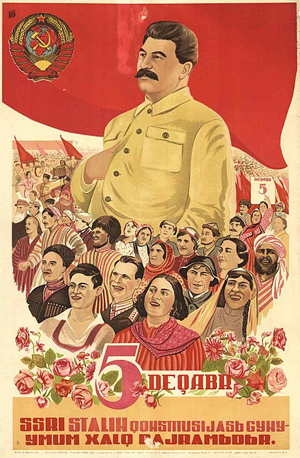 Soviet poster featuring Stalin, Soviet Azerbaijan, 1938
A cult of personality, or cult of the leader,[1] arises when a country's regime – or, more rarely, an individual – uses the techniques of mass media, propaganda, the big lie, spectacle, the arts, patriotism, and government-organized demonstrations and rallies to create an idealized, heroic, and worshipful image of a leader, often through unquestioning flattery and praise. A cult of personality is similar to apotheosis, except that it is established by modern social engineering techniques, usually by the state or the party in one-party states and dominant-party states. It is often seen in totalitarian or authoritarian countries.
The term came to prominence in 1956, in Nikita Khrushchev's secret speech On the Cult of Personality and Its Consequences, given on the final day of the 20th Congress of the Communist Party of the Soviet Union. In the speech, Khrushchev, who was the First Secretary of the Communist Party – in effect, the leader of the country – criticized the lionization and idealization of Joseph Stalin, and by implication, his Communist contemporary Mao Zedong, as being contrary to Marxist doctrine. The speech was later made public and was part of the "de-Stalinization" process the Soviet Union went through.
Background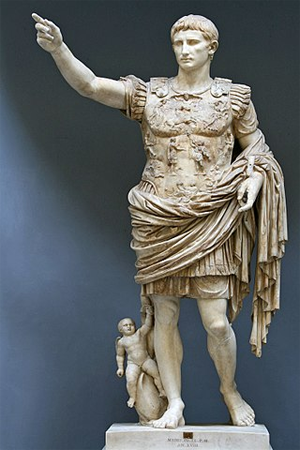 Augustus of Prima Porta, 1st century AD
See also: Imperial cult
The Imperial cult of ancient Rome identified emperors and some members of their families with the divinely sanctioned authority (auctoritas) of the Roman State. Throughout history, monarchs and other heads of state were often held in enormous reverence and imputed super-human qualities. Through the principle of
the divine right of kings
, in medieval Europe for example, rulers were said to hold office by the will of God. Ancient Egypt, Imperial Japan, the Inca, the Aztecs, Tibet, Siam (now Thailand), and the Roman Empire are especially noted for redefining monarchs as "god-kings".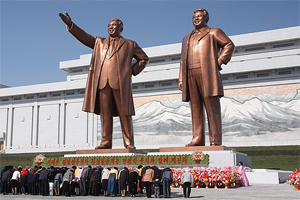 North Koreans bowing in front of the statues of Kim Il-sung (left) and Kim Jong-il at the Mansudae Grand Monument
The spread of democratic and secular ideas in Europe and North America in the 18th and 19th centuries made it increasingly difficult for monarchs to preserve this aura. However, the subsequent development of mass media, such as radio, enabled political leaders to project a positive image of themselves onto the masses as never before. It was from these circumstances in the 20th century that the most notorious personality cults arose. Often these cults are a form of political religion.[2]
The term "cult of personality" probably appeared in English around 1800–1850, along with the French and German use.[3] At first it had no political connotations but was instead closely related to the Romantic "cult of genius".[3] The political use of the phrase came first in a letter from Karl Marx to German political worker, Wilhelm Blos, 10 November 1877:[3]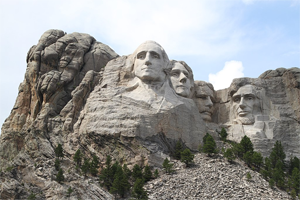 American Presidents at Mount Rushmore Monument
Neither of us cares a straw of popularity. Let me cite one proof of this: such was my aversion to the personality cult [orig. Personenkultus] that at the time of the International, when plagued by numerous moves [...] to accord me public honor, I never allowed one of these to enter the domain of publicity [...][3][4]
Characteristics
There are various views about what constitutes a cult of personality in a leader. Historian Jan Plamper has written that modern-day personality cults display five characteristics that set them apart from "their predecessors": The cults are secular and "anchored in popular sovereignty"; their objects are all males; they target the entire population, not only the well-to-do or just the ruling class; they use mass media; and they exist where the mass media can be controlled enough to inhibit the introduction of "rival cults".[5]
In his 2013 paper, "What is character and why it really does matter", Thomas A. Wright states, "The cult of personality phenomenon refers to the idealized, even god-like, public image of an individual consciously shaped and molded through constant propaganda and media exposure. As a result, one is able to manipulate others based entirely on the influence of public personality...the cult of personality perspective focuses on the often shallow, external images that many public figures cultivate to create an idealized and heroic image."[6]
Adrian Teodor Popan defines cult of personality as a "quantitatively exaggerated and qualitatively extravagant public demonstration of praise of the leader". He also identifies three causal "necessary, but not sufficient, structural conditions, and a path dependent chain of events which, together, lead to the cult formation: a particular combination of patrimonialism and clientelism, lack of dissidence, and systematic falsification pervading the society's culture."[7][8]
The role of mass media
The mass media have played an instrumental role in forging national leaders' cults of personality.
Thomas A. Wright in 2013 reported that "It is becoming evident that the charismatic leader, especially in politics, has increasingly become the product of media and self-exposure."[6] And, focusing on the media in the United States, Robert N. Bellah adds that, "It is hard to determine the extent to which the media reflect the cult of personality in American politics and to what extent they have created it. Surely they did not create it all alone, but just as surely they have contributed to it. In any case, American politics is dominated by the personalities of political leaders to an extent rare in the modern world...in the personalised politics of recent years the "charisma" of the leader may be almost entirely a product of media exposure."[9]
Purpose
Often, a single leader became associated with this revolutionary transformation and came to be treated as a benevolent "guide" for the nation without whom the transformation to a better future could not occur. This has been generally the justification for personality cults that arose in totalitarian societies, such as those of Adolf Hitler, Joseph Stalin, and Mao Zedong. The admiration for Mao Zedong has remained widespread in China. In December 2013, a Global Times poll revealed that over 85% of Chinese viewed Mao in a positive light.[10] Jan Plamper argues while Napoleon III made some innovations it was Benito Mussolini in Italy in the 1920s who originated the model of dictator-as-cult-figure that was emulated by Hitler, Stalin and the others, using the propaganda powers of a totalitarian state.[11]
Pierre du Bois argues that the Stalin cult was elaborately constructed to legitimize his rule. Many deliberate distortions and falsehoods were used.[12] The Kremlin refused access to archival records that might reveal the truth, and key documents were destroyed. Photographs were altered and documents were invented.[13] People who knew Stalin were forced to provide "official" accounts to meet the ideological demands of the cult, especially as Stalin himself presented it in 1938 in Short Course on the History of the All-Union Communist Party (Bolsheviks), which became the official history.[14]
Historian David L. Hoffmann states "The Stalin cult was a central element of Stalinism, and as such it was one of the most salient features of Soviet rule...Many scholars of Stalinism cite the cult as integral to Stalin's power or as evidence of Stalin's megalomania."[15]
In Latin America, Cas Mudde and Cristóbal Rovira Kaltwasser link the "cult of the leader" to the concept of the caudillo, a strong leader "who exercises a power that is independent of any office and free of any constraint." These populist strongmen are portrayed as "masculine and potentially violent" and enhance their authority through the use of the cult of personality. Mudde and Kaltwasser trace the linkage back to Juan Peron of Argentina.[1]
In popular culture
• The American band Living Colour won a Grammy Award for Best Hard Rock Performance in 1990 for their song "Cult of Personality".[16] The song includes references to Mahatma Gandhi, John F. Kennedy, Benito Mussolini, Franklin D. Roosevelt, Joseph Stalin, and Malcolm X.
See also
• Authoritarianism
• Big lie
• Bread and circuses
• Celebrity worship syndrome
• Charisma
• Charismatic authority – Max Weber's concept
• Dictatorship
• Great man theory
• Imperial cult
• Imperial cult of ancient Rome
• Leaderism
• Lèse-majesté
• Narcissistic leadership
• Propaganda
• Strongman (politics)
• Supreme leader
• Sycophancy
• Totalitarianism
• Erdoğanism
• Putinism
References

Notes
1. Mudde, Cas and Kaltwasser, Cristóbal Rovira (2017) Populism: A Very Short Introduction. New York: Oxford University Press. p.63. ISBN 978-0-19-023487-4
2. Plamper (2012), pp.13–14
3. Heller, Klaus (2004). Personality Cults in Stalinism. Isd. pp. 23–33. ISBN 978-3-89971-191-2.
4. Blos, Wilhelm. "Brief von Karl Marx an Wilhelm Blos". Denkwürdigkeiten eines Sozialdemokraten. Retrieved 22 February 2013.
5. Plamper (2012), p.222
6. Wright, Thomas A.; Lauer, Tyler L. (2013). "What is character and why it really does matter". Fordham University: Business Faculty Publications. 2: 29. Retrieved 13 June 2019.
7. See Popan, Adrian Teodor (2015) The ABC of Sycophancy. Structural Conditions for the Emergence of Dictators' Cults of Personality (PhD dissertation, University of Texas). Bibliography pp.196–213.
8. Popan, Adrian Teodor (August 2015). "The ABC of sycophancy : structural conditions for the emergence of dictators' cults of personality" (PDF). University of Texas at Austin. doi:10.15781/T2J960G15. hdl:2152/46763.
9. Bellah, Robert N. (1986). "The Meaning of Reputation in American Society". California Law Review. 74 (3): 747. doi:10.15779/Z386730. Retrieved 13 June 2019.
10. Staff (23 December 2013). "Mao's achievements 'outweigh' mistakes: poll". al-Jazeera.
11. Plamper (2012), pp.4,12-14
12. du Bois, Pierre (1984). "Stalin – Genesis of a Myth". Survey. A Journal of East & West Studies. 28 (1): 166–181. See abstract in David R. Egan; Melinda A. Egan (2007). Joseph Stalin: An Annotated Bibliography of English-Language Periodical Literature to 2005. Scarecrow Press. p. 157. ISBN 9780810866713.
13. Strong, Carol; Killingsworth, Matt (2011). "Stalin the Charismatic Leader?: Explaining the 'Cult of Personality' as a legitimation technique". Politics, Religion & Ideology. 12 (4): 391–411.
14. Maslov, N. N. (1989). "Short Course of the History of the All-Russian Communist Party (Bolshevik)—An Encyclopedia of Stalin's Personality Cult". Soviet Studies in History. 28 (3): 41–68.
15. Hoffmann, David L. (2013). "The Stalin Cult". The Historian. 75 (4): 909.
16. Here's List of Nominees from all 77 Categories. The Deseret News. Salt Lake City, Utah. 12 January 1990. page W7. Accessed 8 August 2017.
Bibliography
• Plamper, Jan (2012) The Stalin Cult: A Study in the Alchemy of Power. New Haven, Connecticut: Yale University Press ISBN 9780300169522
Further reading
• Apor, B. (2004). The leader cult in communist dictatorships : Stalin and the Eastern Bloc. London: Palgrave Macmillan. ISBN 978-1403934437.
• Apor, Balázs; Behrends, Jan C.; Jones, Polly; and Rees, E. A. (2004) eds. The Leader Cult in Communist Dictatorships: Stalin and the Eastern Bloc. London: Palgrave Macmillan. ISBN 1403934436.
• Heller, Klaus and Plamper, Jan eds. (2004) Personality Cults in Stalinism/Personenkulte im Stalinismus. Göttingen: V&R Unipress. ISBN 3899711912. . 472 pp
• Cohen, Yves (2007). "The cult of number one in an age of leaders" (PDF). Kritika: Explorations in Russian and Eurasian History. 8 (3): 597–634. Retrieved 7 September 2018.[permanent dead link]
• Gill, Graeme (1984). "Personality cult, political culture and party structure". Studies in Comparative Communism. 17 (2): 111–121.
• Melograni, Piero (1976). "The Cult of the Duce in Mussolini's Italy" (PDF). Journal of Contemporary History. 11 (4): 221–237. Retrieved 7 September 2018.
• Morgan, Kevin (2017) International Communism and the Cult of the Individual Leaders, Tribunes and Martyrs under Lenin and Stalin. London: Palgrave Macmillan. ISBN 9781349953370
• Paltiel, Jeremy (1983). "The Cult of Personality: Some Comparative Reflections on Political Culture in Leninist Regimes". Studies in Comparative Communism'. 16: 49–64.
• Petrone, Karen (2004) "Cult of Personality" in Millar, J. R. ed. Encyclopedia of Russian History, v.1, pp. 348–350
• Polese, Abel; Horák, Slavomir (2015). "A tale of two presidents: personality cult and symbolic nation-building in Turkmenistan". Nationalities Papers. 43 (3): 457–478.
• Rutland, P. (2011) "Cult of Personality" i. Kurian, G. T. ed, The Encyclopedia of Political Science. Washington. D.C.: CQ Press. v.1, p 365
• Tucker, Robert C. (1979). "The Rise of Stalin's Personality Cult" (PDF). American Historical Review. 84 (2): 347–366. Retrieved 7 September 2018.
• Vassilev, Rossen (2008) "Cult of Personality" in Darity, W. A,/, Jr. ed. International Encyclopedia of the Social Sciences.
External links
• Why Dictators Love Kitsch by Eric Gibson, The Wall Street Journal, August 10, 2009
********************************
Beware of the 'Cult of Personality'
by Tracy Vanderneck
NonProfitPRO
August 16, 2017
The term "cult of personality" tends to conjure dramatic images of political or religious leaders influencing the masses. It seems grandiose and powerful. Cult of personality has varied definitions, but they all basically boil down to this: The situation that arises when an individual person gains intense loyalty from a group of people from the sheer force of his or her personality. Sometimes it is choreographed and uses tools such as the media to sway people to willingly step inside the person's sphere of influence. Other times it is a slower, more subtle and possibly even unintentional ascent.
Cult of personality may often be used to describe political situations, but it is easily transferable to the entertainment industry (think Oprah) and to corporate culture. Look at Steve Jobs, walking on stage at company meetings in his trademark black turtleneck. Jobs had a reputation for being a bit off-kilter, but because of his brilliance in business and invention, he gained a following of people that would likely stick a fork in a light socket if they read somewhere that Steve Jobs thought this would make them be able to create better tech. As communication channels broaden and news streams 24-hours a day, it gets easier for people at every level elevate their personal brand.
Social movements and the nonprofit arena are not immune from this phenomenon. In the nonprofit arena, cult of personality tends to show itself in two main forms:
1. The first is similar to everything described above. The person gains a following as a leader of a movement. An example of this could be Joel Osteen's following of religious believers. His followers have the conviction of the faithful and will accept his words as decrees from God.Another example would be the four co-chairs of the Women's March on Washington: Linda Sarsour, Tamika Mallory, Carmen Perez and Bob Bland. The Women's March on Washington was a quickly organized movement, with a deliberate set of planned goals and outcomes. The co-chairs rose to cult status when the march went global and included millions of people. It was a cause that needed leaders.

Joel Osteen and the Women's March on Washington are both larger-than-life examples; they are both relevant here, because the movements they are leading are nonprofit organizations or are solidly backed by many nonprofit organizations.

2. The second type of cult of personality that manifests in nonprofits tends to be on a smaller scale, but can drastically influence the impact and longevity of the organization. This type of cult-like following can sometimes happen in organizations where the executive director/CEO is either the founder or has been at the organization 8 to 10 or more years. Such longevity can be good for the organization in many ways, but it can also foster an environment where the community feels as though the leader IS the organization.As fundraisers and nonprofit professionals, we know how important it is to keep relationships with donors and the community all about the organization and the mission. This can be difficult when a staff member and a donor feel like they have become friends. It is hard sometimes for the professional to remember that their relationship with the investor/volunteer exists, because of both people's affinity for the nonprofit.

When the founder of an organization brings their friends and connections into the inner circle of the organization, building the nonprofit's network out from there, it ultimately gives that person an exceptional amount of control over decisions made on behalf of the organization.

An example I saw recently was an organization's program director who was found out to have benefitted from an unethical personal deal, which was made possible as a result of his position with his nonprofit.

Instead of being appalled or outraged or calling for an investigation or audit, the supporters of the director took to social media proclaiming his virtues. Some even excused the unethical deed under the belief that since the director is such a good person, and he deserves the excess benefit he received. See the problem here? The director became synonymous with the organization in the supporters' eyes and, when wrongdoing was uncovered, they took his side instead of looking out for the best interest of the organization.
When supporters overlook unethical behavior or even outright fraud, because they believe the nonprofit leader to be a larger-than-life personality that is the mission, we're entering the cult of personality realm. Even a generally ethical person can, over time, become used to being treated in such exalted way that they begin to believe extra perks are okay for them because of their position.
It takes a truly strong leader to ensure such a situation does not become a reality at their organization. Establishing transparent practices, making at least some decisions based on multilateral input, projecting the organization above themselves and instituting a succession plan are all positive steps that cut down on the type of environment that creates a cult of personality. Sometimes just knowing when a leadership change is the best move for an organization can make all the difference.
Nonprofit organizations hold an important place in our society and impact our lives in every area from health care to entertainment to religion. We must let these organizations do their best work without putting their executives on pedestals that create unhealthy organizational environments.