PHOTOS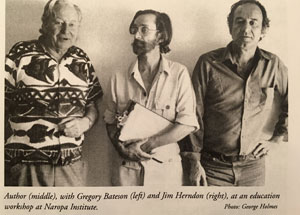 Author (middle), with Gregory Bateson (left) and Jim Herndon (right), at an education workshop at Naropa Institute. Photo: George Holmes
It was at UCSC that Bandler met John Grinder, a radical young professor of linguistics. In the laid-back university community, Grinder cultivated an iconoclastic mystique, boasting that he had been a Green Beret.

He collected a small, devoted group of followers, the most prominent of whom was Richard Bandler. Together they began using linguistics to study psychology. Even before it had a name, their work was controversial: some students referred to Grinder's class, in which Bandler taught, as

Mindfucking 101.

In March 1973, Bandler earned his bachelor's degree, and two years later a master's in theoretical psychology from Lone Mountain College in San Francisco.

First Bandler, then Grinder, had moved to a commune in the Santa Cruz Mountains owned by Robert Spitzer, who envisioned it as a self-sustained artistic and intellectual community. Among those who lived at the former nudist colony were Raven Lang, whose Birth Book had helped spawn a home birth movement; and Gregory Bateson, the British anthropologist who conceived the double-bind theory of schizophrenia.

A lean, wiry man with a goatee and piercing brown eyes, Bandler did not get along with many residents of the Alba Road community. He was intense and temperamental, one remembers, and did not participate in communal life. Within a few weeks of his arrival, members of the commune asked Spitzer to evict him. Spitzer refused.

While living on Alba Road, Bandler bragged about using large amounts of cocaine.

For Grinder and Bandler it was a fertile time.

They sat for hours in the sun room of Bateson's house, listening to Bateson discuss his innovative ideas, which became the intellectual foundation of NLP. (As described by one student, Bateson taught that "[Human beings] create the world that we perceive ... because we select and edit the reality we see to conform to our beliefs about what sort of world we live in.")

Working with films and tape recordings, Bandler and Grinder dissected the work of Satir and Perls, hoping to understand the techniques -- linguistic and nonverbal -- that caused seemingly magical changes in their clients.

Through Bateson, they met and studied with Milton Erickson, the famed psychiatrist-hypnotist, and began using hypnosis to treat clients.

Confusion technique

In all my techniques, almost all, there is a confusion.[9]

A confused person has their conscious mind busy and occupied, and is very much inclined to draw upon unconscious learnings to make sense of things. A confused person is in a trance of their own making - and therefore goes readily into that trance without resistance. Confusion might be created by ambiguous words, complex or endless sentences, pattern interruption or a myriad of other techniques to incite transderivational searches.

Scottish surgeon James Braid, who coined the term "hypnotism", claimed that focused attention was essential for creating hypnotic trances; indeed, his thesis was that hypnosis was in essence a state of extreme focus. But it can be difficult for people racked by pain, fear or suspicion to focus on anything at all. Thus other techniques for inducing trance become important, or as Erickson explained:

... long and frequent use of the confusion technique has many times effected exceedingly rapid hypnotic inductions under unfavourable conditions such as acute pain of terminal malignant disease and in persons interested but hostile, aggressive, and resistant ...

Handshake induction

Among Erickson's best-known innovations is the hypnotic handshake induction, which is a type of confusion technique. The induction is done by the hypnotist going to shake hands with the subject, then interrupting the flow of the handshake in some way, such as by grabbing the subject's wrist instead. If the handshake continues to develop in a way which is out-of-keeping with expectations, a simple, non-verbal trance is created, which may then be reinforced or utilized by the hypnotist. All these responses happen naturally and automatically without telling the subject to consciously focus on an idea.

Richard Bandler told people that Erickson had taught him this handshake technique. However, it is clear that Bandler embedded some parts in it that were, in fact, impossible for Erickson such as "gradually lessening the pressure with his right hand", which of course was impossible for Erickson since he was almost completely paralysed in his right hand. Bandler talks about this in one of his videos Creating Therapeutic Change.[dubious – discuss]

This induction works because shaking hands is one of the actions learned and operated as a single "chunk" of behavior; tying shoelaces is another classic example. If the behavior is diverted or frozen midway, the person literally has no mental space for this - he is stopped in the middle of unconsciously executing a behavior that hasn't got a "middle". The mind responds by suspending itself in trance until either something happens to give a new direction, or it "snaps out". A skilled hypnotist can often use that momentary confusion and suspension of normal processes to induce trance quickly and easily.

The various descriptions of Erickson's hypnotic handshake, including his own very detailed accounts, indicate that a certain amount of improvisation is involved, and that watching and acting upon the subject's responses is the key to a successful outcome.

Erickson described the routine as follows:

• Initiation: When I begin by shaking hands, I do so normally. The "hypnotic touch" then begins when I let loose. The letting loose becomes transformed from a firm grip into a gentle touch by the thumb, a lingering drawing away of the little finger, a faint brushing of the subject's hand with the middle finger - just enough vague sensation to attract the attention. As the subject gives attention to the touch of your thumb, you shift to a touch with your little finger. As your subject's attention follows that, you shift to a touch with your middle finger and then again to the thumb.

• This arousal of attention is merely an arousal without constituting a stimulus for a response.

• The subject's withdrawal from the handshake is arrested by this attention arousal, which establishes a waiting set, and expectancy.

• Then almost, but not quite simultaneously (to ensure separate neural recognition), you touch the undersurface of the hand (wrist) so gently that it barely suggests an upward push. This is followed by a similar utterly slight downward touch, and then I sever contact so gently that the subject does not know exactly when - and the subject's hand is left going neither up nor down, but cataleptic.

• Termination: If you don't want your subject to know what you are doing, you simply distract their attention, usually by some appropriate remark, and casually terminate. Sometimes they remark, "What did you say? I got absentminded there for a moment and wasn't paying attention to anything." This is slightly distressing to the subjects and indicative of the fact that their attention was so focused and fixated on the peculiar hand stimuli that they were momentarily entranced so they did not hear what was said.

• Utilisation: Any utilisation leads to increasing trance depth. All utilisation should proceed as a continuation of extension of the initial procedure. Much can be done nonverbally; for example, if any subjects are just looking blankly at me, I may slowly shift my gaze downward, causing them to look at their hand, which I touch and say "look at this spot.". This intensifies the trance state. Then, whether the subjects are looking at you or at their hand or just staring blankly, you can use your left hand to touch their elevated right hand from above or the side - so long as you merely give the suggestion of downward movement. Occasionally a downward nudge or push is required. If a strong push or nudge is required, check for anaesthesia.[9]

Richard Bandler was a keen proponent of the handshake induction, and developed his own variant, which is commonly taught in NLP workshops.

Any habitual pattern which is interrupted unexpectedly will cause sudden and light trance. The handshake is a particularly good pattern to interrupt because the formality of a handshake is a widely understood set of social rules. Since everyone knows that it would be impolite to comment on the quality of a handshake, regardless of how strange it may be, the subject is obliged to embark on an inner search (known as a transderivational search, a universal and compelling type of trance) to identify the meaning or purpose of the subverted pattern.

-- Milton H. Erickson, by Wikipedia

Bandler was only 25 when his first book, The Structure of Magic, was published in 1975. Written with Grinder, it attempted to codify and describe their analysis of Satir's and Perls's therapies. In separate introductions, Satir and Bateson expressed excitement about this research, for it seemed to hold potential for developing better therapists: if effective therapy, like all "magic," had discernible structure, then anyone could learn to perform it.

-- The Bandler Method, by Frank Clancy and Heidi Yorkshire
THE WICCA CULT: The WICCA cult came to the surface early during the post-war period, as a legalized association for the promotion of witchcraft. It is the leading publicly known international association of witches in the world today. In the United States, WICCA's outstanding sponsor is the New York Anglican (Episcopal) diocese, under Bishop Paul Moore.

Officially, New York's Anglican Cathedral of St. John the Divine has promoted the spread of WICCA witchery through its Lindisfarne center. The late Gregory Bateson conducted such an operation out of the Lindisfarne center during the 1970s. No later than the 1970s, and perhaps still today, the crypt of the Cathedral of St. John the Divine, is the headquarters for solemn ceremonies of the British (Venerable) Order of Malta. Key figures, such as Gregory Bateson's former spouse, Dame Margaret Mead, associated with that British order, have been associated with projects in support of the Satanist "Age of Aquarius" cause. -- Real History of Satanism, by Lyndon LaRouche
"

If you put God outside

," Gregory Bateson warns, "and set him vis-a-vis his creation and if you have the idea that you are created in his image, you will logically and naturally see yourself as outside and against the things around you.

[Gozer] Are you a God?

-- Ghostbusters, directed by Ivan Reitman

And as you arrogate all mind to yourself, you will see the world around you as mindless and therefore not entitled to moral or ethical consideration. The environment will seem to be yours to exploit. Your survival unit will be you and your folks or conspecifics against the environment of other social units, other races, and the brutes and vegetables."

-- Green Paradise Lost, by Elizabeth Dodson Gray
Dr. Gregory Bateson, anthropologist with the OSS, and the former husband of anthropologist Margaret Mead, became the director of a hallucinogenic drug experimental clinic at the Palo Alto Veterans Administration Hospital. Through drug experimentation on patients, already hospitalized for psychological problems, Bateson established a core of "initiates" into the nest of Isis Cults, which Huxley had founded in southern California and in San Francisco. Foremost among his Palo Alto recruits was Ken Kesey. By 1967, through Kesey's efforts in disseminating the drug, they created the "Summer of Love", in the Haight-Ashbury district of San Francisco.

-- Terrorism and the Illuminati -- A Three Thousand Year History, by David Livingston
For the unprepared mind, however, LSD can be a nightmare. When the drug is administered in a sterile laboratory under fluorescent lights by white-coated physicians who attach electrodes and nonchalantly warn the subject that he will go crazy for a while, the odds favor a psychotomimetic reaction, or "bummer." This became apparent to

poet Allen Ginsberg

when he took LSD for the first time at the Mental Research Institute in Palo Alto, California, in 1959. Ginsberg was already familiar with psychedelic substances, having experimented with peyote on a number of occasions. As yet, however, there was no underground supply of LSD, and it was virtually impossible for layfolk to procure samples of the drug.

Thus he was pleased when Gregory Bateson, [Formerly a member of the Research and Analysis Branch of the OSS, Bateson was the husband and co-worker of anthropologist Margaret Mead. An exceptional intellect, he was turned on to acid by Dr. Harold Abramson, one of the CIA's chief LSD specialists] the anthropologist, put him in touch with a team of doctors in Palo Alto. Ginsberg had no way of knowing that one of the researchers associated with the institute, Dr. Charles Savage, had conducted hallucinogenic drug experiments for the US Navy in the early 1950s.

-- Acid Dreams, The Complete Social History of LSD: The CIA, The Sixties, And Beyond, by Martin A. Lee & Bruce Shlain
After

Oklahoma City

, the potential of the right-wing anti-government evangelical fanatics for terrorism and violence was re-affirmed by an armed standoff between police and "Republic of Texas" activists demanding the secession of Texas in April 1997. This insurrection was led by Richard Otto, alias "White Eagle," who put out a call inviting members of militias around the country to come to the site, armed for a shootout.

The agent provocateur Otto turned out to have been "trained and set into motion by an Air Force officer who toured the world practicing New Age pagan rituals, in consultation with senior British intelligence drug-rock-sex gurus such as Gregory Bateson."

Otto finally surrendered on May 3, 1997. (Tony Chaitkin, "The Militias and Pentecostalism")

-- 9/11 Synthetic Terrorism Made in USA, by Webster Griffin Tarpley
Harold Abramson apparently got a great kick out of getting his learned friends high on LSD. He first turned on Frank Fremont-Smith, head of the Macy Foundation which passed CIA money to Abramson. In this cozy little world where everyone knew everybody, Fremont-Smith organized the conferences that spread the word about LSD to the academic hinterlands. Abramson also gave Gregory Bateson, Margaret Mead's former husband, his first LSD.

In 1959 Bateson, in turn, helped arrange for a beat poet friend of his named Allen Ginsberg to take the drug at a research program located off the Stanford campus.

No stranger to the hallucinogenic effects of peyote, Ginsberg reacted badly to what he describes as "the closed little doctor's room full of instruments," where he took the drug. Although he was allowed to listen to records of his choice (he chose a

Gertrude Stein

reading, a Tibetan mandala, and Wagner), Ginsberg felt he "was being connected to Big Brother's brain." He says that the experience resulted in "a slight paranoia that hung on all my acid experiences through the mid-1960s until I learned from meditation how to disperse that."

Anthropologist and philosopher Gregory Bateson then worked at the Veterans Administration Hospital in Palo Alto. From 1959 on, Dr. Leo Hollister was testing LSD at that same hospital. Hollister says he entered the hallucinogenic field reluctantly because of the "unscientific" work of the early LSD researchers. He refers specifically to most of the people who attended Macy conferences. Thus, hoping to improve on CIA- and military-funded work, Hollister tried drugs out on student volunteers, including a certain Ken Kesey, in 1960. Kesey said he was a jock who had only been drunk once before, but on three successive Tuesdays, he tried different psychedelics. "Six weeks later I'd bought my first ounce of grass," Kesey later wrote, adding, "Six months later I had a job at that hospital as a psychiatric aide." Out of that experience, using drugs while he wrote, Kesey turned out One Flew Over the Cuckoo's Nest. He went on to become the counterculture's second most famous LSD visionary, spreading the creed throughout the land, as Tom Wolfe would chronicle in The Electric Kool-Aid Acid Test.

-- The Search for the "Manchurian Candidate": The CIA and Mind Control, by John Marks
In preparation for the writing of The Mind Possessed, Dr. Sargant and his team had conducted exhaustive field research, profiling modern-day primitive religious cults, including a wide range of irrationalist, nominally Christian, denominations that particularly proliferated in the most backward rural areas of the American Deep South. This was the America of Elmer Gantry, of "barking dog" convulsions and circus-tent revival meetings.

The Sargant book drew the parallel between such primitive people under the influence of witch doctors, fundamentalist preachers and pagan gods, and the victims of the 1960s drug/rock/sex counterculture. Describing the historical accounts of the celebrations of the ancient Greek pagan god Dionysus, Dr. Sargant wrote:

"Many of the other dancers approached very near trance, and showed states of increased suggestibility at the end of a long and intensive period of repetitive and monotonous dancing.

They looked very much like fans of the Beatles or other 'pop groups' after a long session of dancing."

Indeed, a concluding chapter of The Mind Possessed had profiled the newest form of fundamentalist religious irrationalism, "Beatlemania."

One of the clear lessons to come out of the Sargant studies, and other similar profiling work by such Cybernetics Group/CCF players as Dr. Margaret Mead and her husband, LSD-experimenter Dr. Gregory Bateson, was that

the most efficient means of promoting irrationalist cults was to exploit existing movements and subcultures.

-- The CCF and the God of Thunder Cult: British Promotion of Irrational Belief Systems in America, by Stanley Ezrol & Jeffrey Steinberg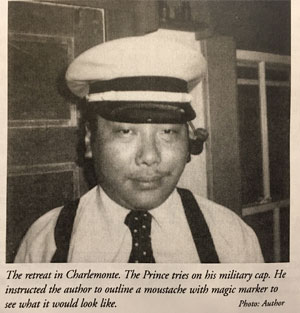 The retreat in Charlemonte. The Prince tries on his military cap. He instructed the author to outline a m oustache with magic marker to see what it would look like. Photo: Author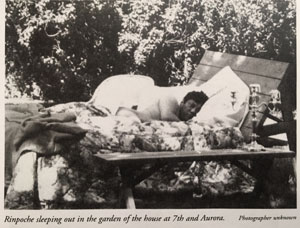 Rinpoche sleeping out in the garden of the house at 7th and Aurora. Photographer unknown.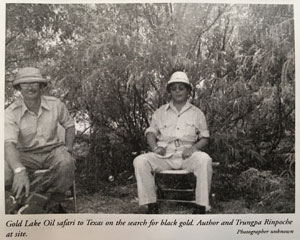 Gold Lake Oil safari to Texas on the search for black gold. Author and Trungpa Rinpoche at site. Photographer unknown.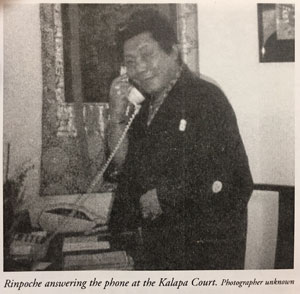 Rinpoche answering the phone at the Kalapa Court. Photographer unknown.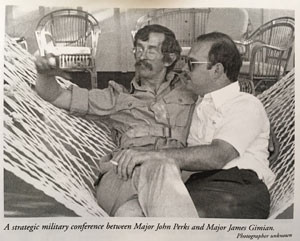 A strategic military conference between Major John Perks and Major James Gimian. Photographer unknown.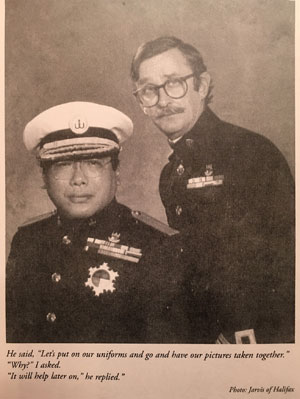 He said, "Let's put on our uniforms and go and have our pictures taken together."
"Why?" I asked.
"It will help later on," he replied.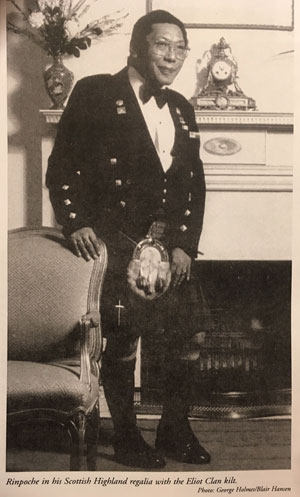 Rinpoche in his Scottish Highland regalia with the Eliot Clan kilt. Photo: George Holmes/Blair Hansen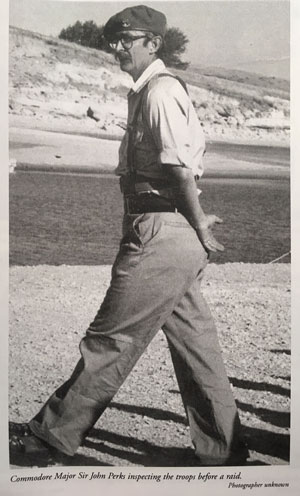 Commodore Major Sir John Perks inspecting the troops before a raid. Photographer unknown.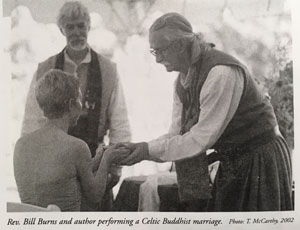 Rev. Bill Burns and author performing a Celtic Buddhist marriage. Photo: T. McCarthy, 2002.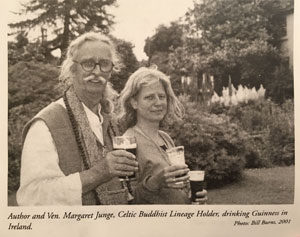 Author and Ven. Margaret Junge, Celtic Buddhist Lineage Holder, drinking Guinness in Ireland. Photo: Bill Burns, 2001.