Local Zen center offers help for congregations torn by scandal
by Ann Rodgers
Pittsburgh Post-Gazette
March 28, 2011 1:00 AM
NOTICE: THIS WORK MAY BE PROTECTED BY COPYRIGHT
YOU ARE REQUIRED TO READ

THE COPYRIGHT NOTICE AT THIS LINK

BEFORE YOU READ THE FOLLOWING WORK, THAT IS AVAILABLE SOLELY FOR PRIVATE STUDY, SCHOLARSHIP OR RESEARCH PURSUANT TO 17 U.S.C. SECTION 107 AND 108. IN THE EVENT THAT THE LIBRARY DETERMINES THAT UNLAWFUL COPYING OF THIS WORK HAS OCCURRED, THE LIBRARY HAS THE RIGHT TO BLOCK THE I.P. ADDRESS AT WHICH THE UNLAWFUL COPYING APPEARED TO HAVE OCCURRED. THANK YOU FOR RESPECTING THE RIGHTS OF COPYRIGHT OWNERS.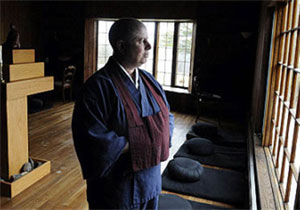 Zen centers are supposed to epitomize calm, but there was anguish at a national Zen meeting last year as devotees reacted to sexual misconduct scandals involving prominent monks.
The Rev. Kyoki Roberts, head priest of the Zen Center of Pittsburgh, was as appalled by some of the responses as by the abuse itself. "I heard a Zen Buddhist teacher use the word 'vitriolic' to describe the victims," she said.
Rev. Roberts, who was a professional mediator before becoming a priest
, knows that congregations of all faiths tear themselves apart after a scandal involving a trusted leader. Certain that there are ways to prevent that, she returned to Pittsburgh and founded An Olive Branch. It is dedicated to the prevention of misconduct in the wake of accusations.
The group doesn't attempt to reconcile victims with abusers but aims to help congregations and nonprofits prevent or cope with the aftermath of sexual or financial misconduct by their leaders.
When a beloved leader is accused of wrongdoing, "the entire system is thrown into turmoil. Rage, disbelief, shock, grief and departure are just some of the reactions," she said. In such a situation, she considers it imperative for a neutral third party -- not someone who has been part of the congregation or its related hierarchy -- to help people sort through the spiritual, emotional and legal difficulties.
"While sexual misconduct has the potential to rip apart a church, temple, mosque or other community, it also has the potential to lead the community in to a much deeper spiritual life," she wrote in a brochure for An Olive Branch.
Rev. Roberts was raised near the hilltop in Bell Acres where the Zen Center now offers a meditative retreat.
She left to become an organic farmer in Nebraska and was there when countless family farms were foreclosed during the debt crisis of the 1980s.

After a farmer was shot to death resisting the seizure of land his family had farmed for 100 years, Nebraska church leaders started a mediation service that the state later hired. Rev. Roberts, who was just beginning to practice Zen, became a mediator and trained others.
"Our mediations were volatile. We were literally telling people to check their guns at the door. But we had a 98 percent success rate," she said.
Their success came from identifying and addressing deeper concerns behind the issue that people were fighting over, she said. If a group is torn over whether to keep a door opened or closed, they aren't really fighting about the door -- one group may have health concerns about an overheated building while another has safety concerns about who might walk through the door. Only when health and safety are addressed can a decision be made about the door.
"We don't really talk about the door. There is a shift, and that's why it works," she said.
She gave up professional mediation after her 1993 ordination, when she went to Japan. She founded the Zen Center of Pittsburgh in 1999. But she continued to help various nonprofits sort through difficult issues. She chaired the ethics committee of the Soto Zen Buddhist Association when the scandals erupted.
Those accusations concerned revered teachers who abused their authority over adult female disciples. One of her tasks was to make clear that these weren't consensual affairs between equals but involved dangerous abuse of spiritual authority and the crossing of strict ethical boundaries.
Sensing a need for more skilled intervention, she renewed her credentials, recruited nationwide for an interfaith team of skilled mediators as advisers, and trained local mediators.
An Olive Branch is a project of the Zen Center of Pittsburgh and draws on Buddhist principles, including respect for all people.
"I see in each person the awakened Buddha," she said.
Among those she recruited was a former colleague from Nebraska, the Rev. Judith Dye, a United Methodist pastor in Lincoln.

"Kyoki and I have gone different ways in faith, but we see this as a model that people of different faiths can work together to help each other resolve their conflicts," she said.
"We aren't there to come up with solutions for anyone. We are there to help them through the process, so that they come up with their own agreements."
Clergy sexual misconduct is not respectful of theology, Rev. Roberts said.
A 2009 Baylor University study that covered 17 religious traditions found that 3 percent of women who attend worship services have received inappropriate sexual advances from clergy.
Older studies found even higher rates. A 1990 study, primarily of Protestant pastors, found that 10 percent had been sexually active with a parishioner.
"The Catholics have the least abuse, even though they get the most press," Rev. Roberts said. "The most likely to offend are those in non-denominational congregations. It's because they have internal control, rather than external control, and they don't necessarily have the same training and background that you find among the mainline Protestants and the Catholics. And in some sense that's where Zen falls down as well. ... We have the same lack of central control."
Clergy misconduct cases differ from typical mediation cases because the goal isn't to mend the relationship between the offender and the victim, but to mend the congregation torn apart by the scandal, Rev. Roberts said.
"You have a community that is divided between those who see the beloved pastor and those who see the scoundrel who misled us. You help the parties see that they are both correct," she said. "And there are multiple parties and multiple views."
An Olive Branch will offer its services on a sliding scale. Its abuse prevention training can be done in a day. But Rev. Roberts warns that mediation after abuse is expensive because team members must make multiple visits over at least a year. She believes, however, that ignoring the wound is far more costly.
Without intervention, "any new clergy who come to a church where this has happened will be gone in three years," she said. "They need a neutral party or they get pulled into it. The attitude of people in the congregation is 'You're either with us or against us. ... Studies show that you can go back into the church 20 years later and the people are still stuck in these positions."
Even congregations that experienced devastating crises can find renewal, she said.
"They come out the other side and are strengthened in their own mission," she said.
An Olive Branch can be reached at http://www.an-olive-branch.org or 412-996-5483.