Make no little plans, they have no power to stir men's souls.

-- Daniel Burnham, American architect
Seven: The Great Plan: Nicholas and Helena Roerich
On December 26,1923, in eastern Tibet, one hundred heavily armed Buddhist monks, hidden in the morning fog, saddled their horses and quickly galloped northward away from Tashilumpho monastery, heading toward Mongolia. In the middle of the crowd, shielded on all sides by his bodyguards and followers, rode the ninth Panchen Lama (1883-1937), abbot of the monastery and the spiritual leader of Tibet. He was running for his life from the wrath of the Dalai Lama. In the eyes of Lhasa, the Panchen Lama, who ruled as a powerful local lord and refused to pay taxes, was a dangerous separatist defying the efforts of His Holiness to turn Tibet into a modern nation-state. The officer sent to chase the fleeing party was quite fond of the mild and friendly abbot and did not rush to fulfill his assignment. Pretending to be ill, he camped with his detachment for two days, and when the pursuit was renewed, it was too late: the Panchen Lama was far ahead of his pursuers, deep in Chinese Mongolia beyond the reach of the Dalai Lama. The runaway abbot settled into a self-imposed exile near the border with Red Mongolia.
After the Panchen Lama's escape, a prophecy spread throughout Inner Asia that the runaway abbot would come back to Tibet as the king of Shambhala and punish evildoers. The Panchen Lama's own grim predictions added to the general excitement:
The time has already arrived when it is rather difficult to escape such terrible sufferings. Dead bodies will fill the ravines and channels and rivers of blood will flow. Even if there will be roads, there will be no one to walk along them. Even if there will be yurts, there will be no one to live in them. Even if there will be clothes, there will be no one to wear them. Remember that the supreme nobles will be exterminated by diseases, and also the lower poor ones will be troubled by illness. Rich and poor will be equal. Only good ones and evil ones will be distinguished. [1]
The flight of the Panchen Lama stirred diplomatic and spy games that involved England, Japan, China, and Red Russia. Surprisingly, each, for its own reasons, wanted the Panchen Lama back in Tibet. China had plans to use him as a puppet to keep the Land of Snows in its orbit and disrupt nation-building in Tibet. Britain wanted to reconcile the runaway abbot with the Dalai Lama to make Tibet into a nation that would serve as a buffer between British India and Red Russia and China. The Bolsheviks were wary of the Panchen Lama hanging around the borders of Red Mongolia, where he enjoyed skyrocketing popularity and could present an ideological challenge to the sprouts of Communism. Added to this was a slim hope that he might be used to help the Bolsheviks get a foot into the Forbidden Kingdom. Finally, Japan, a latecomer to this game, wanted to use the Panchen Lama and his Shambhala war to squeeze the Chinese out of Inner Asia.
In the same fall of 1923, a peculiar, sage-looking European appeared in Darjeeling in the northernmost part of India near the Tibetan border. A plump man with a round face and a small Mongol-styled beard, he moved and talked like a high dignitary. He announced that he was a painter, and, indeed, from time to time people could see him here and there with a sketchbook, drawing local landscapes. Yet, even for an eccentric painter, he acted strangely. To begin with, he argued that he was an American, although he spoke English with a heavy Slavic accent. He also demonstrated a deep interest in Tibetan Buddhism, particularly in the Maitreya and Shambhala legends, which was not unusual -- except that the painter had a ceremonial Dalai Lama robe made for himself and donned it occasionally, hinting he was the reincarnated fifth Dalai Lama, the famous reformer in early modern times. His behavior raised the eyebrows of local authorities, who passed this information along to the British intelligence service.
As strange as it might sound, the "sage" did strike a chord with some local Tibetan Buddhists, for several visiting lamas did recognized him as the reincarnated Dalai Lama by the moles on his cheeks. At that time, no one except several close relatives and disciples of the painter knew that he had a grand plan, which included dislodging the Dalai Lama, bringing the Panchen Lama back to Tibet, reforming Tibetan Buddhism, and establishing in the vast spaces of Inner Asia a new theocracy, which he planned to call the Sacred Union of the East. He saw the flight of the Panchen Lama as an occult signal of the coming Shambhala war that would bring to the world the new golden age of Maitreya. The name of this ambitious dreamer was Nicholas Roerich.
Education of a Practical Idealist
Roerich, who liked to call himself a practical idealist, came from a family with Baltic German roots on the paternal side; his father was a notary and his mother, a Russian, came from the ranks of city burghers. Nicholas had three siblings: an elder sister and two younger brothers. Since early childhood, his great passion was archaeology. As a nine-year- old, Roerich already took part in archaeological digs. This love for the past, legends, and fairy tales would remain with him for the rest of his life, and from the beginning he took legends and prophecies seriously, considering them reflections of actual events.
Another of Roerich's passions was art, for which he had a great talent. By 1917, he was already a famous and accomplished painter, working in the Art Nouveau style and portraying spiritual scenes, gradually shifting from Slavic primitivism to Oriental mysticism. Favorite subjects were various Buddhist and Hindu mythological characters depicted against mountain landscapes of blue, purple, yellow, and orange. [2] Many contemporaries noted one characteristic that united his canvases-they were cold and solemn. Devoid of emotion, Roerich's images were reminiscent of spiritual messages. A fellow painter and colleague described his art thus: "The world of Roerich represents a fairy tale clad in stone. He spreads colors on his paintings firmly like a mosaic. The forms of his art do not breathe and have no emotions at all. They are eternal like the rocks of cliffs and caves." [3] Roerich himself explained that his goal was to capture and depict the ideal forms of life and therefore he liked to paint from his head rather than from his heart.
In 1901 Roerich met and married his soul mate, Helena Shaposhnikova, the daughter of a famous St. Petersburg architect. It was a happy marriage: Helena and Nicholas were not only a couple but also fellow dreamers, which contributed to Roerich's conversion to the life of a spiritual seeker. They would share all their spiritual and geopolitical adventures. Their two sons, George and Svetoslav, who were made part of their Great Plan, later became scholars, explorers, and painters. The only troubles were the horrible headaches and fits that haunted Helena, the results of two serious head traumas. One was received during her childhood and another in adulthood when she fell on her head from an upper bunk in a train compartment. After the second trauma, Helena began to have visions of fire and flames that consumed her entire body. Another serious damage to her health might have been caused by prenatal trauma suffered when her mother had unsuccessfully tried to abort her. [4]
Everything changed when Helena reinterpreted those fits as an invitation to converse with otherworldly forces. Such an approach was unusual during that time when Freudian psychiatry was becoming a cultural fad and such things were treated as illness. Helena later claimed that a message came from her otherworldly teacher informing her that the fits were the result of the discovery of new energy centers in her body and that the work of these centers was what produced the excruciating pains. [5] The fire and flames she saw inside herself accompanied by visions and voices became the manifestation of Agni Yoga (Fire Yoga), a spiritual system the couple later worked into a new creed after they moved to the United States in 1921.
As soon as she converted her sickness into spiritual experiences, Helena's life became a bit easier. Now the headaches, horrific images, and visions that continued to haunt her became messages from otherworldly spiritual teachers. Moreover, Helena soon learned to put herself intentionally into a trancelike mood in order to receive information from the "other side." The other side was two spiritual masters who represented the Great White Brotherhood hidden in the Himalayas -- spiritual baggage Helena borrowed from the famous Helena Blavatsky, founder of Theosophy. Just as in the case of Blavatsky, Helena Roerich's hidden masters were Hindu men who first appeared to her in London's Hyde Park. Eventually, the spiritual masters who visited Helena began to appear to Nicholas as well.
From early on, Nicholas Roerich nourished grand dreams. The painter was convinced that he was predestined for a great role in life. In fact, he never tried to hide his self-importance: "I have a big ego. Although this sometimes gives me moments of difficulty, I am glad that I have much of it. Like a good whip, my ego makes me move forward fast. Without such a source of energy I would not be able to accomplish many things." [6] Since childhood, Roerich was also fond of playing roles of imagined persons, usually great historical and mythological personalities. Eventually this habit became his second nature. His round face, pink cheeks, well-groomed hair, and small beard seemed like a mask that could be cast aside in an instant and replaced by another one.
This ability to wear different masks later helped him play different roles and cultivate useful people. The mysterious Roerich skillfully penetrated different spheres, including the court of the tsar. Smart, cunning, and polite, he knew well when and how to flatter and be courteous. His approach was usually very simple: "Make friends with a person" and "listen to him and let him speak." This talent in captivating useful people not only brought him many contacts and riches, but also enabled him to pursue his utopian projects. In fact, in their relations with people, Nicholas and Helena never thought in terms of emotions and friendship. The world was strictly divided into those who were useful and those who were useless. The people who surrounded them were just pawns in their schemes. Such an approach was natural, for the couple was not concerned about individuals-their goal was to bless all of humankind. Thus, one of their closest associates, Frances Grant, was a "good instrument." Rich and powerful philanthropists from New York, Washington, and Chicago were "useful for the future." Even the painter's own brother Vladimir was put on this grading scale: he would "be useful in our work." [7]
In 1909, another important event in Roerich's life aroused his interest in Tibetan Buddhism and triggered his quest for Shambhala. A group of Tibetan Buddhists in St. Petersburg headed by Agvan Dorzhiev, the Buryat Buddhist monk and envoy of the Dalai Lama to the Russian court, received Tsar Nicholas II's blessing to erect a Tibetan Buddhist temple in the Russian capital. Backed by bohemian spiritual seekers and cultural dignitaries fond of Theosophy and Buddhism, Dorzhiev was able to convince the tsar (who was prone to mysticism) that it would be good for both spiritual and geopolitical reasons. Playing on Russian- English rivalry in Asia in hopes of shielding Tibetan sovereignty from English and Chinese advances, the Dalai Lama's ambassador told the tsar that inhabitants of the Forbidden Kingdom viewed the Russian emperor as the king of northern Shambhala who would protect their country from the aliens' intrusions.
Roerich eagerly joined the project, designing stained glass for the temple. The painter also became fascinated with Dorzhiev's stories about Shambhala, the mysterious Buddhist paradise somewhere in the north. No less captivating was the Buryat lama's dream of bringing all Tibetan Buddhist people together in a united state under the protection of the Russian tsar. Roerich and the "learned Buryat lama," as the painter referred to Dorzhiev, had many cohorts among Russian intellectuals and aristocrats, whose cultural life was saturated with the occult. The early twentieth century in Russia was the time of the so-called Silver Age -- an incredible resurgence of humanities, music, art, and esotericism. Even some Marxists, to Lenin's dismay, paid tribute to this cultural renaissance, openly pondering how to elevate humans to the status of gods and how to turn communism into the religion of a new age. In St. Petersburg and Moscow salons, people were talking about the end of the Enlightenment era and its rationalism, turning away from Western civilization to the Orient. Theosophy, the first modern countercultural spirituality, which at that time was heavily loaded with Hinduism and Tibetan Buddhism, flourished among Russian people of arts and letters.
At the end of 1916, just on the eve of the Bolshevik takeover, Roerich and his family, as if sensing which way the wind would be blowing, conveniently left St. Petersburg and settled in a quiet summer cottage amid pine woods in Finland, away from the coming revolutionary storm. This turned out to be a very smart decision, allowing the Roeriches to avoid the bloodiest period in Russian history: the Communist Revolution of October 1917, mob attacks on "bourgeois" intellectuals, and the brutalities of so-called War Communism imposed by the Bolsheviks on Russia. This lack of hands-on experience with the "joys of Communism" might explain why later it became so easy for the couple to make friends with Red Russia.
Soon, invited by a rich admirer to exhibit Nicholas's paintings in London, the Roeriches moved to England. Here they could forget about everything and continue their Silver-Age lifestyle, joining the Theosophical Society and frequenting occult and spiritualist salons. In 1919, replicating experiences of her famous predecessor Helena Blavatsky, Helena Roerich had her spiritual breakthrough: in London's Hyde Park she "met" her Himalayan spiritual masters (mahatmas), named Morya and Khut-Humi. Later, Khut-Humi somehow dropped out, and the couple dealt only with Morya, who became their spiritual guide for the rest of their lives.
Although the Roeriches were able to rub shoulders with fellow spiritual seekers in England, they were not happy in London. Helena and Nicholas wanted something bigger than just being a minuscule part of a large Theosophical crowd. There was no room for them to spread their wings to become spiritual teachers. The great occult celebrity Peter Ouspensky far overshadowed the newly arrived couple with budding mystical aspirations. Just across the English Channel in France, the flamboyant George Gurdjieff was a magnet drawing European seekers to his spiritual school. Even in the world of painting, Nicholas Roerich was relegated to a secondary role in the shadow of such European giants as fellow emigres Wassily Kandinsky and Kazimir Malevich. Helena and Nicholas, who liked to compare themselves with Prometheus, could not stomach such a situation. Like this ancient Greek hero, they dreamed about storming heights, stealing fire to bring it to people.
For a while they played with the idea of moving to India and making that country a staging ground for their worldwide spiritual mission. In fact, they had already made contact with the famous Hindu writer and philosopher Rabindranath Tagore, who promised them "light, space and quietness, but not dollars." Yet the Indian option was swiftly cast aside. In one of her letters, Helena made a sarcastic remark about this offer: one could find such "treasures" in any desert. [8] The couple did need money and fame, and in this respect America sounded far more appealing. Again, like their prominent predecessor Blavatsky, they chose to move to New York City. Morya, the newly acquired spiritual guide from the Himalayas, backed up this decision. Before embarking overseas, Roerich confided to one of his friends: "He guides me and my family. Now he has given me a new assignment-to instill spirituality into American art and to establish an art school there named after the Masters." [9]
Soon after arriving in America in October 1920, the Roeriches pioneered their teaching, an offshoot of Theosophy called Agni Yoga that invoked fire, the recurrent image from Helena's visions and a symbol of destruction and creation. At the center of Agni Yoga was the idea of reincarnation, giving people the opportunity to improve and raise themselves to the level of the divine beings in the Himalayan Great White Brotherhood. These masters, who included Morya, guided humankind in its spiritual development and from time to time sent out sages to speed up this spiritual evolution. Of course, Helena and Nicholas were thinking about themselves as these sages-messengers sent to enlighten humankind. In his Shambhala (1930), the painter hinted about their historical mission: "Verily, verily, the people of Shambhala at times emerge into the world. They meet the earthly co-workers of Shambhala. For the sake of humanity, they send out precious gifts, remarkable relics. I can tell you many stories of how wonderful gifts were received through space. Even Rigden-jyepo [Rigden-Djapo, king of Shambhala] himself appears at times in human body. Suddenly he shows himself in holy places, in monasteries, and at time predestinated, pronounces his prophecies." [10]
Communication with the brotherhood was conducted through Morya, who began to issue detailed instructions regarding all aspects of the Roeriches' lives, from their political preferences to family matters. To get in touch with the master, Helena entered a trancelike state and recorded her messages by automatic writing, a technique popular among contemporary spiritualists. Although not blessed with divine headaches, Nicholas nevertheless learned how to get in touch with Morya, and from time to time he contacted the master, relying only on automatic writing. Turning his head aside and covering his eyes with the palm of one hand, the painter usually "talked" with Morya while simultaneously writing down the messages from the otherworld.
The new teaching drew initial converts: Frances Grant, a reporter, and a Russian Jewish couple, Sina Lichtmann-Fosdick and Maurice Lichtmann, two piano teachers who had moved across the ocean long before the revolution and had become almost fully Americanized. Soon another Jewish couple joined the group: Natty and Louis Horch, who had lost their first child and were searching for spiritual comfort. Louis, a currency speculator whose face was disfigured by a horrible trauma to his skull, turned out to be a treasure trove for Nicholas and Helena. By the early 1930s, he would blow more than one and a half million dollars funding Roerich's artistic and geopolitical ventures. In 1924, Nicholas Roerich added to this group George Grebenstchikoff, a writer and expert on Siberian geography and ethnography. Another prominent member of the inner circle was George Roerich, one of the Roeriches' two sons, whom they specially sent to Harvard and then to the Sorbonne in France to be groomed as an Orientalist. George was expected to learn about Tibetan and Hindu traditions-necessary assets for a future Shambhala warrior who was to assist his parents in their geopolitical plans.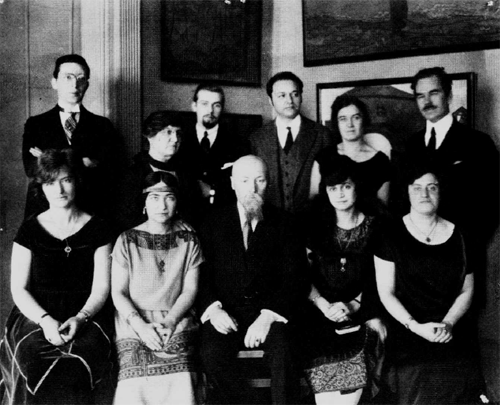 Figure 7.1. Nicholas Roerich's inner circle, December 7, 1924. Left to right, sitting: Esther Lichtmann, Sina Lichtmann-Fosdick, Nicholas Roerich, Natty Horch, Frances Grant; standing: Louis Horch, Sofie Shafran, Svetoslav Roerich, Maurice Lichtmann, Tatiana Grebenstchikoff, George Grebenstchikoff.
There were other close contacts and associates who were never fully informed about the Roeriches' ultimate goals. Among them were industrialist and philanthropist Charles R. Crane; Frank Kellogg, U.S. Secretary of State under Hoover; and later on Henry Wallace, FDR's Secretary of Agriculture, who was admitted into the painter's inner circle but at the same time was not completely devoted to his plans. The most trusted disciples received specially designed rings and esoteric names -- symbols of belonging to the elect. [11] The rest of their friends and acquaintances, Nicholas stressed, should not be told of their longterm goals. For the general public, Roerich was to remain simply a painter and archaeologist interested in Oriental cultures. In 1922, after establishing his Master School of United Arts in New York, Roerich reminded the inner circle, "There are two sides of our school: the pretend illusionary one, which exists for all surrounding people, for many things must not be mentioned, and the real one-those wonderful events and miracles known only to US." [12]
Dreams of an Asian Spiritual Kingdom
The couple believed that World War I and the collapse of empires, along with bloody class and ethnic fights all over Eurasia, were a necessary purgatory: an Armageddon that would eventually bring a new golden age of universal happiness and spiritual bliss, which the Roeriches interchangeably called the Shambhala kingdom and the age of Maitreya. To Nicholas and Helena, the disorder that reigned in Inner Asia after the downfall of the Russian and Chinese empires and the expanding prophecies about mighty heroes that would come to deliver people appeared to provide an ideal stage for them to tryout their role of saviors. Sometime by 1923, the Roeriches concluded the moment was right for them to plug into and use Shambhala and similar prophecies to build in Asia a powerful spiritual state based on reformed Buddhism: "For those who imagine Shambhala as a legendary invention, this indication is superstitious myth. But there are also others, fortified by more practical knowledge." [13] The Roeriches assumed that, if properly channeled, these prophecies might develop according to the scenario prescribed by the Great White Brotherhood.
The flight of the Panchen Lama from Tibet in December 1923 was seen as another powerful sign from the otherworldly brothers for them to step up. Without an assertive spiritual leader, thought Roerich, Tibetan Buddhists would "become prey to the intrigues of the retrograding lamaistic parties." To signal the coming of the new age, the painter would act as that assertive leader by bringing the Panchen Lama to Lhasa, fixing the situation, and making sure that the thirteenth Dalai Lama would be the last. The authority of the Yellow Pope (a derogatory nickname Roerich frequently used to refer to the sitting Dalai Lama) was to be erased: "The sacred army will purge Lhasa of all its nefarious enemies," and "the realm of righteous will be established." Roerich was convinced that all Tibetans were just awaiting "the prophecy that a new ruler from Shambhala, with numberless warriors, shall come to vanquish and to establish righteousness in the citadel of Lhasa." [14] An expedition to Inner Asia, headed by the painter and disguised as a scientific archaeological enterprise, was to accomplish this task.
The final goal of this venture gradually crystallized into what Helena and Nicholas called the Great Plan-an idea to bring all Tibetan Buddhist people of Asia, from Siberia to the Himalayas, together into the Sacred Union of the East with the Panchen Lama and Roerich presiding over this future theocracy. This state was to be guided by reformed Buddhism cleansed from what the painter and his wife considered "shamanic superstitions," adjusted to the original teachings of Buddha, and injected with the Roeriches' Agni Yoga. The couple envisioned this utopia as a commonwealth of people who would live a highly spiritual life and work in cooperatives-the economic foundation of this new state.IS Their theocracy would stir a spiritual revival in the rest of the world. This grand dream certainly did not spring up overnight. For Helena and Nicholas, the Great Plan was a work in progress that continued from 1921 to 1929 and then was renewed in 1933-35.
Although they were dreamers, the Roeriches were not totally out of touch with reality. In fact, Nicholas and Helena's geopolitical scheme would not have sounded outlandish to their contemporaries, as many of them, both on the left and on the right, seriously believed there were absolute solutions to the world's problems, and that political and cultural messiahs were capable of delivering salvation. These solutions were usually based on collectivism and suppression of individuals to the will of a nation, class, or religion. With their grand geopolitical scheme designed to guide humankind to the correct spiritual path, the Roeriches perfectly fit their time.
At the end of 1921, the otherworldly teacher Morya gave his first hints on how to proceed with the unification of Inner Asian peoples into a spiritual kingdom: "In this life, without a fairy tale, you must visit us in Tibet, then go teach in Russia. I witness this by those happy events that take place in America" (August); "Think about Tibet, help to bring about harmony" (September); and finally, "Urusvati [Helena], I lead thee to the revealed Lhasa" (December). [16] The master also recommended they reread such spiritual classics as Ouspensky's Tertium Organum (1922) and Blavatsky's Secret Doctrine (1888) in order to be armed philosophically for the grand Asian journey.
On July 29, 1922, when "conversing" with Helena and Nicholas, Morya delivered a stunning revelation: in his past life, Nicholas had been the fifth Dalai Lama (1617-82), one of the most prominent Tibetan leaders, who brought the people of the Forbidden Kingdom together and had the famous Potala Palace built in Lhasa. On that same day, the painter learned that the Great White Brotherhood had chosen him to go to Tibet as a spiritual ambassador and then to proceed farther north to Russia. The otherworldly master added that when they went to Tibet the couple would have to shed their European dress and replace it with Oriental garments. After Tibet, upon their arrival in Russia, Maurice Lichtmann would welcome them with the Torah in his hands and on behalf of the Jewish nation would "deliver a welcoming address to the East." At the end of their journey, prop he sized Morya, representatives of various Inner Asian and Siberian peoples would come together and consummate the Sacred Union of the East. Eventually, out of this Asia-centered theocracy the superior race of people would spread the light of true spirituality all over the world. [17]
Like many Western intellectuals, including contemporary Theosophists, Helena and Nicholas were convinced that humankind's enlightenment and salvation would come from the East. This habit of looking to the Orient as the source of high wisdom has a long history. It started during the Enlightenment and then received an additional boost from Romanticism in the first half of the nineteenth century. By the beginning of the twentieth century, quite a few intellectuals had built up in their minds an idealized ancient Orient soaked in rich spiritual life and contrasted it to the imperfect contemporary West that scared Western seekers with its materialism, industrialization, and individualism.
Much like contemporary Theosophists, the Roeriches merged their Asia-centered geopolitical utopia with Charles Darwin's evolutionary theory, which had become fashionable at the end of the nineteenth century not only in the sciences, but also in the humanities and popular media. Following their predecessor Blavatsky, the Roeriches talked about a coming superior race that would dislodge spiritually degenerate races in the process of evolution. The Great White Brotherhood from the Himalayas and its messengers (the Roeriches) could speed up this evolution by navigating human beings toward the better future beyond materialism. To be exact, both Blavatsky and the Roeriches meant a spiritual evolution, not a biological one. At that time in the West, this kind of talk about superior and inferior species and races, as well as grading cultures into primitive and advanced ones, was common, taken for granted, and never raised any eyebrows. Politicians, writers, scholars, and scientists all shared this mindset.
Besides Blavatsky's Theosophy, another powerful out-of-Asia source for the Roeriches was the Siberian autonomist movement. For some reason, all existing writings about the Roeriches somehow downplay this movement's influence on their geopolitical ideas. Autonomists were a small but outspoken group of Russian writers, artists, and scholars in Siberia, headed by the folklore scholar Grigorii Potanin (1835-1920), who worked to boost the status of their area within the Russian Empire. These men and women of arts and letters were convinced that their vast northern Asian homeland was a colony of European Russia. To them, Siberia was destined for a better role than to serve simply as a dump for common criminals and political prisoners and as the source of raw materials. At one point, when they became too vocal in demanding autonomy for Siberia, the Russian tsar condemned Potanin and several of his friends to exile in the European part of Russia. The emperor surely did not want to give these cultural rebels such a treat as an exile to Siberia.
Of special interest to the autonomists were the indigenous cultures of Siberia and Inner Asia. Potanin and his comrades were on a mission to use archaeological, folkloric, and ethnographic materials to show that Siberia, with its ancient Asiatic legacy, was a land steeped in rich culture more ancient than that of European Russia. The Russians in Siberia were not counted. As Europeans and newcomers to the area, they did not have ancient roots. What counted were lore, legends, and the ethnography of the indigenous folk of the Altai, Tuva, Buryat, and Mongolia. Like any cultural separatists living on the periphery, autonomists argued that their land was better and more ancient than other places: "The older the better" is the mantra of all nationalists and separatists who try to empower themselves. Talking and writing about the creative role of Inner Asian nomads were an important part of the autonomists' agenda. As if anticipating present-day politically correct historians, Potanin and his friends worked hard remaking the Mongols from ruthless barbarians and conquerors into noble cultural heroes and civilization carriers. At one point, Potanin went as far as arguing that Bible stories and Anglo-Saxon lore originated from Mongol and Siberian legends carried to the West and conflated with Middle Eastern and European oral culture.
Nicholas Roerich equally liked to indulge in such talk about nomads as cultural heroes. Moreover, for him, the Inner Asian nomads were potential foot soldiers in the coming Shambhala kingdom. Not spoiled by Western civilization, they would become the spearheads of the world's liberation. Potanin's books about Turkic and Mongol legends became must-reads in the curriculum of Roerich's arts and humanities Master School in New York. The painter especially liked how Potanin worked with facts, finding links other writers somehow did not see. For example, if the Hebrew name Solomon sounded similar to Solmon, a character from the old epic tales of the Mongol and Altaian people, Potanin quickly concluded that Hebrew mythology had been affected by Asian nomads.
Although Roerich read Potanin's works and from them picked up many Asia-centric ideas, the only autonomist he had a chance to interact closely with was George Grebenstchikoff, whom he met while visiting Paris. This fellow emigre and struggling writer from southern Siberia was one of Potanin's close followers. Grebenstchikoff bragged about traces of Mongol blood in his veins and struck a chord with Roerich by expounding on the special historical role of his "ancestors" in world civilization. Roerich was drawn to Grebenstchikoff's stories about the traditions and mysteries of Siberia and Inner Asia. His stories about the landscapes and legends of the Altai sounded especially fascinating, and Roerich began to dream about this picturesque mountain country at the intersection of Siberia, Mongolia, and Kazakhstan as the center of his future spiritual kingdom. He and Helena contemplated erecting Zvenigorod (the city of bells), the capital of their future Pan -Asian state, in the Altai. The Siberian writer turned out to be so useful to the Great Plan that Nicholas concluded, "Grebenstchikoff knows everything." [18]
Special efforts were made to bring Grebenstchikoff from Paris to New York to keep him around as an expert on the area. The writer, who lived a miserable life in France, was more than happy to join the Roeriches' inner circle. Roerich gave him money (that came from Horch), helped him to settle in America, and endowed him with a new esoteric name: Tarukhan (from Tarlyk-khan, supposedly a Mongolian great grandfather of Grebenstchikoff). Helena and Nicholas made sure that Grebenstchikoff felt comfortable and secure in his new home. Once Helena instructed one of her sons, "Be close to Tarukhan. It is not only our request, it is also Mahatma Morya's order. Help our American friends understand the complexity and power of his character and the beauty of his visions. He is absolutely necessary for our project. I want them to trust him more. They will not be able to accomplish anything without him!"19 In exchange, the writer eagerly fed the geopolitical fantasies of the painter and his wife with his ethnographic tales.
The painter spent many hours with Tarukhan, inquiring about landscape, particular sites, and prophecies of the Altai. Grebenstchikoff's stories about the mysterious Belovodie (White Waters Land) layered well on what the painter read about Shambhala. Belovodie was a prophecy shared by Altai Russian Orthodox schismatics who envisioned a utopian land of plenty where they could worship freely without being harassed by the tsarist government. The painter was equally captivated by Grebenstchikoff's talks about the Oirot prophecy that sprang up at the turn of the 1900s among indigenous nomads of the Altai; the legendary chief Oirot was a personification of the glorious seventeenth-century nomadic confederation of Oirot tribes and their prince Amursana. Local nomads expected this legendary character to resurrect and save them from the Russian advance into their land and culture. For Roerich, both Belovodie and Oirot were local versions of the Shambhala prophecy. In hindsight, Roerich turned out to be more useful to Tarukhan than vice versa. After 1929, Grebenstchikoff gradually and politely disentangled himself from the adventurous couple and their dangerous projects and eventually built up a successful career in the United States as a writer and college professor.
Not a small influence in stirring the Roeriches' geopolitical dreams was the book Beasts, Men and Gods (1922) by Ferdinand Ossendowski, a former Russian-Polish reporter in St. Petersburg exiled by the tsar to Siberia in 1905 for his revolutionary activities. There he became a professor of chemistry at Tomsk Polytechnic College and later secretary of finance for the White government of Siberia and a leader of the White resistance against the Bolsheviks. Ossendowski's action-packed book, which reads as half adventure story and half esoteric thriller, is a hair-raising account of his escape from the Bolsheviks southward through Tuva and Mongolia after the White cause collapsed in Siberia in 1921. En route, the professor got stuck with the bloody sadist Baron Roman von Ungern-Sternberg, who, as we have seen, dreamed, like Roerich, about building a grand pan-Asian empire.
In breathtaking style, Ossendowski described his actual life-and-death adventures as well as local landscapes, cultures, and prophecies of Asian nomads. A central theme is how the Bloody Baron hijacked Mongol prophecies. Roerich, who read and reread the book, certainly noted how quickly Ungern, an ordinary cavalry officer with average intelligence, by chance happened to liberate the Mongols from the Chinese and was elevated by the nomads to semi-divine status. The painter might have assumed that if such a mediocre and mean individual was able to stir indigenous prophecies and to entrench himself in the Tibetan Buddhist world, it surely would be easier for a person of a higher intellectual caliber like himself, who knew more about cultures of the area and, unlike the crazy baron, had a noble agenda, to do the same. The Roeriches took very seriously what they read in Ossendowski's book. Unlike bashers of Beasts, Men and Gods who unwarrantably accused Ossendowski of making up all his stories (critics could not forgive him for weaving into his text Alexandre d'Alveydre's myth of subterranean Agartha), the Roeriches knew exactly what Ossendowski was talking about. After all, the couple had their own personal source to check the facts in Ossendowski's book: Nicholas's brother Vladimir was the White officer in charge of the supply train in the Bloody Baron's army. After Ungern's demise, Vladimir escaped from the Reds, made his way to China, and settled in Harbin. [20]
Obstacles, Magic Stone, and Reincarnation as the Dalai Lama
Early in 1923, armed with ideas of spiritual advancement, brotherhood, and collectivism, the Roeriches concluded the time was right for them to go and build their new-age kingdom of peace, love, beauty, and spirituality in the heart of Asia. Their teacher Morya instructed them along the same lines: "It is time for the fairy tale to become real." [21] Yet, George, who had purposely been sent to Paris to be trained in Tibetan and Hindu studies, nearly ruined the Great Plan with his reckless behavior. At the end of 1922, when Master Morya kept sending his messages preparing the family for the Asian venture, George suddenly announced that he was going to get married. Away from the watchful eyes of Nicholas and Helena, George had fallen in love with a fellow Russian emigre, a beautiful and highly intelligent brunette named Marcel Mantsiarli, a Theosophist and follower of Jiddu Krishnamurti.
George was excited and wrote to his parents that his beloved was not only a beautiful girl but also a mystically inclined and sensitive person, and, "most importantly, she is devoted to our cause." [22] Helena and Nicholas were infuriated. A marriage on the eve of such a grand enterprise? This was a disaster! Helena was so mad that she immediately showered George with letters denigrating Marcel: the girl was five years older than George and simply wanted to trap her innocent boy. Even Master Morya interfered, giving Helena an alarming warning: "The reputation of the son that 1 need so much is being shattered." For George, the uncompromising position of his parents became a real drama. Marcel's mother, who specially came to New York to fix the problem, could not convince Helena to change her mind. The son desperately pleaded, "I beg you, 1 ask you, do not break my happiness." [23] Despite all of his pleas, nothing was able to melt the hearts of the messengers of the Great White Brotherhood. The spiritual crusaders who were about to bring enlightenment to Asia and then to all of humankind could not afford to have such a trivial thing as love meddle with their Great Plan. Eventually, George's parents took him away from Paris on a trip across Europe. Under their pressure and brainwashing, George broke up with the girl-a choice he regretted for the rest of his life.
Ironically, as soon as they settled "George's problem" another potential Shambhala warrior fell into precisely the same trap. Colonel Nikolai Kordashevsky, an eccentric Lithuanian aristocrat of Polish descent from Lithuania whom the Roeriches had similarly groomed as part of their future Asian venture, suddenly fell in love as well. Surely the devil's forces were at work here, putting obstacles before the forces of light. Kordashevsky, a former White officer who had fought the Reds in Siberia, was a die-hard romantic and spiritual seeker. He loved monarchy and, like Baron Ungern, toyed for a while after the collapse of the Whites with the idea of moving to Tibet to serve the last true monarch-the Dalai Lama. But he changed his mind and returned to Europe. After a brief and disappointing experience with the celebrity occult teacher Gurdjieff, who exhausted the officer-aristocrat with his rigorous physical training, Kordashevsky wandered around Europe seeking new spiritual experiences. While in Paris in 1923, he stumbled upon Nicholas Roerich, who mesmerized him with his Asian plans. Soon, Kordashevsky was introduced into the painter's inner circle by receiving a ring and the esoteric name Chakhembula.
Bored to death on his Lithuanian estate, the colonel craved action and was ready to depart for Tibet right away. Helena and Nicholas had to restrain him. Waiting for orders from his new guru in New York, Kordashevsky was killing time by reading Theosophical books and Nordic legends and composing a novel about Joan of Arc when he suddenly fell in love with a local high-school teacher, a soul mate fascinated with the mysteries of ancient Egypt. This development presented a new challenge for the Roeriches, and it took another batch of letters to convince the romantic colonel to drop the girl. How could Kordashevsky afford such childish nonsense, Nicholas Roerich chastised him, when soon he was to saddle a horse, draw his sword, and ride into the heart of Asia? Kordashevsky followed the advice of his guru and forced himself to drop the girl.
Although the Roeriches were contemplating building an Inner Asian theocracy based on reformed Tibetan Buddhism and Agni Yoga, they had not settled on an exact itinerary of their activities. A tentative plan was to enter the area as an embassy of Western Buddhists, then somehow to contact the Panchen Lama and bring him to Tibet. After that they hoped to play by circumstances, going farther northward to Mongolia and Russia, stirring up en route Shambhala and other local prophecies. To finalize their plans, the family decided to make a reconnaissance trip to Sikkim, a small Indian principality in northern India conveniently located on the southern border of Tibet.
The Roeriches did not simply buy tickets and casually depart to India. Since theirs was a historical mission sponsored by the otherworldly forces of the Great White Brotherhood, they needed an occult blessing, at least in the eyes of their friends and associates. On the way to Sikkim, the couple stopped in Paris to secure identification documents. The Roeriches still held Russian passports issued before the Bolshevik revolution, and they did not want to draw too much attention to themselves in India by using passports of a nonexistent state. France aided the White Russian emigres, providing them with necessary papers.
The occult blessing arrived, as Nicholas and Helena explained to their adepts, on the morning of October 6, 1923, when someone knocked on the door of their room at Lord Byron Hotel. George Roerich opened the door. The visitor introduced himself as a clerk from the Paris Bankers Trust, handed him a mysterious package, and immediately departed. When Helena, George, and Nicholas opened the package, they found a small box inside decorated with silhouettes of a man, woman, kingfisher, and four gothic letters engraved "M" on the edges. However, the real surprise was inside the box -- a black shiny aerolite. The next day telegrams flew to all associates of the Roeriches in various countries: 10 and behold, the Great White Brotherhood had entrusted the Roeriches with the sacred Chintamani stone. This magic jewel, which possessed incredible power, was to be carried on their Asian expedition and delivered to the Shambhala kingdom.
In Tibetan Buddhist tradition the Chintamani stone is known as a wish-granting gem. Ferocious deities, protectors of the Tibetan Buddhist faith, were frequently portrayed on sacred scrolls holding this stone. On these scrolls the Chintamani is depicted as either an ordinary jewel or a stone engulfed in flames-this theological link to the Roeriches' Agni Yoga might have been why they were attracted to this sacred item. The Roeriches described the Chintamani as a powerful occult weapon that would help their Asian mission. Now they could act not only as prophets who could fulfill wishes by using the wish-granting gem, but also as protectors of the Buddhist faith: "The stone draws people like a magnet. Entire nations can rise up if one lifts the stone. An enemy can be destroyed if you say his name three times looking at the stone. Only people who are pure in their spirit and thought can look at it." [24] It is highly probable that George Roerich, a professional student of Tibetan Buddhism who was shrewd in intricacies of this tradition, fed the Chintamani legend to his parents, who layered on it their own personal mythology and then manufactured the entire story about the mysterious gift.
The couple's fantasy moved further. The Roeriches wrote to their friends that the Chintamani was not only about Asian tradition: the magic gem was also known to the ancient Druids and to European Meistersingers as Lapis exilis. The stone delivered to the Roeriches was wrapped in a piece of old fabric; on it was an image of the sun with mysterious Latin letters inside the sun circle: I.H.S., which might be rendered as In hoc signo [vinces] (by this sign [you will win]). The same Latin abbreviation was inscribed on the banner of Constantine the Great, the famous Roman emperor who first legalized Christianity. Weaving Buddhist and European mythology together, the Roeriches said that the Chintamani magically disappeared and then reappeared at crucial historical moments to be handed to the righteous ones who would guide humankind to a better future. Of course, the righteous ones were the painter and his wife.
Armed with the power of the sacred stone, George, Helena, and Nicholas, the three Shambhala warriors, reached Bombay on December 2, 1923. By railroad, the family quickly traveled to northern India, where they stopped in the town of Darjeeling (a corrupted version of dorje lingam [hard penis]), [25] the capital of Sikkim. Here, in the town famous for the tea that grows in the area, the Roeriches established their temporary base. For their residency they picked not just any house, but a small summer cottage called the Palace of Dalai, on the southern slopes of the Himalayas; the place was once used by the thirteenth Dalai Lama when he had to flee from the Chinese in 1910. The painter and his wife feasted their eyes on the picturesque site surrounded by mighty cedar trees. From their windows they could enjoy a divine view of the Himalayan ridges and valleys. [26] Somewhere north of these mountain ranges lay mysterious Shambhala and its prophecies, waiting to be stirred and awakened.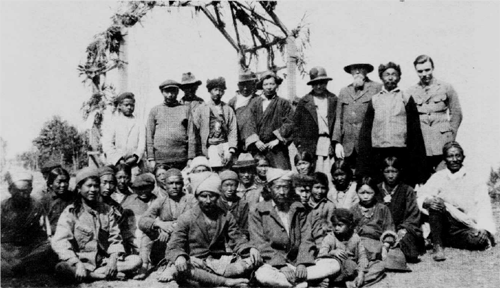 Figure 7.2. Nicholas Roerich with visiting Buddhist monks, who recognized him as a reincarnation of the fifth Dalai Lama, Darjeeling, India, 1924. Standing, right to left: George Roerich, Lama Lobzang Mingyur Dorje, Nicholas Roerich, Helena Roerich.
The reconnaissance trip to Darjeeling turned out to be very stimulating. Nicholas spent his time not only painting awesome Himalayan landscapes and contemplating the coming Shambhala war, but also rubbing shoulders with visiting Tibetan Buddhist monks. A group of them from the Moru monastery visited the painter in April 1924; stunningly, they recognized him as the reincarnation of the great fifth Dalai Lama by the moles on his right cheek, which formed the shape of Ursa Major, thereby confirming what Master Morya had already revealed to the couple. But Nicholas had not simply sat waiting to be discovered as the reincarnation. Rather he had actively worked for this by donning lama vestments when entertaining his native and nonnative visitors. By all his demeanor and talk, Roerich emanated high dignity and spiritual wisdom. The strategy worked.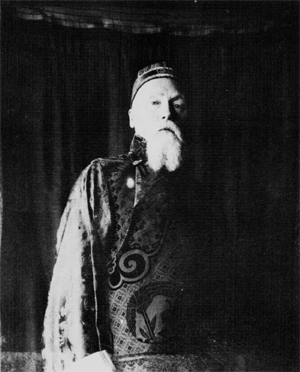 Figure 7.3. Nicholas Roerich, wearing his Dalai Lama robe.
Yet, not everything was going well for him. British intelligence noted the strange Russian and put him under close watch. The painter sensed this attention and diplomatically never bragged about that miraculous recognition or his historical mission in Asia. Instead, he let other people do the talking. It was here in the "hard" tea town of Darjeeling that Roerich first heard about the Panchen Lama's flight from Tibet-news that prompted the painter to speed up his Great Plan. The escape of the spiritual leader of Tibet was a sure occult sign that the Shambhala war was coming. The prophecy was hot, and he needed to move quickly to unleash its energy in order to bring about the new age.