Don Jason's route out of Scientology
by Times Staff
November 3, 2009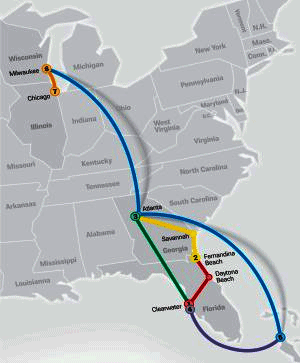 1 August 1996: Working at Scientology's Flag Service Organization in Clearwater, Don Jason is told that the church is going to discipline him for something he felt was unfair. He leaves the next day without permission and drives on I-4 to Daytona Beach. He takes back roads north to Fernandina Beach and spends the night at a motel.
2 The next day: He continues north through Savannah. He assumes the church will look for him in his native Milwaukee, so he randomly chooses to settle in Atlanta.
3 After six weeks: He gets second thoughts about how he left. He returns to Clearwater to follow the church's approved "routing out'' process.
4 October 1996: Jason flies to the Bahamas to board Scientology's cruise ship, the Freewinds, where he becomes a virtual prisoner.
5 Six weeks later: Jason escapes over the bow of the Freewinds and makes it to the airport. He buys a ticket to Milwaukee, with a layover in Atlanta. A Scientology official buys the seat next to Jason on the leg to Atlanta. The layover: Marty Rathbun, a top Scientology executive, intercepts Jason at the Atlanta airport. Rathbun tries to persuade him to return to Clearwater and follow proper procedure to leave the church. Jason refuses, and Rathbun flies with him to Milwaukee.
6 In Milwaukee: Jason's mother and a sister pick him up at the airport. The next day, he comes to Rathbun's hotel and signs confessions to his "crimes."
7 Twelve years later: Jason works in Chicago as an operations manager for a building supply company.
Thomas C. Tobin is a Times staff writer who has covered the Church of Scientology off and on since 1996. He can be reached at
tobin@sptimes.com
.