Sarah Palin Adviser's Secret Scientology Plot to Take Over Washington
by John Cook
March 26, 2009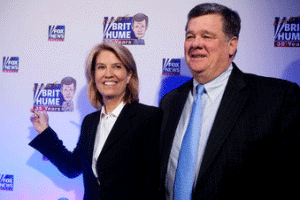 John Coale, currently advising Sarah Palin on running for president in 2012, is a Scientologist. And according to a memo obtained by Gawker, Coale once plotted to use friendly politicians to advance the power-hungry cult's agenda.
Coale is a prominent Washington power broker and husband to Fox News' Greta Van Susteren. According to the Washington Post, he is running Palin's political action committee behind the scenes and "guiding [her] political image in Washington."
The Protecters of the Palin Brand

by Chris Cillizza

Washington Post

March 17, 2009; 12:25 PM ET

Alaska Gov. Sarah Palin has put together a group of "brand managers" as she prepares for 2012. (AP Photo/Al Grillo)

There is no brand in Republican politics as powerful -- or as tenuous -- as that of Alaska Gov. Sarah Palin.

She is simultaneously the hottest commodity on the Republican fundraising circuit and a figure of ridicule among Democrats (and even many Independents) who believe that her status as a national figure is entirely undeserved.

Even Palin and her political team seem to be struggling somewhat with how much or little to expose her at the national level.

Witness the odd back and forth over the past 24 hours regarding her involvement in the annual Republican House-Senate fundraising dinner in June.

Yesterday afternoon the National Republican Congressional Committee and National Republican Senatorial Committee issued a joint press release touting Palin as the keynote speaker at their fundraising dinner on June 8 in Washington. Then the governor's spokesman told the Anchorage Daily News that the NRSC and NRCC were mistaken in announcing Palin as the keynoter, insisting that she had agreed to no such thing.

The misunderstanding appeared to be the result of a miscommunication (or lack of communication) between Palin's office in Alaska and her still-forming political team running Sarah PAC. (The dinner, as we understand it, is on.)

"A lot of people may be able to overlook the campaign, because the McCain team was calling the shots," said one D.C.-based source familiar with Palin's political operation. "But even since the election she has not been served well by her inner circle. Going forward, there needs to be a seamless operation if they want to position her as a serious contender for 2012."

So, who are the figures charged with guiding Palin's political image in Washington? Here's the lineup based on our conversations with informed strategists.

John Coale: Coale, a well-known Washington lawyer and the husband of Fox News Channel's Greta Van Susteren, drew national media attention when he endorsed Sen. John McCain's presidential bid in protest of the way in which Sen. Hillary Rodham Clinton, who he backed in the primary, was treated. Coale, in an interview with the Fix, described himself simply as a "friend" of the Alaska governor but acknowledged that he suggested she start a leadership PAC and helped her navigate through some of the questions surrounding her family that lingered after the campaign. Others familiar with Palin's political team insist that Coale has far more power than he is letting on -- essentially helping to run Sarah PAC. Coale demurred on that front, noting only that he talks to Palin regularly and that she is a "fascinating person" who is "definitely not what the right thinks or the left thinks."

Meg Stapleton: Stapleton serves as the Alaska spokeswoman for Sarah PAC after having played a similar role for the governor during the vice presidential campaign and in the governor's office. Stapleton has been the lead defender of Palin from barbs thrown at her -- often from those allied with McCain -- in the aftermath of the 2008 campaign and, generally, wins positive reviews from Washington insiders not directly allied with the governor.

Pam Pryor: Pryor is the Washington spokesperson for Sarah PAC after serving as a senior adviser to the Republican National Committee during last year's general election campaign. Pryor has previously served in a variety of political jobs in Washington including as press secretary and chief of staff to former Oklahoma Rep. J.C. Watts.

Becki Donatelli: Donatelli, as we reported a few weeks ago, is officially running Sarah PAC. She is the chairman of Campaign Solutions, a fundraising and Internet strategy firm based in Virginia.
In 1986, he masterminded a plan—which was never executed—for Scientology to get into the "MONEY and VOTES game" in order to "create power" for Scientology and win influence Washington, D.C.
[You can read Coale's complete memo and other documents outlining his scheme here.]
Reached this morning, Coale confirmed that he had launched the plan for what he called the FLAGG PAC. "I thought it was a brilliant idea," Coale said, "but no one else did, so it never went anywhere. I was looking at ways to move a new religion forward. I looked at the history of Mormons, who had a lot of people in office, and I looked at the Jews, who were very successful and influential. But the church didn't want to be part of it. They didn't want to be misconstrued. There was one small meeting with parishioners in DC. Maybe 9 or 10 people showed up."
Coale denies playing any role in Palin's political career aside from that of a friend who e-mails her once a week or so. And he insists that he has never used his political influence—in addition to Palin, his friends include the Clintons and Speaker Nancy Pelosi, among many others in Washington—to advance the aims of Scientology. "I don't think I have ever said, to the Clintons or Nancy Pelosi, or anyone else, a word about Scientology. Not a word."
The idea was to launch a political action committee that would attract donations from Scientologists but could be plausibly distanced from the cult, which claims to be a church and therefore barred from engaging directly in political activities.
The PAC was to be called FLAGG PAC, which stood for "Freedom, Liberty, and Good Government Political Action Committee," but would act as a sort of dog whistle for Scientologists, who would hear an echo of "Flag Land Base," the group's international headquarters in Clearwater, Florida.
Its goal would have been to advance the Scientology creed, which calls for an end to "insanity" (good idea!) and the abolition of psychiatry.
But Scientology also had a more concrete problem that a PAC could address. In the mid-1980s, it was in the midst of a 26-year battle with the Internal Revenue Service, which involved bugging IRS offices, infiltrating the Department of Justice, and breaking into federal buildings, to secure tax-exempt status as a church. According to a document outlining FLAGG PAC's "Production Targets," Coale hoped that the IRS could be brought to heel.
In January 1986, Coale spoke at a Scientology "government awareness seminar" in Washington, D.C., to pitch parishioners on the idea and begin raising money. Attendees were given detailed surveys from the church's Office of Special Affairs—the arm that handles public affairs and conducts covert operations—asking for personal data on any powerful political, media, or financial figures they may know so that the OSA could "better coordinate our activities."
The documents identify Coale as the force behind the PAC idea, and as the point man for people interested in contributing.